Interviews
Garrison's Great People – Great Business!
Everywhere I go it seems like I keep hearing about Garrison's. Garrison's Mattress Gallery, Garrison's Furniture Gallery, and now Garrison's The OC (Outlet Center). It's on the radio, on TV, online, in print, and right here in the LocalsGuide. Garrison's has placed itself everywhere, exceeding customer expectations, offering great products at great prices, giving back to the community, and paving the way forward for a positive and prosperous Rouge Valley future!
In fact, it was just a year ago that Garrison's opened their new Mattress Gallery here in Ashland. Today I got to catch up with Brian Garrison and his team. Despite being extremely busy, Brian is easygoing, approachable, personable and generous. You see this exhibited not only in your personal interactions with Brian, but also as a character trait throughout the company, which currently employs upwards of 46 people. 
As a side note, I have been hearing different Garrison's radio spots, and I had to ask myself: is that really Brian, or did he hire out a voice? Because if that is Brian being his own radio voice and personality, he is doing a really good job. And that 'slangry' thing… who hasn't been slangry?
Come to find out… IT IS HIM!!! Brian is a business owner who gets involved 110% in his company. In this interview, I'm going to take you behind the scenes to learn more about the Garrison's ethos, and to catch a glimpse of the key elements that have helped create this great local business, from Brian Garrison's personal involvement in the company, to the key people behind the scenes who get the jobs done day in and day out. 
This is an interview you won't want to overlook.
Brian, great to be able to speak with you again. You guys are on a roll. Tell us about it!
Great to speak with you as well, thanks for having me. Yes, we are on a roll and I'm exhausted. We opened a new store, are expanding the Ashland store, adding people, working in the community, and I'm trying to be a great dad to a 19-month old-daughter and a great husband to my wife. I'm honestly so grateful that our customers have put us in the position to grow like we have. It's hard for me to wrap my head around where we are and where we are going thanks to the community.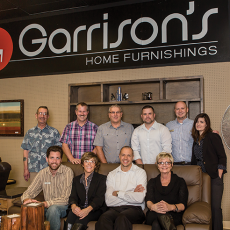 Your business is earning quite a reputation for exceeding customer expectations and going above and beyond to attain five star ratings. 
It's not a coincidence that we are known for exceptional customer service and we are growing like crazy. The two are directly related. When I first opened Garrison's Home Furnishings in 2007, I wanted to have a great furniture company that was known for great customer service. Nine years later, I've come to realize we have become a customer service company that is known for great furniture. Customer service is the focus of every person in our company, from top to bottom. And hopefully our customers feel it in our advertisements, when they walk through the door, when their furniture is delivered, and in the rare case that something goes wrong after their purchase. People call it "going above and beyond." We call it doing the right thing.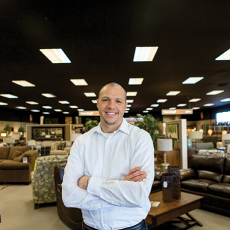 Have you always been so involved with your businesses, and who have been some role models for how you've learned to do what you do?
I don't really know any other way but to give everything I do my all. So it just comes naturally to be so involved in my business. It's just how I'm wired I guess.

Gosh, there have been so many role models in my life, but as far as the one that sticks out for how I try and run my business it would be Disney. I spent 6 months in Orlando interning for Disney World when I was in college. My job title was "Life Guard," but after going through their orientation, I felt my job title was "Most Important Person in Disney World." That's how they make all of their employees feel… all 60,000 of them. People talk about Disney's "magic." Their magic has less to do with Mickey Mouse, Cinderella, and Tinkerbell, and more to do with all of the employees creating experiences for their customers. And the employees create these experiences because they believe in their company. I try and create that same feeling in our people so they can create exceptional experiences for our customers.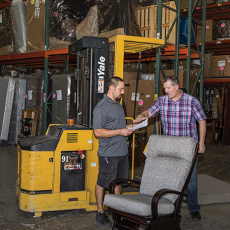 I love the commercials with your 1.5-year-old daughter Harper. The commercial about the individual complaining that they wanted to see less of Harper and more of the furniture was very funny.
Thank you. I had a lot of fun with that one. We had an overwhelming amount of great feedback on our commercials with my daughter, so when we received a few negative ones, I thought I would address it in a funny, positive way. I'm crazy about my little girl and I love showing her off.
Brian, you seem like you're a natural at selecting great people to become a part of the Garrison's family. What are some of the qualities you look for?
We look for the same qualities that I think every retail company would: customer-service-focused, personable, driven, etc. Our success in getting great people really comes down to the culture we have created. Over the years, we've retained the great people that fit in our culture and let the ones go that don't. We have been extremely consistent with this. Even through all the growth, if somebody doesn't fit within our culture, we would rather run short-staffed then have them disrupt the team. I think we've all worked somewhere and seen how one person can disrupt an entire workplace. At Garrison's, we won't allow that, even if it means that I need to work on the sales floor or get on a delivery truck because we are short-staffed.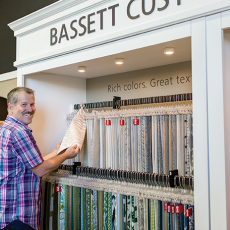 Your business is truly a Rogue Valley business, with stores in Central Point, Phoenix, Ashland, and Medford. Tell us about this. 
Even just hearing you say that makes me shake my head in amazement. I still can't believe we have grown this much. I'm truly humbled by it.

I love the Rogue Valley. And to know that we have 46 people working for us in all four of our locations that love the Rogue Valley is pretty freaking awesome. What's really cool is that our customers feel this when they come into any one of our stores. We don't wear suits, we don't play stuffy elevator music, and we don't chase you around with a clipboard. Our salespeople dress comfortably, they love furniture, they love to help, and they're totally cool letting you explore if you don't need their help. Chances are they'll offer you a soda, beer, glass of wine, or bottle of water to help you enjoy looking around. And when you have a question or need their help, they've got your back.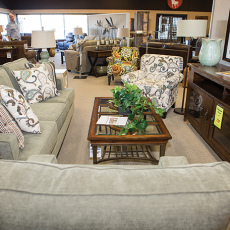 Please tell us more about the Ashland store and the successes you've experienced this year.
It's been a great first year in Ashland. The community has really rallied around us, expressed their appreciation that we are there, and supported us with great business. We are so pleased that we are getting ready to expand the space that will allow us to add 30% more mattress choices, giving our Ashland customers even more options to change their live with a great bed.
Your new store The OC (Outlet Center) seems like a great idea. Tell us more. 
This store was born out of complete necessity. We have experienced explosive growth over the last few years, which created a major problem when we need to make inventory changes. If an item gets discontinued by the manufacturer, or if the rate of sale on it drops, or if we deliver a piece and a customer doesn't like it, etc., we had nowhere to put these items other than in our warehouse until we could organize a parking lot sale. But then we clog up our warehouse. I honestly didn't realize how big of a problem it was, but thankfully the leaders in our company have no problem telling me how it is :). They basically told me I was opening a new store…and I trust them, so we did.

The OC is a fun store, and people are already realizing it. The deals you can get are really kind of crazy. The goal of that store is to break even. So great furniture from the best companies in the world is often sold at or below cost. A lot of people are getting a quality of furniture that they never thought they could afford.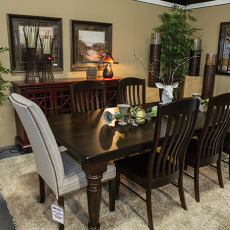 From weekly contests to generous donations to local charities, you guys don't hold back when it comes to giving.
It's so damn fun to do the things we do in the community, from our Facebook Freebie Friday weekly giveaways, to our charity golf tournament, to the Dunn House remodel. Man, I just love that we are in a position to give back like this. We've done some pretty big things in this community, but I'm also super proud of the little things we do. Pretty much every person that comes in the door seeking help with his or her nonprofit organization will get a donation from Garrison's. Not only does this help their cause, but it can renew their spirit to hear a "yes" after often hearing "no" so many times.

I think that's another reason when our customers are so loyal to us. We've proven to them that when they shop with us, part of their purchase will always go back to the community.
You have a marketing director Kendall Bencomo who reads all the comments and customer feedback that comes into Garrison's daily. I would love to ask her a question about what she is seeing.
Kendall: Thanks Shields, on average I read 4-6 comments per day from our customers. We take every comment seriously… and negative comments get our full attention. I have even worked with Brian while he was on vacation to deal with a lost shipping order. Brian actually responds personally to all of these comments.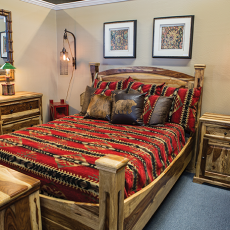 Can you share some recent comments with us?
From Catherine: "I love the no pressure sales people. They greeted me when I came in but let me browse and were available when I had questions. I've purchased several pieces of furniture from Garrison's over the years and have been extremely happy with the quality of every piece. Joe and Shyler were great in delivering my new sofa, which arrived ahead of schedule!! Joe and Shyler were there at the time they said they'd be, and were super friendly and nice. Thank you!!"

From Laura: "Having finished building my life-long dream home, I thought it time to do a major re-do of furniture. I've been so happy with each purchase, starting with the bedroom and living room, and then the dining area, that I just keep going back for more. I've worked with different sales people each time, and each has been helpful, courteous, supportive of my particular aesthetic, and willing to spend the time needed to make sure I get what I want. It's really helpful to be able to see and feel exactly what I'll be getting. The delivery guys are super too — they were careful with my wood floors as well as with the furniture."

From Glen: "We had another wonderful experience with Garrison's. This visit had us at the OC in Phoenix. Jim was a real blessing. Love the no pressure 'here when you have questions' business model. Thank you Brian and staff!"
Kendall, can you also talk more about the sales approach you guys take at Garrison's?
Kendall: The sales model here at Garrison's is simple: no pressure. Coming from an advertising sales backgroundm this concept was new to me. Where my office sits at the main store in Central Point, I often see customers come in with their guard already up. When greeted by a team member they immediately respond "I'm just looking." Here at Garrison's, we don't want to sell our customers. No one appreciates being sold. We want to get to know them, and help them find whatever suits their needs, not ours.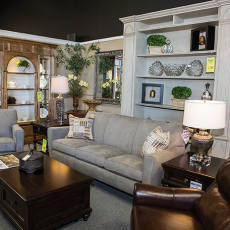 Kendall, Garrison's recently made a large donation to Dunn House. Please tell us about it.
Kendall: Brian recently donated upwards of $30,000 to the Dunn House. Being gracious is in the culture here at Garrison's. Not only did Brian donate the inventory, but also our designer Scott Morris helped revamp the entire facility.
Brian, are there any last thoughts or comments you would like to share with us today?
Truly want to express my gratitude. From the hardworking staff I have that makes this place what it is, to our loyal patrons that have supported us – thank you.
Learn More
Garrison's Home Furnishings
6435 Crater Lake Hwy.
Central Point, OR
97502
(541) 830-1110
Visit their website here
Hours – Monday to Saturday 9am-6pm and Sunday 11am – 5pm