Interviews
Heartsong Nutrition For A Positive Lifestyle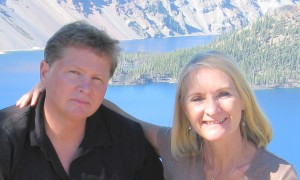 Heartsong Nutrition is pleased to announce the opening their new new juice and smoothie bar  just in time for summer. Heartsong is located next to the Market of Choice. Heartsong provides health and nutrition product and product information,  as well us unique gifts and 100% Crushed fruit and vegetable smoothies. They also serve Java Planet coffee which is a 100% organically grown coffee. The store is owned by Jim and Anyas Spencer who have been involved in the health and nutrition industry for over 18 years. We stopped in to learn more about Heartsong.
Jim and Anges, thank you for inviting us down to your shop. To begin with can you us a little background behind the inspiration of bringing HeartsongTo Ashland?
Anyas and I were Christian missionaries in the Far East, Middle East, and Europe for 13 years. We then moved to Alaska for 26 years to raise a family. In the process, we started 6 health food stores. We finally got tired of the frozen Arctic visioned a place where we could inspire Wellness to others, and Ashland turned out to be the place we were called to.
What were some of the primary needs you provided for your communities in Alaska with your health and nutrition stores?
Wellness is about Body, Mind, and Spirit. So many people are suffering with physical problems, usually related to their energy intake. We always felt responsibility to share our knowledge about the power that food supplements have in the healing process.
Sunji: I was born in Saudi Arabia but have lived in Alaska for most of my life. I am a graduate of SOU and just got out of the Alaska Air Guard, after 10 years. I'm currently a nationally ranked racquetball player and a big advocate of whole Food Nutrition and specifically–Sports Nutrition Products.
Now that you are here what do you love most about the community?
Ashland is a highly diversified community. It has a magnetic attraction for higher-purpose beings, and Anyas, Sunji, and we love it. We are grateful to be able to live here and to meet the wonderful people here. And, Gina Londow, a long-time Ashland resident and health products coach, has just joined us in our quest to serve the community. We offer our meditation/prayer room to groups as a community service.
Jim can you share a little bit about your own health and nutrition philosophies?
It's not an accident that all of the nutrients we need can be found in nature. Science is just beginning to unlock the majesty of the healing miracles found in the plant kingdom. Actually, early man has known about some of the molecules that promote healing and wellness for a long time. But modern man has been overtaken by profit-driven man-made molecules. And so, he falsely believes that he may find relief in them. Man-made substances can alleviate pain and temporarily lessen symptoms, but they have a hard time changing the root of the problem. The real answer is to get back to the original blueprint—the one that all of the ecosystem thrives on. Let's get back to a true partnership between God's orginal plan and man's hands. When it comes to health, let's get the profit motive into its rightful position—-service to others and sustainability. 
Let's talk about how you have the store organized?
We wanted to make the products easy to find. So, we categorized the store according to the bodys' difference systems such as–Digestive Processes, Hormonal Balance, Heart Health, Immunity, Healthy Oils, Probiotics, Sports Nutrition, etc. We are still Working on our product mix, as we identify the unique needs of Ashlanders. We definitely are open to suggestions from customers about which products they would like to see in the store.
Can you say more about your sports nutrition section because this is unique to Ashland.
We specialize in Sports Nutrition products, whether is be for a cyclist, MMA fighter, runner, or someone that is trying to burn some fat and recover a long-lost body image.
You also have an entire anti-aging section and section dedicated to sleep.
Aging begins in the mind, so anti-aging is all about restoring brain chemistry, energy, and detoxifying. The numbers for dementia and Alzheimers are increasing. And care must be taken early in life to keep the brain healthy and free of toxins and plaque. There are a few supplements that can really help one stay young–internally and externally. Unless one is totally dedicated to eating organic, green, raw, and unprocessed—-food supplements could help tremendously.
The smoothies have been a big success. Do you have any in particular flavors you would like to recommend to our readers?
All of our smoothies use 100% crushed fruit that is 88% organic. The only additives are vitamins and guar gum, which comes from a bean. We have Mango Tango, Peach Paradise, Acai Plus, etc; and we are also serving 100% crushed vegetable smoothies and fruit. We have Butternut Squash and Carrot-Orange and both of them have several fruits and vegetables in the base. We can add many nutrients to the smoothies such as Flaxseed, Protein, Vitamins, Bananas, and a whole range of organic green superfoods such as Chorella, Spirulina, Wheat Grass, Maca, Golden Berries, raw Walnuts or Pecans, etc, etc. You can literally create your own healthy, guilt-free smoothie that will taste like fruit, yet have all the nourishing plant-based nutrients. We have a Mega- Blast that has over 15 Superfoods in it that tastes like a fruit smoothie. One additional note is that we don't accept tips at the juice bar, but we do have a box where one can donate to the Food Angels of Ashland. We are environmentally conscious, we us Eco Friendly cups for our smoothies and our products are as non-processed and organic as possible.
Jim, studying and staying up to date with the latest nutrition supplement and nutrition information has been a  big passion for you.What are you currently reading about?
Well, I'm reading Digestive Health, and The Center Within right now–kind of covering my lower and higher nature.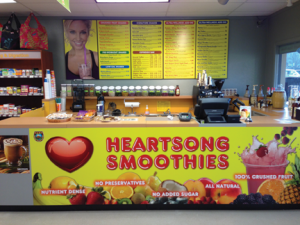 Anyas, can you talk about purity of products in regards to what you are choosing to sell in your store?
We are refining our product mix in order to focus on high-purity supplements, especially non-GMO. Many of the cheapest and most popular brands are only about 50% Non-GMO, and they source some of their raw ingredients from questionable sources. For example; they say that 30% of the fish we buy may be mis-labeled—labeled as wild when it is actually farmed. This is a huge problem for someone that is trying to live a whole-food based lifestyle. I don't want to carry questionable products just to save a few bucks. And I hope that the customer will not cave to purchasing products just because they are a few dollars cheaper. The customer needs to know that they are actually getting what they pay for. Sometimes we place trust in brands and labels when in fact, the quality and purity is questionable.
Working with obesity and inflammation is a big focus for you. Can you tell us more about what products you have to offer here?
Obesity and inflammation go hand in hand—and the problem is usually related to insulin sensitivity, which is caused by simple carb addiction. This problem has been addressed by the naturopathic medical community, and we carry the natural supplements that they recommend.
You also offer some very nice journals, and gifts can you tell us about these?
We carry some gifts, a greeting card line, candles, and natural  Body Care products. We are expanding our book section and we will be getting Wi-Fi shortly.
In today's industrialized world, the human body is under attack. 60% of us are obese and inflammatory diseases are rising. Some in the medical community tell us that we can get all the nutrients we need from our packaged, proccessed, preservative, pesticide, laden food sources. Nothing could be further from the truth. In a perfect world, nature would provide us with everything we need. But the reality is; we need to supplement our diet with organic, food supplements. At Heartsong, we provide expert product knowledge and personal customer service. You are a unique gift of God to the universe—and we acknowledge and respect that.
Heartsong Nutrition
1461 Siskiyou Blvd