Interviews
Holiday Treasures Abound – Lithia Artisans Market
Lithia Artisans Market is now celebrating its 30th year in Ashland. Offering locally created art and crafts of all kinds including jewelry, clothing, woodwork, and photography, the Artisans Market is a cornerstone for Ashland's creative community. Many of the artisans have now been with the market for more than 20 years themselves. We visited with Market Manager and local artisan Marcus Scott to catch up and learn about the ongoing spirit of the Lithia Artisans Market.
Marcus thanks for speaking with us today. How long have you been involved with the Lithia Artisans Market and how did you first become a member?
I've been a member for 20 years. From the very first time I visited the Lithia Artisans Market I was impressed by the quality of craft and the beauty of the location. I had been showing at the Eugene Saturday Market and found the overall feel of this market was vastly different. Similar creative energy, but cozier and more friendly for me personally. It also happens that Ashland is my hometown. I love being connected with Lithia Park and Ashland Creek. This market is now like a second home for me and my place of business every weekend.
Marcus can you give us a brief history of the Lithia Artisans Market?
According to one of the founders, the market started in the early fall of 1984. After experiencing first-hand the charm of the outdoor markets throughout Mexico, local resident Ruth-Ann Almquist spearheaded the creation of Ashland's own outdoor artisan market. That original Ashland Saturday Market has evolved over the years into the Lithia Artisans Market of Ashland, a nonprofit artist collective showing weekends along Calle Guanajuato in the spring, summer, and early fall.
When you first considered being an artisan what were some of the qualities that drew you to the craft?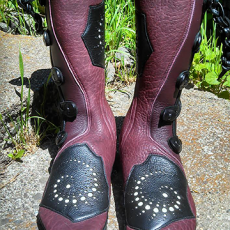 Self-sufficiency; a desire to have a skill set that paid me to work with my hands. I was passionately drawn to ancient stone beads, and that prompted my curiosity of the lapidary arts. Once I discovered my artistic side, I couldn't turn away.
With the holidays right around the corner, what ideas do you have for readers when it comes to shopping locally and supporting local artisans?
Get as close as possible to the source. Authentic, one of a kind, locally crafted items are unique and make thoughtful gifts. So much available elsewhere is homogenized and the same. No two items in my booth are the same, let alone all the items in all the booths at the Lithia Artisans Market. An original experience will be had in each of dozens of booths. Lithia Artisans Christmas Fair, at the Historic Ashland Armory has become one of the best art and craft shows happening in southern Oregon during the holidays. 50 artisans, and three days of live music throughout Thanksgiving Weekend. Following that there is the Briscoe ArtWing Holiday Market at the old Briscoe Elementary School, all three weekends in December leading up to Christmas. The Siskiyou Woodworker show also happens Thanksgiving weekend, and Clayfolk is the weekend before. All of these local events are excellent in their own way.
How does Ashland compare to other communities in its support of the local artisan community?
The community of Ashland is super supportive of the artisan community… so are the folks who visit. We at the market are grateful be in such a supportive community. People here understand that supporting local farmers, artisans, and musicians supports our local economy. Equally, locally made things tend to be of higher quality than the mass produced things available at big chain retail outlets. The folks of Ashland seem to understand that and are supportive of that model. 
How do you see the role of artisans continuing as we move into the future?
The role of the artisans is to remain authentic and connected. When we create original items with our hands we are breathing new life into old skill sets that modern society does not always embrace. We are keeping the past alive by creating quality items that will endure into the future. The model of open air markets where local craftspeople, artists, and farmers gather to engage in commerce is important. It is the hub of a healthy society in my opinion.
How many of the members of the Lithia Artisans Market are full-time artists?  Is it common for members to have other jobs as well?
Most of the artisans at the Lithia Artisans Market are full-time artists. It is not uncommon for creative folks to have multiple outlets for their creativity. Many of the people I know in the artisan scene see life as art — striving to make daily life more artful. Being a successful artisan takes a lot of time and devotion to your craft. It takes passion. Find what you love to do and do that. That is following your path. So, maybe a second job helps you follow your bliss. That is not uncommon in the artisan world. 
Do you have any tips for artists who are considering starting up their own businesses?
Be patient with yourself, and don't immediately dump your day job. It takes time to cultivate a style and produce consistent quality. Stick with it. Trial and error is the best way to learn. Be critical of yourself, ask veteran artisans for advice, don't get stuck in a rut, evolve, and don't be afraid of change. It is rare to succeed right off the bat, so be persistent. Fail a lot until you get it right. Don't give up right before you figure it out.
What is the best part about your life as an artist?
Freedom and independence. The artist does with their time what they are inspired to do. Being connected to a creative source is personally empowering. Having the opportunity to participate in an artisan collective like the Lithia Artisans Market is empowering as a community.
Give us a list of some holiday favorites available at this year's Holiday Faire.
Lavelle Foos is a veteran of the art and craft circuit. She is a copper-smith, a wood carver, and a musician. She is one of the elders of the market, and a remarkable artisan. Holly Gonnella is a standout for me this season. She recently shifted from pottery to jewelry as her medium of artistic expression. Really cool jewelry pouring out of her right now. Her husband Lee is new to the market using upcycled books that he turns into journals. Their booth is really fun! Dave Summers is a leather worker. He is always evolving his craft. His new attaché bags are remarkable. As always, Dave makes the best fitting leather shoes you will find anywhere. He makes them by hand specifically for your foot. Those are three of roughly 50 artisans who will be showing this year at the Christmas Fair. All 50 of these artisans are great at what they do — original, authentic, art and craft.
Learn More:
Marcus Scott
Manager Lithia Artisans Market of Ashland (LAMA)
Stone Bead Carver (The Stone Bead)
Lithia Artisans Christmas Fair
Historic Ashland Armory, November 28-30