Interview with Victoria Sheadel & John Steinbergs of Gateway Real Estate
Hi Victoria and John, thank you very much for speaking with us today. 
Hi Shields, thank you for the opportunity! We've been fans of the LocalsGuide for years, so this is special!
To begin with, congratulations on completing your third year of ownership at Gateway Real Estate.
Thank you. We continue to be very honored that we've had the opportunity to lead a team of great agents who happen to be great people.
Victoria, will you please tell us about the history of Gateway Real Estate in Ashland? 
Sure. Gateway was founded in Ashland by the husband and wife team of Bruce and Pokii Roberts. They had moved their family up here from the Bay Area and began their business in 1981. They created a culture and an atmosphere that kept attracting really great talent for decades. They fostered an atmosphere of professionalism and cooperation among their agents. These were just some of the qualities John and I both saw in the company that made us choose to join the team as agents several years ago.
John, what inspired you both to move forward and purchase Gateway Real Estate?
That's a great question. You know, we were inspired by the people and the culture from day one. We love coming to work. Our business partner agents are our friends and we literally have fun doing what we love everyday. We realized we had the opportunity to continue building on this incredible foundation that started the year I was born 40 years ago. Also, I think both Victoria and I felt we had the energy and business background to position Gateway so it would be ready to tackle the next 40 years. Based on our inspiration to move the company forward here are a few wins we've had since taking the helm: 
1.) We've built upon our culture of collaboration and team work by introducing a newly branded gatewayteam.com which highlights our team-based approach and local real estate emphasis. 2.) We've introduced new services and technology for our business partner agents to help them become more efficient so they can focus on their clients; and 3) we've enhanced work life balance by providing our team a more flexible workflow which can be done from any location. This really came in handy given the issues we've all faced over the past year.
Victoria, what would you describe as the key traits of Gateway Real Estate that differentiates it here in Southern Oregon?
I think what first comes to mind is trustworthy. Our clients can trust that our agents are doing the best possible job for them. In addition, we are a team. We help each other, we support each other so that everyone can be successful. 
We believe that a rising tide lifts all boats. We want that to be obvious to our agents, our clients and the community at large.
Victoria, how have you maintained agents that have been with Gateway for 20 plus years as well as continue to attract new agents?
When we first purchased the company in 2018, we didn't change much. We wanted to be sure that each agent, and especially those that had been here for decades, felt a continuity that would allow them to operate their business as they had been doing. I think that was key. Over time, we began making changes. We updated the Gateway logo with a more modern style but kept some of the same visual elements that our agents and clients were used to seeing for so many years. In addition, we slowly added new products and procedures to improve compliance and adapt to how John and I do business. We added things like transaction management in the cloud, cohesive and branded materials for presentations, professional headshots, professionally designed business cards, just to name a few.
John, how do you go about choosing agents to work in your company?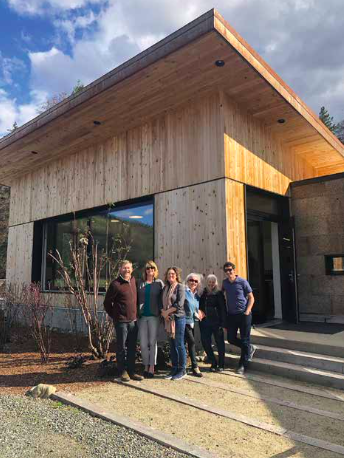 We subscribe to the philosophy that good values are like a magnet which attracts good people and it seems to be working! We're always open to meeting folks over a coffee if they're interested in the field. We look for business partners that are grounded, smart, and have a love of service. You can talk with any Gateway agent and you'll notice right away that you won't get a sales-y vibe. That just isn't us. We're in the service business and if we focus on service that meets our client's goals, sales will fall into place. 
Please introduce us to your team.
We'd be happy to. 
Camilla Cassity – Camilla is an incredibly seasoned agent with over 25 years selling real estate at Gateway and she has additional experience having sold high-end properties in the Beverly Hills, Bel-Air, Brentwood, and Malibu, California markets prior to calling Ashland home. She has developed a reputation for getting results. She brings so much to a transaction for her clients. She's also generous with her knowledge and can often be heard mentoring agents in the office – in her straightforward way, of course.
Mary Lou Gross – Mary Lou has been at Gateway the longest, for over 35 years. She is a really thorough agent and doesn't miss the details. She knows more about a house and its attributes than anyone! She is incredibly knowledgeable and connected. What is most notable about Mary Lou, is she never stops learning – whether it's about water rights from the watermaster or the latest app on her Apple Watch – she keeps moving ahead!
John Weiczorek – John is another one of our most experienced agents and has been with Gateway for 25 years. He is very well respected in the Ashland community. He has some of the longest client relationships of anyone. He has a real calmness about him that serves his clients really well. He is also incredibly giving with his time, having supported efforts with the houseless in our area for decades. He's passionate about local sports, his family and real estate!
Zan Nix – Zan gets the award for most joyful. She has such incredible energy – she always greets you with a smile and is by far the most compassionate agent we have. She is deeply connected to this community as she and four sisters were raised in Ashland. Zan loves what she does: helping people and connecting within her community.
Anna Houppermans – Anna hails from a real estate family. She has been managing and purchasing properties for decades. She has been practicing sales for 10 years while raising three boys in Ashland. She loves her community and is incredibly supportive of it. She is also a gifted designer and home stager – often staging her own listings for her clients – which is a real bonus!
Gretski Lieberman – Gretski has been with Gateway since she started selling real estate. She is an active participant in the Ashland community and is all about being hyperlocal. She is probably best known for her kindness and very, very witty sense of humor. She works very hard and always has a smile on her face. She is incredibly sharp with details and always goes above and beyond for her clients.
Jason Engelskirchen – Jason is Mr. Calm. He has a wealth of knowledge he can apply towards your real estate goals, and he understands rural property better than most. He joined our team three years ago and is so well respected. His clients are in good hands when working with him. He's also an avid skier and hiker and loves all the opportunities Southern Oregon offers for outdoor adventure.
Tracy Peddicord – Tracy comes to us with a background in landscape architecture. She's worked and partnered with clients for many years on their home improvement projects. So she knows what it takes to get the job well done. She happens to be a fanatic for the details. Tracy is a giving and compassionate person. She works tirelessly to bring her clients the best representation possible and it is an asset to have her on your side.
Rachel Whitley – Rachel has been practicing real estate for over 30 years so she knows the business inside and out. But she's most known for her compassion for people and it shows in her work everyday. She can be constantly seen going the extra mile to help a client move through a big transition. She'll never let anyone down if she can help. She also has the award for the most grandchildren in the office and is happy to have it!
Joan Roberts – Joan has made Southern Oregon her home for many years, having moved up from the San Diego area seeking the slower pace of life here in Ashland. She goes out of her way to help her clients meet their needs and has become friends with several of them. She's even helping one of them open a retail store in their new hometown! She has also volunteered at the Tudor Guild where she welcomed visitors and promoted Ashland.
AnneTerese O'Gwin – AnneTerese moved to the Rogue Valley in 2015 and felt it was the perfect place to raise a family. She is passionate about getting the details right whether she's coaching a seller or a buyer. She is known for being extremely thoughtful and through her hard work she has made lifelong clients. 
Colleen Pyke – Colleen came to us looking for a team. Which is what she found in Gateway. She is a great realtor and a genuine person. She's also a bit of a local celebrity. You may recognize her amazing voice on JPR; she's frequently heard describing underwriters and their offerings on the air. She's also really great at real estate and it shows with her loyal client base.
Kathryn Gimbel – Kathryn was drawn to the natural beauty and abundant lifestyle choices our region affords in 1999 and has been an agent since 2005. She loves helping her clients manifest their dreams whether selling or buying a home or investment property. She prides herself on her negotiation skills and is known to work tirelessly and intelligently until the process is complete.
Matthew Shilts – Matthew has an incredible work ethic that has enabled him to really fastrack his real estate career. He came from an insurance background and understands service, contracts, and risk. We couldn't be prouder of him as he builds his business in the town he grew up in! Not a day goes by that he doesn't express his gratitude to be working with such a collaborative team.
Tristan Freechild -Tristan grew up in Ashland and he has made so many connections over the years. He's that recognizable face you've run into having previously managed the cafes Mix and Remix, and as a server at Amuse Restaurant. He is very personable, and folks are immediately impressed with his can-do attitude and grasp of the ever changing real estate market. He's made a reputation from his prompt service and problem-solving skills.
Madeline Rutkai – Madeline is a Southern Oregon native with deep roots in the community and also from working in hospitality. We have watched her blossom into a highly competent agent that you would count yourself lucky to work with. She also has great social media. Her clients say things like her passionate spirit made the whole process fun, exciting, and easy. 
Alexa Cording – Alexa is our newest agent and we're very excited to have her on board. She has a passion for real estate and has been interested in the field for as long as she can remember. She is thrilled to call the Ashland community home and is looking forward to developing long lasting relationships as a premier real estate guide. 
Evan Archerd – Evan has been providing real estate consulting services in Ashland since 1987. His real estate sales background is extensive and varied. Evan has a long history of developing residential and commercial property in our community and he's also a licensed real estate appraiser in Oregon with an emphasis on the commercial side. 
Evan is devoted to the community and has served as a board member of numerous community organizations.
Cori Skeeters – Cori has a background as an accountant and licensed tax consultant. Suffice it to say she's very sharp and gets the details right. She has worked for several home builders over the years and understands the many facets of the housing and construction industry. She's familiar with the different areas in the valley and welcomes the opportunity to help her clients realize their real estate goals.
Karen, Office Manager – Karen is our anchor and our rock and ensures that we keep on running as smoothly as we do. She's been with Gateway for over 24 years and has seen many changes over that time. She's humble and compassionate, and she's continued to be flexible and solution driven, especially during the uncertain times of the recent pandemic. Everyone here knows Karen is invaluable.
Please talk about the diversity of involvement your agents play in the community of Southern Oregon. 
We'd love to. Our business is located in a wonderful community. What we notice every day is how the people that make Southern Oregon their home, and particularly Ashland, choose to be here very intentionally. It's that feel of this town that first attracts them, whether it's the charm of the old buildings on the plaza, the atmosphere of the Green Show on Shakespeare's steps or the stroll through Lithia Park. What we notice is that people want to be here and want to connect. So it's only natural for us as a business to connect with our community. Some of the highlights of what our agents and we as a company are doing include:
 • Supporting the Monster Dash Race to support the Ashland Schools Foundation
 • Supporting the Ashland Chamber of Commerce
 • Supporting Ashland High School Athletics in programs and placards in the gym
 • Supporting the Ashland Real Estate Scholarship – awarded to Ashland High School students with an intent to practice real estate
 • Supporting the Phoenix/Talent School District Donations – we ramped up efforts to support the school district immediately after the Almeda Fire of 2020
 • Benefit Concert for Phoenix/Talent School District, an ongoing effort we hope to continue once we can safely gather in larger numbers 
 • In particular, John Wieczorek continues his hard work with the houseless community, organizing and participating in the annual camp out in November to raise awareness for the homeless
 • Volunteering at the Tudor Guild at OSF
John, you and Victoria are working very hard to create and foster a collaborative environment at Gateway. Please say more. 
Let us answer this one by starting with an observation. New agents always look forward to our holiday celebrations and summer get-togethers. Not because they have any firsthand knowledge but because they pay attention and overhear how much fun we have unplugging and enjoying ourselves. Our culture is based on strong relationships and it's nice to be in a different atmosphere from time to time, along with our loved ones, so we can connect on a more personal level. It's these connections that help foster collaboration and teamwork. It's just that simple.
Victoria, what are some ways that Gateway Real Estate goes above and beyond to help its clients?
We have a lot of examples. As we mentioned earlier, we have such a great team of agents. Just this morning, one of my agents told me a sweet story. Her clients had just arrived by car from several states away. They pulled up to the title company for their scheduled signing for their purchase. Along with them was their young child, who the agent had met several times, and two cats and a dog. Instead of the couple taking turns signing with the escrow agent and doubling their time at title, the agent sat in one of their cars to watch their 5-year-old daughter, two cats, and one dog since they couldn't yet check into their hotel. How sweet is that?
Another example that comes to mind is one of our agents inviting her clients who were new to town to her family Thanksgiving meal last year. As so many of our client reviews show, our clients not only gain an agent, they often gain a friend. It's those meaningful relationships that matter and get fostered over the years.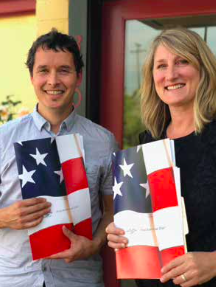 Another recent story comes to mind. A buyer had a delay with their closing and their Gateway agent helped out. The buyer then didn't have a day to spare and needed a place to store a few personal items. Gateway stepped in to help our client by allowing them to move some items into our office storage space for 24 hours. It's that kind of care that we take such pride in.
There are many more stories we can tell, but we only have so much room!
Do you have any last thoughts or comments that you would like to share with our readers?
We kept finding ourselves talking about community in this interview. That said, we can't leave the virtual interview room without thanking our clients, our friends, our family and our community. Without this community supporting our business and trusting us to guide them through one of the biggest decisions of their lives, we wouldn't be fortunate enough to continue to practice real estate. So thank you to our Rogue Valley community!
Learn More: 
Gateway Real Estate
5 N Main Street, on the Plaza in Ashland 
www.gatewayteam.com
541-482-1040