Interviews
Jackie & Danny Auchard Liquid Blue Stand Up Paddle Boards
Next time you are out at Emigrant Lake or driving by look for Stand Up Paddle boarders. Liquid Blue SUP (Stand Up Paddle Board) is a new business being launched by Jackie and Danny Auchard. They will have a permanent booth space near the water slides at Emigrant Lake where you can sign up to take lessons or rent your own board and go out on the lake. Get an exhilarating workout on the water when you join their SUP Fitness Classes. Along side of lessons, board rentals and sup fit classes Liquid Blue will also host   evening race nights as well as a series of other events. Get ready for fun!
Jackie, tell us about the inspiration for your new company.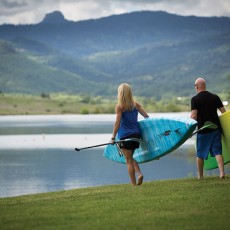 We started Liquid Blue Stand Up Paddle Boards because we are passionate about the sport and wanted others to experience stand up paddle boarding. We decide to provide a full service SUP business for our local community and tourists. We offer rentals, lessons, SUP Fitness classes, team cross training, races, and "SUP-Lucks" (pot-lucks). Location was key. Emigrant Lake offered a beautiful grassy area with picnic tables, clean bathrooms (always nice) and concession stand with our location right next to the water slides.
What exactly is paddle boarding and how does it work?
Stand Up Paddle Boarding (or SUP) is an excellent sport for a full body work-out for the most athletic to the least.  You are basically standing on a longer and wider surfboard with a bit more volume and self propelled by using a one-bladed paddle.
Are you only confined to lakes or can you also go on rivers and in the ocean?
You can Stand Up Paddle Board on the open ocean, harbors, bays, lakes and rivers or any large body of water. Flatwater paddle boarding on a lake or a bay can be easier to learn as opposed to the river or ocean where it can take more skill having to deal with the currents and swells. There are a variety of boards on the market for the type of paddling one would be doing. We offer a variety of all-around, tour and race boards.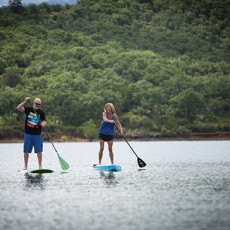 Is it easy to keep balance on a paddle board and are there any requirements needed to learn?
SUP is actually very easy to pick up. The shape and stability of the board creates a rapid learning curve. Our instructors are WPA and Paddle Fit Certified and will help you gain that quick start advantage. Private and group lessons are offered which will cover the basis stance, paddling techniques, turns and more. The only requirement is to have fun and, oh ya – the ability to swim.
Please talk about the great exercise benefits you have seen and hear about from people?
SUP is a sport that improves your overall core strength and cardio fitness. Virtually every muscle in your body is engaged doing this activity with basically no impact. It also improves balance and flexibility which typically diminishes as we get older. People are always pleased at the weight loss that they have experienced. One particular friend had started paddling just for the enjoyment of the sport after years of being overweight and in pain from work as a contractor. In a short amount of time he ended up losing a significant amount of weight and relief from all his physical ailments. People are always telling me "I'm addicted to paddle boarding" even after their first time. It's an activity that doesn't even seem like your exercising. People have said they have joint and knee pain but paddling has provided a way of exercise which eliminates those obstacles. People go out on boards for hours and return boards invigorated. That is exciting!
You mentioned this a great idea for birthday parties, say more.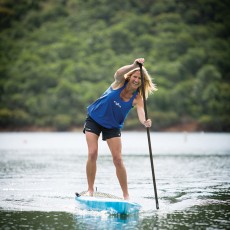 Yes, kids love the paddle boards. We provide beginners instruction. It is a healthy activity that provides an outlet for their energy and excitement. We cater to birthday parties, office parties, graduation parties, you name it parties.
What do you love most about the sport?
I love to experience life outside the walls we live. Paddle boarding gives me the ability to get on the water and have an amazing full-body workout yet have a great time and enjoy the outdoors. I also love the versatility of paddle boarding. There may be a day I choose to cruise the lake with my lunch strapped to the board and end up on a shore that no one else can reach , or a training day that I want to get a killer work out in, or a race day when you get to feel the rush of competition.

Anyone who wants a unique workout experience will enjoy our SUP Fitness Classes. These are a combination of land based workouts and stand up paddle techniques and training. The board, paddle, pfd, and leash are provided. How hastle free is that? Just bring yourself. Pre-registeration is recommended as the class size is limited.
What do you enjoy most about people coming out to paddle board with you?
I enjoy seeing people accomplish things they have never done before. People are usually a little intimidated at first but by the end of the first hour they are paddle everywhere feeling quite confident and empowered. There is also a serenity that you can't explain until you do it yourself. I love providing that opportunity to people.
Can you rent the boards and take them up to other lakes as well?
We do rent boards for the day for other locations with proper equipment. We have some beautiful lakes here in Southern Oregon and it is a great way to spend time at other locations.
Describe one of your top 10 moments on a paddle board?
One of my most memorable moments was racing in the "Battle of the Paddle" in Dana Point, CA. There were more than 400 racers in my event all at the same time. We started on shore, paddled out through waves, and raced a few laps around several buoys. All was great until coming in on a wave to finish the race. Somehow I ended up stacking my board on top of the women's board in front of me while riding a wave with literally thousands of people watching from shore. I shot that board right between her feet! She flew back on my board. The women was very gracious about me wiping here out and I was left with my most memorable moment. And, yes, you can YouTube footage of the destruction .
Hey, would this be a good idea for going on a date with someone?
Dates? It is a great idea! Just imagine: the sun setting on a nice warm summer evening while you and your date are paddling on the water . They are so impressed with you for being creative and organizing something out of the ordinary. It can be one of your most memorable dates! AND if things aren't going as planned, they can always take a tip…I mean dip into the water! Oops!
Can you paddle board all year round?
Once you got the hang of it you can paddle just about anywhere and anytime. We don't use any special outfits. I wouldn't recommend winter paddling for first timers though.  This past January we made it up to Tahoe to paddle with some friends. It was absolutely beautiful clear water with icebergs! Every season and every location has it's special qualities.
Tell us about your touring paddle boards?
Our tour boards are designed for just that…touring. You can pack a lunch, pack some gear or pack a kid and head out to your destination. These boards are really stable and are great for longer distances. You will see people with their tackle box fishing in hard to get to coves or just anywhere along the shore. These are the travel trailers of paddle boards.
What will the races be like?
SWEEEET! The races will be a low key community event. No race experience necessary. We will have a lot of newbies to the sport so people don't have to feel like they need hard core experience. Just come and have a great time. The race fee will include a board rental (first come first serve), dinner, and awards. These events begin the end of June.
So you guys really started this company because you wanted more friends to go paddling with right?
Exactly! When we rented boards we had to travel a good distance and transport them ourselves. Not many people had any exposure to stand up paddle boards in Southern Oregon, let alone own one. So in order to find a community of paddle boards in the valley I thought we should just create one. That is our goal. We want to provide the experience, education and a really fun time for everyone interested in trying the sport.
Well, I'm very excited to hear about your new business. Give us the final details
on what we need to know to come out and go paddling with you.
Rentals include quality board, paddle, pfd, leash and whistle
Opening day will be Memorial Weekend.

Hours:

Thursday through Monday, 12 Noon – 6:30 pm

SUP Fitness Classes, Thursday 6:00 pm – 7 pm and Saturday 10 am – 11 am. *Space is limited. Reserve online or by phone.
Liquid Blue SUP
Emigrant Lake, Ashland