When Jamie Palomino told her clients that she was about to be interviewed in the LocalsGuide many promptly replied that they better book their future appointments now.  If that isn't a great testimonial already I don't know what is.  Jamie was born and raised here and graduated from Ashland High School. Jamie's passion for cosmetology can be tracked way back to her childhood dreams as a young girl.  Jamie is now a mother of three girls herself and enjoys doing their hair and nails. Jamie went to Artistic School of Hair Design in Medford and still works with many of the original clients she met when first starting cosmetology school over 17 years ago. What is the secret to her success? I decided to find out.
Jamie, thanks so much for talking with us today. So, what's the secret to your success?
Well that's a good question. What I have noticed is that my customers continually say to me that I am a good listener. I take my time to get to get to know my clients and understand what they want or what they don't want their hair to look like. I ask them key questions about their everyday life then I can make suggestions to them. After a client tells me what they want, I make sure I paraphrase it back to them, this helps me remember what they want and it makes them more comfortable with me.
Tell us more about being a good listener.
I encourage people to bring or email pictures so I can get a good idea of what they are looking for in a hair style. As I am cutting their hair I check in with the client and ask is this looking short enough or if it is going the way you thought. After I have finished the cut I always ask the client to run their fingers through it, because a lot of clients know how their hair feels when it is cut correctly. I also offer an additional service, if they get home and something just does not feel right they can come back within a week of their cut so that I can fix what needs to be fixed.
At the beginning of every hair cut you ask your customers a specific question. Can you tell us what it is?
If it is a new customer I always ask, "When was your last cut?"  This gives me a guide of how long it has grown since the last cut, and then I follow up with, "What did you like about your last cut?" and "Is there anything that you didn't like about your last hair cut?" These questions give me key areas to focus with the customer. If it is a customer that I have seen before, I ask them how their last hair cut was and if there is anything we need to adjust to make it a better cut.
Growing up in Ashland you must have been able to form great friendships with many people.
Growing up in Ashland I have made great friendships with classmates, teachers, and local people in the community. I feel like a lot of my customers are like family. I have a few clients that are unable to come in to the shop, so I go to their homes and enjoy having tea with them while I am doing their hair. I have had clients that were unable to drive, so I would pick them up and take them to the shop to do their hair. I feel a connection with each of my clients. These clients have been with me through good times and bad.
Jamie you don't just do hair. Can you give us a full overview of the spectrum of services you offer?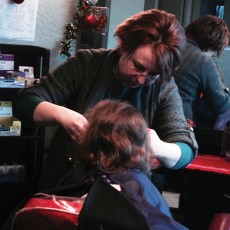 You are right, I am not just a hair stylist; I also offer facial waxing and natural nails. Hair: I offer color either one base color, root touch up, high or low lights (weaves). I also do perms on long or short hair offering different types of wraps such as traditional, spiral, piggyback, etc. I also enjoy cutting men, women, and children's haircuts. Nails: I offer manicures and pedicures and that includes either nail polish or gel polish. Facial waxing includes brows, lip, cheeks, and chin.
What is your favorite part of coloring?
Coloring is like art and I get help a client pick the color or colors they want for their hair and strategically place them in the hair to create beautiful hair. I love seeing the outcome of my creations and I get so excited with each and every outcome. I do not just color women's hair but I color men's hair too.
How about nails?
I have had many pedicures in my life, which were not the best. I decided that I would focus on what I felt was lacking in their pedicures. I give an hour pedicure that includes foot soak, nails trimmed/filed, cuticles pushed back/clipped, calluses removed, foot and calf massage, and polished nails. Manicures are ½ hour and that includes nails soak, nail cut/filed, cuticles pushed back/clipped, massage to hand and arm, and nails polished.
Do you have any client testimonials you can share with us?
I moved to Ashland about 18 months ago and one of the most important things on my list was finding a new hair dresser. My plan was to go to several salons the first 6 months and find an operator I liked who could deal with my hair. My first try was Jamie, and she was so good, so professional and listened so well that I never went anywhere else! She took notes on my hair, my preferences, and has always been really flexible with my sometimes challenging schedule. I just love her and have recommended her to many friends. Thanks Jamie, I love getting compliments on my hair!
Kimberly Kovacs

I am so happy that I found Jamie.  Every time, with each appointment, she asks me what we are doing today and when I say the usual, she just knows what I want.  She cuts my hair exactly the way I like it and she has this way of saying, "Cute, cute, cute!" as she cuts and styles my hair.  It's cute how she says that.  Her presence is always positive and up, which tells me she likes what she does.  I highly recommend Jamie for anyone who loves a "cute" cut!!!
Kay Hagen, Ashland

I have been going to Jamie Palomino for five years and have enjoyed every minute of it! I'm always impressed with how much she cares and takes time with each client to listen to their needs.  She makes me look and feel great every time I go to her and I look forward to every appointment.
Diann Ferguson

Jamie treats each client as unique. When presented with a question, if she doesn't have an answer she researches it until she does. She has qualities that good stylists have which include being a good listener, yet she possesses skills that she brings a collaborative approach to each person. She's a nice person without airs and a hard-working mom who makes time to provide expertise to her clients.
Joyce Woods
You offer some very affordable rates starting at just $20-$30 for a haircut.
I feel that good service does not have to come at higher prices; I feel everyone should be able to afford a good hair cut. Color starts at $50 and goes up depending on length and procedure. I offer pedicures at $25, manicures at $15, brow waxing at $10, lip waxing at $10, or combination of waxing starting at $15.
Jamie can you tell us more about your own life here in Ashland?
There is so much to do here in this town that my family and I love. When I am not working my family and I enjoy hiking, camping, and anything outdoors. We love to go for drives or walks through Lithia Park; it is so pretty at any season.
Are you still as passionate about what you do as when you started?
Yes maybe even more.  Each day is a new adventure. I just love making people feel beautiful, happy, and good about themselves. I still get excited about colors; the outcome is always excites me. I look at my work as art because I am essentially creating new hair!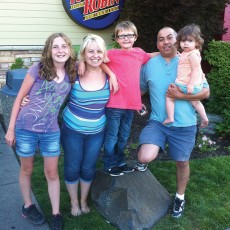 What have you cherished most about being a parent of three girls?
I cherish that they love when I play dress up. We spend lots of time doing nails and hair in our house. My girls are really affectionate toward everyone and my most favorite part of the day is coming home and snuggling on the couch with them.
Finally how can one go about setting up an appointment with you?
Most of the time I can make space for people who walk in, but it is always a good idea to call and make an appointment. The best way to make an appointment with me is by calling me on my cell phone and that number is 541-944-8268.
Oh yes that reminds me of something. You have mentioned to me that you never cancel appointments.
I work really hard not to cancel appointments. There have been a few times that I have had to reschedule due to weather or when I was in labor with my first child.
Ha ha… That's a pretty good track record Jamie! I think that was fine for you to take the day off! Here's Jamie's phone number so you can give her a call and setup your appointment today: 541-944-8268.
Learn More:
Jamie Moser-Palomino
2400 Siskiyou Blvd. Ashland
Sassycutsbyjamie@gmail.com
541-944-8268