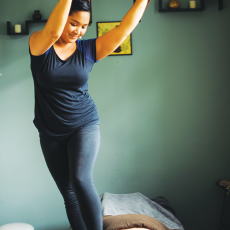 Originally from the Hawaiian Islands, Janhavi relocated to Ashland in 2009.  She is a member of the Wellspring Centre family of healing practitioners and provides both Ashiatsu Oriental Bar Therapy "AOBT" and Lomi Lomi Massage.  Ashiatsu utilizes an overhead bar system that allows a practitioner to use their body weight and gravity to deliver an extraordinary deep tissue massage with their feet. I recently spoke with Janhavi to learn more about her work as well as her role at Wellspring Centre for Body Balance.
Janhavi, thanks for doing this interview with us.  Please tell us a little bit about your life in Hawaii and how you first came to Ashland.
I am from Maui, but lived on the island of Oahu for the majority of my life.  My mom is a massage therapist and is the one who first inspired me to pursue a career in bodywork with her passion for the intricacies and innate healing power of the body.  I was raised with the belief that everything we need to thrive is found within.  I followed in her footsteps in 2005 when I attended massage school at Kapiolani Community College, Diamond Head.  While I was studying to become licensed, my mom and I both worked at Mandara Spa, Hilton Hawaiian Village, in Waikiki.  She was an LMT and I was a spa hostess. My mom made the move to Ashland that year (2006) in March.

Immediately after becoming licensed I transitioned into a massage therapist position and began training for a 9 month contract on board the brand new cruise ship, Pride of Hawaii. There I gained plenty of valuable experience providing massage and detoxifying treatments to spa guests.  People often ask about cruise ship life so I'll tell you that it was a whole different world living and working on one.  It was fun but also very hard work, some days working from 8:00 am to midnight.  My favorite thing about the experience is that I formed very close friendships with those I worked and lived with, and we are still tight to this day.  After I disembarked the ship, I opted to find work on land and ended up at Heaven on Earth in downtown Honolulu for about 3 years before deciding to make the move to beautiful Ashland.  I guess you could say that I'm a bit of a mama's girl!  I follow her around.
 How long have you been a practitioner?
Altogether I've been practicing massage for 8 years, with about a year break when I had my daughter in 2009. I've been licensed in Hawaii for 8 years and Oregon for almost 4.  My main focus has been Lomi Lomi combined with several other manual techniques.  I first became interested in Ashiatsu in 2012 when I had the pleasure of trading with my friend and colleague, the talented Erin Daugherty, and decided to learn Ashiatsu as well.  Although Lomi Lomi is second nature to me, Ashiatsu has become my passion and 90% of my work is done with the feet.
You recently came back from Thailand.  Can you tell us a little bit about your trip?
I'd love to.  Hali'a (my daughter) and I, along with my dear friend Constance and her 3 year old daughter Devi made the journey to Chiangmai this past August to visit my dad and experience what Thailand has to offer.  For the first week of our trip, we stayed in the old city of Chiangmai and did tourist things: rode elephants, visited the hill-tribe village, snuggled tigers, observed monkey, snake and crocodile shows, and visited some outdoor markets and temples.  My friend Constance (who is a Thai massage practitioner and teacher) and I also made a point of treating ourselves to several massages and spa treatments.  We spent the second week at the beach in Cha Am, our guesthouse balconies overlooking the ocean.  We welcomed the slower pace after the fun filled week in Chiangmai.  When we returned to Chiangmai we took a Thai massage class and got more massages.  After that, Hali'a and I went to stay at my dad's wife's village, about a two hour bus ride south of Chiangmai.  I remember feeling so relieved when I got off the bus and breathed in the clean air there.  Cities are great, but coming from Hawaii and Ashland, I appreciated breathing oxygen rather than moped and truck exhaust!  Hali'a loved village life. She got to "help" my dad in the garden, collecting the ripe lilikoi (passion fruit), bitter melon, duck and chicken eggs.  She watered the veggies and fed the chickens.  She got to spend the entire day outside with lots of village kids to play with.  Most of all, I think she enjoyed being spoiled with attention from my dad and Ann, and having me in a much more relaxed state than usual.  And I must admit, I enjoyed the break from single parenting immensely!  We spent a few more days in Chiangmai before heading back to Ashland.  It was a much needed and enjoyable vacation but I was so happy to get home.
You had an opportunity to take a class and receive several Thai massages.  How was that?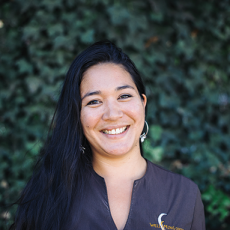 Honestly, I learned more about Thai massage receiving it than in the short class we attended.  And similarly to how eating Thai food in Thailand is different than eating it here, the massage experience is much different there. For example, the way they set up a massage room is quite different.  Several mats or tables are set up in a room with curtains dividing the space, allowing for several people to be worked in each room.  In the establishments we visited, each of us got the exact same treatment or routine performed on us without any prior conversation about areas of concern, contraindications, etc. I don't know if this has to do with the language barrier but I think it's more likely that training is limited to traditional Thai massage there.  I didn't see any establishments offering any massage modalities other than Thai massage and oil massage.  One thing is for sure, you can't beat the price!  3 hours of pampering cost me only $30.00.  I understand the value of Thai massage with its focus on energy meridians, stretching and tendon manipulation, but it is not my favorite modality.  I do, however, incorporate some of the stretches I learned into my own practice, and am inspired to go get trained in Ashi-Thai which is an expression of Thai massage utilizing the overhead bar system, body weight and gravity.
Janhavi, tell us a little bit more about the origins of Ashiatsu.
Ashiatsu is the Japanese word for foot pressure; so many people assume its origins are Oriental.  It was actually developed by an American woman named Ruthie Hardee.  She chose the name not to misrepresent the modality as being Oriental, but because she was inspired by several Oriental forms of barefoot massage she observed as a young girl traveling with her parents.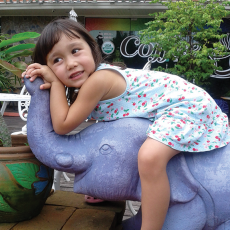 Are there specific conditions best treated with Ashiatsu?
I can't say that there are specific conditions that are "best" treated with Ashiatsu, but I can say that Ashiatsu is highly effective in treating various manifestations of stress such as back pain, sciatica and poor posture.  It's also great for relieving painful buildup of metabolic waste after physical exertion. Densely muscled and inflexible people can benefit from the deeper pressure achieved with Ashiatsu, but smaller framed people need not be afraid, pressure is always controlled and modified to your needs.
Some people find it strange to be worked on with feet.  Can you tell us some of the benefits of this practice?
Yes, there are those with an aversion to feet in general and being massaged with feet may seem a little strange to them.  However, I've had several first-time Ashiatsu clients ask "are those your hands or your feet?" because with some practice, they can be proficient massage tools as well.  There are some definite advantages to this method, one of them being that the feet are wider than the elbows or thumbs so pressure is distributed over a larger surface, reducing discomfort and pain.  People who are usually sensitive to pressure may find they can receive more through the feet.  Where specific trigger point work is indicated, the toes and heel of my foot make excellent tools.  There are some energetic factors that also come into play.

Because my body is in a straighter line during an Ashiatsu session, not only am I able to get great leverage but any energies released by the client into my body through the feet travel out the crown of my head without interference caused by poor posture.  This benefits both of us!  Laura Styler, Brennan Healing Science practitioner and a Wellspring Centre provider, (I call her the Chakra Doc) made me aware that doing massage with the feet uses energy from the first chakra, which is a lower frequency of energy than the fourth chakra energy used with traditional manual massage.  This may account for the deep grounding effect of Ashiatsu treatments.
 Can you walk us through an average Ashiatsu session?
After checking in with the client about what their concerns or needs are for the session I always begin with making an energetic connection with the person I'm working on.  If myofascial release is indicated I do this manually, prior to applying massage cream to the back, hips and arms. Contact with my feet is first applied from a seated position on a stool in front and above the client's head. This allows me to warm the back muscles before the deeper work.  After the warm up, I step onto the table and begin using the overhead bars for support. I address the posterior of the body in as thorough of a manner as possible, including tractioning of the sacrum and skull. Depending on the needs of my client, I may spend more time here, less here, or perform some stretches. I begin treatment on the front of the body wherever the most focus is needed. Because the neck is such a complex network of muscles, nerves and blood vessels, I prefer to do this area manually although I am trained to massage the neck with my feet.
What are some of the specific benefits of Ashiatsu treatments?
The long, flowing, and deep strokes are profoundly relaxing to the nervous system and helpful for relieving muscle spasm. If pain is being caused by pressure on a nerve, several of the strokes open the intervertebral foramen, giving nerves more space. The tractioning movements stretch shortened muscles while decompressing the spine and pelvic bones. Adhesions are loosened, increasing mobility as surfaces that have become stuck together are able to move more freely. Circulation of blood and lymph dramatically increases, aiding the body in removing stagnation and waste.  Ashiatsu can help to improve posture, movement, bodily functions and overall well being.
What do you enjoy most about working with your clients?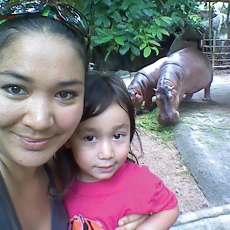 Aside from the opportunity to connect with wonderful people from all walks of life, I enjoy holding space for clients to get in touch with their own healing power. I love seeing people leave from a session in a visibly more relaxed physical, mental and emotional state. If you feel good, I feel good!
Can you share a client testimonial with us?
"Janhavi's Ashiatsu massage is unique in providing maximum deep tissue work with a minimum of pain. This technique attends to all muscle groups, working them to completion. A skilled listener, Janhavi manages to address every concern with a style that also makes me feel so pampered. It's the complete well-being package." Kay S., Ashland
You also practice Lomi Lomi. Can you tell us about what it is and your practice of it?
Lomi Lomi literally means rub, knead or massage. It is an ancient Hawaiian healing art form that has several different styles, depending on family lineage or region. While I was studying it, great emphasis was placed on prayer and connection to higher power (Ke Akua), and that reverence is something the varying styles all have in common. Similar to Ashiatsu, the strokes can be described as long, flowing and on the deeper side, but the tools primarily used are my forearms, palms and fists. Because I incorporate other techniques (trigger point therapy, myofascial release, etc.) where I feel it's beneficial, my practice of Lomi Lomi would not be considered traditional. The delivery of the massage is always backed by love and intention, and that goes for Ashiatsu as well.
How do you see your work complimenting the healing culture of Wellspring Centre for Body Balance?
First I'd like to say that I feel privileged to work with such a gifted and caring group of people. I first walked into Wellspring Centre as a patient of Dr. Jordan Weeda and began a healing journey of my own. In three visits he was able to correct a structural misalignment that had been affecting me for 3 years. I learned that pressure on specific nerves caused by the misalignment had been affecting my immune system and digestion, among other things. Following chiropractic treatment I stopped getting sick all the time, had more energy, and felt like a weight was lifted from me that I wasn't even aware of beforehand. I've only needed a couple of minor adjustments since. After joining the team, I've had the opportunity to exchange healing services with all of our practitioners, each one phenomenal at what they do.

I see chiropractic as the mind, acupuncture and Brennan healing science as the spirit, and massage as the body of our holistic approach to health and wellness, with a lot of room for overlap. That being said, I see my work, and that of our other massage therapist Kaijah Bjorklund as a grounding force in the office, allowing people to fully settle into themselves, become more aware of the infinite intelligence of their bodies while optimizing function and flow.
How has being a mother changed how you have grown as a practitioner?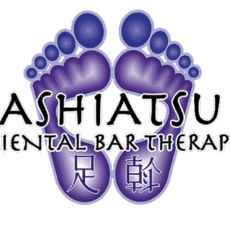 As most of you know, becoming a parent is a transformational experience. Motherhood has expanded my capacity to give, awakened a deeper sensitivity to the needs of others and broadened my understanding of human nature. It is still teaching me patience. Hahahaa!
Any last comments for our readers?
I'd like to mention that our other LMT, Kaijah Borklund, offers a host of additional modalities and specializes in Maya Abdominal Massage. You can learn about the awesome benefits of this type of work at www.wellspringbodybalance.com. For November and December we are offering 25% off gift certificates for new clients. These make great gifts for friends, family, and even yourself!  Call Wellspring Centre for details. Also, don't miss our Holiday Party and Open House, Thursday, December 5th from 5-8pm. I'll be doing a demonstration on the Art of Ashiatsu, and our other practitioners will be giving free information as well. We're having the event catered, so we'll have great food and local wine. I want to express my appreciation to existing clients and to you for taking the time to read this. Mahalo!
Learn More:
Wellspring Centre for Body Balance
108 E Hersey St., Suite 2A, Ashland
541. 482. 2021
www.wellspringbodybalance.com