Interviews
Jim Teece – Project A & Ashland Home Net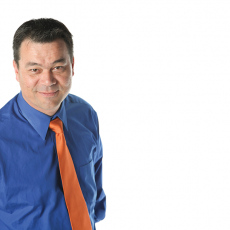 Community leader, local business owner, entrepreneur, family man, technologist, innovator and someone who's got a solution when you need it most, Jim Teece moved to Ashland with his wife Dena Matthews 22 years ago. Together they own and operate Project A.  A local technology and software firm dedicated to facilitating long term relationships and solutions for their clients all around the world.
Project A has provided online and mobile solutions for many of Ashland and Southern Oregon's key organizations and institutions. From the Chamber of Commerce website to the City of Ashland "MyAshland" mobile app and it doesn't stop there. Supporter of the Ashland Film Festival and numerous other community events, Jim has played an integral role in the technological development, growth and evolution of Southern Oregon.
In 2008 Jim and Dena acquired Ashland Home Net, Ashland's only LOCAL cable and internet provider. The company is the largest internet service provider in Ashland and the only one that provides a triple play, is locally owned, provides computer repair and sponsors most of Ashland's community events.
 
Jim's positive get-it-done attitude has kept him and his companies at the forefront inviting the attention of such companies as Google to award Ashland with the 2013 eCity award.  From family to business Jim shares that life gets better with age and continually reaches out to inspire others. I spoke with Jim on the phone to learn more about his vision and passion for doing great things here in Ashland, Oregon.
Jim, thanks for speaking with me today. Your life and work in Ashland has touched so many parts of our community; from your support of the local business community to volunteerism and leadership.  What has inspired you to take this open-armed, full-on approach to life in Ashland?
Thanks for reaching out Shields.  I actually enjoyed our conversation very much. Your work and business model have been very inspiring to me.  When Dena and I lived in Arizona, before moving to Ashland, I volunteered at an elementary school teaching English to children from foreign countries.  I share that because it has always been a part of my DNA to volunteer, but not as much as I do today.

When we moved to Ashland, I realized that volunteering was woven into the fabric of the community. Amazing community leaders surround us all, volunteering in organizations that matter. When we joined the Chamber it didn't take long to realize that the Chamber does an amazing amount of good in the community.  So it was natural to just start showing up and helping out. I went where there was a need. Sometimes it was because I was the token tech guy and sometimes it was because I brought other skills to organizations. Many times, it was accidental, I was asked to help or I just showed up and rolled up my sleeves.  I fell in love with the people I got to work with and I just keep working. I get so much out of it.

When I started receiving awards for community service, I was surprised, because standing before me would be an auditorium of people that give every day to our community and I didn't understand why I should be singled out.
Tell us a little bit about your life before moving to Oregon.
I was born in the Philippines. My dad was in the US Navy and he met my Mom and they got married and had 4 children.  After the war he moved us all to the United States when I was 5. He left when I was 9 and being the oldest it kind of put me in a leadership role by default. My mom went to work cleaning the apartment complex we grew up in by day and went to school at night to get her citizenship and to become a nurse. She is my truest hero. We didn't have very much growing up, but we had a great childhood filled with hard work, imagination and love.

I always wanted a family and to work hard to be a great dad. I was a little sad when all my brothers and sisters became parents before I did.  I met Dena when we were in our late 20s. I told her right away that I wanted to get married, have children, drive a mini-van and raise a cow. I consider myself lucky to have met and married a world traveling tri-athlete, with multiple degrees, who is drop dead gorgeous, an avid reader (I think reading is sexy) and funny.

After she graduated with a Masters in International Business from Thunderbird, we decided to move to Oregon to raise a family and grow our business. We scoured the state via car (no internet back then) and we stumbled upon Ashland after giving up on finding anything for us in the state. We wanted a small town, with a college, good transportation options and some culture. We still laugh at how we stumbled upon the perfect town that met all our criteria.

We live on around 27 acres 3 miles east of Ashland by Emigrant Lake with lots of animals. I still have the minivan but Quinn (17) now drives himself in it to school and swim practice daily. Our oldest, Teague, is 20 and is attending Oregon State University. She wants to become an AG teacher.
You have always appreciated Ashland for both personal and professional reasons. Tell us about it.
When we moved here, we didn't know anyone. We didn't have any money. We had a start up business. We didn't know how lucky we would be, that Ashland had world class schools.  We also had leaders that were eager to make sure that the community was future-proofed.

I just happened to be in the right place at the right time. When I was elected to the Chamber Board of Directors, I wanted to teach our community about the internet, so I volunteered to run classes for all the local businesses and government agencies on how to do business online. When the electric department was looking to build a municipal internet, I volunteered to help them design it. The point is that people chose to attend my classes and make the changes to survive and thrive in the new world and the city wanted to have the bandwidth. That's what makes Ashland unique. People want to change and grow.
Much of the work you have done has revolved around community building. Why is this important to you?
When you serve on a board, you have to know your impact is larger than the organization you're working for. When I sponsor an event, it's because I believe in a greater good that will come from a successful event. My calendar is very full. You know this first hand, because you have had to be tenacious in sitting me down for this interview. I build my businesses because I know they are part of the strong foundation of commerce in our community. I serve on boards because I know they are equal in importance and strength to the community. The hard part is balance. I still owe my employees and clients over 40 hours of work in a week and I owe the community and my family equal time, so it becomes a challenge to keep that balance. I color my calendar so that I can tell very quickly if balance is there or not. If my month looks like a rainbow, I feel good. If it's too much of one color, I try harder the next month to get balance back. That balance builds a strong community but it's very hard and sometimes very exhausting. I'm learning to rest like a Jedi taking a knee.
Let's talk about shopping local. You feel we can take this further and you are currently working on a project to help promote this movement.
We are launching the Local Hero movement this month (http://ashlandhome.net/localhero). It's much more than buying local. It's committing yourself to volunteering, donating, and giving as well as buying local first. It's a simple way to track your commitment and share it, get recognition and even rewards for all you do.

We are launching it here in Ashland, but I'm working with other communities in the state of Oregon to also launch it and I'm hoping that it will grow to become a national or international movement though a grassroots organic approach to growth. We have an app for your iPhone or Android phone as well to make it easy and convenient to record your Local Hero Actions.

People do this already with exercise and drinking, we are just expanding on it to include your community involvement. Of course I want everyone in Ashland to buy their High Speed Internet service from Ashland Home Net but it really goes way beyond that.
Recently Ashland Fiber Network came under a Denial of Service Attack. Internet slowed down to dial up speeds and internet was even fully taken offline in Medford. You didn't sleep well the night this occurred. Please talk more about this and why we not only need to future- proof locally but statewide and beyond.
DDOS attacks are easy to launch and I expect our community to be hit by them frequently. I lost sleep not because of the attack itself, but at our lack of readiness to deal with it. I think of these widespread outages of internet or power for long periods of time like a fire. If there was a fire, we have a department dedicated to putting it out in a timely manner and preventing the spread. As we become more and more reliant on the internet to live, it's important that all of us get ready for massive outages. Our businesses need redundant connections. We need to understand the massive impact and have contingency plans in place. We need to understand that communication channels needs to stay open when this happens and that the entire community suffers, in the short term and sometimes for the long term. It's also important to know that no one is safe from this attack and sometimes the upstream impact is much greater than the local impact. I'm working with the providers to find ways to mitigate this issue in a timely manner the next time it occurs and to prepare for it, just like fire departments do.
Who inspires you in your work and business development?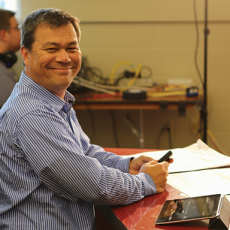 I'm inspired by many local business people and their families that have been a part of Ashland for generations and are still leaders in the community. I'm inspired by the local foundational organizations (Chamber, SOU, Hospital, City, ASD, OSF) that work together. I'm inspired by our world-class and award winning education system and the students that launch from it. I'm inspired by the people that choose to live in Ashland and work hard not to change it into the place they came from. I'm inspired by the brilliant people that chose to work for me and dedicate themselves to delivering world-class solutions and services. I'm inspired by the innovators and dreamers like yourself that start businesses and change business models over and over again in order to survive and thrive.
As both an innovator and technologist you are continually evolving your craft. How do we as a community grow and stay available to change?
Technology evolves at a rapid clip. Technology companies know from day 1 that in order to survive and thrive you must evolve and be okay with change and accept it and want it. But now that technology has infected all other businesses and ways of life, it brings with it that same sense of rapid change. I suspect we will see more change in the next 20 years that we saw in the last 200 years. Even the old, large institutions like education and government will change into something that we can't yet fathom. It all has to change in order to survive in this new world we built. Slow isn't an option. We spend fewer days in school today compared to when I was a kid, but we expect students to learn more to be competitive. In order to future proof ourselves and our state we need to allow disruption and not fight it to keep the old way intact. It will be painful at times, but we will all grow from it. One of the neat things about Ashland is the desire to change. I'm excited to see what our children create even though it may put one of my businesses out of business.
The Ashland lifestyle has been very important to you and your family. Together you and Dena are huge advocates for the public school system. Please say more and talk about your hope for Ashland as we move into the future.
Why do people put their children in private schools? Because they want their child to have a leg up on higher education. They want them to have access to the best teachers. I can tell you that the Ashland School District is focused on delivering a private school education to everyone. (My words, not theirs.)  Every student in the Ashland School District has great opportunities and access to the best teachers and technology and athletics. Why? Because the community demands it of the public school. They support it with a levy and they demand it. And the entire community benefits from it.

All that being said, it's not perfect. It's faced with the same challenges any public institution is. I'm hoping we can find a way to enhance, extend and enrich public education by offering more of it, with one to one education tools and practices.
Jim your company is working with clients and communities all around the world. Something you mentioned to me is that Ashland has a very positive "YES" attitude. People get involved and try new things because they see that they can make a change. Please say more.
I do have a unique opportunity to work with communities and I can tell you Ashland is very unique. I read somewhere that in the 70s most Ashland businesses downtown were boarded up. Now look at it; 75 amazing restaurants in one small town of 20,000 people. It's such a magical and lovely place. We are very spoiled. There is what I call the community Operating System here in Ashland.  Our chamber, city, schools and hospital and largest employers meet once a month to discuss issues that affect the entire community. We desire community evolution and it shows. We showcased the digital innovators in Ashland 2 years ago and this month (April 11th) we are showcasing all the other innovators in Ashland. I think that's another thing that we do well, we celebrate innovation, disruption and being global leaders or change agents right here from Ashland.
You have had a very loyal and long term base of employees at both Project A and Ashland Home Net. Will you please introduce us to your team?
Dena and I have been very fortunate. I want to say they are all great people and I could not do it without them, but I especially want to draw your attention to Rick Carter. He has been with us at Project A for 20 years. He could of worked anywhere and for anyone and make a heck of a lot more money. He is a brilliant programmer and dedicated father and husband. It's been an amazing experience to work by his side for so long and watch him master his craft and maintain that balance with his family. I'm very proud to call him my friend.
Will you please give us a brief overview of the services that you are able to provide at both Project A and Ashland Home Net?
Project A is a company that builds websites, ecommerce sites and mobile apps for clients of any size. We also provide managed hosting services. Find out more at ProjectA.com

Ashland Home Net is an Ashland only High Speed Internet Provider, HD Cable TV Provider and Phone Service Provider. We are the largest ISP in town and over 75% of AFN customers connect through us for our competitive prices, superior customer service and community connection. Find out more at AshlandHome.Net.
Finally do you have any last comments or thoughts to share with our readers?
I really appreciate this opportunity to talk with you and I strongly encourage everyone to visit http://ashlandhome.net/localhero to learn more about our new initiative and if you wish to join the cause, download the free apps and get involved. We also now offer wireless internet service to homes near or around Emigrant Lake.
Learn More:
Ashland Home Net
607 Siskiyou Boulevard (next to Safeway), Ashland
AshlandHome.Net
541-488-9207 information@ashlandhome.net
Project A
5350 HWY 66, Ashland
ProjectA.com
541-488-1702 sales@projecta.com