Interviews
Kevin and Diane McKelvey – Ashland Directory
Ashland's Favorite Local Phone Book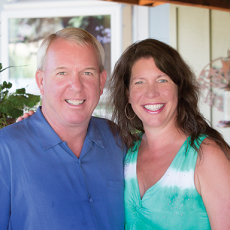 Diane and Kevin McKelvey are the owners and publishers of the Ashland Directory, Ashland's favorite independent print and online phone directory. For the past twenty-seven years, Kevin and Diane have kept their finger on the pulse, maintaining the directory as the definitive phone book to all of Ashland & Talent's local businesses and residents.
How have they stayed so connected with Ashland, you might ask?
Kevin and Diane are both very active participants in our community. They love skiing, sailing, gardening and enjoy cooking and entertaining with friends and family. Raising three children in Ashland has also kept them connected–along with volunteering and serving on numerous community boards, such as the Ashland Chamber of Commerce, YMCA, Mt. Ashland Ski Area, Mt. Ashland Racing Association, and school activities their kids are involved in. Diane is the current president of the Ashland High School Booster Club. It's often been rumored that they might "know almost everyone in town."
KEEP YOUR EYES OPEN!
Starting this month, the new 2013 Ashland Directory will begin arriving in homes.
The phone books will be delivered by USPS mail and will contain all of Ashland's latest and up-to-date resident and business information. If you haven't seen the directory before, you will automatically recognize it by its beautiful, full color photographic cover. The directory is compact, functional, and hyper-relevant to shopping local.
Rest assured that you can find what you need quickly and easily, and that you won't be receiving just another paperweight to hold your door open on a windy day. The directory has a great layout and shares all sorts of historical and local trivia knowledge about Ashland. It can fit conveniently in a drawer or tucked away on a shelf. This is not your normal phone book. Diane has even reported that many local residents actually call them every year to thank them for providing such a useful resource.
Lastly, it's important to know that the Ashland Directory is locally owned and maintained by people who care about the community. I've always believed that large technology and phone companies can get the satellite view of a town, but it's the people and connections that count. Whether you search it online, or reference it in print, The Ashland Directory offers one of the best ways to stay in touch with all your favorite friends and neighbors.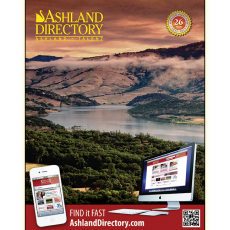 Diane and Kevin, thanks for speaking with me this month. You've got some exciting news for us, which is that the new Ashland Directory will start arriving in mailboxes all across Ashland & Talent this month. Before we get into the details of the actual directory and its online services, could you take us back to how this all began?
I, Kevin McKelvey, came to Ashland to go to college and being from outside Buffalo, New York, I really didn't know much about Ashland, Oregon. It was 1974 and I was attending SOC, now SOU. I was a business major and had dreams of becoming an international businessman. For the next 12 years I went to school, played, worked construction, was a bartender and a car salesperson. All the time loving Ashland. Then in 1986, I wanted to start a business of my own so I could make a living and start a family and be successful–wow, what a concept. Still, I wanted Ashland to be my home. One night, lying in bed worrying about paying the bills, this light bulb went off over my head and I pictured a small phone book for the city of Ashland. I thought, well, Ashland had its own sewer, water and electricity service, airport and golf course…just, maybe, Ashland should have it's own phone book. I went down to the Daily Tidings and talked to the publisher, Mike O'Brien, about the idea and the cost. He told me I had a great idea and became a great mentor for a young 30- year-old entrepreneur. I then went to the city and found out how many business licensees there were, about 1500 at the time, and thought if I could sell a third of them ads, pulled some numbers out of the air, and told myself this can work. I had never sold an ad before, I didn't know too many business people and the thought of failure never crossed my mind.
Kevin, unbeknownst to you at the time of starting the directory, Pacific Bell Telephone Service was being investigated by a Senate Committee. What happened, and how did this help shape your business?
I was now on my way, if I could only get the white page residential listings from the phone company. So, I pick up the phone and called Ma Bell, one of the largest companies in the U.S., and asked if I could buy their listings from them for my little phone directory in Ashland, Oregon, and they said, yes! Little did I know that the Bell system, which owned all the telephone lines, all the telephones and all the phone books in the nation, had spent the last year few years in front of the Department of Justice, which was investigating anti-trust law violations. Forced to break up this monopoly, and in an attempt to create competition, made it possible for the first time for independent phone directories to buy white page listings the very year I needed them. By having the white pages and the yellow pages, as well as the community pages, the Ashland Directory became a full service phone directory.
You then began sharing the idea of Ashland's Independent phone book with friends, neighbors and businesses connections around town. What happened next?
I had a couple of buddies who wanted to help with my project and we decided to go down to the Mayor's office and see what he thought of my idea. The mayor at that time was Gordon Medaris, a great guy who loved the fact that Ashland would have its own telephone directory. He gave me a written endorsement and we had pictures taken in Lithia Park that ended up in the Daily Tidings business section. Mayor Medaris deemed the phrase "Buy Ashland First" and thought it would be an economic boost for the city.
Diane, at the time when Kevin started the Ashland Directory, you guys were not married yet. However, I understand that you were an advertiser in the Ashland Directory and that Kevin is a pretty good salesman?
I was going to school at SOSC and was managing The Beanery at the time. I would buy ads from Kevin in the Ashland Directory for The Beanery as it was a great form of advertising. We always would say "hi" to each other in the grocery store or downtown, but I did not know him personally. We were both with friends at Omar's one night and started talking with each other at the bar. We dated and discovered we both enjoyed the same things, fell in love, and got married. One of our first dates was on Mt Ashland and Kevin passed the ski test…which was at the top of my list of qualities to find in a partner. He not only could ski…he could keep up with me, which was the ultimate test. I had graduated from college by then with a degree in Accounting, and worked for a large accounting firm in Medford and a sole proprietor in Ashland during our first years of marriage. Kevin tried to convince me for years to work with him on the Ashland Directory–that I'd be a good salesperson and he needed help. We decided to start our own family. (Kevin had a son Morgan who was 4 years old when I meet him, so I knew he was a great dad). I started working with him in 1993 growing the Ashland Directory, and we started a new publication together called the Silver Pages.

We had two children, Logan and Kelsey, born in 1994 and 1996, and we had our office in our home so we were able to raise our children at home, as well as run our own business. This enabled us to be close to our kids as they were growing up and to have the flexibility of volunteering at school and be supportive of their activities and sports and family time.
As the Ashland Directory began to evolve, what were some guidelines you set in place to create a unique and highly relevant directory for Ashland?
At first the only guideline we had was you had to be an Ashland business with an Ashland phone number. The other thought was that the Ashland Directory needed to be complete and all inclusive. We knew that if people looked for something or someone in our directory and didn't find it they would stop using the directory. We always use every source we could find which included the newspaper, magazines and of course other phone directories. We update our listings every year. We also wanted to make it feel as local as possible. To accomplish this we put historical photos of Ashland that we got from the Southern Oregon Historical Society and later used photos we got from Ashland's own local historian,Terry Skibby. Another way that the Ashland Directory differed from the other directories is the cover. Our covers are an important aspect of our recognition. We thought that if the cover was beautiful that people wouldn't mind leaving it out in eyesight and in arms reach. Most of the complements are about the covers of the Ashland Directory. They have to depict Ashland in some way, be a beautiful view in or around the Ashland area.
I am curious, what Ashland was like as a community twenty-seven years ago and how has it changed?
That is a good question and one I get asked a lot. In one way Ashland has not really changed that much. It's still a fun small town full of life, energy, culture, beautiful scenery and wonderful diverse people from many places around the county. The Ashland community has always supported our schools, arts & theater, parks & outdoor recreation. In other ways Ashland has changed a lot. We have more restaurants, real estate offices, and jewelry stores. We developed the railroad district and the deer moved into town. But all in all Ashland is still the greatest little town ever.
Kevin, you are always out and about town. How do you keep track of so many details – new shops opening, things changing all the time?
I spent my days walking & driving around talking with business owners and the community. I believe in contacting people in person at their place of business. When I am walking from one client to another I pass by other businesses and make a point to notice new or changing businesses. I have lived here for so long and love getting to know new people in town and take pride knowing what is going on in Ashland. The Ashland Chamber of Commerce also has helped me stay in tune to new businesses. I attend the Friday Chamber Greeters meetings and am a Chamber Ambassador. As an Ambassador we attend ribbon cutting ceremonies and grand openings. Chamber Greeters, and my relationship with the Chamber, has been an invaluable source for networking with local business owners.
Diane, the Ashland Directory prides itself for its great attention to detail. Can you please talk about this side of the business?
I have a degree in accounting and worked in an accounting firm for 5 year after graduating from SOU, (formally SOSC) so I do all the books for our company and I am very detailed oriented. We take pride in the accuracy of our directory and my background and skill set provides what is needed to achieve this accuracy. My clients are mostly the one's that like to communicate over the phone & e-mail. Kevin does all of the cold calls & outside sales. I also have self taught myself graphic design which helps me to explore the right side of my brain by being creative.
Kevin, I loved hearing the story about you going out in the early days with your kids to deliver the Directory. Would you mind sharing that with our readers?
In the early days of the Ashland Directory the phone book was distributed in town by the boy scouts. Me and my children would deliver the rural route of Ashland. One day my son Morgan was quite puzzled by the fact that we were giving the book away for free and didn't understand how I made any money. As we drove down the streets of Ashland I would point to people and whether I know them or not…I would make up a name for them. He was amazed that I know so many people in town but later in life discovered even though I know a lot of people in Ashland I didn't know everyone.
Diane can you talk about how the Ashland Directory has helped to grow and support local business… even before shopping local was cool?
We have always prided ourselves on helping small business with their advertising needs and assisting them by marketing their business to a targeted market of Ashland & Talent at a low cost. Many of our client say that they can't afford to advertise in the large phone book or on TV and that the Ashland Directory is the only media they advertise with. Consumers in Ashland want to patronize local merchants & neighbors rather than go to Medford. So naturally the Ashland Directory helps it's users find goods & services close by, right in our own town.
Kevin you mentioned that nearly 90% of your customers are return advertisers. This is outstanding! Do you have some founding advertisers who you would like to give a big shout-out to?
We went through the early editions of the Ashland Directory back in the mid 80's and 21 of our original advertisers are still advertising in the Ashland Directory. The original advertisers were Ashland Community Hospital, Ashland Home Real Estate, Gold & Gems, Flower Tyme, Paddington Station, Sound Peace, Greenleaf Deli, Fashions for Windows, Bear Creek Lock, Courtesy Appliance, South Valley Autobody, NAPA Auto Parts, Ashland Cycle Sports, John Kalb DC, Mark Heller DC, Grange Co-op, Ashland Flower Shop, Litwiller Simonson, Christopher Briscoe, Omar's, Websters, and Callahan's Restaurant & Lodge. Many of the owners of these business we call friends and we have raised our families together a great community of socially and community minded people who love Ashland.
Diane, you also receive a lot of feedback from residents calling in to thank you for the great work you all do in providing the directory.
When the Ashland Directory hits the street we get many calls from people to love the book and thank us for putting it together. We've had many people comment that they read the Ashland Directory from cover to cover because they enjoy the trivia, historical facts and photos that we have collected over the years. Some people actually have the entire collection of every year of the Ashland Directory. They are a history book of the businesses and event of Ashland for the past 27 years.

Guanajuato, our sister city, with the aid of Señora Chela has a whole collection of framed Ashland Directory covers in the City Hall in Guanajuato, Mexico.
Kevin, each year you feature a beautiful photographic image. Will you tell us more about this?
The front cover of the Ashland Directory is always a beautiful scenic photo depicting the beauty of Ashland. Many of our covers have been of Lithia Park but we balance that out over the years by putting photos of the surrounding mountains, Pilot Rock, views from Greensprings Highway in different seasons. We have received an abundance of feedback from clients and users that they love the photos on the cover of the Ashland Directory. Also people have commented on the back cover as our advertisers take pride in make attractive ads for the back cover. They appreciate not having a large attorney firms ad promoting suing for malpractice or wrongful death.
Starting last year the directory went online with its listing and full local directory. Can you tell us more about this?
With the increased use of the internet, the Ashland Directory, together with Project A, developed an online version of the Ashland Directory. AshlandDirectory.com can be used on your computer or smart phone to find goods & services in Ashland and Talent. We have both the residential, business listings, and advertisements in a format that can be searched for either the name of the business or by the category.

When you purchase an ad in the printed version of the Ashland Directory, you also get an ad online. There is also a map-it feature and a link to go to the company's website.
What have you got in store for us this year?
This year we will be adding a couple of features, one of which are pages for a business to describe their goods or services, as well as information about the owners, and also menus for restaurants. We are doing giveaways and contests on our website & Facebook and Diane's Deal will be a way for our advertisers to showcase special deals or discounts to help promote their business.
Lastly, the new phone book will start arriving all across Ashland in mid-August. Do you have any last comments or thoughts you would like to share with our readers?
Be on the lookout for your new Ashland Directory in your mailbox in August. Please check out our new online directory, AshlandDirectory.com. Find everything that Ashland has to offer and discover how easy it is to find the phone numbers you need. Bookmark the AshlandDirectory.com on your smart phone and take your Ashland Directory with you whereever you go. We'd like to thank our advertisers for supporting the Ashland Directory over the years. You have made it possible for the Ashland Directory to continue to support Ashland's business community.
Learn more:
www.AshlandDirectory.com
P.O. Box 3451
Ashland, OR 97520
Phone: 541-482-2542