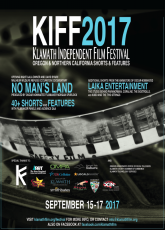 As the owner of LocalsGuide I am continually on the hunt for exploring new and exciting opportunities -interesting hiking trails, swim holes, cultural and social events. Local culture has a richness and diversity that invites continual exploration and emersion. This month I am proud to announce the LocalsGuide sponsorship of the Klamath Independent Film Festival located in Klamath Falls, Oregon running September 15-17th.
Along with providing a fully featured festival guide, we are also providing visitor guides for Klamath Falls, Crater Lake, and beyond. Get out and explore local!
In this interview we speak with festival director Jesse Widener about the Klamath Independent Film Festival history, culture and 2017 line up. In addition we will also be sending four lucky winners to the Festival compliments of LocalsGuide and KIFF!
Jesse, thanks for speaking with us today. KIFF (Klamath Independent Film Festival) is now celebrating its 5th year and the momentum is growing. Please introduce us to the festival.
First off, thank you for your sponsorship support and helping to introduce us to your readers. Obviously Ashland has a thriving film community, both on the production side and the patron side, as evidenced with the Ashland Independent Film Festival. We feel we have a very complementary festival to AIFF, which offers additional content viewers might not be introduced to through AIFF.  AIFF has been very supportive of KIFF as an extension to support, promote, and raise awareness of filmmaking from Southern Oregon and throughout the state.

KIFF is run by the Klamath Film Makers Group, a non-profit organization similar to the Ashland-based Southern Oregon Film & Media (of which many of us are also members), but we take a more direct role in helping filmmakers make films and get in front of an audience. Therein lay the roots of KIFF, as we firmly believe film is best shared on the big screen with a live audience…that magical theater experience…and we want to help filmmakers to have that opportunity, especially as we also work to promote and raise awareness of filmmakers and filming in our home region of Southern Oregon.

Our first year was almost on a lark to see if we could put together a local festival and fill out a program with films by Klamath Falls residents, and those around our community who come to us for their shopping and cultural entertainment, including our neighbors just over the border in Dorris and Tulelake of Siskiyou County, and as far away as Lakeview, Oregon and Alturas, California…each about 100 miles distant. With the success and interest generated by our first year, we opened up to Jackson County, then subsequent counties/regions in the following years, to where we are today, showing films and filmmakers based in the Southern Oregon/Northern California region and throughout the rest of the state of Oregon.
Jesse, what makes KIFF different from other film festivals?  What is some of the criteria you look for in choosing your films?
Our focus is a combination of homegrown, local/regional/state content, (as opposed to reaching out nationally/internationally), selection of films for film's sake, (welcoming any genre or viewpoint), and our jury process which involves people with a range of backgrounds and film experience or no-experience. This all coalesces to create a program we feel uniquely and broadly represents Southern Oregon and Oregon statewide independent filmmaking. This can appeal to a wider audience than what many festivals cater to.

A lot of festivals have a theme, or seem to be geared toward a particular artistic or socio-political viewpoint. Being filmmakers ourselves and having connections with many other filmmakers, we are keenly aware a large percentage of filmmakers make films which don't fit the niche of many festivals. We are also aware that of the millions of people who go to the movies, only a small percentage have an interest in the types of film a lot of festivals cater to.

Last year we showed an hour-long, pro-forest/environment documentary by an Ashland filmmaker, and we also showed a 12 minute pro-logger documentary by a Medford filmmaker who grew up in Northern California. Both films were well made, thoughtful, and engaging, and the contrast of thoughtful viewpoints promotes discussion and understanding between factions, rather than cater to one side or the other…something we need more of these days. But more than that, we also show comedies, action, thrillers, and anything else we feel deserves being celebrated as film for film's sake. After all, more than the subjects we show, we love the art of film itself! Of course, the subject matter of a film is part of its value, but so is its craft, it's artistic value, and frankly its entertainment value. We try not to let any one of those points drive our whole program.

We give voice to a little bit of everything. We expose the audience to a range of film styles, techniques, genres, and subjects/viewpoints, which we feel best represents our filmmakers. We try to give equal weight to various flavors, and let our audience experience a rich, full course of local/regional/state filmmaking. We are representing the truly underrepresented, the films and filmmakers who don't fit the niches of many other festivals, and in the process we truly offer something for everyone to enjoy, with a truly Oregon character.
Please tell us about the KIFF jury process.
The details of our our jury process evolve with the growth of our festival year to year, but the foundation is always that multiple people view every submission, and most importantly, a varied group of people view and select the program together, democratically. There is no one person who makes the ultimate selections. Our jury debates it out among themselves. This ensures our well-rounded program.

Currently, we have vetters who watch and pre-score every film on their own time over the course of a few weeks, which this year resulted in every film being viewed by at least 3-4 people. Then, we assemble our jury to watch the films together in the same space, under the same viewing conditions, and let them discuss and gauge each other's reactions/thoughts on the films. They work their way down the vetter's scores from highest to lowest…because they can't simply watch every film, with so many submissions…but a really curious thing happens each year: our jury never ends up just selecting the top scored films down the vetter's list. Granted, most of the selections come from the highest scored films, but when a group of people watch and discuss the films together, in context of the films right up against one another, they get a different feeling for it than people remotely watching the films isolated over time. As a result they mix and match more. This further contributes to the broad representation in our festival, both of the films and filmmakers themselves, but also of the viewpoints of our varied jurors which translates to varied material for our audience. This results in literally something for everyone in our audience to enjoy.

Our jury is typically made up of a couple Klamath Film Makers Group members, SOFaM or other filmmakers from the Jackson County area, and regular, non-filmmaking people who would represent a regular general audience. We welcome our sponsors to be involved in jurying, and we welcome anyone of any background or experience to be on the jury. We have placed people as jurors or vetters who simply came up to us and asked if they could be a juror or vetter. We welcome everyone to see first hand how our process works. We try to be as transparent as we can practically be.
Jesse, tell us about some of the films that will be showing this year.
Our opening night feature is the Oregon Premiere of a documentary on the Malheur Wildlife Refuge occupation called "No Man's Land", by David Byars and produced by Oscar-nominated Morgan Spurlock. David had inside access with both the occupiers and the townspeople to film. We feel this is an extremely topical film with interests from across the socio-political spectrum. You won't want to miss this!

Among our features are the local/regional films "A Pilgrim's Progress" based on the Christian allegory of the same name and made by David West of Medford (and now Klamath Falls…welcome David!), which was produced with a largely volunteer cast/crew and budget.

Quite an achievement. We are also showing Molly Kreuzman's "Earth Seasoned…#GapYear", which was also featured at AIFF, about a local young woman who took a year after high school to participate in a wilderness living program.

On the state side, we have Matt McCormick's "Buzz One Four", also an AIFF featured film, about his father's time as a pilot flying sleep deprived sorties of nuclear armed B-52s over the Northeastern US during the cold war, and the crash incidents involved. Our features evening closes with Kyle Eaton of Portland's comedy "Shut Up Anthony". Having already received some national festival attention, we are proud to bring Kyle's sharp comedy about a neurotic Portlander who loses his job, girlfriend, and dignity over the course of a few days.

For shorts..we have tons of shorts! 40+. Comedy, abstract art, documentary, drama, animation…it's all there. Our local/regional slate consists of 21 shorts representing 23 filmmakers (with three of the longer shorts having a separate program kicking off our features day). How is that possible? Check our complete program to find out! Our state shorts bring in 13 more films including Will Cuddy's and Slater Dixon's crowd pleasers "Linea" and "Incendio", respectively. We are also proud to present a special retrospective of shorts from employees of Oregon own Oscar-nominated animation company, Laika Entertainment…though the program has some adult material and isn't intended for children.
How would you describe the experience for individuals attending the festival?
The festival itself is just plain fun! We have serious material, but we aren't pretentious…we will just as easily slip in some comedic nonsense. Most of all, we have a quality slate of films with a strong local/regional and Oregon feel.

As for Klamath Falls itself, we are a small city (40,000+ people) with a small town feel. People are friendly as though they assume everyone is their neighbor, and honestly our prices are small too, from cost of living to eating out, you will find Klamath Falls to be very affordable to experience. At nearly a mile in altitude, Klamath Falls sits against a backdrop of rugged high desert and alpine mountains, miles of national forest, and serves as a hub of commerce and entertainment for Southern Oregon and Northern California residents off the beaten path. Yet, we are a more sizable community than most imagine. Our city has its roots in agriculture, but through decades of changing social and political landscape, we have evolved a diverse community in medical, technology, and the arts.

We are home to the Oregon Institute of Technology (which incidentally is self-powered by the world's first combined geothermal heat and power plant), Jeld-Wen (one of Oregon's home-grown billion dollar companies), and of course the Ross Ragland Theater. Before I-5, Highway 97 was the route up and down the state of Oregon, and Klamath Falls was the 3rd fastest growing city in the state. Period photographs show it as a little Vegas, with bright lights and marquees everywhere. Klamath has had 20+ classic movie theaters, and the Ragland is an original 1939/1940 Art Deco theater, now seating 700-800 for local, national, and international entertainment. It was renovated into our cultural arts center almost 30 years ago, and was the first multi-disciplinary arts theater in Southern Oregon/Northern California…before Bend, Redding, Medford or Ashland.

Our city is spread out, and while our downtown does have its boutiques, shops and restaurants, you should explore throughout the city to really sample all our eating, shopping, and culture.  Klamath is rich with outdoor activity, including extensive biking trails (we are also running concurrently with the Crater Lake Ride the Rim event…yes, Crater Lake is in Klamath County as well!), rafting, and we are a prime center for a huge range of bird species for you birders out there. We also have the only Arnold Palmer designed golf course in the state, at the Running Y Resort just 10 minutes out of town (and one of our lodgers offering discounts to attendees), and an indoor climbing gym at The Ledge, who can also provide all your outdoor needs. The Favell Museum brings in nationally acclaimed western artists, recently with a program of indigenous photographs by a renowned period photographer, and will be holding an extensive art show at the time of our festival. And yes, there actually are "Klamath Falls", which are comically small.

Ultimately, we are like a smaller Bend, OR, in the days before the traffic.
What does the schedule look like and where should people plan on staying when attending the festival?
Our scheduling this year allows audiences to view absolutely everything, if they are up for the challenge. This year's festival begins Friday September 15th at 7pm with an opening night gala dinner in the lobby of the beautifully renovated, Art Deco, Ross Ragland Theater, followed by the Oregon premiere of our exclusive feature "No Man's Land" at 9pm.

The festival continues on Saturday the 16th at Pelican Cinemas, with our day of features, preceded by a "Long Shorts" program starting at 1pm and concluding with "Shut Up Anthony" at 9pm.

Sunday the 17th kicks off with a series of filmmaker/audience panels starting at 11am. We are still putting these two together, but one will be independent filmmakers talking about independent filmmaking. For the other, we are working to assemble a panel of Klamath residents with extensive Hollywood experience. Audience members will be able to engage with filmmakers at both panels and ask questions. The rest of the day features the balance of our short films, with "Laika Shorts" shortly after 1pm, followed by our "Statewide Shorts", and concluding with our annual "Local/Regional Shorts, Awards, and Q&A" which should all wrap up around 9pm.

There is time between shows to grab a bite to eat, and a larger open block of time around dinnertime. A full program of shows, trailers, synopses, dates/times and ticket information can be found at klamathfilm.org/festival.

For those planning to stay overnight, current the Running Y Resort, Olympic Inn, and Holiday Inn Express are offering discounts to those who call in for reservations and mention the festival. All lodging in Klamath Falls is very reasonably priced, with Running Y coming in the highest at around $150/night on their lower cost rooms after discount. We will be updating our site with lodging info.
Jesse, what can our readers do to help support the festival locally?
Hopefully after reading this article your readers have a clear idea how much this is all of our festival here in Southern Oregon. That they will see and support many people they know, and be able to experience the widest range of local/regional and state film programming they can find here, close to home. This is a celebration of filmmakers and filmmaking. Word of mouth is the best advertising we can get. Tell your friends and family. Make strangers uncomfortable and tell them as well! Most importantly, come see for yourself. Nothing promotes our festival better than people seeing what we are actually doing, and taking that amazing experience back home with them.
Agreed! And in order to help encourage local exploration we are offering 4 directors passes. That means you can see all of the films to four lucky individuals. This is certainly an opportunity not to be missed. You will of course have to provide your own transportation, food, and lodging. But once in Klamath you are totally set!!
Enter the Contest: 
Link Will Be Live on 9/1/17
Jesse any last thoughts or comments to share with our readers?
Just that they may not know us, but I myself, and our organizers know them. We get over there often to interact with SOFaM and AIFF. We value them, and we want to share this welcoming, entertaining, and enriching event with them!