Interviews
Life Without Pain! Southern Oregon Sports and Spine We Do Things Differently
If you're looking for a holistic, gentle, comprehensive approach to chiropractic care that will free you from your pain once and for all, then you will want to consider Southern Oregon Sports and Spine (SOSAS). They offer an integrated, caring approach to pain management that gives your body all the tools it needs to feel better.  Formerly known as Heller Chiropractic, the practice has served the community for over 36 years. Through close relationships with local doctors, specialists, and hospitals, Southern Oregon Sports & Spine make sure you get the complete care you need. In today's interview we take an in-depth look at their practice model. They do things differently, and you will feel the difference.
Can you start by talking about what has helped your office become so successful?
The first thing that people experience when they contact us is our front desk staff. I want to give a big shout out to Barbara Hansen for starters. Barb has been our office manager for nearly thirty years. She has been such a wonderful influence. I am so appreciative of the tone she sets for our office. When you contact a medical office your first and lasting impressions are not just from the doctors. How are you treated? The office staff has to care and has to function well as a team. We have had that for the last thirty years thanks to Barb.  I also want to appreciate Laura Olderich, who does the challenging job of handling insurance billing and authorization.

Some clinics have great doctors, but have unfriendly or dysfunctional offices. We take pride that the whole office works, that we answer your questions, do our best to accommodate you and care about you. That starts with the front desk and back office, and I am so appreciative of our team.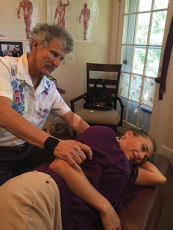 Can you tell us more about Matt Terreri and Heather Escobar, and how they came to join you?
At some point it became clear to me that I needed another chiropractor with me if I wanted to continue to practice as I grew older. My practice was aging with me. I knew it was time to bring in someone younger, who would attract a younger clientele. Dr. Matt joined us in 2006. Matt started practicing in Portland in 2000. He studied auto crash trauma and was focusing on whiplash patients. He was also studying mixed martial arts. His gym was training fighters that were with the Ultimate Fighting Championship (UFC), so it was a natural progression to start taking care of them. He really liked working with trauma and sports, so he decided to become a Certified Chiropractic Sports Physician (CCSP). He spent over a year studying toward that certification. Matt then started to pair up with the athletic department at SOU. He has been working as their team chiropractor with athletes from various sports for the past 5 years. He was also recently invited by the US Olympics to go to Lake Placid and work with the bobsled, luge and skeleton teams in October.

He loves using ART, Graston technique and taping, as well as our usual well rounded techniques. He plans on continuing his work at SOU and hopes to make the Olympic medical staff for the games someday.

Now fast forward ten years, to 2013. Matt's practice is thriving, and he really can't cover me for vacations any more. That's when we decided to add Heather. Heather has been a chiropractor since 2004. She already had an appreciation of low force adjusting and soft tissue work. She was open to learning what Matt and I had to share, and appreciates the rehab model, of helping the patient help themselves. It has turned out to be a great fit. As you know if you have seen her, she is very warm and friendly, and our patients appreciate her work. She is a great chiropractor, and has a wonderful hands-on touch.

Heather practiced in St. Louis for eight years after graduating. Her work there included not just chiropractic but decompression therapy, cold lasers and acupuncture.  Over those years she completed post-graduate certifications through Logan College of Chiropractic in Acupuncture meridian therapy, Pediatrics and Pregnancy and an Internal Health Specialty.  She was an approved practitioner through the local schools and saw a lot of kids, babies and pregnant moms.  She's Webster certified; a specialty technique that that balances the pelvis for pregnant Moms.

Now that her 3 children are in school, she's looking forward to being able to grow her family practice and help more pregnant moms and kids of all ages.
What qualities did you look for in your partners, when you thought about bringing Matt and Heather in?
The first quality is service orientation; caring about patients. Second; Team first. Matt and Heather are both team players from the get go. A third quality that is really important to our office is the burning desire to continuously learn more. We are all overachievers. Matt, Heather and I are constantly sharing what we learn with each other, and with our massage therapists.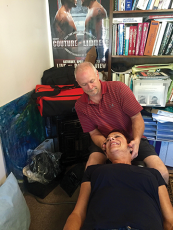 Can you tell us more about your values, your ethos, and your model?
Thanks for asking that question. We go along day by day, doing our work. It is great to stop and think about our larger purpose. For us, it all starts with putting the patients' needs first. We have watched our profession, and the whole health care world evolve and change over the last 36 years, in some good and some bad ways. We differ from the usual chiropractic model in several areas.

One, we are always looking for the gentlest way to get your spine to move more freely. To us, that means starting with low force adjusting. This means we are not going to automatically twist or pop you. We can adjust an osteoporotic spine safely. We can also adjust you when you are in severe pain and can barely move. Marc has been fortunate enough to study with experts all over the world, including physical therapists, trainers, and osteopaths including French osteopaths. Marc also writes a regular column for a national chiropractic journal, and teaches internationally about low force techniques. Low force works brings a subtlety to spinal manipulation, beyond that usually found in the usual chiropractic adjustment. These techniques include muscle energy, counter strain, and visceral manipulation.

The second aspect of our model is that we are insistent that you learn to take care of yourself. We want to give you the tools to help yourself. We don't want to adjust you over and over and over. First, we want you to understand what you are doing that is hurting yourself. We want to inspire you to do the right exercises, done correctly, that will improve your posture and movement habits. As Gray Cook, PT says, "Move well, move often." That is the best way to free you from pain, as permanently as possible.

The third aspect of our model is persistence and curiosity. If you are not responding to the treatments and exercises that we first show you, what are we missing? We are continually re-evaluating our toughest patients, trying to find the missing piece. It helps that we have taken over 300 continuing education courses. It helps that we have been working and paying attention for over 60 years combined, well over 70,000 hours, with over 200,000 patient visits. This is another area in which having three doctors in the same office benefits our patients; Sometimes one of us sees something the other has missed.

A fourth aspect of our model; if we cannot help you, we will get you to the right practitioner who can. If you are not getting well, we are NOT going to say that you just need more adjustments. If we see something wrong that needs immediate medical attention, we are going to refer you right now. We view ourselves as part of a bigger health care team. We have good relations with many medical and alternative specialists, and know who is most likely to help you when we cannot.

The fifth part of our model; we appreciate the fascia and muscles. Adjusting the spine is not enough to solve chronic pain problems. The muscles and their lining (fascia) get tight and weak whenever you are in pain. We are trained in trigger point therapy, Active Release Technique, Fascial Manipulation, and other soft tissue methods. Add in all the methods our massage therapists use, and we have a complete approach to the soft tissues. We'll talk more about that when we introduce our therapy department.
One unique feature of your office is the use of massage therapists in conjunction with the chiropractors. Can you tell us more about this?
I was a massage therapist for 7 years before I became a chiropractor. I have always had an appreciation for the soft tissues of the body; the muscles and fascia. I observed practices where the chiropractic adjustment was all there was. If your only tool is a hammer, everything starts to look like a nail. When I started my practice, many chiropractors had their assistants doing ultrasound, e-stim, and hot packs. I knew there were more effective ways of helping patients with hands on treatment and exercises.

We are lucky enough to have a great massage school here, the Ashland Institute of Massage. We sometimes hire graduates of this school to work as our chiropractic assistants. The therapists get the experience of working on lots of patients who have serious pain problems, under our supervision. We get well trained therapists, who know the basics of how to touch people. We have always done extensive training and in office study groups with our massage therapists, teaching them more about clinical body work and exercise rehab. The therapists get additional training in exercise therapy concepts, so they can help us teach the patients how to help themselves.

Our therapists have brought their own studies and experiences to work with them. I'll mention a few members of our team. Lisa LaBounty has been with us 7 years, and is our therapy coordinator. She has studied cranio-sacral therapy, and has a deep understanding of the rehab exercise model. Beth Heller, my wife, has been with us for 27 years, and has studied within the Feldenkrais model, and is certified in Aston-Patterning. Steve Glaser has studied extensively in the Japanese and Thai traditions, doing Asian body work.

The teamwork of our therapists and doctors means that you get enough time to get really good and thorough bodywork. It means that we have time to review and reteach you the proper exercises and movement. If e-stim or laser helps you, the therapists will also use those tools.

We recognize that massage and bodywork has value beyond the chiropractic office. Our massage therapists also have private practices, and our patients often choose to see the massage therapists for longer individual sessions.

Our patients really appreciate this team approach; the ability to see both the chiropractor and the therapist. We get lots of good feedback about how effective, helpful and comforting the combined approach is.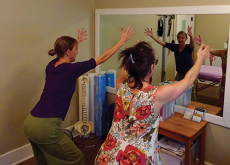 Dr. Heller, tell us a little bit about the reputation that Southern Oregon Sports and Spine center has earned over the past 36 years.
That is a bit tough to answer. I don't want to toot our own horn too loud. I am very proud to have been practicing in one place for these whole 36 years. We are proud that Matt and Marc been at the top of numerous "Favorite Practitioner" lists. I am glad that when our patients tell their MD which chiropractor they are going to, the MD says good things about us. I am glad that we receive referrals from many medical specialists and family docs.

Our goal is to make a difference within a few visits, or send you elsewhere. We expect results for most patients within 4-6 visits.

A reputation is a something that is tough to earn, and easy to destroy. We have really worked hard to earn and keep that reputation.  Our reputation allows us to attract both great employees, and wonderful patients looking for the most effective care.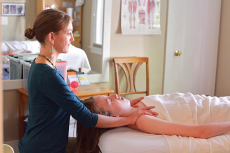 Finally, are there any last thoughts or comments you would like to share with our readers?
We just want to thank you, the reader, and the Ashland and Southern Oregon community, for all of your support and appreciation and challenges over all of these years. We do it for you, and you have taught us so many important lessons, that help make us better.
Learn More:
Southern Oregon Sports and Spine
987 Siskiyou Blvd, Ashland
541-482-0625
"The decision to come to S.O.S.A.S. is the best one I have ever made for my body.  I have had chronic pain for 7 years due to a car accident.  Marc has improved my quality of life dramatically.  Not only does he help with my pain flare ups, but, he has taught me many tools I can use to help manage the pain.  Having some control of my pain is so empowering – pain doesn't control me anymore!  I love Marc's enthusiasm for solving problems and how he has never given up on me!  The whole staff here is kind and compassionate.  I can't thank Marc enough for how much he has improved my quality of life – allowing me to do more with my body including riding my horses again, and giving me hope for the future that I can thrive and be joyful despite living with chronic pain."
-Sarah Chavez
"I was referred to Dr. Matt after spending the summer as a professional patient. I had met with 16 doctors before arriving on the doorstep. My pain was crippling, and I had a raft of painkillers that were not addressing the cause of the pain. After my first treatment, I could walk without pain. After follow-up visits, I was able to throw away the pain pills, and now I am back in my Pilates class, I can sleep at night, and my posture is so much better overall."
-Doreen O'Skea
"I am currently 5 months pregnant, and recently injured my Sacroiliac Joint (very painful). I chose to see Dr. Escobar because I know that she has a long history of working with pregnant women. Heather has consistently helped me feel better with every adjustment that I have received from her. I have had several chronic issues in my sacrum, low back, ribs, and neck that she has been able to successfully address with confidence, accuracy, and professionalism each time. I highly recommend making an appointment with her for you or your child's chiropractic needs."
-MH
"Marc Heller is not like other Chiropractors, he is very thorough in diagnosis and incredibly intuitive.  Marc and his wife Beth complement each other's practice, and together create a seriously formidable healing duo.  Thank you Marc & Beth."
-Eric Bell