Interviews
Lisa Keogh: Funky Fashions – "For the Love of Resale"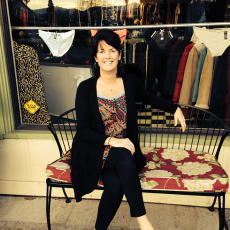 A long time resident of the Rogue Valley and a lover of resale clothing since way back, Lisa Keogh knows an amazing deal when she finds one.  Because she's always had champagne taste on a beer budget, nothing gives her more pleasure than scouring resale shops for high-quality, timeless-classic fashion for her own closet, as well as for her store.  With an artistic flare, and an eye for detail, Lisa manifested her dream of owning her own store by opening Funky Fashions Consignment Shop in February of 2011. She has created a niche for herself by offering discerning shoppers affordable clothing of the highest quality and an easy, breezy shopping experience.  Her shop on the corner is immaculate and bright and shows off her creative sense of style.  If you haven't already stopped by to say hello, you certainly will after reading more about Lisa's love of resale clothing and her "hidden treasure" of a shop right in the heart of downtown Talent.
Thanks for talking with me today, Lisa.   Can you take us on a tour of your shop so we can get to know the store?
First of all Funky Fashions is really easy to find. When you turn on Valley View toward downtown Talent from either direction on Hwy 99, we are located at the end of the block on the corner of Talent Avenue and Valley View.  Parking is either in the back of the building, entering from Valley View, or in front of the shop on Talent Ave. From the outside the shop looks small, but when you enter you quickly realize the space is bigger than it looks. Besides all of the clothing we sell, we also offer all the goodies you find in most resale shops, like handbags, hats, shoes, belts, scarves and tons of costume jewelry. If you are in need of anything for your wardrobe, we have it!
Wow!  Your store is beautiful and well organized.  Do you always you run such a tight ship?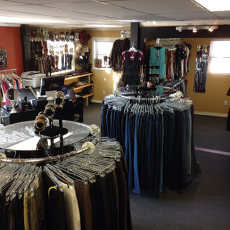 I love the fact that it's a well organized and very shop-able store.  Because of its small size it has to be. I hear it all the time, and it makes my heart soar, "Your shop is so cute and so organized!" As a business owner, I can't hear that enough!  All the racks and rounders are sized appropriately and each rack has designated items.  Cardigans are on one rack, pullover sweaters on another; long sleeve blouses on one, short sleeve blouses on another; sleeveless tops on one, tanks on another; jeans on one, pants on another, etc.  There is a small room for nothing but dresses and skirts.  We have a whole wall for shoes and boots, another wall for handbags and hats. It's fast and efficient and super easy for people who know what they want. You can zip in and zip out in minutes flat, or you can stay, chat, and hang out with other women and make an afternoon of it. It's really up to you.
I would imagine you have to stay on top of it to keep up with the large number of consignments you have moving through your shop each week.
Again, organization is important to me.  I'm the type of person who can't really function in a mess. I'm not saying it doesn't get messy with all the consignments I take each week; it can! This is a small but mighty shop with over 1,000 consignors, and on an average week I take in several hundred consignments, with more and more Ashland consignors every day. Being a one-girl show with many hats to wear during the week, I still aim to put out 30-60 new items a day.  In a shop this size, that's a lot of clothes and also a high turnover.
Do you carry both men's and women's clothing?
When I first opened my store, I thought I would do a men's rack or two. I quickly learned that I didn't have enough room to do both really well and if you know me, I don't do anything half-hearted. So, I do women's only and I try hard to rock it!  That's not saying I never have male shoppers.  When Burning Man rolls around in August I have so much fun with the guys and their costumes! This year, I will do a discount for all the male Burners out there, the more outrageous the better!!!  So fun!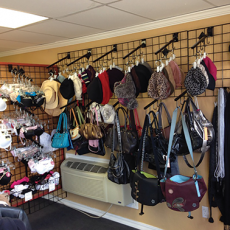 There are several consignment shops throughout the Rogue Valley. What sets Funky Fashions apart from the rest?
Funky Fashions clothes are in-style, very gently used, clean, fresh, and affordable.  I try my best to have as many natural fibers on the racks as my consignors can bring me. It's a polyester world out there right now and my wish is to have a store that chock full of rayon, cotton, linen, hemp, bamboo, wool, and silk. It's hard to do, but I try! I have a shop that's worthy of your attention and I would like people who shop consignment to put me on their consignment route and give Funky Fashions a try.  You won't be disappointed.  It's worth the drive to Talent from wherever you are.  I know you'll find something you can't live without. If you are a woman between the ages of 25 – 60 YOU are my demographic!
What are your consigning policies?
I accept consignments Tues. – Fri. with no appointment necessary. I do not take consignments on Saturdays.  Sometimes (very rarely) I cannot take consignments because we are too full, therefore it is a good idea to give me a quick call before packing your car and driving to the shop.  When consigning, it's helpful to remember that these are your customers and they expect the best.  Also, it's the responsibility of the consignor to inspect every item and make sure everything is freshly washed or dry-cleaned.  This allows me to take more of your items. Items will only be considered if they are free of stains, tears, pilling, fading, and missing buttons and excessive stretching or shrinkage. Trash bags of stored clothing will not be accepted.  All items must be in fashion, gently used and in nearly new condition.  Again, only clean and fresh clothing, free of smoke and pet hair can be accepted.  My favorite way to receive clothes is neatly folded in a laundry basket or box.  Besides clothing I accept shoes, handbags, belts and jewelry in flawless condition.  As I mentioned previously, I am always on the look-out for natural fiber clothing.
What kind of feedback do you hear from your customers?
"I really appreciate the fact that you always tell the truth."   My goal is for you to get home and LOVE what you bought, it's never about making a sale.  If you ask, I promise to give truthful feedback about things being too big, too tight, wrong color, etc… In my opinion, that's just good business.  "Your store is so neat and organized, and it smells really good in here"…thank you Caribbean Mist!!  From all of my Talent peeps, I hear, "Thank you for being here, we love this store"!  And, "I love being here!"  I've made some amazing friendships with the women of Talent and for that I am really grateful.  My customers aren't just dollar signs, they're my friends and I care about their lives and their families. That's a blessing I never dreamed of when I opened my store!  "You have really good prices; it's not off the charts expensive"! I try really hard to keep items priced between $6 – $20. I'd say 3/4 of my store is between $8 – $12, leaving a 1/4 of the shop for higher end items. "All your clothes are so clean and fresh."  Yep! I work really hard at that.  It's the only way to have something you're proud of! Now, I'm not perfect, and I do miss things once in awhile, but my friends don't call me eagle-eye for nothing! Ha!  "Thank you for being so kid friendly".  I don't let kids run wild through the racks of clothes and I will let them know in a friendly, but firm what works and what doesn't.  But, if you know me, you know I LOVE KIDS!  Kids are always welcome in my shop, and I have a basket of things for the wee ones to do which takes the pressure off of mom while she is trying to shop.
Can you describe your own sense of style and where that came from?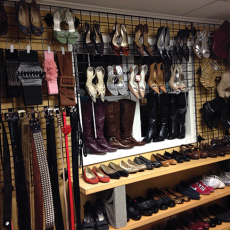 My mother worked for Harris & Frank Botany 500 for 35 years. She started out as a gift wrapper and in the end was the first woman to have her own store in Las Vegas, Nevada. In her day, only men had that opportunity, so it was a BIG deal. The Las Vegas store was a sought after place for all employees of the company and it was finally given to a woman, my mom! We were very proud of her, she was an amazingly strong woman, and she was an impeccable dresser.  Her own style was business-classic. Although I don't dress like that, the love of clothes and fine fabrics was instilled in me at a very young age.  I'm an artist at heart and textiles are my thing. I love texture and color and applying layer upon layer. My favorite kind of art form is mixed media. When I'm not in my shop and overwhelmed with clothes, I like to dabble in my little art space at home. But, when it comes to clothes, the older I get, the more I am a jeans and t-shirt kind of gal in a classic sort of way.  I love everyday clothes and my shop reflects just that.  I never wanted to be a high-end consignment shop.  I just want to provide women the clothes they would wear out and about every day.
Tell us about your favorite brands typically hanging on the racks at Funky Fashions.
Oh, yes….just to name a few:  Loft, J.Jill, Velvet, Express, Banana Republic, Tahari, Avatar, April Cornell, PrAna, Dansko, Born, OMG this list could go on forever…. you get the drift.  Also, I would love to let the public know that I have a handful of consignors who own clothing stores or sell clothing online. I feel fortunate that they choose to consign at my shop, which means a lot of the time I have many brand new items on the floor with tags still on! I love you ladies, you know who you are!
I understand you have also created space for some really fantastic jewelry in addition to clothing.
Yes, I have two jewelry cases and a number of do-dads that hold things like bracelets, earrings and necklaces, which makes for loads of jewelry in the store. Most of it is costume, but really nice costume pieces with sterling silver and semi-precious stones.  Although we sell a lot of jewelry around Christmas time, spring is really jewelry season. It just makes sense; we start wearing coats and sweaters less often and start exposing more skin. Jewelry starts selling like hotcakes. So, now is a good time to start going through all that jewelry you never wear and think about consigning those pieces before spring arrives.
Talk about the sustainable business model for Funky Fashions.
Well, I am a firm believer in recycling goods, or reusing anything that's not broken or worn out, and the resale of anything you can get like cars, furniture and clothing. Really, what needs to be bought brand new besides toothbrushes and underwear?  In a time when we really have to start looking at our carbon footprint and nurturing our planet it feels really, really good to be part of the solution instead of the problem!  Also, when people shop consignment locally, not only do they help that business owner and their families, but they also help community members who may be in need of some assistance financially. I hear it every day, how consignors need to supplement their incomes. Whether it's gas in the car, or food on the table, every little bit helps.
What is the best kept secret of Funky Fashions?
Starting in January we are back to having a 1/2 off tag AND our $3 rack now has $1, $2 and $3 dollar items. When consignors choose to donate items that didn't sell during their consignment term they go on that sale rack. Half of the proceeds are used to donate to different causes in and around Talent. In the past I have donated to the Talent Dog Park, the Boys and Girls Club, Sanctuary One, and SNYP.  So, you can feel good about donating your clothes and helping others at the same time. How great is that?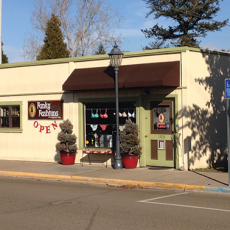 This month Funky Fashions is starting its 4th year of business in downtown Talent. Do you have anything special planned for this anniversary you would like to share with our readers?
Well yes, yes I do! During the month of February, all coats and sweaters will be 1/2 off! February 7th & 8th we will celebrate our anniversary by offering 20% off the whole store. This does not include already marked down items.  Thank you to all who already support this dream of mine and thank you to all who will in the future!
Learn More:
Funky Fashions Consignment
Talent, OR 541-535-3733
www.facebook.com/FunkyFashions4U