Interviews
Mary Brooks, Hairstylist, Sunshine Salon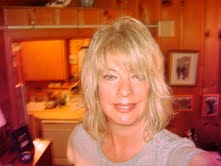 Mary Brooks, Hairstylist, is an Ashland locals' favorite. She and our family (I'm her brother) have lived in Ashland since the mid-1970's. Enjoying the cool shade of Guanajuato Way on a hot August day, we sat next to Lithia Creek, and chatted about her profession.
Tom: How did you choose hairstyling for a career?
Mary: When I was a little kid, I wanted to be a clothing designer. I had a sewing machine, and I loved designing and making clothes. As a teen and into my twenties, I remained interested in fashion even though my sewing machine had long broken down. I felt a bit aimless in college, trying out this major and that major. I wasn't very academic-minded back then, I was always drawn to the arts, but having some practicality in me, I knew I needed to make a living. So, it felt like a natural choice when a hairstylist friend of mine suggested I try beauty school.
Tom: I know you've always been creative and had a talent for design. That's why I've asked for your opinion on many of my building projects…you have a good eye for color…
Mary: Thanks, Tom…
Tom: So, I can see why hairstyling Would be a natural fit for you…but, it's different than, say, designing clothes or decorating a room, you are working with people, or maybe I should say, ON people…
Mary: True. Hairstyling is different because you aren't working with inanimate objects; it's much more personal. A successful hairstylist is one part artisan, one part therapist/close friend and one part salesperson. It's challenging because each client is unique. Some clients are simply looking for a great hair service but many are looking for that PLUS a close friendship. My job is to be in tune with each client, understand his or her needs, and deliver the best I can based on my abilities.
Tom: And, from what I've seen, that's what you've done. You've been in the beauty business for over 25 years and never advertised…you owned a salon too…
Mary: Yeah, that was back in the early 90s, Arabella Salon. I've been very fortunate because I've trained under some of the best in the business. I worked with Antonio Benevutto in Marin County, Alexander Pope Salon in Berkelely, and Toni&Guy from London. I've worked in high-end salons, low-end salons, in-between-salons, and owned a salon. But, my location now, Sunshine Salon is the best of all, it has a comfortable, friendly-not-snooty atmosphere, perfect for my local clientele.
Tom: Where is Sunshine Salon?
Mary: On the corner of Oak St. and Lithia Way, directly across the street from the liquor store and Puck's donuts.
Tom: Oh yeah, I think it used to be a real estate office years ago…
Mary: That's the one!
Tom: What are your signature hair services?
Mary: My Lavender Organic Scalp Massage is a wonderful conditioning treatment and is very relaxing. I massage lavender oil onto your hair and scalp, then rinse with lavender mint shampoo. I specialize in affordable haircare for the entire family, but especially Moms and professional women. If you want to look and feel ten years younger, I'll color your drab gray hair (or, encourage you to keep your hair silver, if it looks good on you). I'm an expert haircolorist and haircutter. I keep up with all of the trends but I also love doing perms and shampoo sets.
Tom: Anything else you're excited about?
Mary: There are so many great products available now, many of them made without harsh chemicals. I use a European haircolor line because it gives coverage without frying the hair. And, since I have naturally frizzy hair, and so many of my clients do too, my favorite new products are for frizzy hair. So, you can wear your hair curly without the frizz or straight and sleek without the frizz.
Tom: Do you think it would work for me?
Mary: (laughing) You don't have frizzy hair!
Tom: I need a haircut, though.
Mary: OK, come in and see me, but you have to bring me some of your famous popcorn!
Mary Brooks works at Sunshine Salon, 135 Oak St, Ashland,OR. She can be reached at 541-482-3839