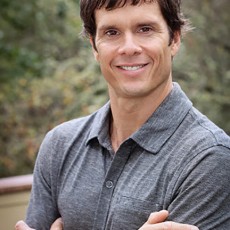 A new member to our community, Matthew Hartman is a practitioner of Rolf Structural Integration.  His work and training have allowed him to work with countless individuals over the past nine years, maintaining thriving practices in Portland and more recently Corvallis, where he was voted Best Massage Therapist/Bodyworker in 2013.  He has experience working with a variety of conditions ranging from back pain and scoliosis to plantar fasciitis.  Matthew's passion and dedication to his work have earned him a reputation for delivering Ida Rolf's theories and philosophies through effective techniques and personable care.  Now here in Ashland Matthew is opening his practice to new clients seeking help for both chronic and acute pain issues and enhancing ease and movement in life. I spoke with Matthew to learn more about his technique, approach to healing and philosophy.
Matthew thanks for taking the time to speak with me today. Please begin by introducing us to your practice.
It's an honor to be a part of the Ashland healing arts community. I previously maintained a busy practice in Corvallis before moving here with my family this fall.  I have been an Oregon LMT for 12 years and a Practitioner of Ida Rolf's method of Structural Integration for nine years.  I specialize in helping my clients with pain, postural issues and performance enhancement.  I am proud to locate my private practice in the esteemed Ashland Holistic Health.  I am available to answer questions people may have regarding my work by phone or email, which is listed below.
What first inspired you to begin learning more about the Rolf Method of Structural Integration and eventually becoming a practitioner?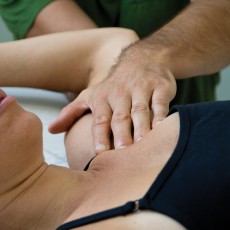 When I was five years old I was involved in a freak, traumatic event with a riding lawnmower, which nearly cut my leg off at the knee.  After months in a large, hardly movable cast and hobbling around for many months, my body (unknowingly) grew crooked and developed a form of scoliosis.   I was an active child, including involvement in athletic endeavors, always nagged by the pain in my knee; I was weak and susceptible to injury.  By the time I was in my mid-twenties the severe knee pain led to lower back pain and extremely limited hip mobility.

I put off trying Rolfing due to stereotypes related to pain, cost and a one size fits all approach. I found myself forever transformed within three sessions.  The dull pain in my lower back was gone after two sessions and the (nearly) lifelong pain of my dear knee was quickly diminishing by the fourth session. I have been relatively pain-free since the eighth session of being "Rolfed."  The most profound part of the process was accessing the "memory" Ida Rolf speaks to.  During certain times I flashed back to the event of being trapped under the riding mower and the helpless feelings I previously had no memory of. Through conscious breathing and allowing the tears to flow, I was able, through my physical experience of bodywork, to let go of the psychological and emotional grip this event had on my physicality.  Admittedly there were moments of discomfort during these sessions, not to the degree my body or nervous system rejected the work, but rather constructively helpful. I felt foolish for my excuse of Rolfing being too expensive.  A dollar amount cannot put value to the lifelong benefits I received, especially in light of the "exploratory" procedures thought to be my only conventional option.  During this process I developed a layman's understanding of how Dr. Rolf's magical recipe was very personalized and specific to each person's unique structural situation and intentions.

A life without pain was a profound awakening for me and the confidence I held for myself.  Less than four months later I was headed to Boulder to study at the Guild for Structural Integration with the original teachers Ida Rolf appointed to teach and evolve her work.
How has Rolfing evolved since it was first created by Dr. Ida P. Rolf?
I am glad you brought this up.  This is something I am asked a lot by clients.  I believe this to be important to understand since there is an almost automatic stereotype that Rolf work is excruciatingly painful and often times intolerable.  This has not been my experience at all and I believe most of my clients would agree, although some say there is skillful deep work intentionally performed through the process.  It is also important to remember that everyone's perception and relation to "pain" is different.  I am aware that if I am working in a way which is causing a client such pain they cannot handle or permissibly breathe through, then we have moved past the therapeutic threshold.  I feel it is essential to work within a range which is comfortable and acceptable for my clients; I gauge this through the tissue's response and the direct feedback they give me.  In the Rolf Structural Integration community we like to say that pain factor has more to do with the sensitive approach of the practitioner and not a natural part of the work.
What type of conditions do you see are best addressed through Rolf Structural Integration?
I believe the physiological systems of the body are dramatically enhanced in a body which is well aligned, moves with more fluidity and the ability to move through life's stressors without getting stuck in them.  For this reason I have the fortune of working with various conditions, most of them related to some type of pain, discomfort, distortion or perceived dysfunction in the body.  With so much passion for my belief in this type of therapy, I also understand the need to be realistic with what is possible.  Arthritis is a great example, which a majority of my clients have been diagnosed with.  Structural Integration work cannot change the arthritic condition within a joint, however, sessions focused on unwinding the pattern of strain and compensation around a joint has certainly been effective for reducing the pain and strain to that vulnerable area. As a pattern of strain becomes identified, I work with my clients through movement, specific stretches and exercise so they have tools and heightened awareness to enhance the structural bodywork.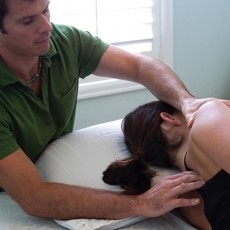 It sounds like you have a lot of dedication and commitment to your work and your patients.
I enjoy the process of working with clients and witnessing the changes that happen in their bodies and knowing how these changes affect their everyday lives.  I receive gratification from the work I do, especially when it improves the quality of life for someone I have worked with.  A significant part of my work is seeing and tracking the changes and progress which take place during the Rolf work.  I am often told that the presence I hold session after session is a strength that clients find helpful and comforting.
Matthew what does a typical Rolf session look like?
A session always begins with me listening to my client.  In the beginning this helps me understand the needs and intentions we are collaborating to meet together.  In subsequent sessions I listen to what the client's experience has been since their last session and how the work is affecting them.  I observe how a person stands, walks and initiates other general movements.  I have the ability to structurally assess what is working and what can be improved upon in a person's body.  This also gives me clues as to where key places to work will be and informs the bodywork portion of a session.  I utilize techniques to unwind, decompress and reposition the soft tissue so it has more elasticity and stability to support a person's body in a more optimal way.  The bodywork is greatly enhanced by the client's participation; being present with their experience, breathing, and making specific movements.  After the majority of the session on the table, I spend time helping the client integrate and understand the work we did.
Are the effects of Rolf Structural Integration long term or is this a technique that needs to continually be done?
The effects of Rolf work are long term.  Instead of working only particular areas that may be painful or injured, I work with the whole body and how it has compensated or adapted relative to the trouble spot.  This invokes a structural shift towards a more optimal alignment and movement pattern. This beneficial shift is typically enhanced with time and assuming there or no major injuries or illnesses. For some people, 3-10 sessions will suffice, while others continue with sessions to build upon the accomplishments of their initial series.  Once a client has been through sessions, most return as a primary modality when injuries occur or when they feel they need to be realigned.
What age groups are you working with?
I work with people of all ages including children and elders.
Can you say more about your work with athletes?
I have a lot of experience working with athletes who find my work helpful for enhancing their performance, recovery/prevention from injuries and alleviating the aches and pains associated with their activities.  Most of my experience revolves around runners, cyclists, swimmers, and fitness athletes, although there have been several football and volleyball players over the years.  Having less tightness and more movement are great benefits.
Many of your clients are experiencing some sort of chronic pain, but you also deal with acute conditions?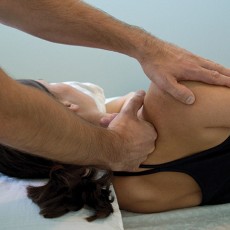 For chronic pain conditions 10 sessions initially is often the protocol necessary.  These conditions tend to be more complex and take more time to re-establish order to the body.  For acute conditions, often the solution could be 1-3 sessions depending on the severity of the injury.  The advice I like to give is once you have sustained an injury, seek care sooner and not later.
Can you share a recent success story with us?
Recently a 53 year old female came to my practice after experiencing an increase in everyday aches and pains and the feeling of becoming less flexible; she attributed to this to aging.  There were certain cues in her posture like rounded shoulders and rotated knees and feet.  She had heard about Rolf work and was committed to 10 sessions.  Through this series we were able to work with balancing her spine and pelvis so that her shoulders were more open and upright and her legs more neutral.  After three sessions she reported feeling much better and before her eighth session she remarked how she felt younger, slept better and was able to increase her activity level in a way which was previously not possible.
You mentioned that Rolfing helped you avoid surgery.  Do you have other clients who have the same experience?
Yes.  I have a male client in his early 60s who came to me with severe knee pain and was facing the prospect of knee surgery.  When he stood, the misalignments were obvious; flat feet, knock knees and a tilted pelvis.  We started by addressing his feet so they better supported the structure of his knees.  As his feet became more supportive we worked with the rotation and angle of his thighs so his knees were more aligned with his hips.  Most of the tilt in his pelvis was neutralized by working out the strain in his lower legs and knees.  He is thrilled to be back playing golf after a two year hiatus due to his knee pain. Perhaps someday he will need the surgery, but for now it is avoidable.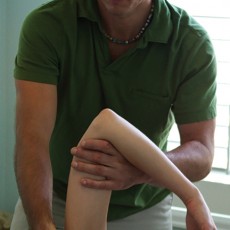 Matthew, you also enjoy teaching and offering Structural Integration mentorships. Can you please say more?
Yes I teach a series of classes entitled Advanced Methods of Bodywork.  These classes are oriented to LMTs and other manual therapists who wish to incorporate structural techniques and skills into their current practices.  I plan to offer these soon here in the Ashland area.  I offer mentorships to LMTs and Structural Integration practitioners as well.
Do you offer any discounts you would like our readers to know about?
Yes, I offer a 10% percent discount on the Rolf 10 Session series when paid in full.
Learn More:
Matthew Hartman
325 A Street, #1
www.matthewsi.com
(541)-214-8980
rolf@matthewsi.com