Interviews
Melanie Miller- Hair Stylist and Colorist
For the past 23 years, she has supported her clients in looking and feeling great. She has a nuanced eye for coloring and enjoys all aspects of her profession. An appointment with Melanie is not just another trip to the hair salon. Melanie takes pride in taking the time to listen to her clients. Stepping into the roles of therapist, friend, adviser and hairstylist, she recounts and tells many stories including that of being a "hair detective," someone who can understand what the client is wanting even though they may not be able to accurately describe it themselves. She also excels at diplomacy, being able to bridge the gap to find a happy medium between her teenage clients and their parents.
Melanie, thanks for speaking with me today and congratulations to you as you move towards your 23rd year working here in Ashland.
Thank you, I certainly had a full and eventful 23 years in Ashland, I've experienced the gamut of the hair industry.  Working as a hair stylist, I have always wanted my own salon.  In December of 2000 my husband Mark and I opened Aphrodite's Salon.  Mark built the salon with our boys, with me by their side.  It was truly a family business. We had the salon for 10 years, but unfortunately had to close unexpectedly.  Closing the salon was very difficult for us.  Letting go turned out to be such a blessing in disguise, however, I still miss the uniqueness.

I'm glad to enter a new chapter of life.  I want to thank my clients for all their support over the last 23 years!
When you reflect on your history as a hair stylist here in Ashland, what are some sweet memories that come to mind that capture what the experience has been like for you?
I remember cutting a two year old's hair as he watched his DVD to learn sign language. I was learning right beside him.

One of my clients in the 6th grade got her hair braided before every gymnastics meet; it became her good luck ritual!  Seven years later I've witnessed her grow into a young woman who just graduated Ashland High School.  Another fond memory is of my son Sinjin, when we created a camouflage mohawk together for his 5th grade school pictures.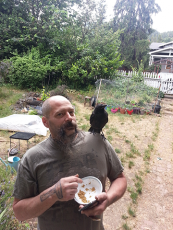 I loved hearing your analogy of being a "hair detective," but was curious to hear more about how you move in and out of the roles you play, as a therapist, friend, and advisor?
I ask many questions, and this leads to the client sharing their lives with me.  I ask about their job and lifestyle, and that's just the beginning.  I want to know about that new job or special moment; this helps me polish and tailor their look.  I work to nurture the moms that need a change and don't have the time to think about their hair.  I'm invested in my clients' lives to give them the self-esteem to find their true authentic self, speaking to my clients about what worries them or excites them. We all need to be heard!
You mention that you enjoy continually learning and staying on top of your game. What are some of the recent classes you have taken that you have enjoyed?
I recently hosted a Framesi color class.  I learned the Hombre Method.  This technique allows you to have highlights with a more intense overlay color that creates an explosion of color with minimal grow-out line.  One of my Hombre clients says, "My color has random highlights that shine through in the sunlight. I walked out of the salon feeling like a queen with beautiful hair."

Most recently Framesi color has launched a new heat-activated color.  It lifts up to two levels, infusing the shine.

It's brilliant you can have a few highlights or a whole head of color in half the time.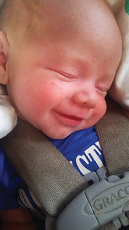 Ok, let's talk about diplomacy. A teenager walks in with their parent and they want to look like Justin Bieber or Selena Gomez… How do you navigate that?
I try my best to find compromise between my clients' hair desires and their parents.  I think it's important for kids to be empowered by their hair.  I literally go through a section at a time and ask the client and parent their opinion, then I meet in the middle, customizing along the way if necessary.  The result is usually beneficial for everyone.
Can you share a recent testimonial or two with us?
Yes, thank you:

"Melanie Miller was one of the first people I met 7 years ago when I relocated from San Jose.  When I sat in Melanie's chair, the MAGIC happened -it was her kindness, compassion and awesome cup of tea that won me over.

I was entering a divorce and she was my EAR, she was supportive and got to know me.  After a year and a half of being a loyal client I was diagnosed with breast cancer-of course at this point she was like family to me.  Melanie was the Angel who listened to my ups, downs, and we laughed too!  Melanie was there with Hugs and solid support for my daughter.  My daughter Loves Melanie!  She made her look fantastic during the tough storms we walked through.  She's the best Stylist and Colorist I've ever known!  We will keep her till the end of time!  I Love how many compliments on my hair i get and it's all Melanie's doing…she walked me through the bottom of my life, how many stylists can do that.  The best is that she is a true supporter during Relay for Life offering her services and incredible gift basket for auction-it sold right away!  We love her and this woman is from ABOVE-when you sit in Melanie's chair, you get FAR MORE THAN HI LIGHTS AND A HAIRCUT…you get a woman who cares, heals and makes you Laugh!"

Melanie is part of our village.  She has been cutting my hair and my two teenage sons for almost 13 years.  My boys actually enjoy getting their hair cut.  They can sense Melanie's genuine interest and concern about their lives.  I am grateful that it is so easy to keep up on the chore of hair maintenance (we all have lots of hair and it grows fast) and my kids have another trusted adult looking out for them."
Families are also fun for you to work with, and you have watched many of them grow up over the years.
I have two sons and know how hard it can be to coordinate a family schedule.  I'm very family-oriented; I try to be flexible and accommodate family appointments. This allows kids to get their hair cut while Mom's color gets processed.
Melanie, can you give us a quick overview of the services you provide?
I provide color, cuts, curly hair, scalp massage, straighteners, and perms.
What's the best way for someone to go about setting an appointment with you?
Call or text me at 541-488-2339.
Finally, tell us a little bit more about your own family. What's it been like to become a grandparent?
I'm truly blessed to have such a wonderful family!  Mark and I are celebrating 25 years of marriage!  He's my best friend and the love of my life.  We recently learned to sail and love to go to concerts.  Last year we were able to take our granddaughter Emma to her first Britt concert to see Primus.  Mark and I love being grandparents.

Our oldest son Kyle is 25, loves the outdoors, and is a cowboy through and through.  His daughter Emma is five years old, and a pistol. She knows exactly what she wants!  We are so blessed to see her every weekend.   Kyle brought another addition to our family, a beautiful baby boy.  Lane Joseph Miller is almost 3 months old and looks just like his dad.

Our youngest son Sinjin is 21, and a master gardener.  He and his girlfriend Kylie have been together over 6 years now! She fits perfectly into our family.
Thanks again for doing this interview with us.
Thank you so much!  I've really enjoyed this experience.  I'm so fortunate to do what I love for a living.  Hair to me is a living art form.  I want to say a huge thank you to my clients for all their support!  Thank you to my Ashland community, it's been a joy to raise my family here!