Nancy Richardson has an eye for organizing, decorating and downsizing. Throughout her life Nancy has utilized her innate sense of spatial awareness, color and organizational flow towards the transformation of space. From reorganizing a simple closet to jam packed garages, coordinating cross country moves to helping with long awaited and emotionally challenging downsizing, Nancy can help! Get It Together is a business dedicated to supporting you. Not everyone has to be an organizational genius to enjoy the benefits of a clean, orderly and manageable lifestyle. In today's interview I speak with Nancy about her work and her services here in Ashland, Oregon.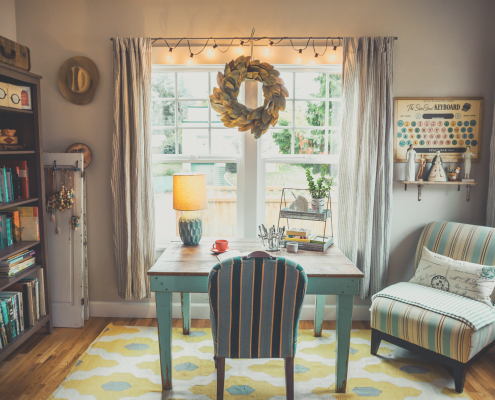 Nancy, thanks so much for taking the time to speak with me today. I am excited to get things in order!
 Thanks Shields, I'm excited to share my story in order to reach out into our community and assist others with decreasing their stress so they can lead more productive lives – personally, financially, professionally – all aspects of life can benefit from an organized space. Tidy is happy, and happy is good!
Nancy, you mentioned on the phone that you were born both organized and creative. Is this why you fell into this line of work?
 Yes. As a child my sister and I shared a bedroom. I was highly organized but she wasn't – it drove me nuts! I realized I felt stress through her mess and that when things were in place it was easier for me to get ready for school and complete homework. My parents thought she was lazy. She asked for help but within weeks her side was a mess again. Although I didn't understand it I recognized her brain worked different than mine. In college she was diagnosed with dyslexia and ADD, two things that can lead to disorganization. I still help her re-organize her home. I loved being in my father's workshop with all the drawers, cabinets, and racks to organize his parts and materials. He let me work the label machine. Organizing for me relates to feelings of joy and contentment and clients I assist feel the same way when the job is complete.

In my youth I would design entire home interiors in notebooks by cutting and pasting pictures from magazines and catalogs. They were highly detailed right down to color palettes, styles, and even hardware and lighting. My first "real" home interior I designed was in a cool folding box with a handle. My troll lived in luxury! I wanted to be an Interior Decorator when I graduated from high school but my academic scholarships didn't cover design school so I gave up on the idea.

Throughout life I've been asked by friends and family to organize and decorate their home and work spaces and I loved it and felt energized. Forming Get It Together has been a natural progression from helping friends and family over the years and being encouraged by them to do it professionally. It is my turn to realize how my procrastination affected me in a negative way, as this job is more fun than property management hands down. In fact, I haven't had this much fun at a job since I orchestrated building the straw bale classroom at Ashland High School.
Nancy, I was cracking up when you told me that you are the person who can fit everything into the car. Please say more.
 On high school aptitude tests I scored higher on mechanical and spatial awareness than any males (who statistically score higher than females in these areas). This relates to seeing objects in three dimensions, rotating them in your head, then drawing conclusions about how they fit and relate. This makes me great at packing and organizing belongings into a set space such as closets and drawers.

Heading out on a camping trip for the first time with two children meant more gear and food. My husband packed the car and with much frustration declared I was taking too much stuff. I knew I could make it fit but he knew I couldn't as he was a contractor who could design and see complex roof lines. In his mind I was nuts to think I could do better. Declaring my spatial aptitude did nothing. After all, I was the one who insisted on continuing to do my own oil changes after we married and then…for the first time ever… forgot to replace the plug! My persistence paid off, and sure enough when he let me take over packing the car – success, everything fit! We headed down the road with him still stewing, but we used everything we took, so he conceded I was the queen of packing.

I see how frustrated others are when they can't see what I see. Spatial awareness has nothing to do with how intelligent we are so asking for help when it doesn't come naturally can save hours of frustration, time, and money. I have unpacked boxes with so much wasted space. This leads to unnecessary expense in the form of extra boxes, packing materials and even needing a second moving truck or storage unit.
In addition to spatial awareness you also pay attention to spatial flow and order. Please talk more about this.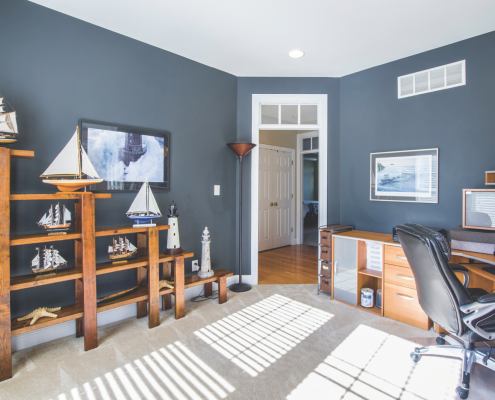 Spatial flow and order is related to how your family utilizes space and the ease of moving from one area to the next. It takes into account where doors and entrances to other rooms exist and furniture placement. It includes creating intentional open spaces to provide balance; lighting both manmade and natural; choosing doors, staircases, and color deliberately to provide continuity from room to room. It is important for a space to not appear overcrowded or too empty. When there isn't clear flow within and between rooms it can become uncomfortable and even unsafe.

It's also related to our visual experience. Using texture to add depth with drapes, textiles, paint and wallpaper; patterns that add interest; creating balance and rhythm; emphasis on a focal point; contrast achieved through color, form and space; scale and proportion; and finally detail which is like the icing on the cake and is usually the most fun part for clients.

Clearing clutter is the first step to developing flow. You can have the most beautiful home and furnishings but, in the same way a room won't flow with a mess all around, your life won't flow if it is clogged by overwhelming thoughts or distractions related to the state of your living space.
Nancy you also have a special skill for redesigning spaces and making them shine. Please say more.
 As a child my parents involved me in decorating so I learned a lot from them. I've always devoured decorating magazines and books. When I left home for the first time as a broke college student, with only two suitcases, my mother made sure they included the first wall art she ever bought – which I still have – and a tablecloth that could cover a card table and help make my house a home.

My parents were surprised when they first visited. The walls of my first budget apartment were bright pink, so I talked my landlord into buying paint as long as I did the work. On a limited budget I was able to decorate with a beautiful vintage mohair couch and chair with detailed carving that I scored for free, an organic lamp made from a tree branch – who knew they'd be so popular decades later – cheap tea lights in jars for ambience, a 1950's chrome and formica table and chair set from a thrift store. The formica table and chair, which have also resurged in popularity, didn't fit my natural-world decor but I had my mom's tablecloth to remedy that! I hung art I created myself, and displayed highly collectible Roseville pottery that I scored for $2 each at a local thrift store in a small town where we stopped to eat after a backpacking trip. I had a variety of feathers, rocks, driftwood and even a cool stump for a plant stand that were gleaned from nature. It was full of plants I grew from starts. I decided a stereo was way more important than a vacuum so hand swept my carpet with a broom. My parents were appalled by that decision so they gifted me a lime green one!

I've always been able to walk into a room and see if it flows or not. I see the ways that rearranging furniture, hanging pictures at a different height, or other minor tweaking of arrangements and wall decor would present a more inviting room. I'll spy a beautiful piece in a bedroom that would look better in a living room where it's joy can radiate to more visitors. I can see where fresh paint would make the room look less choppy, warmer, bring out the beauty of choice pieces, or where the beautiful green on the walls deters the majesty of nature's views through expansive windows. Color is hugely important to make a dark room brighter or a small room appear larger. The right color can incite emotions and make a great focal point. I love finding ways to repurpose or reinvent an existing belonging or discover an unusual and beautiful use for an everyday item.

It took me years to realize that this is a gift that most people are not born with – the ability to visualize the best version of a space. For those who have difficulty with this I assist through asking a series of questions such as: How do you want your home to look when it's organized? What would make you happy? If money was no object, how would it look? Plus more. Some of us are very literal and detailed, which can make it more difficult to see the finished picture, but through this interview I find people are able to provide details that I can then turn into a reality. When the task is completed they say "Ah, now I see it! Yes, that is what I wanted for my space."

Minimalism is a growing trend and sometimes we want it but don't know how to get there. We worry will I still have want I need? Will my home be univiting, stark and blah? Will it still bring me joy? Luckily my years of moving have taught me exactly how to achieve that. I made the mistakes, and learned from them, so you don't have to.
Nancy your business, Get It Together, applies these principles towards helping local clients get organized, but I hear there is more your business can do for clients. Please tell me about that.
I founded Get It Together two years ago to provide my customers with a higher quality of life, resulting in a stronger and happier community for all. My goal is to help others find a healthy balance between work and life. What I love the most is to help others make their home an artistic expression of who THEY are.

I'll work alongside you or independently, depending on your preference, to craft a gorgeous space using what you already own. If you'd prefer, I can shop for the products you need; assist with space optimization, furniture & accessory selection, and styling the room of your dreams. Whether you're looking to clean out a garage or bring order to an overstuffed closet or pantry, I have the perfect solution!

My own life experiences, combined with many years of personal organizing, have taught me that being organized is not about material things. Rather, it is a much deeper spiritual process. By removing the clutter from our homes and lives we create the space, both literally and figuratively, that enables us to live by our core values. Our home should be the place where we feel happy, calm, loved, safe, and peaceful. Being organized can play a major role in achieving all that we want in life. Once we start to organize we begin to see the way that energy flows from our homes into our lives, causing us to examine what works and what no longer serves us. It gives us permission to be who we are and get closer to the people who are most important to us. It even helps us become more clear about who and what we allow in our lives, and how we spend our time and money. The thought and effort put towards organization can allow anybody to live up to their true potential.

Clients often speak of the transformation that my assistance has helped them achieve. A client, who after conquering an addiction to buying, purges the clutter and realizes they no longer want the responsibility of such a large home. Elders in fear of downsizing and moving to an assisted living center discover long lost energy as they make new friends and get involved in several activities. They realize how lonely they were without even knowing it and morph from a home body into a social star. A hobby artist without a designated work area transforms into a successful entrepreneur after giving themselves permission to turn their grown child's room into an art studio.

The transformations that are achieved often take us by surprise, are sometimes scary or slow to arise at first and are as unique as we are as individuals. The common thread is that it leads to a better you.
Get It Together offers assistance with organizing, decorating and downsizing. Can you please speak to each of these in more detail? 
All of our services are tailored to fit your needs. We can offer you help from start to finish or only where you need an extra hand. Often one category merges with the other, such as organizing providing the opportunity for decorating, or moving providing the opportunity for downsizing and space optimization.

Overwhelmed by clutter? We help you manage it by providing sorting sessions so you keep only what you use, need, and love; bringing order to your pantry, closet, garage, a room or entire home or business; designing functional storage solutions by optimizing space; helping with donations, sale and junk removal; creating organizational systems that last; assisting you in overcoming barriers; getting paperwork and bills in order through setting up filing, reminder and even automated systems.

Tired of looking at the same decorations and colors? We can make your home or business space functional ?and beautiful while creating peace of mind through thoughtful updates of your space. Services offered are repurposing your belongings in a new way; using some of your existing decor with some fresh pieces; creating something new from the ground up; decluttering, cleaning, and painting, or assisting with the efficient completion of a renovation or other large project.

Moving or downsizing? We offer full-service move management! Sorting sessions ahead of the move, so you don't take what you don't need or love; packing and unpacking; coordinating address and utility changes; making new keys; complete or partial liquidation by assisting with estate sales, consignment, auctions, donations and junk removal; contract and oversee movers; sort, arrange, and decorate your new home; revitalize repair, and even stage your house so it will sell faster, and for more money – we can even connect you with a reputable realtor.

Years of living in Ashland, being married to a contractor and managing/maintaining rental property introduced me to some of the finest tradesmen in the valley. This allows me the peace of mind to subcontract if necessary. You can rest assured that the quality of my crew is top notch.
I love hearing about all the added benefits. Can you go into more detail about how these benefits affect our lives?
 An odd study found that many of us feel more satisfied after decluttering than after sex. I'm not sure if that's a good thing but it's a human thing. I think it can lead to a better life over all, due to the psychological and health benefits I see in all my clients! Medical studies have found that decluttering and organizing often creates a sense of confidence and self esteem, that it's energizing and reduces anxiety, often leads to light bulb moments that produce clarity, reduces family and relationship tensions, creates feelings of joy, releases shame and guilt, improves sleep, boosts productivity and creativity, frees up time, reduces allergens in the home and financial pressures, can help address hidden behavioral issues, improves concentration, assists us in letting go of the past and in setting new goals. These same things relate to our children who are growing up amidst our clutter.

The above reasons should be more than enough but research shows we humans hate change. The number one thing beyond all else that moves us to change is money and yes, decluttering and organizing also improves your finances! Donating can reduce your tax bill, selling unwanted items gives you cash in your pocket, and cleaning up your desk and creating a proper filing and/or bill pay system will reduce late fees and extra interest and assist you in filing taxes on time. Liquidating clutter in order to get rid of a storage unit, or be able to park your car in the garage can save you the most.
Nancy you have had many life experiences for employing many of these services. Will you please share a story or two with us?
 I've moved so many times, from Florida to Alaska and many places in between, that I can't even count how many times I've downsized homes I've decorated. It's interesting to see how tastes change over time but which elements are steadfast. For me items that are sentimental have always been the hardest to part with and a main component of what I decorate with as they bring me the most joy. I have decorated on a dime and with money to burn. The home we raised our children in was not the home I dreamed of. When we first moved in, I thought "3 years tops!" and it turned into 26. I still miss it sometimes even though I'm now in a home that has everything I wanted. My friend, who has a beautiful home of her own, always said my rental kitchen was her favorite place in Ashland. It's not the house but how you decorate that turns it into your home. I had to liquidate almost everything to move to and from Alaska due to the time and expense. My book collection was agonizing to go through but I don't miss the books I parted with, as I was able to keep my favorites. I have parted with original art and valuables but, through thoughtful downsizing, still have my grandma's bedroom chair. This chair has needed recovering for years, but it was important enough to me that my husband built a wood crate so we could ship it on the barge to and from Alaska. All this to say, I have no regrets!

While my husband was deteriorating from Alzheimer's I had to leave my 17 year old son in charge of his father's well being, while holding a job, attending school, and playing sports. This was because I found myself having to be in Michigan for the better part of 3 months to help liquidate my parents overflowing estate. While I was working through the grief at the loss of my parents, sorting through receipts that should have been tossed years ago mixed with items such as my grandparent's love letters, I fumed over why they hadn't taken care of this years ago when they moved from the lake house. I immediately went home and purged my home because I can't do that to my children. Fortunately, my 3 siblings and I came away with total love and understanding for each other and not a single argument. I maintain that our ability to work through that process as a family was due to all of us agreeing not to take anything we didn't absolutely need or was sentimental. We went through each piece, evaluating the connection we each had to it and we had to tell the story behind it. Then we would all vote on whose story was the best if more than one had a fond memory.
It seems that much of your work really requires preplanning.
 Yes, and moving requires the most pre-planning. From creating a schedule, setting a budget, sorting and downsizing, figuring how to liquidate what your leaving, estimating and purchasing supplies and packing and employing professionals to move your belongings. If you own the home there's cleaning and staging and renting a storage unit to hold personal items in order to stage your home for faster sale and better profit.

Organizing and downsizing requires the difficult task of deciding what to keep, sell, donate, and trash and then how to best organize what you keep through measurements, design, and purchase if necessary. This can ensure you end up with only those things that will serve your best interest financially, mentally and emotionally. I assist you in the planning stage through helping you let go of items, and identifying what is of the highest value for your future self! Everyone is different and it requires assistance from someone who has empathy, integrity and will provide the utmost care and attention to who you are. It's always rewarding in the end.
What are your best tips for people who are organizing and downsizing?
If it doesn't come easy to you or your life is very busy don't sit in judgement of yourself. It's hard to accept we don't have super powers even if we own a cool cape and visualize ourselves saving the world. It's not like you're alone in this, as the majority of humans are just like you! Pay attention to your fears and try to find what's behind them. Often we discover they are unfounded. Start early, as it always takes longer than you think it will. Take breaks. Divide large tasks into smaller ones. Breath deep. Take time for fun, family and friends to restore energy. If you're feeling overwhelmed or overstressed it's a sign of strength to reach out for help.
What are some of your favorite projects?
I love every project where my clients have struggled so long with clutter or traits that have held them back from realizing the phenomenal person that they were put on earth to be. To see the gradual release of their own negative judgements about themselves and the resulting awakening makes my heart sing. Watch that person flourish!

Another favorite is when I walk into a home that's decorated like a catalogue or showroom with nice furnishings, but the client isn't happy and can't understand why. Soon they realize it wasn't who they truly are and their personality was absent. Happiness here we come!

When I get a call from a family member in crisis that requires rapid packing and moving I hear their stress through the phone. To watch them eventually relax so they can deal with life's changes and to know that I have assisted in allowing them and/or their family to weather the storm and be more resilient makes me a better person. Watch joy return to their voice or face!

My favorite project of all time was assisting in converting a horse tack room into a caretaker's quarter. It was a funky space and working alongside the owner, who had great vision and taste herself, was like play time. We cranked the music, had great food (and a wee bit of wine too) and laughed our way through. We even plastered the walls!
Nancy can you please share some customer testimonials with us?
"Moving is daunting and I knew I would need help. I contacted Nancy and she responded promptly, unlike another relocation company in the Valley who took days to get back to me. I didn't realize how much I needed her help because I developed tennis elbow and couldn't use my arm. In the end, Nancy did most everything. She told me what supplies I needed and the best place to purchase them. Nancy helped me sort through everything and then wrapped, packed and labeled it all. Nancy also recommended a local moving company so I didn't have the expense of a big national company. Her subcontractor was professional, careful and everything arrived safely and on time. Nancy is professional, reliable, nice to work with, and charges a reasonable price for her services." Paula Sendar

 "When my husband said he couldn't handle my shopping addiction I knew it was time for help. I don't know what I would have done without you Nancy. Your gentle guidance, knowledge and professionalism have allowed me to discover a new me who I love. You helped us save our marriage and we've never been happier. Thank you so much." Anne S.

"As an empty nester I wanted something new, but not an entire home redesign. A friend recommended Get It Together and there you were with great ideas and an eye for detail. My collections have never shown like this and my son's old room is now my favorite room in the house. It has helped me find myself again and reinvent my next chapter." Suzanne M.

"Nancy has assisted me on many occasions when I have needed help with organizing or decorating. At times the prospect of simplifying one's life can be daunting, but to have a right-hand lady that you can trust and who knows the job inside out is priceless. Nancy possesses an exceptionally good sense of taste and has a natural instinct for interior design that makes it appear effortless." Annette Brophy
Your clients call you to come back time and time again. Why?
Yes, I have several repeat clients. People are busy and life takes over. I think they feel like they can count on me like the reliable daughter next door offering a helping hand. Others know I can take care of everything on their to do list either by myself or with the help of my trusty crew and subcontractors. Some have hired me to decorate or organize their home and then buy a rental they need assistance with. They see I'm not judgemental towards whatever is happening in their lives and that I'm a team player. It can get personal when you work on a project and knowing you can trust somebody and they will honor you just as you are goes along way.
You've talked about the benefits of being organized. What are the real costs of being disorganized?
Most of us have a little clutter in our lives, especially if we have kids, but some have more than is good for us! I've known people who find ways to avoid going home because of the stress of their clutter. Clutter and disorganization takes a toll on us physically, mentally, socially and financially. Those few minutes trying to find something add up quickly taking away precious time with family and friends. It can lead to divisions between your spouse and/or children.

There are 300,000 things in the average American household, most of which we never use or haven't used in over a year. Americans produce 3% of the world's children, but consume 40% of the world's toys, yet studies show too many toys overwhelm children leading to their own stress. The average American spends a year of his/her life searching for lost items. Even when you're looking right at it, it's difficult to see when surrounded by clutter. Eliminating clutter can reduce the time spent on housework by 40%. People do not look at 80% of the papers and information they keep. 25% of Americans with two-car garages can't park their cars there and 32% of two-car garages only have room to park one car inside.

One of the major costs of not getting organized and downsized as we age is the burden to our children when they are left to deal with all our stuff at the worst time possible: when they're having to face the stark reality that their parent is so ill physically or mentally that they can no longer care for themselves or worse yet, grieving your loss. Remember this is your stuff, not theirs. Many kids end up spending months and even years cleaning up after their parents. I know siblings who don't even speak to each other after dealing with a parent's estate. Deciding beforehand who will inherit what, downsizing everything you no longer love or need, and getting all necessary paperwork in order will help ensure you are a supportive parent to the end.
Nancy you told me a story of having to have an estate sale with your own family items that turned into a real disaster. Can you tell us about that?
Out of the blue I received notice I had 60 days to vacate our home where we raised our children and I cared for my husband for 7 years before he passed from Early Onset Alzheimer's. Still reeling from grief and having a much needed 10 day family healing trip planned during this period, left me stressed beyond. Serious downsizing and liquidating 26 years worth, finding a new place to live during the housing crisis, and packing and moving in this timeframe all while working was overwhelming. I knew something had to give and it wasn't going to be our vacation. I hired the only company available feeling confident they would have my best interest at heart. They did not.

I had been an antique and used furnishings dealer and had plenty stored plus more I inherited. During our first meeting I realized they lacked basic knowledge of common items. I explained I would be returning late from Mexico and would have a packed bedroom to empty before I could reach my bed. I was assured everything would be moved or gone. Arriving home exhausted, it took over 2 hours to see my bed. Although, I signed a contract that said they may bring in some of their items to make the estate more attractive, there was no room for more. I was shocked to see how many of their items were displayed and several of mine weren't unpacked and in the sale. Some were priced way too high and other valuable items sold for nothing. My carpet was trashed with spills. It was a week before their items were moved, which made it more difficult for me to finish packing and also live there. Payment was to be made within 30 days. Communication was not being returned and I had to threaten small claims court for breach of contract almost 2 months later. Although, this is the exception to estate liquidators some lack necessary knowledge. I discovered later that the company had several back to back sales during the same time period. I believe part of their failure was overbooking.

In addition, I had a sentimental collection that had been appraised a few years earlier for $5,000 but an economic downturn lowers value. I asked if they had an expert in that field who would know the current value as I wasn't going to part with it if they didn't. I was assured they did and was sickened that they sold it for $125. It was obvious they had no expert and shouldn't have put it in the sale.

An estate person can't know everything but a good one will research unknown items and current value. Although resale is far below original cost and will change with what is desirable in the current market they should always look at the avenues for getting their client the greatest return.
Nancy, other then being really organized, why do people choose you?
I'm a professional who is confident in my knowledge, efficient, affordable, diplomatic, patient, creative, driven and determined, passionate about what I do and trustworthy. I have great time management and problem solving skills and possess an eye for detail. I'm personable and find it easy to communicate with a broad spectrum of personalities and am willing to listen so I am able to get to the heart of your needs. I have the ability to make the mundane fun and the dreaded less stressful. I possess a great deal of empathy and understanding for others without judgement which was instilled in me by my parents and strengthened by my Native American friends in Montana years ago. They taught me much about not judging a person until you've walked in their moccasins.

Often when our home is a disaster zone of clutter or we are hoarders we are too embarrassed to have visitors and even live in fear of judgement if we seek help. We think we need to tidy some before, which never happens as it's too overwhelming. As a professional, with a human behavior background, I understand all the reasons your life may have gotten to this and my only desire is to assist you without judgement in achieving your goals.
Nancy, what sort of dreams have you helped your clients achieve?
I have clients so busy with work and/or family and now they are faced with not enough time to prepare for a move. Clients who are elderly and want to downsize, but find it too difficult at their age to accomplish this on their own. Adult children who are faced, often unexpectedly, with moving a loved one who is totally incapacitated to a home or due to a death need to liquidate their parents estate. There are also those who want to live a more minimalist life, but aren't sure how to get there. Their dream to reduce their stress load and free up time was achieved by hiring Get It Together.

I've had clients whose dream was to get into bed each night without having to clear piles off or to be able to eat at the dining table or sit in their living room again. Clients who want to reclaim their garage so they can find things and park the car inside. Their dream of less stress, relief from situational anxiety, and ongoing depression caused by overwhelming clutter was successful.

Others hire me to redecorate as their old style no longer fits who they are. Some love their belongings but want everything to look and flow nicer, some want a personal retreat within their home, or they are business owners who need a new office decorated but lack the vision or time. They found their dreams of feeling more comfortable and joyful within their surroundings.

There are private and business clients who hire me to sort papers, set up files and/or billing systems or organize inventory. Those who want to clear a storage unit they've been renting for years. Artists and other trades people who want a studio set up or changed. They have the dream of being more successful or being able to find what they need so they have greater financial success and stability. Each person's dream is very personal depending on who they are and what their life is like and I make them reality.
What are the next steps for any of our readers wanting to learn more?
That's easy. Just call for a free phone consultation. I can customize a plan to start you on the road to a better life, a plan tailored to fit your present and future needs. We all need to support each other through life. I'm your go-to person for support when it comes to getting your life, home or business on track. Let's Do This!
Learn More:
Get It Together
Serving the Rogue Valley
Nancy Richardson/Owner
541-324-6666
www.GetItTogetherOregon.com