Interviews
Nicole Graham: Siskiyou Center Theatre Programs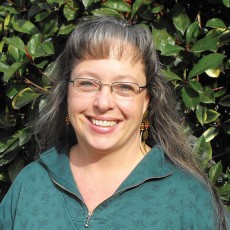 For almost 20 years, Nicole Graham worked with the Elderhostel/Road Scholar program at SOU, but in 2010 budget cuts meant the program would no longer be sponsored by the university. Nicole decided to continue to offer theatre programs here in Ashland by opening Siskiyou Center. She quickly set to work creating her programs so she could welcome her long-time customers back to Ashland in the spring of 2011, many of whom have been regular visitors to the area now for nearly 25 years.
 As Siskiyou Center became established, Nicole added in new amenities and services to her theatre programs to entice locals and their out-of-town guests to participate along with her regular theatre-goers. Program participants experience an all-inclusive theatre package that includes food, lodging, and many hours of theatre experience. Using a mix of theatre performances at OSF and exclusive workshops taught by Oregon Shakespeare Festival professional artists, Siskiyou Center takes its visitors behind-the-scenes to get up-close and personal with the directors, actors, and crew of the Ashland theatre community. "You simply can't find anything like it on your own," Nicole says.
The best thing about attending one of Siskiyou Center's theatre programs is that everything is taken care of for you. Nicole's 25 years in Ashland's hospitality industry pay off with her multitude of great local connections. What's the secret, you might ask? A strong commitment to providing an incredible experience for her participants, personalization and a real sense of community that can only be provided by a local coordinator with her feet on the ground and roots in the community.
Siskiyou Center's theatre programs are a wonderful opportunity for anyone wanting a totally unique Ashland theatre experience and a good time. Nine theatre programs are being offered for the 2014 theatre season and customized programs are available for your alumni group, family, class reunion, club or organization, and as a great way to gather your old friends for a stimulating theatre experience and a lot of fun – there's something for everyone in Ashland. Nicole Graham and Siskiyou Center provide an Ashland experience you won't soon forget.
If you have friends or family coming to Ashland and are tired of playing tour guide, consider Siskiyou Center's theatre programs as a great experience for all. I spoke with Nicole Graham about her program and her exciting new plans for 2014.
Nicole thank you for speaking with us today; please introduce us to Siskiyou Center Theatre Programs.
At Siskiyou Center, we create theatre experiences for people who want to delve deeper into the performances they are seeing at OSF as well as get to know the theatre artists who appear on stage and behind-the-scenes. We offer unique programs from 4 nights to 12 nights in length that include 3 to 10 plays, classes with theatre professionals, lodging, and most meals. Most programs have between 24 and 40 participants.
Attendees of the Siskiyou Center Theatre Programs are dedicated theatre fans. Can you tell us on average what the theatre experience will look like in any given program?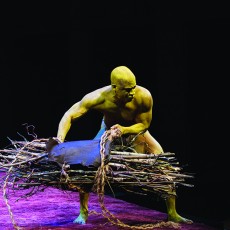 Program participants enjoy 3-4 classes each day with actors, directors and designers who are passionate about their work and responsible for the artistry that the participants are seeing on stage. Classes span topics from "African American Women Playwrights" to "Discovering Richard III" and "Words of the Bard."

Each year the class offerings tailor directly to the plays. For example, this season one of the groups will have a class that discusses the time, issues, and thoughts of the mid to late 1960s in which the play The Great Society is set.  Our small class size allows participants to engage directly with OSF artists such as Barry Kraft, David Kelly, Tyrone Wilson, Eduardo Placer, Robin Goodrin-Nordli, Catherine Coulson, Michael Hume and Armando Duran.

On average, theatre-goers in our programs attend a performance most days while they are in Ashland.  During their visit with us, participants stay either at Ashland Springs Hotel or on campus at Southern Oregon University. Depending on the program, meals are enjoyed with other participants at the new dining hall at SOU or at a downtown restaurant.  While the schedule is focused and full, each program includes some free time to see other plays, visit with local friends, or explore the Rogue Valley.  We end each program with a dinner at one of Ashland's finest restaurants.
Are the classes and workshops that are offered are unique to the Siskiyou Center or can outside individuals participate?
At Siskiyou Center, we put a lot of effort into crafting a schedule for participants that will generate lively discussions and create lasting memories.  Our theatre classes are customized for our programs so they are only available through Siskiyou Center.
Many of the workshops and connections that go into making your program such an enjoyable experience is the fact that you have spent the past 24 years facilitating and creating many of these relationships.
Being in Ashland for this many years has allowed me to create relationships with theatre artists, the university, and local restaurants and hotels. Each year the plays are different and these relationships make it possible to create programs that are tied directly to OSF's annual offering of plays by tapping the knowledge and experience of the people who bring those plays to life. By knowing our local partners on a first-name basis, we can personalize the experience for our visitors.
Then on top of this many of your attendees come back year after year.
Most of the Siskiyou Center attendees have been coming to Ashland for many years, first with the SOU Elderhostel program and now with Siskiyou Center.  Some people even attend 2-3 programs each year so that they can see all 11 plays at OSF as well as experience many of the classes.

Some participants have been attending theatre programs for over 25 years.  Gretchen from Washington attends every year with her sister Kay because of the quality of the acting, the classes and the camaraderie of classmates who get as excited as she does.  Ellen from Pennsylvania looks forward every year to returning to OSF with the Siskiyou Center program.  She tells us that our programs create "memorable adventures in theatre!"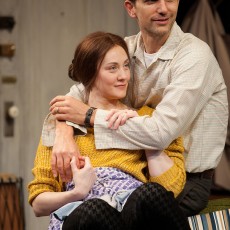 Tell us about the Ashland New Plays Festival.

This year we are offering a program that pairs the Oregon Shakespeare Festival with the Ashland New Plays Festival.  Participants will see 4 plays at OSF as well as attend 3 play readings at ANPF.  This program is already quite popular and filling rapidly.  The idea to offer this program came directly from a local participant who attends 3-4 Siskiyou Center programs each year.  Thank you, Paula!
Nicole, what benefits does your program offer versus working with another company who might be coming from outside the area?
As a local company, we offer all the good stuff about being local.  We are also tailored to work for both out of town visitors as well as locals, which allow us to meet the needs of out of town family and friends.  Last supper = fine restaurant!  It's really all about local contacts and taking excellent care of our participants.  While at SOU, I coordinated many programs that took place in other locations and I can attest to the fact that it's very difficult to create a personalized experience for visitors when you're not based in the area where the program is taking place.  Of course, I do have to personally visit each restaurant that we are thinking of using for our programs but it's a task that I undertake quite willingly!
An exciting new element you have added to the schedule this year is your Rogue Valley Meals and Farm Tour.
This year we are including a winery tour along with a farm meal featuring local foods from the Rogue Valley for some of our programs. The amazing abundance of excellent food and wine is part of what makes this area such a wonderful place to live and visit so we wanted to showcase some of those fine local products for our guests. Our June and September programs include the winery and farm tour and meal and we are looking forward to making this a wonderful element of those programs.
Nicole, it sure sounds like your program is not only great for visitors from out of the area but also for locals and friends of locals.
Unlike traditional travel programs, Siskiyou Center offers programs that work for both locals and out-of-town visitors.  The commuter option allows locals to stay at home during the program but enjoy all of the other elements such as classes, plays, activities and meals.  Our local participants can choose to invite their family and friends to visit and attend a program with them.  This allows them to spend an enjoyable time with their friends in a way that's convenient and hassle-free – there's no need to be a tour guide! It can be difficult to get good tickets and accommodations during the height of the theatre season so coming as part of a Siskiyou Center program ensures that those things are taken care of.

We also coordinate programs for existing groups such as alumni organizations, family reunions, retirement associations and school groups.  It's often difficult to put together a program from outside the area so we handle all of the logistics such as theatre tickets, accommodations, meals and extra activities such as river rafting and trips to Crater Lake. The only work that the group has to do is get the members together and we do the rest so that their visit to Ashland is an enjoyable experience for everyone in the group.
You have received many favorable testimonials from your clients.  Will you please share a few with us?
We are fortunate to have so many generous participants who are willing to write testimonials for Siskiyou Center. We are in the process of updating and revising our website and will have many more testimonials on the website once the process is completed. Here are a couple of recent testimonials that we've received:

I think that Nicole knows everyone at the Oregon Shakespeare Festival and nearly everyone in Ashland. She has her pick of great teachers and produces fabulous programs. I'm returning for my third year with Siskiyou Center.
-Lee V. Mercer Island, WA

As a veteran OSF attendee every year since 1997, I have attended independently, with two different community college tours, and with Siskiyou Center programs for the last 2 years. The Siskiyou Center offerings are by far the best due to the reasonable cost, variety of programs offered, but, most of all, because Siskiyou Center Director, Nicole Graham, has a depth of experience and OSF connections over more than a decade to secure great seats and provide talks by folks in every phase of OSF productions – actors, directors, artistic staff, tech staff, etc.  Siskiyou Center programs simply can't be beat by every measure.
-Cheryl H. San Mateo, CA

We have been going to Ashland for several years by now, and we do not want to ever miss a season! It is great, if you know a lot about theater and plays – but if you do not know anything, it is wonderful too! You learn so much, and you can enjoy the plays much more after having listened to all the great speakers who are actors or directors from the Festival.
-Ed and Hanne G. Bellevue, WA
As a community we depend on tourism in Ashland to be a great experience.
There's something that happens when people come to Ashland. It sometimes takes a couple of days but then they settle into the pace of life and the friendliness of our small town.  I hear so many comments about how nice everyone here is and they are so relieved to have everything taken care of for them. The business community of Ashland has done an incredible job of setting the stage for this experience which makes my task of finding the wonderful classes and activities for programs a matter of selecting the very best that Ashland has to offer. I am fortunate to have so many instructors and vendors who are eager to work with Siskiyou Center programs to help provide an outstanding experience for our guests.
Nicole, would you mind providing us with a sample itinerary for one of your upcoming programs?
Our May 18-24 program begins on Sunday, May 18th, and ends the following Saturday. On Monday, we will have 4 classes as OSF is dark on Mondays.  Tuesday, Thursday and Friday will include 3 classes with a theatre performance in the afternoon or evening.  On Wednesday, we will have 2 classes, an optional afternoon hike in Lithia Park and a theatre performance in the evening.  This program includes tickets to The Cocoanuts, The Sign in Sidney Brustein's Window, The Tempest and The Comedy of Errors.  The courses are "Shakespeare in Love" with Barry Kraft, "African-American Women Playwrights" with a group of OSF actors and "Live at the Oregon Shakespeare Festival!" with Eduardo Placer.  All in all, it's a dynamic and exciting week full of great theatre performances and wonderful classes.
On March 31st you are offering an exciting opportunity for locals interested in taking their theatre experience further.
You are invited to a free sample of our programs on March 31st starting at 9am and ending at noon. The event will be held at the Ashland Springs Hotel and there will be 2 morning classes with a coffee and tea break between classes.

One of the instructors will be Kimberley Barry and she will be presenting her class "The 2014 Season."  If you've never heard Kimberley speak before, prepare yourself for a ton of information!  She will cover all 11 plays in 1 hour and 15 minutes (and one breath).  The other class will be presented by an OSF actor and we will have confirmation of the second instructor by mid-March.

Although this session is free, please do call us at 541-482-0260 and let us know if you'll be attending so that we will have an accurate count for the hotel. We are often away from the phone so please do leave a message if we're not in when you call.  We are limited to approximately 40 participants so please call as soon as you know that you'd like to attend.

Finally what is the best way to learn more about Siskiyou Theatre Program?
All of the information about programs, accommodations, plays, instructors, etc. is on the website at www.siskiyoucenter.com.  Also, we would be happy to answer any questions you have either by telephone or via email.  Our email address is nicole@siskiyoucenter.com and the telephone number is 541-482-0260. We'd love to hear from you!
Learn More:
Siskiyou Center Theatre Programs
418 Lit Way, Ashland
www.siskiyoucenter.com
(541)482-0260