Articles
Oregon Cabaret Announces its 2018 Season
Get ready for another great season of all new performances, fresh energy and excitement brought to you by the Oregon Cabaret Theatre! In this interview, we speak with Managing Director Rick Robinson and Artistic Director Valerie Rachelle about their successes in 2017 and the upcoming 2018 season lineup.
Hi Rick and Valerie, welcome back to the October issue of LocalsGuide! I know this is an exciting time of year for you to announce your 2018 line-up and promote your upcoming end of year performances.
Val: Thank you so much! We've had had an exciting season full of wonder so far and are very excited for our 2018 season! We have continued to push the bounds in 2017 with our productions. As a result we've gotten more buzz, attracted interest from exciting new talent, and welcomed more patrons through our doors.
Before we start to discuss your new line up, please share some highlights of 2017.
Rick: Our season started with our production of Noises Off, which featured an ambitious set design and a top-notch cast of talented actors. It's a straight comedy, without music, but audiences really responded to it. Attendance built over the course of the run as the word got out and all shows in the final two weekends were sold out. We brought together some amazing singer/dancers for The All Night Strut and had a lot of fun with the choreography. It featured a star turn by Anastasia Talley, whom our subscribers voted as their favorite new performer.

Val: Then with The Drowsy Chaperone, we brought in another big cast – 14 people! –  to the Cabaret stage, outdoing last year's Chicago, which had thirteen cast members, I love what director Roger DeLaurier was able to do with that huge cast on our small stage. And if you're looking for a huge cast of characters, our current show, Baskerville, is bigger than all of them, boasting more than 40 characters in the epic Sherlock Holmes mystery. In Ken Ludwig's funny adaptation all of these characters are played by just five talented actors. Baskerville boasts another step up for us in terms of innovative design with lighting, projections, and sound design, transporting you to all of these different locations. We're proud of what we're able to do in this building – we keep adding to our arsenal of tools – upgrading our technical capabilities piece by piece – so we can tell the kind of stories we want to tell.
Rick, tell us more about what went into pulling off your fully rotating set for Noises Off.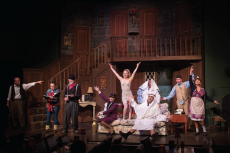 Rick – We were in a season planning meeting and we asked set designer and Cabaret founder, Craig Hudson if Noises Off was possible in our space. A design would need to feature the requisite eight doors and two stories. He goes away to think about it and maybe a week later he shows us a fully fleshed out design draft of what it might look in our space, and we looked at each other and thought this is amazing, we have to do this show now. We put the show first in our schedule simply because the difficulty of the build required that we have that month that we're dark in January to put the set up in our space. It's a tribute to our technical team that we got it up in time, and safely.
This next season will be your 4th year at the helm of running the Oregon Cabaret Theatre. What are some of the key lessons you have learned that have really helped you grow to where you are now?
Val: That the audience has really responded to the shows that push the boundaries in our small space. Every seat in our house is right on top of the action and we use the entire space to our advantage to create the experience. When an audience is appreciative of your work, and encouraging you to push the boundaries, it makes taking that risk easier. We are so thankful for the support and input. We value what the audiences are saying and experiencing. We realize the Cabaret is a beloved fixture here and upholding the tradition is a charge Rick and I take to heart. We are here to share stories and provide enjoyment, laughter and entertainment to those around us and with those here, within the organization. We try to foster a family environment at the Cab, but at the same time retaining high standards of quality and professionalism. The way you do that is surrounding yourself with good people that you enjoy working with. These productions last for months and when you have a team of support around you working toward a common goal, it makes the journey enjoyable and productive, even during the long days and hours. We are so thankful to those around us!

Rick: I sometimes describe the task of building a new show and new menu for each show as a Sisyphean task, that just when you've rolled the boulder to the top, it's time to start over again. It's just that both Val and I and our team love rolling boulders. Routine is for other businesses. When it's time to close a show and mount another one, the feeling in this building is like "bring it on!"  Rotating set, yes. Cast of fourteen, no problem. New menu? New drinks? Absolutely.
What were some of your proudest accomplishments from last four years?
Rick: What makes me proudest is the reception the work has gotten and the thanks we get from the community. It hits home what the place means to people when folks stop either Val or I to thank us for keeping it going and for keeping the level of productions high. We've increased attendance, we employ more people, both year round and seasonally, and we still feel like we can do better, that we can improve every aspect of the experience.
Valerie, please tell us about some the adventures you have been on this year.
Val: Well, in addition to running the Cabaret I still take other contracts. That took me out to Syracuse to direct Eugene Onegin at the Syracuse Opera. I directed Music Man and Madame Butterfly at the Utah Festival Opera. Closer to home I choreographed the 80's dance numbers in the Merry Wives of Windsor at OSF. It's challenging, but I love taking on a lot, working at new places, and meeting folks who I can bring into the Cabaret fold. I also went with our associate artistic director Galloway Stevens to New York to audition actors there for the 2018 season. We had more than a thousand people submit to audition and a line out the door. The profile of the Cabaret is on the rise amongst artists and you can feel that when we're auditioning.

Rick: In addition to running a theatre, we're also raising a kid together – our daughter is in fifth grade at Helman!  We do our best to balance our schedules so that only one of us is crazy busy at a time, and usually we're successful.
I hear you have new air conditioners.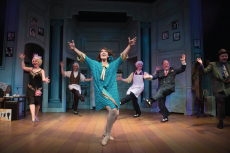 Val: Yes! It's very exciting! We've had some problems with keeping the building cool and decided that an upgrade was needed to ensure a good experience for our patrons.

Rick: It became a real necessity as it got hot and we recognized the need to keep not only our patrons happy, but the staff and actor as well. It's easier to enjoy something and bring your best work when you're comfortable. It's a magnificent, but old building, so improvements and upgrades are needed as the seasons pass.
Let's talk about Baskerville, your Sherlock Holmes mystery.
Rick: It's a comic take on a classic work, telling the story of The Hound of the Baskervilles as a quick change comedy. The adapter, Ken Ludwig, is known for his madcap comedic works such as Moon Over Buffalo and Lend Me A Tenor.

Five actors play all of the roles onstage. Watching several actors play 40 characters is both impressive and a riot – some of these quick changes happen onstage right in front of you and within the span of 10 to 20 seconds. We have incorporated some inventive projections and lighting effects into the story telling, and the costumers have created some amazing pieces for each of these actors to change into.
Anything else exciting this fall?
In addition to Baskerville, we're also bringing back the Cabaret's version of the The Rocky Horror Show, featuring Galloway Stevens as Dr. Frank-n-Furter. This show sold out every performance last year and we wanted give more people a chance to see it. We're doing seven shows between October 22nd and Halloween. Baskerville closes a week later on November 5th.
What shows are coming 2018?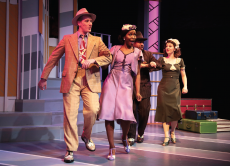 Val: We feel like our 2018 season is going to be magical. We start off with Million Dollar Quartet, which tells the story of a fateful night in 1956, when Elvis Presley, Johnny Cash, Jerry Lee Lewis, and Carl Perkins jammed together. It tells the story of that historic night and of those careers in their infancy, as well as featuring the legendary music, played by the actors live onstage. I've already recruited some amazing talent for this play – just wait until you see Jerry Lee play piano, Elvis sing some of his hits, and Johnny sing and play Folsom Prison Blues. Our second show is Once: The Musical, another show that features performers playing live music onstage, only this time we're in Dublin, Ireland, to tell this beautiful story of love and artistic inspiration. The rights aren't widely available yet, so we're one of the first intimate theatres to get to do this piece, and it's just beautiful. When our audiences hear all twelve performers playing the strings and guitars, the live piano, drums, it's just going to take their breath away.

Rick: Our third show is a change of pace to say the least – we're doing Avenue Q, a raucously funny comedy that plays like a very adult version of Sesame Street. It's got puppets, sex, a great original score, and comedy in spades, so bring an open mind and you're going to have a blast. Our fourth show is Picasso at the Lapin Agile, a newer play written by legendary funnyman Steve Martin that imagines a meeting between Picasso and Einstein at a bar in Paris at the turn of the century.

Val: And we round out our 2018 Season with Every Christmas Story Ever Told, a very funny holiday show that features almost all of the iconic Christmas stories in one evening with a bunch of Christmas carols thrown in for good measure. A very fun way to round out the year!
Please tell us more about your holiday show She Loves Me.
Val: She Loves Me is a classic romantic musical that tells the story of two co-workers who hate each other, but unbeknownst to them, have fallen for each other anonymously as pen pals. It's from the same story that Shop Around the Corner and You've Got Mail are based on, though this one has this terrific score from the same composing team behind Fiddler on the Roof. It's a story that's set in the holidays, but it's not overtly a holiday-themed show -just a beautiful love story to finish off a really remarkable 2017 season.
Right now is the time for members to renew their subscriptions to the Cabaret. Please tell us about it.
Rick: People can subscribe right now – we have a $99 three show plan, a $145 matinee plan and our $155 V.I.P. subscription plan gets you every show, plus two of our One Night Only series. That's seven professional shows for roughly the same cost as one premium seat at another theatre. Subscribers can always exchange seats for free, so if you choose your dates now, you can always change later.

Val: We always tell people that the best way you can support the Cabaret, is to become a subscriber. We hope you consider it. To subscribe, you can go to our website: oregoncabaret.com, call us at 541.488.2902, or stop by our box office at 241 Hargadine St. in Ashland!
Are there any last thoughts or comments you would like to share with our readers?
Val: Just that we hope to see them at the theatre! We have a lot of  amazing things planned!