Interviews
Oregon Cabaret Theatre- The Best Is Yet To Come
Get ready for another great season of all new performances, fresh energy and excitement brought to you by the Oregon Cabaret Theatre! In this interview, we speak with Managing Director Rick Robinson and Artistic Director Valerie Rachelle about their sell-out performances of Cabaret, featuring a ten-member cast and three musicians. To date this was the largest and most successful production for the Oregon Cabaret Theatre. We will also get a sneak peak at the upcoming 2016 season lineup. Get ready to sit back and enjoy the show.
Rick and Valerie, thanks for doing this interview with us today and congratulations on your huge success in 2015.
Valerie: Thank you so much! This last year has been quite an adventure for our family. We moved from Los Angeles in a hurry last September, decided on much of our season in the many trips back and forth between L.A. and our new home, and really just had to hit the ground running, learning the ropes at the Cabaret while we settled into town. We're proud of our success this year – we've gotten a lot of positive attention from reviewers and audiences, and our attendance in 2016 has increased by 1500 patrons when compared to 2015. But now that we're settled and we feel like we know our audience better, we're better prepared for the challenges ahead. We feel like 2015 has been great, but we're just getting warmed up.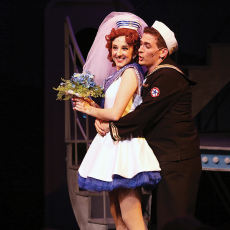 I love to hear that this has been a warm-up year for you guys. I can only imagine what you have in store for us.
Valerie: We have bigger shows planned – even bigger than 2015 – with four shows that have a cast size of ten or greater. We have more live music planned – in 2015 we had two shows with live music. Next year, four shows will have a live band and one a live piano. Our audiences love the live music and the high energy dance numbers, and they're going to get more (much more) of it in 2016. And we have more improvements to the physical space coming, and restaurant upgrades to enhance the elegance of the dining experience. If you love the Cabaret, you're going to want to be with us in 2016!
Rick, will you please highlight some of the successes you guys experienced for the self-titled show, Cabaret?
Rick: Cabaret produced the most revenue for OCT than any show in its history. We had more repeat customers for Cabaret than any other show combined, with some customers coming back six or seven times to see the show over the course of its run. We had one reviewer call it "as good a theater experience, if not better, than any other show on stage in Southern Oregon," which is high praise considering the Tony-award winning excellence a block away from us. And it wasn't just critics. People stop us all over town and let us know how much they loved Cabaret, which is, of course, due to my wife, her co-director and co-choreographer Michael Jenkinson, as well as the cast and design team. I think it gave us the confidence to try big things, and to push the limits of the space with more shows in 2016.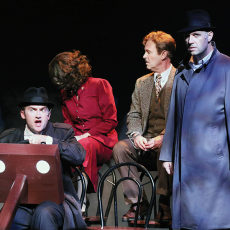 Valerie, as Artistic Director, what have been some your proudest accomplishments this past year?
Valerie: I'm proud of the work we did and the shows we put on together. Every show is a new adventure, and after a show closes it's time to tear it down and start a new show from scratch. It's terrifying and exhilarating. I'm proud of the casts we were able to put together and how well they worked once they got here. Cabaret was a big, obvious success to people, but I'm proud of Dames at Sea, Musical of Musicals, and The 39 Steps, which were just such fun shows with such great casts. I'm really proud that attendance is up this year – theatre is a tough business and I think the highest compliment someone can give is coming back to the theatre after seeing a show they really liked. I'm proud that we kept our heads above water with all of our new responsibilities, and of how well we've adapted as a family to our new home.
So with all this in mind, please tell us about your upcoming season and what we can expect.
Rick: Well, we're doing Ring of Fire, the Johnny Cash musical, in the winter (opening in February), then 9 to 5: The Musical, based on the movie and featuring the music of Dolly Parton. Then, it's Kander & Ebb's Chicago, another big Tony-winning spectacle that will transform the space. Then it's our double creature feature – Bat Boy and The Rocky Horror Show, playing in rep, and finally, our world premiere holiday show, The Pine Mountain Lodge, featuring the music of Irving Berlin.
How is the double creature feature going to work?
Valerie: Well, we're going to use the same cast and the same basic set for both shows, and they'll play on alternating nights. The two shows fit together remarkably well – they both require the same cast size and the same flexible gothic-style set. We want to warn people that when we say we're doing Rocky Horror, we're doing Rocky Horror– we're not going to water it down and it's an R-rated show that… pushes the boundaries.

Rick: I'm directing Bat Boy and Val is going to be in Bat Boy as Meredith, as well as directing and playing a small role in Rocky. The bottom line is, we're going to be pretty tired by the end of it. Same goes for the cast of this thing. We're asking a lot.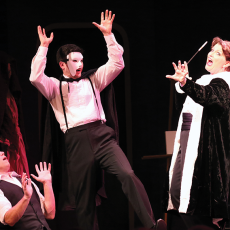 Chicago will cast 12 people – how did you decide to take this leap?
Valerie: Like Rick said, Cabaret really emboldened us to push the envelope – and Chicago is a big show. "All That Jazz" demands people. It's electric but it needs dancers. "The Cellblock Tango" needs six women – it's impossible to trim. And it didn't feel right to do this show with tracks. We need the live music for "All That Jazz" and the other big numbers. But twelve cast members and three musicians is expensive – it takes a lot of resources to run a show like that. We know we can do it because now we know if we put on a grand spectacle, the audiences will come.
Right now is the time for members to renew their subscriptions to the Cabaret. Please tell us about it.
Rick: We have the same three subscription options as we did last year, and the good news for subscribers is, we're not raising our prices. We have the V.I.P. subscription for $150, which gives you all six season shows – and you can pick any date and time to go – and two of our One Night Only shows. Our matinee subscription is $130 and gives you five matinee shows – there is no matinee for Rocky Horror, so that isn't an option in this subscription. And our Mini Subscription gives you your choice of any 3 shows – so if a few of the shows aren't your cup of tea, you can get seats for the three you like at a discounted rate. And we have a new online ordering system that is now live now makes picking your dates and getting your subscription a snap – check out our website here.
It looks like you're handling the summer season a little differently this year…
Valerie: Yes, normally the Cabaret has done one musical and then run it for the entire summer season – about 80 performances. This year we're splitting the season between two big musicals: 9 to 5, which will play through July 3rd, and Chicago, which will start July 14th and play through September.

The 39 Steps will be playing at the theatre for the next couple of days and our readers will still have a chance to come see it.

Rick: Yeah, you'll have five more chances to go see The 39 Steps when this comes out and it would be a shame for people to miss it – it's a very funny take on Hitchcock's 1935 film, with four actors playing every role. It's got comedy, romance, thrills, a chase on top of a moving train, a plane crash, and all of these impossible-to-stage moments done using the actors' skill and some theatrical magic. It's selling really well, so hopefully it's not too late for people to get tickets by the time they read this.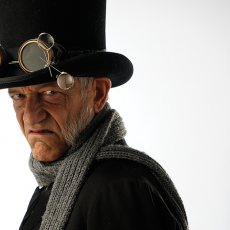 Then starting November 19th you have A Christmas Carol? Rick, you actually wrote the adaptation for this.
Rick: I did. A Christmas Carol is one of the first theatre experiences I remember from childhood.  I was mesmerized by it. And I think that's what I wanted to remember. While some theatre people can get jaded about the show, I don't. Because I know that this will be a lot of kids' first exposure to theatre, so the charge for those of us working on the show is sacred. There's a reason this show is so popular. It dares to be hopeful, it dares to send a message that people can change dramatically – permanently change. I think too often people go at the story like everyone knows it, they can attack it in broad strokes and get the end without earning it. I want to earn the end. I want the audience to empathize with Scrooge as he sees what effect his behavior has on the world. And I want it to be magical, which is one of the reasons we're taking it and putting it in this fantastical steampunk setting.

Valerie: Kerri Lea Robbins is designing these amazing neo-Victorian steampunk costumes – the ghosts especially are going to be beautiful. We've even got contact lenses to change how their eyes look and practical lights attached to wigs. One theme Rick has woven into the adaptation is the passage of time. There are all these gears on Alan Schwanke's set, as it takes place inside a clock tower – some of which will spin as we go back and forth through time. And the lights and fog effects that designer Chris Sackett has in store… this is going to be A Christmas Carol like you've never seen it before.
Congratulations on a great year, and wishing you huge success with the launch of the new season and the great theatre you bring to Ashland.
Valerie: Thank you so much! We just want our audience to know that if they liked what they saw in 2015, they haven't seen anything yet. We have bigger shows, exciting space improvements, and so much more planned that our audiences are really going to love. Rick and I love it here so much and we look forward to providing memorable evenings in 2016 and beyond!
Learn More
Oregon Cabaret Theatre
241 Hargadine St.
541.488.2902
Check out their website
Box Office hours are 11am – 5 pm Monday through Wednesday, 11am – 6pm Thursday & Friday, and 4pm – 6pm Saturday.