Interviews
Paddington Station: Celebrating 40 years in Ashland
Paddington Station, located in the beautifully restored Will Dodge building across from the Oregon Shakespeare Festival, offers one of Ashland's friendliest and freshest shopping experiences around.  The building was built in 1904, fewer than 50 years after the town of Ashland Mills was founded (it officially became simply "Ashland" in 1871).  Paddington Station has served as not only an iconic landmark, but also a destination shopping stop for a true Ashland experience.  The store will delight all who enter with over 8,000 square feet of product on three floors.  You will discover gifts, books, jewelry, women's clothing and accessories, children's toys, greeting cards, and quality Oregon souvenirs.  You can also explore a full gourmet kitchen shop on their beautiful mezzanine.  Paddington Station offers some of the finest seasonal and holiday boutique items in the Valley.
 When owners Don and Pam Hammond acquired the store twenty years ago, they quickly set to work breathing new life and unending creativity into the business.  Together as business partners they have been recognized nationally for their fine work and achievements.  Pam has served on the board of directors of the Ashland Chamber of Commerce for two years and as Chamber of Commerce president for two consecutive terms has volunteered countless hours to our community.  In 2000, Pam implemented a customer loyalty program providing great perks and rewards to her loyal customers while also donating over $100,000 to local non-profits in the Rogue Valley.  Don and Pam welcomed back their daughter Kelly, after her college graduation, as the buyer and director of their new store The Paddington Jewel Box, a boutique across the street from Paddington Station.  Last but not least, it has been noted that many return visitors to Ashland claim that they have come to visit OSF and Paddington Station!  Paddington Station reminds us what small-town shopping is all about, and we thank the Paddington Station Family for having their store here in Ashland!
Pam, I don't think my introduction was nearly long enough to talk about all the great things you have done here in Ashland, Oregon. Why don't you tell us how it all started so many years ago?
Paddington Station was started by Judy Patterson back in 1973.  Judy developed the business and in the 1980s she sold it, and it went through two other owners before Don and I purchased the business in 1993.  Paddington is celebrating its 40th year and Don and I have owned it for 20 years.  Don and I moved up from Los Angeles where I was a department store buyer for a chain of 45 stores and Don was working his craft as a composer in the film industry.  We haven't looked back, and the last 20 years have gone very quickly.
What were some of the first steps you took once taking over ownership?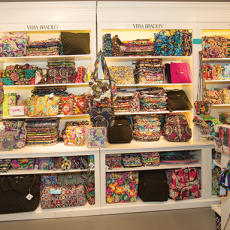 The store needed to be updated.  The product had become stale and the housekeeping sloppy.  A POS system needed to be implemented and a business plan developed.  We listened to what our community needed and have tried to make a shop which delights customers with each visit.

We were fortunate to be able to buy our building about ten years ago, and we did an extensive historical renovation in 2004.  The building is so beautiful with the original tin ceiling and open mezzanine.  It is absolutely lovely that the purpose of the building has remained in retail for over a hundred years.

Last year we were really hurting for more storage and we were looking around town for usable space.  Our daughter Kelly had recently returned from college where she had finished her Bachelors of Music in vocal performance.  Kelly was learning the craft of buying the jewelry and accessories at Paddington Station and seemed to have the gift of retail in her blood.  The folks at Enchanted Florist were looking to move out of downtown and their spot was up for rent.  It had a lot of usable storage, was near Paddington, but had retail frontage.  Kelly convinced us that we could set up a new member of the Paddington family, and The Paddington Jewel Box was formed.  Kelly is the merchandise director at the Jewel Box, while still doing the jewelry and accessory buying at Paddington.  She has been an incredible asset to the company and is developing a following in musical theater in the valley, having leads in several Camelot Theatre productions this year alone.
Now all these years later you still have a core group of employees who help run Paddington Station today.  Please tell us about them.
Our staff has grown from three employees in 1993 to 23 today.  Besides Kelly we are blessed to have a crew of dedicated employees.  Terry, who has been with us for 15 years, manages the kitchen shop with her two assistants, Lindsay and Joelle.  Lisa, who started as a buyer in 2002, keeps us all together as our office manager.  Cindy is our award-winning display manager and has been with us for ten years.  Stef and Joe are our floor managers and both have been with us for over 6 years.  Katie is our brand manager and bath, candle and cosmetic buyer and has been with us for four years, and Michael has been our card buyer for 7 years.  Sarah is the manager of the Jewel Box.  Our sales staff also includes our 19 year old son Nick.   We really strive for excellent customer care, through service, great products at a fair price, evening store hours, and amenities like our Preferred Customer Program and complementary gift wrapping.
Keeping the store fresh, friendly and (I might add) fun is a high priority for you. Not only are you a go-to spot locally but Paddington Station is on the radar as one of the coolest retail stores in the country.
We have twice been awarded national honors by the retail gift industry, once for store design and once for merchandising.  This month we are being recognized by Gift and Accessories Magazine as one of the country's 25 most gifted retailers.  But really what matters is that our customers recognize our value to the community.  We serve as a ticket outlet for many Rogue Valley non-profit organizations.  We provide countless gift certificates and products for many organizations.  We give back 2% of our preferred customer's sales to Rogue Valley non-profits.  We team up with other downtown businesses and provide themed monthly events for children and their families, such as Pirate Day.  We are engaged in our community and want to foster good relations.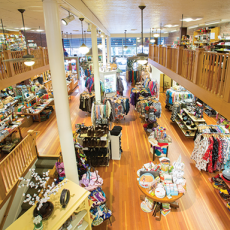 So, I'd love for you to take us on a tour of the store.
Let's go!  The main floor is like a mini department store.  The window area always features a theme, and right now it is a magical ice forest with Santa in elegant attire.  The space is beautiful, sparkly and truly elegant.  The front of the store is on trend with fashion and beauty products, always changing and always current.  Next, we have an eclectic collection of books.  Many folks spend hours flipping through titles.  Our toy department is tightly edited with fresh toys for all ages.  It is a great place to pick up birthday party gifts and don't forget we gift wrap for free!  We have the largest card department in Ashland, and we often hear laughter from the back of the store where folks are reading the inside of the cards.   Upstairs is our kitchen shop, where we specialize in gadgets, the latest tools, linens and Oregon food products.  It is a visual feast for the home chef, but actually many of our local restaurants use us for their gadget needs as well.  On our lower level we offer a changing array of home décor.  Currently we have holiday decorations, and lots of inspirational signs. The Paddington Jewel Box across the street has the Vera Bradley collection along with unique clothing, jewelry and accessories.
What are your local favorites?
We try to source products from our beautiful state of Oregon, and currently have some real winners in stock.  Our Pacifica bath and cosmetic line is phaelate-free and so well priced.  Their body butters are wonderful, and their new vegan cosmetics are exceptional.  At the Jewel Box we have two local bath lines:  cupcake shaped bathbombs from Bella Union Bath from Ashland, and the lovely Tussie Mussie line out of Williams, Oregon.

Wander upstairs on the mezzanine and sample our extensive food lines from Oregon.  From Ashland we have Branson's Chocolates, from the Rogue Valley we have Mrs. Britts's dip mixes, Shibui balsamic reduction sauce, wine jams from Vintner's Kitchen, and Lillie Belle Chocolates.  From other parts of our state we have jams, syrups, mustards and scone mixes.  These are just a few of our local delights!
Obviously one of your favorite regular customers at Paddington Station is Santa. I think I just heard he was already placing orders last week. Can you give us your top ten gift ideas for the holiday shopping season?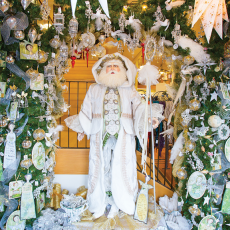 This is a hard one, because we have so many exceptional gifts and stocking stuffers, but I will give it my best:

1. Indoor snowballs!  At 95 cents a piece everyone will want one in the toe of their stocking.  More fun than an orange!

2.  Cozy fleece-lined leggings at $10.95 a pair.  One size fits most; so warm and cuddly, like puppies hugging your legs.

3.  LED Laser Pegs construction toy sets; so fun and unique.

4.  Living Sand!  A perfect indoor extension of summer.  Come touch some!

5.  Tenzi is a new fast moving dice game.  It's the new Bananagrams!  (We still love Bananagrams, too!)

6.  PlusPlus  from Denmark-  it is like flat legos.  Great for travel.  It offers infinite possibilities.

7.  Nufoot slippers are $12.50 and are made from neoprene. They have gripper soles and hug your feet.  They make a great travel companion for planes.

8.  I had better get up to the mezz!  Lilypads are lids from a French company and we have sold thousands.  They are made from 100% silicone and tightly cover bowls and pans in your freezer, microwave and oven; so versatile.

9.  Corkcicle is for wine chilling.  Keep in your freezer, insert in your wine bottle as a cork and voila!  Cold wine!

10.  Only one more?  This is tough.  I guess our Vera Bradley collection at the Jewel Box.  There is something for every lady on your gift list: tech accessories, curling iron covers, cosmetic and jewelry cases, totes, cross-body bags, throws,  wallets and so much more, all in Vera's beautiful patterns.  As Vera says, "Be Colorful!"

And BTW, drop your letters off to Santa at the front of Paddington Station in the bright red mailbox.  Santa will receive the letter and answer each child back by mail.  Our cut-off date for this is December 20th for a reply from Santa.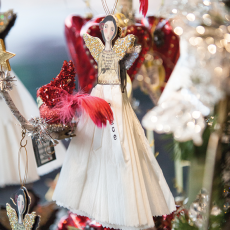 I would love to get a gift card from Paddington, do you sell those?
A gift card from Paddington Station or The Paddington Jewel Box is a fun, easy way to make someone happy.  The cards are cute, the size of a plastic gift card, but made from a thick paper pulp.   Our gift cards can be used for either store and of course have no expiration date.  And by the way, Paddington uses only recycled paper bags, gift wrap and tissue for our customers, no plastic!
Pam, tell us more about your commitment to a strong community.
In addition to what we have discussed already, I am currently on the Board of Directors at the Oregon Shakespeare Festival.  I am chair of their Community Relations Committee and Paddington Station is a member of the OSF Business Alliance.  I continue working with the Chamber of Commerce and recently stepped down as a member of the City of Ashland's Transportation Commission.  It is so important to us to give back to our community.
Finally, what has kept you in Ashland all these years and what are your hopes as we move into the future?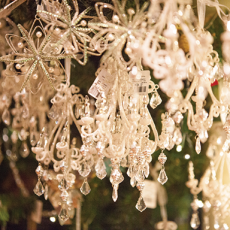 We have raised our two wonderful children and are are blessed with rich friendships and relationships that have been nurtured and developed over the years.  We thank our community for supporting our local business, and are proud to call Ashland our home.