Articles
Peace House Hosts Annual Empty Bowls Supper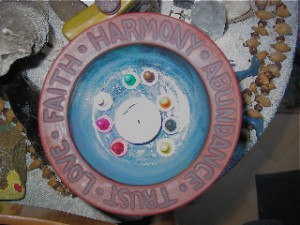 Empty Bowls is a heartfelt concept that started 22 years ago in a Michigan as a way to increase awareness about food scarcity through education and creativity. It is now an international movement.  Originally, teacher John Hartom inspired his high school students to create ceramic bowls that would later be sold at a soup supper, with profits going to local food banks.  Since then,  millions of dollars have been generated to feed hungry people in communities world wide. The basic recipe is simple: Potters work with the community to create handcrafted bowls. Guests are invited to a simple meal of soup and bread. In exchange for a cash donation, guests are invited to keep a bowl as a reminder of all the empty bowls in the world and as a reminder of how they helped make a difference for people within their community.   The money raised is donated to local organizations; Peace House's Uncle Food's Diner, Food Angels and Access all who are working to end hunger and food insecurity. The mission is to create positive and lasting change through the arts, education, and projects that build community.
Local food banks are working hard to support thousands of people each month.  People served in our community range from households that need monthly help , to individuals experiencing health problems, job insecurity, or folks needing occasional assistance. According to recent statistics provided by Ashland Emergency Food Bank, 40% of people served are children under the age of 18.  Under 10% are identified as homeless, and the majority of the people utilizing food services are the working poor, senior citizens, disabled folks and students.
Tremendous support is pouring forth. Restaurants have graciously said "YES!" to making soup for Empty Bowls. The list includes Greenleaf, Black Sheep Pub & Restaurant, Amuse, Pangea, Spoons of Medford, C  Street Bistro in Jacksonville, Standing Stone Brewing Company, and Maren Faye caterers. Artists near and far are busy creating bowls, including Southern Oregon Clay Distributors in Phoenix, Clayfolk, Ashland Art Gallery, and even potters in Portland and Coos Bay. Donations of handmade bowls in perfect condition are also being accepted from the public. ( Call 541-535-1311 for drop off location.)
If you go: First United Methodist Church in Ashland( 175 N. Main St. in Ashland) is offering Wesley Hall on May 24th 4-7 pm.  Cost is $25. No charge under 12.
Harpists Elizabeth Markell & James Excell will provide music from 5-6. Surprise celebrity waiters will be servers. Tickets online at www.peacehouse.net/empty-bowls and at Northwest Nature Center or Paddington Station in Ashland. Pre-purchased ticket holders have best bowl selection at 4 P.M. Door ticket sales begin at 5 P.M.