Articles
Peace Village Festival 2011 – Music, Arts, and Healing Festival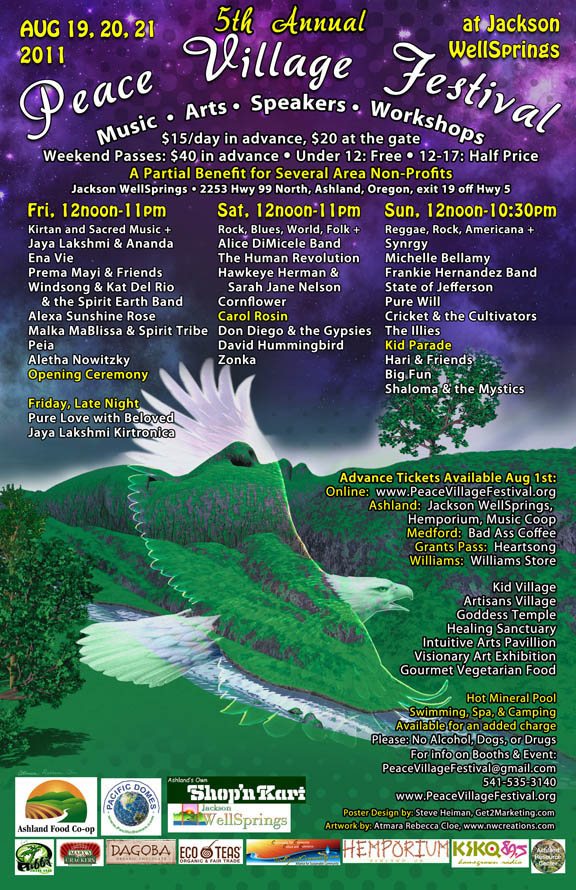 Presented in association with, and at Jackson WellSprings, Ashland, Oregon
The fifth annual Peace Village Festival takes off on August 19th-21st with three days of amazing and varied concerts—each day featuring a specific category of music. Friday's lineup, featuring Kirtan and Sacred music, is all about women! All the performers are female (with men backing them up in some of the bands), with Jaya Lakshmi & Ananda, headlining the evening. Next, on Saturday the 20th, the music will be Rock, Blues, and Folk, with the roots-rock country style of The Human Revolution, folk artist Alice DiMicele, and blues great Hawkeye Herman and Sarah Jane Nelson. The festival wraps up on Sunday August 21st with Reggae, Rock, and Hip-Hop genres, with Synrgy and the Frankie Hernandez Band headlining.
Imagine… a village birthed from our shared visions, deepest longings, and ancestral memories of what could be, holding a resonance of peace that informs, inspires, and activates all who enter. This village is being conceived and built with peace, sustainability, and respect as its guiding principles. For one weekend in August, Jackson WellSprings will be transformed into a Peace Village, with three full days of wondrous and varied music, inspiring speakers and workshops, an artisans' market, a visionary art exhibition, a healing sanctuary, and delicious, nutritious, reasonably priced, gourmet vegetarian meals and snacks.
This is a family friendly event with something for everyone. Children will enjoy Kid Village with all kinds of fun activities and a kid parade on Sunday. Our Healing Sanctuary provides the opportunity to experience a variety of forms of massage and other healing arts, and the new Intuitive Arts Pavilion will showcase tarot and astrology. Work from local artists will be showcased in the Visionary Arts Exhibition. Jackson WellSprings—just north of Ashland on Highway 99—is the idyllic setting for the fifth annual Peace Village Festival 2011, from 12 noon until 11pm on Friday and Saturday, and until 10:30pm on Sunday, with Camping and Spa use available for low additional fees. Peace Village Festival is built on the pillars of Peace, Sustainability, CommUnity, and ReLocalization, and the theme for this year is Convergence: Heading Into 2012.
Bring your friends, bring your family, and above all…  Bring Your Peace!
More info at: PeaceVillageFestival@gmail.com and www.PeaceVillageFestival.org
FRIDAY, AUGUST 19th 12noon-11:00pm
Kirtan & Sacred Music
Featuring
Jaya Lakshmi & Ananda, Pure Love with Beloved, Prema Mayi & friends, Windsong & Kat del Rio & the Spirit Earth Band, Alexa Sunshine Rose, Malka MaBlissa & Spirit Tribe, and Aletha Nowitsky
SATURDAY, AUGUST 20th 12noon-11:00pm
Rock, Blues, World & Folk
Featuring
Alice Di Micele Band, The Human Revolution, Hawkeye Herman and Sarah Jane Nelson, Cornflower, Don Diego & the Rainbow All Stars, David Hummingbird, Zonka, Web of One
SUNDAY, AUGUST 21st 12noon-10:30pm
Reggae, Rock & Americana
Featuring
Synrgy, Frankie Hernandez Band, Michelle Bellamy, State of Jefferson, Pure Will, Cricket & the Cultivators, The Illies, Hari & Friends, Big Fun, Shaloma & the Mystics
For info on Booths, Sponsorships, & Volunteer Worktrade Opportunities
please contact:  PeaceVillageFestival@gmail.com
Please: No alcohol, dogs, or drugs
TICKETS & INFO
Location:
Jackson WellSprings
2253 Hwy 99, Ashland
(Exit 19 off of I-5)
Advance Tickets at Selected Sites
$15 per day / $40 – 3 day pass
Available on Monday
August 1st
On Site Tickets: $20/day
Kids under 12 – FREE!
12-17 – Half Price

Tickets Available at:
Ashland
Hemporium, Music Coop, Jackson WellSprings
Medford
Bad Ass Coffee
Grants Pass
Heartsong
Williams
Williams Store