Interviews
Perii Owen – Ashland Children's Library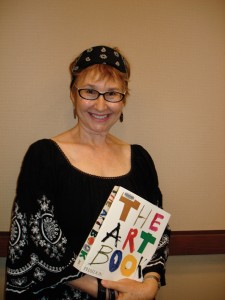 If you have childern in Ashland and visit the childrens' wing of the Ashland Public Libary then you have more than likely met Perii Owen. Perri  is one of Ashland's Childrens' Librians.  She has worked in the library for more than 8 years and can help you find "Where's Waldo" faster than anyone else I know.
I decided to do an interview with Perii to learn more about her passion of working at the Ashland Public Library.
Perii, Thanks for speaking with me today. First I would like to say that I truly appreciate the role you have played in our community. Each time my family has come to visit you at the library you have always greeted us with kindness and a smile. My son is thrilled to search for new and exciting books and you always remember our children's names. I can only imagine how many people in our community you must know and have helped over the years.
Thanks Shields, it's a little bit funny because I do know a lot of people – but most of them are under the age of 12! I love that because these relationships with young kids are so genuine; plus, if I'm lucky, they become long lasting. Shy 3 year olds become bold pre-teens, wild 5 year olds become 12 year old book worms, scribblers become artists, criers become courageous, you see what I mean…. And I get to watch it all happen in our children's department, the place I often say is really "the happiest place on earth."
Perii, to begin with can you share with us what  led you to your current position of working in the Ashland Children's Library? Can you tell us a little bit about your journey to this position?
You know, this children's library position is the job I was always moving toward – without knowing it. I've been lucky and have had a wonderful and diverse working history. During the 32 years of my always interesting and lively marriage to John Owen, I never had to be the "bread winner" and I could take-on jobs that were enriching and meaningful without having to worry about my income.
So, if you looked at my resume you'd see that I've been an au pair in Paris, an international flight attendant, an art dealer, a museum staffer, a county arts consultant, and a high school librarian before I came here. Fill in the gaps with some waitressing and volunteering and you've a pretty good look at the picture.
I graduated from Cal Berkeley with a degree in English/Art History. That took me into the art arena where I managed the old Vorpal Gallery in San Francisco. (Do you know it? It was the gallery that put M.C. Escher on the U.S. map.) Then I went from San Francisco to opening and running the Vorpal Gallery East in New York City when SOHO was just beginning to blossom. But the truth is, that wasn't quite right for me (there was way too much wining and dining of clients) and I wanted to get to a different side of the art world. So, I left New York and started graduate school with an emphasis on Museum Studies.
My Masters degree led to several different positions within the Fine Arts Museums of San Francisco group. (That's the De Young, California Palace of the Legion of Honor, and the Asian Art Museum.) There were lots of opportunities for me there and I found out, as I tried-on different hats within the organization, that I really liked arts education and working with teenagers and children. So, unbeknownst to me, I was getting ever closer to where I am now…
John's business transfer and our move to Siskiyou County took me away from professional museum work. But still in the arts, I was hired to be Siskiyou County's first Arts Planning Consultant and create an artists' directory and a long-range plan for what turned out to be a huge number of extraneous artists working all over that huge county. By that time, John and I had our two boys, Tucker and Reilly, and I was hunkering down into motherhood and day-to-day work supporting many wonderful artists with grant writing and networking; but John's work took us away to Ogden, Utah. And that's when my library work began in earnest.
I began substituting in elementary school classes, which lead to substituting in school libraries, and ten or so years later that lead to my first full-out library job when I was hired to be the librarian at a large high school.
Finally, John was transferred for the last time and so, in 2000, we moved to Ashland, the town we'd always wanted to live in! The stars had to be aligned because of such perfectly wonderful serendipity. And then, the total astral explosion came when another wonderfully serendipitous thing happened: I was in the right place at the right time when my job opened at the Library. And I thank my lucky stars, that's for sure!
What in particular do you love about your work with the library?
I'm not lying when I say everything. The children, their parents, the books, our programs, my boss, my co-workers, the volunteers, the environment, the views from our windows, my hours, my responsibilities, my freedom to be me and, as I talked about earlier, the happiness I find in developing such wonderful relationships with so many wonderful families.
It is such an honor to work in this library. When I came in, I recognized it had a reputation for intelligence, service, and a belief in the preservation of intellectual freedom. And I knew this library was NOT a warehouse for books. Oh no! This library was and will always be committed to the Ashland community in a wide array of meaningful ways including providing computer classes; arranging for the delivery of books to people unable to come to the Library; developing a solid base of Spanish language materials; working with school teachers to provide materials for their classrooms; offering our facilities for public meetings, classes and lectures; showing films; providing bulletin boards for community announcements; coordinating children's activities with Ashland's two Head Start programs, the YMCA and Science Works; presenting new parents with Ready to Read bags of books and early literacy materials at Ashland Hospital's birth center; producing active summer reading programs for children and teenagers; inviting the public to hear authors speak; and presenting 5 different programs each week for babies, wobblers, toddlers, and preschoolers. Yep, that's 5 weekly kids' programs!
When you reflect back on your time of working in the library do you have any special memories which come to mind?
Once, about nine years ago, I met a wonderful couple who gave me an unexpected donation for the first event I was planning for our branch — a Harry Potter party to coincide with the publishing of one of the books – and just like the magic I wanted to create with the event, the donation was magical too because it was all in $2 bills!
Also, I've loved walking with the Library staff and patrons in Ashland's 4th of July parades – and I think we'll do it this year too, but we haven't come up with a theme yet
Partnering with local businesses — as I've been planning events like our recent and hugely successful Irish Shenanigans St. Patrick's Day party — has been really awesome. Ashland has an abundance of ready-to-support-a-good-cause people and I love working with them. (And since we're on the subject, please let me give a shout out to Market of Choice for donating so many freshly-baked and sparkly four-leafed clover cookies and to Safeway for providing so many green and white balloons for that party last month.)
Let's see what else… For four years, before we had our closure, I had the exciting responsibility of planning storytelling events for all the branches of our Library system. Through that I met an array of uniquely creative people from all over the country – some with whom I'm still friends. I'd never known much about, or appreciated, the real art of storytelling-as-performance and my eyes were really opened. So, I'd call that a memorable opportunity.
And, strangely enough, I'll say that many sweet memories came out of our Library closure. Some are the result of the emotional and active responses from so many people – especially children who had bake sales and teachers and parents who were protesting. Then, I remember so well the last day when the children had a peaceful sit-in and Malcus Williams, our local cop-on-the-beat came in to usher them out, but read them a picture book first. And during that same time, the families of my regular story times asked me to continue story times while we were closed if they found a place to hold them. Ashland City donated the use of the log cabin by the park and our room was filled to overflowing with happy families for the six months the Library was closed.
Oh yes, Shields, I have many wonderful memories that I will always have close to my heart.
How has being a part of the Ashland Community shaped you as a person?
Haven't we all said it before? Ashland is a unique place. I think I am a better person for being a part of this community and I feel quite certain that Ashland has had the same influence on most of us here. This is the place I'm finishing "growing up," extending my understanding and sensitivity, and reaffirming my commitments. Much of this, I really do believe, has come because of the people I rub shoulders with every day, conversations I've had, and events that have occurred here.
What are some of your favorite books which you recommend on a regular basis?
Ooooooh. Wow. Now you've put me on the spot! Let's see… Well, for starters, my favorites are not always the award winners. And new books come every day but I'll give it a try. Some regular requests and frequent go-to books would be…
Superhero-loving boys like The Bravest Mouse, Super Dog, and Captain Pajamas!
Dog-loving readers laugh with Hank the Cow Dog books and Beverly Clearly's Ribsy books. They often find the depth in the modern classic Because of Winn Dixie.
For kids who are what we call "reluctant readers," depending on their ages and reading ability, recommendations include Choose Your Own Adventure books, Geronimo Stilton books, and even R.L. Stine's early Goosebumps series for the earlier elementary grades. Other books might be The Spiderwick Chronicles, the Warrior series, Hatchet, My Side of the Mountain, the Redwall series and of course, Harry Potter for older but unenthusiastic readers.
I'm also a big fan of wordless books – for all ages of children who can be encouraged to look at the pictures and make-up their own stories. Some of my favorite wordless books are Istvan Banyai's The Other Side, Jacqueline Preiss' You Can't Take a Balloon Into the Metropolitan Museum, Lynd Ward's The Silver Pony, the Carl books by Alexandra Day, and of course, the Caldecott winning beauty by David Wiesner, Flotsam.
And my current personal favorites include The Magician's Elephant by Kate DiCamillo, The Mysterious Benedict Society series by Trenton Stewart, and I can't stop loving a book that's now about two years old called The Invention of Hugo Cabret: A Novel in Words and Pictures by the incredible artist, Brian Selznick.
What has been some of the most interesting niche interests young readers have come in with. We all know that fire trucks and horses are hot topics, but what else?
How about super heroes!! Then there are fairies, princesses, trains, rocks, crafts, magic tricks, mysteries, jokes and riddles! And all of a sudden, there's lots of demand for books on how to care for your chickens. Neat, huh?!
Have you ever written any books or have stories of your own which you like to share?
To answer you honestly, I'll have to say yes, I do lots of writing and have written lots of picture-book-style stories. Friends who've seen my work have had me on the defensive for the last few years about moving to find a publisher. But as much as I'd like to see one or another published, it's the writing I love and I don't have the time to do more.
Do you have any special hobbies or interests you like to incorporate into your job?
Oh, sure. Because of my art background, I have tons of fun creating book displays, posters advertising our events and story times, and I always encourage kids to talk about the art in the books I present during Library story times. This job is a great marriage between the arts and literature.
On average how many children do you think visit the library on a weekly basis?
Oooof… I don't know the answer to that; but we just did our statistical report for the month of April so I can tell you that during our Wobblers and Babies programs we had about 120 babies and wobblers and the same number of parents; and we had over 225 children and about 200 parents participate in our April story times. Then, add to that several class visits and a special children's author visit during which we had over 100 children so, you can see we're a pretty busy place!
What's the best excuse you have ever heard for not returning a library book?
Once a mother told me her son had flushed his library book down the toilet. It was a book on toilet training. (Seriously!) Another time, a dad told me a monkey at the Portland zoo grabbed the book right out of his hands. (Go figure!)
What are some good titles which you feel have been overlooked?
When you ask me that, I immediately think of non-fiction books. We have
some magnificent books of contemporary poetry like Frida: Viva La Vida! by Carmen T. Bernier-Grand and We Troubled the Waters by Ntozake Shange
some very accessible biographies like One Beetle Too Many: The Extraordinary Adventures of Charles Darwin by Kathryn Lasky and The Brothers Kennedy by Kathleen Krull
several cool new history books like All Stations! Distress! April 15, 1912: The Day the Titanic Sank by Don Brown, Which Way to the Wild West – Everything Your Schoolbooks Didn't Tell You About America's Westward Expansion by Steve Sheinkin, and Liberty or Death: The Surprising Story of Runaway Slaves Who Sided With the British During the American Revolution by Margaret Whitman Blair.
Tell us a little bit about your story time at the library?
Well… three times a week – Monday evenings at 6:30 p.m., Tuesday mornings at 11:30 a.m., and Wednesday mornings at 10:30 a.m. – winter, spring, summer and fall, kids of all ages come to the Library with their adults to participate (and I mean participate) in story times. Babies often accompany their older siblings, and toddlers and pre-schoolers come with their school age sisters or brothers (especially during vacations). It's always a full and diverse group which gives way, between the books, to lots of fun patter.
I plan the story times around a theme. (This week it was called Up, Up, and Away and I read books about balloons whisked away by the wind, kids flying kites, and a book in which a boy dreamed his bicycle had wings to fly.) In the 30 minutes we have together in our circle by the fireplace we also sing songs, play games with felt board characters, do activities with finger puppets and full-sized puppets, and just have a good time. My goal has always been to focus on the latter because I want children to really love their library experiences so they will grow up to be life-long library users.
How many children recognize you out and about town?
Lots! Recently John and I were having dinner at Dragonfly and out of the blue, one of my regular story time kids just appeared beside our table and asked me, "Are you going to read some stories?" I would have, had I only had one with me. But, I sang him a song instead!
Any special events or announcements you would like to make?
The Summer Reading Program starts the day following the last day of school on Saturday, June 12. And I'd like to invite the families who have yet to visit a Babies program, Wobblers program, or one of our toddler-preschool story times to come and see if it's right for their kids.