Interviews
Roberts Chiropractic – Experience the Difference
Dr. Scott Roberts is passionate about his profession. As a Gonstead Chiropractic practitioner, Dr. Roberts goes above and beyond to offer you premium chiropractic care that sees you as an individual with your own set of needs, and treats you like one of the family. From the moment you step through the door, to the care and treatment you will receive, Roberts Chiropractic is on top of their game in helping you find both relief and recovery to all you health care needs. "No two bodies are alike, a cookie cutter approach just won't get the job done."
Dr. Roberts, thanks for taking the time to speak with us today. When we last spoke you had taken over the practice of Dr. Collwell. Now three years later, the transition is completed and you have implemented some great new changes.
Indeed, I took over Dr. Collwell's 35-year-old practice. The transition went great; the practice continues to deliver top-notch chiropractic care. Some of the biggest changes can be seen in the new faces in the office. We have a new office manager, Judy, and two new chiropractic assistants, Johanna and Rachel who have helped complete the transformation into Roberts Chiropractic. Denine continues to work here and she will celebrate her retirement in November. So another new face at the front desk will be there shortly.
Please tell us about the staff at Roberts Chiropractic.
All of the staff at Roberts Chiropractic has genuine personality and passion for providing excellent patient care and services. I have gone above and beyond to find the right people in the community to be a part of the team. Judy is a great office manager. She has expert billing skills and helps patients find affordable ways to get the care they need. She works hard with insurance agencies and communicates to patients their benefits and coverage. Her previous work experience at hospitals and physical therapy offices, along with her accounting and communication skills, help make life easy for the patients and staff at Roberts Chiropractic.

Both Rachel and Johanna come highly recommended with unique skill sets to offer a wide variety of physiotherapies to help speed the healing process for patients. Rachel studies Thai Massage and traditional medicine and Jo is a skilled licensed Radiologic Technologist. Both have excellent hands. These incredible ladies do what they are best at and this helps me to do what I do best, diagnosing and adjusting people. With the help of my amazing staff, I am able to help more patients and stay more focused on individual patient needs and care.
Your practice is now offering multi-lingual services.
Although my Spanish has a lot of room for improvement, Rachel speaks Portuguese and Spanish. Johanna speaks French and we hope to hire a new receptionist that is fluent in Spanish. I want to reach out to everyone with chiropractic needs. It is important to have solid communication to better tailor the adjustments to the patient's' needs. We look forward to saying, 'Nuestros asistentes hablan español.'
Please tell us more about the specific type of chiropractic care you offer.
Roberts Chiropractic practices the Gonstead Method. Gonstead style of chiropractic is a very specific style of adjustment that relies upon a thorough examination. The diagnostic exam combined with on-site X-rays give our clinic the advantage in diagnosing and correcting most musculoskeletal issues. We feature seated cervical spine adjustments that allow me to manipulate the joints in the cervical spine with pinpoint accuracy. I also use flexion/ distraction tables that give me the ability to treat (the all-too-common) hyperextension in the lumbar spine. We have our own X-ray suite. This aids in our diagnosis and allows patients that don't want to spend a lot of money to find out whether they have a fracture. I use our onsite X-ray often in the diagnostic exam. Gonstead Chiropractic is designed to make a permanent and lasting change. Roberts Chiropractic believes in the Gonstead Method because it works. This method is scientifically based and effective and this makes our patients happy as they reach recovery.
What are some of the goals or expectations that you have set for yourself and staff when providing care?
My goal is simple: improve our patients' lives through chiropractic care. As a provider, I help make the physical body of my patient work at peak efficiency. When it comes to patient care, we lead with our hearts. Simply, if you do not treat our patients as if they were a loved one… you cannot work here. I have the best profession! Everyday I get to help people and see changes in my patients. Probably the most gratifying thing I do as a chiropractor is cervical spine adjustment. Dizziness, headache/migraine, shoulder pain can be debilitating. With a few short visits this can go away. From the first visit, you will experience the change.
Where do you see your skills and skills of the practice making the greatest difference in peoples lives?
I cannot say which skill brings the greatest difference in my practice. It's about the patient, not simply the adjustment. If I can get rid of the impedance in anyone's body, then that change is the greatest for that patient. That being said, I love to see improvement in my patient's health, and because of our treatments they go on to fulfill one of their life goals like learning to dance or take their kids on vacation without pain.

Every chiropractor enjoys different aspects of their profession. I like working with the cervical spine (neck) and the pelvis. These two adjustments have the biggest immediate impact on a patient's lifestyle. More like a limp-in, leap-out treatment. I have assisted people in all ages and stages of life to find freedom from pain, and I feel honored to be a part of this community as a practitioner, educator and promoter of complete body wellness.
Your care covers so much more than just general bone manipulation. What are some specialized instances of care you are also able to provide?
My training does not stop with the adjustment of the spine. I am skilled and trained on how to get rid of hiatal hernias, middle ear infections, temporomandibular joints (jaw/TMJ), and more. Patients have commented on how my manipulations have a gentler approach than some chiropractors. I'm highly skilled and talented at manipulating the outer extremities as well – any joint on the body from shoulders, to elbows to wrists, fingers, hips, knees, ankles, and toes. I also offer many physiotherapies to patients pre- or post-adjustments to help manipulate tight tissue and increase recovery time so patients can go home relaxed and relieved.
Providing care for young children and babies is something you have gone out of the way to offer. Say more.
There are many ways an infant can benefit from chiropractic care depending on their needs. For example I treat middle ear infections in infants. Often, I can perform a mild adjustment in the cervical spine that allows the middle ear to drain naturally. If you are a patient of mine with an infant, and you bring them in, I will treat them for free. This simple procedure has negated the need for a child to have ear tubes put in surgically. I also provide care for women pre- and post-pregnancy. I realize the process of birth is tough on both mother and baby. So, don't forget your prenatal care for Mom during the pregnancy. There is nothing like the sudden weight gain of pregnancy to give a mother back pain and I'm here to help.
What are some of the most common cervical and spine issues you see on a daily basis?
Posture! Posture! Posture! Many spinal pain issues can be avoided with good posture. As the twig is bent, so goes the tree. Even small changes in your posture can have fantastic results in your overall health and happiness. You can find fun tips and correctional exercises at Roberts Chiropractic to help your body get back to good posture and find comfort you deserve.

Along with posture, another thing to be aware of, for example, is that there is very little level ground in this town. I teach patients that taking too large of steps walking uphill is a killer for your sacroiliac joints (where your pelvis meets the sacrum). Something as simple as taking smaller steps while going uphill can keep that pelvis within its normal range of motion and therefore alleviate the chance for injury of the pelvis. Be aware out there, walkers, hikers, and runners in Ashland!

As a practitioner, I listen to my patients, and I am confident that I can help patients find a way to avoid injury before it starts. My education has versed me on workplace ergonomics, and I offer that as a free service to the public. If you feel that your workplace is jeopardizing your physical health, I will be glad to show up at your work and see if we can make it a healthier place to be 40 hours a week. I want to give back to my community, and one way is to offer free services and education to help people work, play, and sleep with ease.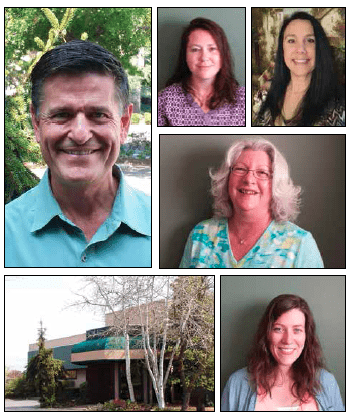 Can you share a recent success story with us?
I have many success stories and enjoy sharing to encourage and inspire those seeking similar results. One story that happened recently is I had a patient that came to me with back pain. She was in her 60s and a retired nurse. She was so debilitated that she was on crutches. I worked with her for a few weeks, and then the crutches became a cane. We worked together a bit longer and she was able to ride in an airplane to visit her 90-year-old mother. Then I did not see her for about 2 months. At that time, she showed up with no cane… just a shiny workout suit and some nice new tennis shoes, along with tales of getting into a Zumba class. I would see her regularly, until she came in and informed me that she and her partner were moving to Kauai so they could walk on the beach every day. The entire metamorphosis took about a year. If you think I was ecstatic about that…you should have talked to her!
In the past three years of success with your practice, what do you take the most pride in?
First and foremost, I take pride in being the best chiropractic doctor I can be, making myself available to my patients and assisting them on their journey. Second, I take pride being an employer to four outstanding people. There is no greater joy than sharing my passion of providing quality care and service to the community.

At Roberts Chiropractic we go above and beyond for our patients. If patients need emergency care, I am available to them 24/7. Our patients simply call the office and they will get my home and cell phone number. At least this way I can either talk them through some home care options, or I will meet them in the office after hours. It just seems like the right thing to do.

I try to never lose sight of the patient as a person. Patients are never reduced to a body part. Empathy isn't something that is learned in school. I believe that without empathy, the provider is lost. As a patient of mine, you will experience a new kind of care. I listen and practice with compassion, making sure all patients get the attention and care they need and deserve.
Lastly, tell us about something you are doing for yourself this year that we wouldn't know if I had not asked you?
I am very excited about a free veterans outreach program I have been working with for the last two years. This program improves access to care to our nation's veterans, allowing them to receive health care in their communities. I appreciate this opportunity to serve those who have served this country.

Outside the office, I enjoy traveling and I am planning on taking a trip to Myanmar within the next couple of years. I also enjoy landscaping and hiking with my partner Cynthia and my dog Kody.

I would like to thank the readers out there for taking the time to read this to get to know more about Roberts Chiropractic. I hope this article has shed some light on who I am as a person and a provider. And a special thanks to my staff for all that they do for the patients and for me. They are awesome!
Learn More:
Scott Roberts DC
410 N Main St, Ashland, OR 97520
scottrobertschiropractic.com
541-482-2904