Interviews
Rock Island Design Screen Printing, Embroidery, Signs & Promotions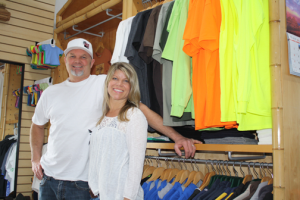 Darren and Deborah Hayes are the owners of Rock Island Design. Rock Island is a full service screen printing, embroidery and graphic shop here in Ashland Oregon. The shop offers everything from T-shirts, caps, jackets, uniforms, embroidery, signs and banners to a huge selection of promotional products. If you are working with an organization, putting together a benefit, needing uniforms, signs or banners stop by and introduce your self. Rock Island can also help you create or perfect just the right logo for your project or business.  For over 17 years Darren and Deb Hayes have helped business owners promote their brand and services in a professional manner.  I stopped by to hang out with Darren.  He gave me a tour of the shop and I was able to admire a wide selection of work they have already produced for dozens of Ashland Businesses.
Hi Darren, great to meet with you.  Let's talk about Rock Island Design.  How long have you been involved in this type of business? 
Rock Island Design has been around since 2005.  We originally started Rock Island over in Brookings and moved to Ashland in 2010.  Prior to that, we owned Pacific Line Screen Printing and Embroidery, in Bend for 10 years.
You guys have been in Ashland for the last two years and have continued working with clients from Brookings.  How is that working?
We actually still work with some of our customers from Bend as well.  We love the aspect of our business that allows us to make long term relationships.  We make the process as pain free as possible for our customers and keep them up to date on specials, new products and services and the loyalty we have earned is why it works.
Darren and Deborah have a great collection of projects they have worked on locally.  From events to corporations, restaurants and teams.  My personal favorite t-shirt is Sesame Asian Kitchen.
Working with locally owned and operated business is really at the heart of what we do.  It is impossible to have the same one on one interaction with online customers.  It is really nice to make a phone call and have the customer pop in to do a press check or make a color adjustment or even just sample a product.  It really reduces the margin for error.
Rock Island just printed the Rotary Club's annual Crabfest t-shirts.  What were the goals of the project and how did it come out?
This is our second year doing this project for the Rotary Club.  They are a wonderful organization and do lots of good things for the community.  Our goal is to give them a great product, on time and within their budget, and we did J
As I mentioned in our introduction you can also help re-produce old or existing logo's into a workable format.  What else do you guys offer in terms of graphic design?
We have created many logo' s for businesses sports teams, events, etc. We have also helped clients up-date their existing logo with a more modern look or color scheme to freshen up their look for clothing, vehicle signs and promo's.
Deb, what have been some of your favorite projects over the years?
As the mom of two, I have to say, anything that has to do with kids.  Nothing is more fun than seeing the faces of little athletes light up the moment they get their first "uniform" or even if it is the 20thcamp t-shirt.  It is so funny, they are so genuinely excited to get a t-shirt no matter what it is for!
Darren, staying involved with community is a big part of your business.  How often are you seeing things you printed as you are out and about walking around?
All the time.  It is pretty fun to be watching tv and see a local commercial come on and say "hey, we printed those".   It is also very rewarding to see local signage on buildings and vehicles and realize that you are helping those businesses promote themselves in the community.  We also hand out lots ofRock Islandshirts and we love to see those out and about.
How far in advance should someone plan on being in touch with you if they are working on a project?
Production will be scheduled as soon as the estimate & logo design are approved by our client. Our turnaround time is 7 to 14 business days.
Deb, What's the best tip you can offer to organizations when wanting to create a t-shirt for an event or benefit?
I would say, when it comes to an event, the biggest thing is to understand your timelines.  How long it will take to get the products you are looking for, whatever design work needs to take place, shipping time, etc.  Also,  many times when it comes to events there are sponsors involved which adds another element to the mix.

We are proud to say we have never missed a deadline, even if it required an all-night production shift.  However, it saves a lot of stress to give yourself enough time whenever possible.
How about embroidery… what should we be shopping for and questions customers should ask?
Embroidery is a huge part of our company.  We will actually guide our customers through the process. Setting up a logo for embroidery can be a little different when working with fonts and small details within a  design because you are working with thread on a large range of different materials. I think a good question for customers to ask is if the design they have will convert to embroidery well.
Obviously being a family owned business you take a lot of pride in what you do.  What are some the main goals you both set forth to accomplish when you first started the shop?
Our first goal when Deb and I started working together 17 years ago was to raise our two girls while growing our business.  That was not always easy as it involved a lot of juggling especially prior to the school years.   Many business owners can relate to the feeling of not having enough of you to go around sometimes but at this point I don't think we would want it any other way.  We are here everyday and have our hands in every project that comes through the door.  Giving someone the kind of quality and service we would want to receive is the cornerstone of everything that we do.
OK, now for the most important question how do we find your secret print shop?
Well, it is not a very well kept secret.  We are right here in Ashlandat 646 Tolman Creek Rd. in the Tolman Creek Business Center across the way from Goodwill behind IPCO printing.  We can also be reached by phone @ 541-708-0445 or online at rockislanddesign.com
 Any last words or comments for our readers?
Sure, drop in with any questions or to pick up a catalog for your next printing project.  Hope to see you soon!
Learn More
Rock Island Design
646 Tolman Creek Rd.
Ashland, Oregon 97520


541-708-0445
www.RockIslandDesign.com