Interviews
Scott Plummer & Patricia Morrison – The Spice & Tea Exhange® of Ashland Oregon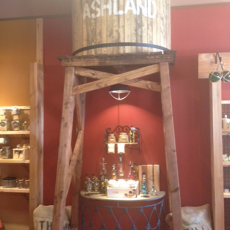 Introducing The Spice & Tea Exchange® of Ashland, a new retail experience located on North Main Street in downtown Ashland. This new store (nestled between Thai Pepper and Liquid Assets) is a truly interactive experience where g uests are encouraged to smell the spices, watch Spice Masters create handmade blends and let their curiosity guide them. Among the rustic product displays, c ustomers can find more than 120 fresh spices, over 70 hand-mixed seasoning blends, 12 naturally-flavored sugars, 24 salts from around the world, and more than 30 exotic teas. Additional recipes, gift boxes and accessories are also available to compliment the spice and tea selections.
Originally from Colorado, owners Scott Plummer and Patricia Morrison relocated to Ashland to be closer to family. Along the way, they saw an opportunity to open a one-of-a-kind shopping experience with The Spice & Tea Exchange®. I headed downtown to meet with them and learn more about their story and the exotic world of spices and teas.
Hi Scott and Patricia, thanks for speaking with me today and congratulations on opening your new shop here in Ashland. Please give us a little history behind the inspiration and idea of opening Ashland's Spice & Tea Exchange.
Patricia and I wanted to escape to a beautiful small town with lots of culture, so when I graduated into a bad economy, we decided to put my degrees in Applied Chemistry and my love of cooking to work…I now enjoy mixing various spices to form unique blends. Ashland has a unique blend, so to speak, of "foodies", art, and culture; exactly the kind of people who would appreciate fresh spices. Ashland won out over Santa Fe as I love to garden and Ashland has a great growing season and hiking literally outside your front door.
Patricia can you tell us about and describe the space you found and how the store is setup?
We love this space. It is light, airy and open with gorgeous wood floors, which complement the rustic decor that reminds guests of the days when spices represented long voyages and the intersection of cultures. It even harkens back to Ashland's early days with an old water tower. Many people have told us that it feels like a gallery with the jars of spices, herbs, custom blends, salts, sugars and teas lining the walls and, of course, the sensual experience of being able to smell everything.
Scott, can you give us a little background behind The Spice & Tea Exchange® and it's mission of selling only the finest spices and teas available?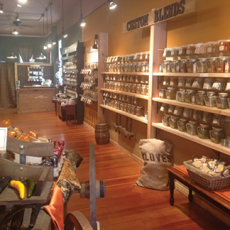 We are a "mom & pop shop", locally owned and operated and a member of The Spice & Tea Exchange® family. The Spice & Tea Exchange® is an "ethical franchise" from which I purchased, for example, the knowledge of which source in Sri Lanka and India to use for our cinnamons and how to brew the perfect cup of tea. It is important to us to provide the best products available to our customers for a fair price. We source the freshest products and try to source organic and fair-trade whenever possible.
Patricia, Inside the store you literally have hundreds of fresh spices, salts, rubs, teas,  and seasoning blends. Bring the store to life for us.
This is the farmer's market of spices. Everything is remarkably fresh and accessible. You can smell, taste, and get your questions answered. We greet you and get you oriented when you come in the door, giving you a few things to smell to let you know that it really is OK to smell everything! And, when your nose gets overwhelmed, there are dishes of coffee beans set around to refresh your senses.

We have an abundance of products to choose from with more than 120 fresh spices, over 70 hand-mixed seasoning blends, rices and orzos (many of which are unique to us), 12 naturally-flavored sugars, 24 salts from around the world, and more than 30 exotic teas! This is the place to start if you want to impress your guests and try new flavors. We make cooking easy, fun, and adventurous. No matter what your food habits or needs, there is something for everyone. There are also lots of accessories and great gift ideas.
When I first set foot in the store I literally had no idea how many spices you actually had. I was impressed and headed straight over for the barbecue and meat rubs.
We do have a lot of great products that don't necessarily fit the stereotypical "spice and tea" category. We have toppings for ice cream, flavored sugars for your teas, popcorn seasoning, drink mixes, curries, and more! If you come in with an open mind and a little bit of curiosity you're bound to find something inspiring. That's what we strive to offer here…unique products that inspire you to get cooking!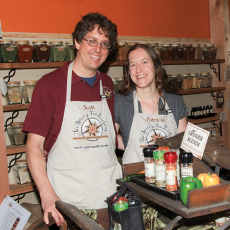 Patricia as I understand tea has always been a big part of your life. Tell us about your rituals and appreciation for great quality tea.
I love tea. Not being a coffee drinker and also being a singer, I started with herbal teas and branched out from there. But I have to say, these teas are really my favorites! They are so flavorful and the combinations are both surprising and satisfying. Ginger Turmeric, Coconut Oolong, Earl Grey Creme, and Berry White are some of my favorites, but honestly, I could go on. I often tell people that my main spiritual practice is tea. There is something so simple and relaxing about sipping a cup of tea. It relaxes me, slows me down and helps me to be in the present moment.
Scott, what are some of the local favorites to date?
We've had a lot of interest in our teas as well as our organic infused sugars. A few favorites from the rest of the store are the Bamboo Green Rice and the Tuscany Blend (great in olive oil for bread dipping, on popcorn, on roasted sweet potatoes and more).
Scott, We need an idea for dinner tonight, what could you recommend?
Of course, we are happy to make suggestions for everyone who comes into the store. I always recommend our blends and rubs. It's so easy in the summer to choose a great grilling blend and make a rub out of it. A little bit of olive oil, slather it on, and hit the grill! It's that simple, and the taste is out of this world.

We even have recipe cards with ideas that change monthly and even more ideas on our website. We offer so many great recipes in store and online, and all of our staff have chef training. We were really lucky to attract such good staff that can answer any of these types of questions.
What are some of the most popular comments you hear from customers entering the store?
The most common comments are "Wow, this is so exciting!" or "Wow, it smells great in here."

I'm surprised really that I don't get more people asking what they should add to their pasta, grilled items, etc. As I stated before, we have so many resources in-store and online that customers have an abundance of ideas to choose from. And when they offer ideas for us, we listen. All of our recipes are produced based on seasonal trends and real customer ideas.
Patricia, do you have any personal favorites that might surprise us with?
I am very excited about a new discovery that came to us from helping a couple who toast their own almonds for healthy snacking. We came up with some great ideas (including "salt and vinegar almonds" using our vinegar powder, and some "barbeque almonds"), but the recipe I went home to try used our Autumn Harvest Blend, a touch of sea salt, and a tablespoon or so of coconut oil. I'm loving these almonds!
Scott, you also have snack and drink mixes?
We do! We have cocoa blends, popcorn & pizza seasoning, and bloody mary mix. During a recent chef series, our customers commented that they liked our Bloody Mary Mix better than any they had ever had… AND ours didn't have any alcohol!
How about flavored salts… tell us more.
We have 24 different mineral and sea salts that are infused, smoked or are considered "finishing" salts. Our Applewood, Hickory, Alderwood, and Chardonnay salts add a nice smoky flavor to your soups, grilled items, and veggies. The sea salts, including Himalayan Pink, should replace your worn out table salt that frequently has calcium silicate or sugar as one of the ingredients. Our infused salts include flavors like Olive, Wine, and Chili Lime, to name a few. We even have Bacon and Black Truffle salts!
Can you talk about the shelf life of ordinary spice one might buy or purchase in the grocery store?
The biggest issue with the "shelf life" of spices is that they lose their flavor dramatically, over time. What's the point of using them if they don't add flavor?

There's an inherent amount of time that it takes for spices to go through processing and distribution before they get to the shelf. At The Spice & Tea Exchange®, we keep this process time to a minimum, ensuring that our spices maintain their freshness. We have product delivered to us every week and we carry the highest quality spices available. There are also no preservatives or artificial ingredients in our Blends; there is no need for them, since they are made fresh "in-house"– rather than spending time being transported and stored in various warehouses before finally arriving in the grocery store.

When you walk into our store, you can see and smell the difference in our products. We also sell everything by the "ounce", so that you can purchase exactly what you need, without having a big-jar of spice sitting on your shelf for months or years, losing its flavor! Ideally, spices should be replaced every 6 months to a year.
The Spice & Tea Exchange is also a great place for picking up gifts.
Yes. We have some very artistic employees who have made up gorgeous and delicious gift bags and boxes you can take home with you. Custom gifts can also be created as well. In addition, we create wedding favors, client gifts, and other smaller items. One innkeeper is hosting two private "tasting events" with us for her friends and guests, and we plan to offer several Chef Series events and other educational opportunities as well. In addition, we have gift cards and an online store that ships all over the world. So, gifts can be sent directly to the recipients and everyone can enjoy fresh, flavorful fun!
Currently The Spice & Tea Exchange® is running a special. If anyone brings in their old spice jars to have them emptied and then refilled they will get 10% off their new spices. Can you please tell us about this?
We offer 10% off if you bring in your own jar for a refill! Our culture is used to spices that are so old that a truckload wouldn't bring you the flavor and freshness that you would get from any of our spices, herbs, or blends. So, I came up with this idea to get those old spices out of the cabinet and better tasting food into your life. We even offer to compost the old contents of your jars and refill them with something new in case you are tempted to turn in your Turmeric for Thyme or your Cloves for Curry.

So far, we have even had one woman bring in mason jars to fill with our teas!
Scott and Patricia thanks for bringing your store to Ashland and welcome. I know you are wanting to reach out and connect with as many locals as possible. You also would love to have community feedback.
YES, we are so excited to be here and we already feel so welcome. We want to form partnerships, and though we are located downtown and tourism will be a large part of our business, we really want Locals to look at us as their one-stop-shop for blends, spices, salts, sugars, teas and accessories. We love what we are doing and we have a great staff! We appreciate all the feedback and enthusiasm that we have received in our first month and look forward to our future in Ashland! – Thank You.
Learn More:
Residents and visitors are invited to "Come In and Smell the Spices®" at The Spice & Tea Exchange®; Ashland's newest retail experience. Located just three blocks north of the Oregon Shakespeare Festival complex, the new store is nestled in the heart of Ashland's North Main Street shopping district.

The Spice & Tea Exchange®
88 N. Main St. (between Thai Pepper & Liquid Assets)
541.708.5306
www.spiceandtea.com