Interviews
Sotheby's in Southern Oregon Scott Ralston, Principal Broker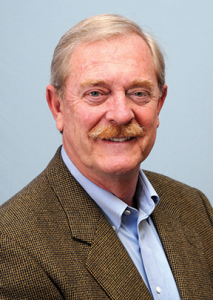 If your home is one of your most valuable assets wouldn't it make sense to have it represented as such?  Introducing Cascade Sotheby's International Realty and local representative Scott Ralston.  When we hear "Sotheby's" many of us will imagine spectacular images of priceless artwork, exquisite furniture items and antiques, all being sold at auction.  Founded in 1744 Sotheby's entered the real estate market in the late 1970's.  Today, with offices worldwide, Sotheby's International Realty has become the world leader in the representation of luxury real estate.  What's the secret behind Sotheby's global network of real estate services?  Well, to begin with, whether selling a $200k or $20 million home the fundamental requirement is to find a qualified buyer.  An ever-increasing percentage of homes purchased in the Rogue Valley are by non-local residents.  Reaching out to global markets is the Sotheby's difference.  What's hot about Ashland and Southern Oregon?  I spoke with Scott Ralston to learn more.
Scott, thanks for speaking with us here today.  Can you start off by giving us a little background of Sotheby's.  Many of us recognize the name but were unaware that there was a real estate arm existing here in Southern Oregon.

The Sotheby's International Realty® brand's rich history goes back to 1744, when the venerable Sotheby's Auction House was established.  The Auction House founded the Sotheby's International Realty division in 1976 to service the real estate needs of the most prestigious clientele in the world. Today, the Sotheby's International Realty luxury real estate network continues to expand worldwide, with offices located in luxury markets within metropolitan areas and destination communities around the world.
Scott, talk to us about the buzz of Southern Oregon.  What are people seeking and looking for out there that we have?
Ashland and the Rogue Valley have been identified as one of America's best market places for real estate for the next five years.  The reason is simple: mild weather patterns, fantastic cultural entertainment, easy access to intermodal transportation, superior educational opportunities and outstanding medical services.
Sotheby's International Realty represents properties all around the world.  Talk to us about the benefit of being globally connected while staying locally rooted.
The vast majority of our clientele who are purchasing come to us from out of state.  Having the ability to reach out to them through our global network of advertising, the Internet, physical presence and a brand universally recognized for sophistication, professionalism and performance is a huge advantage to those we represent.
Do you have an example of this you could share with us?
Sure, one of the very first clients I represented called me after reading a Sotheby's advertisement in the International Herald Tribune while visiting on business in Hong Kong. I can't emphasize enough that while it's important to advertise in your home market often the difference in a successful real estate transaction is the ability to effectively attract qualified buyers outside your local area.  There is one more example that may be of note.  On four occasions, properties that we represent have been featured on HGTV or MTV. Obviously, this is not the norm but I know of no other real estate company in the Pacific Northwest that can claim this accomplishment on behalf of their clients.
Is there a specific type of home that qualifies to be listed as a Sotheby property?
Absolutely not.  Look, a home is most likely our most precious and valuable asset.  As such, it deserves to represented in the most professional manner possible. Reaching out to the broadest market place only makes sense and is the key to successful home sales.  That 's the Sotheby's edge.
Let's talk about the level of service that comes along in working with Sotheby's.
To begin with the Cascade Sotheby's team is extremely well trained.  Personally, I've been associated with the sale of real estate for over 35 years. Understanding the market place and keeping our clientele informed is critical.  Sotheby's marketing materials are unlike any others.  They are extremely high quality.  We advertise locally and globally. Each listing is automatically posted to the New York Times, LA Times and the Wall Street Journal and is assigned it's own website.  Maximizing exposure to the Internet is vital as statistics have proven that over 92% of all real estate transactions are initiated online.
What are some of the qualities that you look for when choosing and working with Sotheby's real estate agents here in Southern Oregon?
That's easy: Professionalism, performance and persistence to get the job done.
What trends do you predict for Ashland and surrounding area real estate over the next few years?
I've had the good fortune to live and work all over the world.  Ashland and Southern Oregon is home for a very good reason.  It just doesn't get any better than this!  The environment, the climate, the activities, the friendly people….the list goes on and on.  People all around this nation are quickly coming to this same realization.  The future for Ashland and all Southern Oregon is extremely bright and current market statistics prove it.
Your own professional resume of work has ranged from being a fighter pilot to Wall Street to real estate.  How has working with Cascade Sotheby's been a good fit for your own work ethic and professional expectations?
Being associated with the Sotheby's brand is like playing in the major league.  I'm surrounded and supported by professionals dedicated to the single purpose of excellent service for those who we represent.
Can you give us one tip you could share with our readers that would apply across the board when selling a house, whether that was a ten million dollar home or two hundred thousand dollar home?
Absolutely!  Do not limit your vision!  This is a serious business.  It is imperative to maximize your exposure.  Remember your home is most likely your most valuable asset. Treat it with the deference and representation that it deserves.
From your perspective what is the most curious nature of real estate and how are you doing things differently at Cascade Sotheby's?
I love real estate because it is a "people" business.  Buying or selling real estate is very emotional.  It is not just the acquisition of real property…. these are our homes.  Where we live, where we raise our children, where we entertain our friends.  Our homes are an expression of who we are as individuals. Just like a precious gem or a fabulous piece of art our homes have special meaning to us.  At Cascade Sotheby's International Realty we respect and embrace that concept, as it is our mission to artfully unite extraordinary homes with extraordinary lives.
How can someone go about learning more about Cascade Sotheby's International Realty and getting in contact with you?
Easy, just call me at 541-488-0217.