Interviews
Spirit of Shakti – More Than A Yoga Store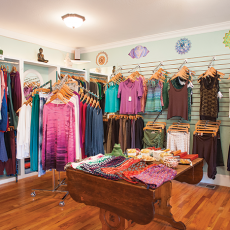 Spirit of Shakti is in its 9th year of business here in Ashland. Located in the Ashland Yoga Center at the corner of 4th and A Street, Spirit of Shakti is one of the communities best kept secrets for finding all the cutest yoga and lifestyle apparel. Recently, the store has changed ownership with Sabrina Paulick of Ashland taking over. Sabrina's love of community and attention to detail has infused a new and vibrant energy into the shop. From clothing lines that promise to amaze and delight, to finding that unique gift, you won't leave empty handed when you visit the Spirit of Shakti.
Sabrina, thanks for speaking with us today and congratulations on acquiring the Spirit of Shakti!
Thank you Shields! This is an exciting time for me, and I am so happy to be talking with you about Spirit of Shakti! It is really an honor and a blessing to be able to carry on this local gem. I have wanted to own my own business for many years, and when Spirit of Shakti came along, I knew it was the perfect fit. Yoga is a vital part of my life, and I love being connected with the yoga community, but more than that Spirit of Shakti is just a great store. There is a little something for everyone. Whether you do yoga or not, the shop is full of consciously made clothing and much more.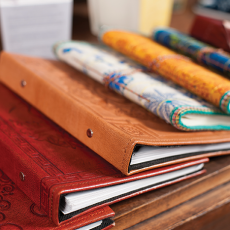 Are there any changes that you have been inspired to bring into the Spirit of Shakti?
When I purchased the store, I knew that I wanted to change some things, make it mine, but it was important to me to retain the Spirit of Shakti that everyone knows and loves. I believe I have done that, and it feels really great. The feedback has been so positive and inspiring. I gave the shop a whole new look by painting it floor to ceiling and rearranged some things in order to bring in more light. I also brought in new clothing lines, jewelry, gifts, and body products. I really love how it has come together. It is a warm, serene, inviting place to be. I am very lucky to go to work each day!
Tell us about the wide array of merchandise you have to offer. You aren't just a yoga store.
We are not just a yoga store; that is true. We have managed to fit a lot into a small space. Spirit of Shakti is a great place to find unique and special gifts. We also have essential oils and locally made body products, some great accessories such as hand bags, scarves and some sweet flip flops from India that are all I wear around the house. All of the clothing in the store is made in the U.S. or Canada or is fair trade. We have lots of apparel that is not yoga clothing like dresses, skirts, sweaters, and organic cotton under garments. We of course also carry a variety of yoga essentials from mats and bolsters to straps and blocks, and all of our yoga products are sustainably made from companies who care about their environmental impact. I also really love all of the books that are in the store. I am a big reader, so there is a really wonderful selection of inspirational and educational books.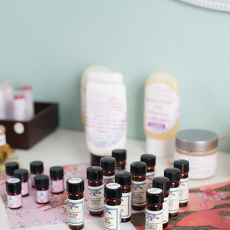 Can you also tell us about the new clothing lines you have to offer and how you found them?
Yes! I am so excited about these clothing lines. Some I have found simply by customers or friends telling me about them, and others from the designers themselves coming into the store. I am loving Maha Devi out of British Columbia. It is beautiful, comfortable, well made clothing at a reasonable price. What more could you ask for? I am excited as well to bring in a line called Autumn Teneyl. They are out of Pagosa Springs, Colorado, (shout out!) the small mountain town that we moved here from 5 years ago. They make gorgeous clothing and customers have been loving what they have seen so far. I also just placed an order with an up and coming company out of L.A. called Sutra; they have combined their personal artwork with a beautifully designed yoga pant. The results are pretty cool yoga pants!
Being a part of community has been important to you. Please tell me more about how this translates into owning the store.
This is really what I love most about owning my own business. I get to meet so many fantastic people in our community. From local artisans and crafters, to the amazing yoga teachers and students, to visitors and locals, I love getting to know them. I feel like I have the opportunity to really connect with many of the individuals who come into the store. I like to give everyone space to look around in a relaxed atmosphere, but more often than not a conversation occurs, and I have had some really great ones! It is truly a joy to get to know people in this great community. All kinds of people come in the shop. Those who have been doing yoga for 30 years and others who have never touched a yoga mat. But I think everyone who comes in feels that it is a relaxed and beautiful space with lots to look at.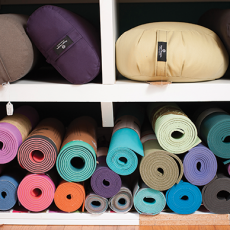 People really fall in love with the store. What are some of the comments you get to hear from your customers?
I hear such great things from customers every day. The thing I hear the most when people walk in is that it smells so good! Most people who come in say what a lovely store it is, what beautiful clothing there is, or just how good it feels in the store. Customers are so thankful that the store is continuing on. A great comment I heard just today was about the store being full of "treasures." This makes me feel so good because this is exactly what I am trying to achieve as a business owner. I want people to come in and find their treasure.
Many people might not realize that Spirit of Shakti is separate from the Ashland Yoga Center.
Yes, the yoga center has different owners. We work together and support each other, but Spirit of Shakti is separate. You don't have to be a yogi to shop!
Your store is predominantly for women, but you also offer a small line of men's clothing.
Exactly. The store is predominantly for women, but we do have a men's section, and lots of guys do come in and find things. We have some great pants and shorts for yoga and lifestyle, as well as shirts and tanks. We carry an awesome men's line called Verve, another company out of Colorado. Guys really love the fit and feel of their pants. I would like to expand the men's section, so stay tuned men of Ashland!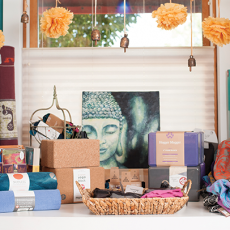 Spirit of Shakti is really unique. It is quiet, very intimate….there is a real sense of peace. 
I agree! It is all of those things. It is very important to me to make everyone who comes in feel comfortable, welcome, and appreciated, because they are. I had a man in the other day with his wife, he seemed a little like a fish out of water, but he was telling me his life story before he left! I always try to tune in to what a customer is feeling. If I feel like someone wants to browse in silence, I am happy to let them do that. Some people, on the other hand, really like to get feedback and have a little conversation. I try to be responsive to what the individual needs. I had a woman tell me a few days after she had been in, and bought two new dresses, that she really appreciated how comfortable she felt in the store. She said she is sometimes intimidated shopping, but that it was such a pleasant experience, and that it felt like she was shopping in her own bedroom. Now that is something.
What is it like getting to speak with everyone who comes in the store?
I get some really great feedback and ideas from customers. I love hearing what people like and don't like, and I welcome this. I really want the store to reflect what people desire while also bringing my own style. I had a woman tell me recently that she appreciated my honesty. I really want customers to be happy with what they buy, so I will always be honest. My goal is to consistently bring in new and current fashions and have a nice variety. I have a lot of people who come in on a very regular basis. They are going to keep me on my toes!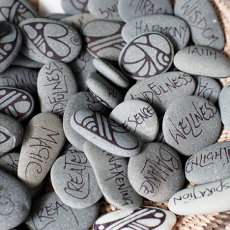 You mentioned this above, but I am going to say it again. This store is a great place for finding that perfect gift.
Yes, in addition to what I mentioned before, we have some really nice statues and handmade journals, candles, incense, flags, singing bowls, unique greeting cards, and many other items. We also offer gift certificates, and I can take special orders for particular items as well.
What are some of your favorite items in the store?
While most of what I sell is clothing, I really love all of the jewelry that is in the store right now. The display case is filled with beautiful treasures from local artisans and beyond. I love supporting people doing what they are passionate about, and supporting local jewelry artists is a way for me to do that. I of course DO love the clothing as well. I am often talking directly to the people who are designing and making it. That feels really good. Most of the clothing is made with organic cotton, hemp, bamboo, or recycled materials. It feels great to work with and support these small companies, and it makes me feel really proud of what is in the store. You can buy something and feel good about where it came from.
Any final thoughts or comments you would like to share?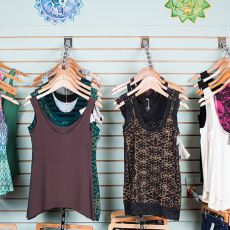 I would like to thank everyone for the amazing support I have received since taking over the shop. I would also like to thank the previous owner, Nora, for her help and encouragement during the transition. She developed this special niche in our community, and I get to build upon that. Thank you as well to the local community for supporting this wonderful little shop over the past 8 years. I welcome everyone and anyone to come have a visit. If I'm not there you will find one of my fabulous employees, and we are happy to answer any questions you may have. Thank you!
Learn More:
Hours:  Monday – Friday 10:30 – 5, Saturday 10 – 4, closed on Sunday
Spirit of Shakti
471 A Street
541-482-9200
www.spiritofshakti.com