Interviews
Terra Firma Home Fine Furniture & Interior Design
Terra Firma Home is an 7000 square foot upscale home store offering fines lines such as Lee, American Leather,Vanguard and more. Local fabric from Henry Calvin as well as Kravet, Ralph Lauren, Robert Allen, Duralee and more. Antiques, lighting, rugs and accessories.
Located at 309 E Main St, Medford, Terra Firma Home has been providing interior design and space planning services for over 20 years. At Terra Firma Home, you'll explore an exceptionally well merchandised world of high quality textiles, furniture, rugs and lighting from around the world. Terra Firma's global style is first and foremost about a relaxed approach to interiors. The products are of lasting value infused with a free spirited individuality. Around every corner at Terra Firma Home, you will discover something beautiful, unusual and eclectic, be it a rich leather chair, a one-of-a-kind Chinese cabinet, or a sofa that invites you to curl up. Terra Firma is a furniture store unlike any other with amazing visual energy and treasures to inspire your soul.
In today's interview we speak with owners Krissy and Mark Millner about the creation and long term success of their business here in the Rogue Valley.
Krissy and Mark, thanks so much for doing this interview with us here today. Congratulations on 20 years of ownership of one of the Rogue Valley's favorite fine furniture stores and interior design firms.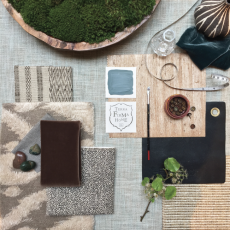 Thank you so much Shields, we are delighted to be here, and we are grateful for our wonderful clients and loyal supporters of our local business. To begin with please introduce us to your business and share a little bit of your history here in the valley.

It all started when we moved from San Francisco to open our sweet gift shop, Terra Firma, in Jacksonville. That was 25 years ago! As our business was flourishing, we knew we were going to put down roots here (planting on Terra Firma so to speak!) and thus we bought a home. Our design business started out of necessity because as we began to look at options for furnishing our own home, there just wasn't anything in the valley that was our aesthetic. We wanted relaxed, well-built, more eco-conscious, design driven furniture for our home. Mark and I took matters into our own hands, we went to market in San Francisco, and opened a small "salon" in our J'ville store. It was an overnight success! People would come upstairs and see interiors done in a fresh, new way and all of a sudden they were asking us to help design their homes. I had worked in the design and production division for Esprit De Corp in San Francisco, so my creative juices were flowing again! After 2 years in Jacksonville, we knew we needed more space, more staff, and we moved the furniture addition to downtown Medford. We have been there 17 years. We survived the recession, raised two wonderful children, and we really love being a part of the Southern Oregon community.  As more and more people are moving to Southern Oregon, we are delighted to have this interview in Locals Guide to introduce new people to our company.
Terra Firma is housed in an enormous 7000 square foot space in downtown Medford. Please walk us through the space and tell us about all you have to offer
Our store is in a large, beautiful 7000 square foot building in downtown Medford with skylights and the original brick walls from 1895. Inside, we have a very comfortable atmosphere that invites you to come in, sit down and relax.  The comment we hear most from our customers is that they would like to just move-in and live there! It's a warm and aesthetically beautiful environment and is a great format to showcase our products and our talented design staff. In the back of the store is our design "think tank" where we have large work tables and our sample room.

We have thousands of fabrics from our vendors, as well as wood samples, rugs, finishes and more. It is a wonderful space to spread out blueprints, paint colors, and dive into planning your home.

We also have our own seamstress, who has been providing custom sewing of pillows, bedding, small upholstery and window treatments for over 6 years.  We enjoy the collaboration if a client has a special, antique textile, and we can incorporate it into a beautiful, custom pillow for a bed, or trim on a window panel for example. We love the fact that you can have a real, tactile experience when you visit, and there are 4 of us working in design at the shop, so it creates a wonderful, collaborative environment to talk about design, and share ideas.
What are the benefits of having such a dynamic and large work space? How has it evolved and how do you imagine it will continue to evolve?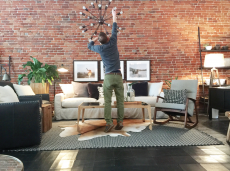 One of the greatest benefits at Terra Firma Home is that we have a vast assortment of products to see and sit in to compare how it really feels. Many designers work out of an office and have only catalogs or internet pictures to provide their clients. I cannot imagine how difficult that would be. At TFH you can sit in the upholstery and see if it is soft, firm, deep, shallow, supports your back, or is built for lounging with the dogs… Mark and I travel 4 times a year to market, and our designers come as well.  We have firsthand knowledge of our products and for many of the lines we carry, we have known the company owners for 20 years. It is those relationships that make all the difference if we need something rushed or extra-special handling for a particular project.  And because we go to market frequently, we only carry lines that we have seen in person, and know the quality is exactly what we want. We have some of the most beautiful lighting lines, which are exclusive to our store, so although we may not have the exact piece in the shop, we can attest that we have seen it in the showrooms and know it is beautiful or we wouldn't sell it. Mark and I were joking recently that you would never hire an architect "online" so why would you try to furnish your home that way? Your home is the most important sanctuary you will ever have. To take the time to view fabric samples in your space, compare to your paint colors, flooring, etc, is such an important element to getting things right the first time. We have lots of clients who took a stab at ordering on-line only to find out the piece is not right, the color is wrong, it doesn't fit, and it's not comfortable!

We also enjoy the fact that after we determine custom pieces for a space, we can have some fun and play when it comes to accessories.  Do we like this cocktail table or that one? If in doubt, bring it out! It is great to have the whole store at our disposal, as well as our amazing delivery guys, who understand the importance of seeing things in a space, in context. They are so wonderful at accommodating my creative whims sometimes!

In terms of what's next, we are considering launching a design workshop series. It will be a format for people to come in and bring a design challenge, or a question about how to pull together a well-designed home. We will have informative, educational discussions about design as well as just having a new format for those of us who are like-minded and love to discuss what is new and happening in interior design.
Krissy, please tell us about the clients you serve and the types of relationships you have been able to form.
Well, this must be my favorite question! We have had 20 years of forming amazing relationships with our clients.  Recently, a client came in that we had helped a few years ago. She had been battling cancer and won! She is now back at the shop and we are heading to work to finish her beautiful home. It is an honor to help and I will do my best to create a happy and healing sanctuary for this client and her family.

I also have dear clients and friends who have a ranch with Friesen horses. They are magical beings with their manes dipping down to the ground.  Although we are done with the project, it is still fun to pop out, see the horses, and take a walk to see what is new and happening on the land.

Recently, we completed a project of designing the tasting room for the Irvine and Roberts Vineyard.  This was a great collaborative effort. Dionne Irvine had a clear vision of a relaxed and understated tasting room, and we were able to take that vision and bring it to life in a focused and more design driven fashion.  The result is stunning, and the experience for all of us was fun and exciting as we watched the transformation from the ground up over the last 6 months.

We have a wide variety and level of service that we can provide on design projects. Some of our clients are very busy professionals who give us a budget, and then we take care of everything full-service.  They enjoy the fact that we listen to their needs and they get a big TA DA when the install happens. It is usually a surprise and is so much fun.  Other clients are very hands on, and we can serve with our expertise on the lines we carry, and help with space-planning, paint colors or other areas that are needed.

We have primarily focused on residential interior design but have also completed commercial projects over the years as well. We have done spaces in Toronto, the Pearl District in Portland and a hip wine bar in San Francisco. We also designed the Elan Suites boutique hotel in Jacksonville and did a lovely makeover for a cosmetic surgery center.  My last out of town project was a complete renovation of a home in Palos Verdes, California. It was a 1962 mid-century modern that took three years to complete and is one of my favorite projects to date. I have helped these clients with their homes and business' here in the valley for over 10 years and it is a testament to great relationships that we all keep working together year after year.

I feel that it is the relationship that is the most important element of all, and I am still working with the same clients, some, after 20 years, on new and exciting projects.  When you have a business for this long in a small town, you share so much with your employees, customers, and friends, and, we all have shared good times and bad times together.  It is extremely rewarding to me.
Please tell us about some recent projects you have been a part of.
Recently, as mentioned earlier, we completed the tasting room for the Irvine and Roberts Vineyard. This was an amazing project and we all collaborated on the design. ML selected all the interior and exterior furnishings; she designed tables and had them built by Lake North of Ashland. Kelly did all the renderings on auto-cad, and I collaborated with Jim Olarte', an artist from LA on the entry piece and other design details.

Chris-T recently completed a loft in Portland's Pearl District. The space was a very modern, narrow loft with floor to ceiling windows and the clients share their time between Ashland and Portland. It was a challenge to provide furnishings that the client wanted for comfort, that would look great, and, fit in the space! She selected a console table that converts to dining which is great since they love to cook and entertain in this small space.

Kelly recently completed a living room for a very busy young family in Ashland. The challenge was to provide an interior that looked great, and functioned well for a busy, active family. They wanted the space to be beautiful and current, but not trendy.

This is an art, and she did a great job to select clean, modern pieces that are timeless and not contrived.
Tell us about your rendering and design services.
We can provide auto-cad and sketch-up renderings if you would like that HGTV, walk -through -your- home experience! Sometimes, it is absolutely necessary if you are wanting a large scale remodel or want to see something in context far before the design or construction begins.  There are people who just can't imagine what their room can look like with a new design, so a computer rendering is just a great tool. It still doesn't beat seeing actual textures, colors, and finishes.  For clients who already have a creative flair, rendering isn't necessary, and in that case, we just spread blueprints out on the back tables, and get to work.

Another service we have provided is being a "style'guide" so to speak, for clients who are building new homes or remodeling. For example, we recently helped a client review all of her material selections, layout, paint, etc, for her new home. This was the first time she and her husband had ever designed a custom home and she knew it was not her area of expertise and was afraid to make poor choices. She did not want it to look dated.  We went through the entire process with her and walked her to the end result of a beautiful home.
Krissy what is some of the most common feedback you enjoy hearing from your clients?
I think the most rewarding aspect is that I have clients who I helped 16 years ago and they still come in to visit and let me know they love their home.  I believe in using well-built, natural materials, and letting a clients' personal style emerge in the process.  And, as much as we all love studying design trends and the latest on Instagram, I firmly believe that good design is fresh, classic and timeless at the same time. Many of my clients have retired in Ashland and lead very fun, active lifestyles. They will share with me that they want their space to be new, they don't want it to look like a "grandma house", they want to be hip grandparents! If that is the case, we can combine generations of family art and treasures in new ways, so that the home is surrounded in great memories, but never old and dated. I love working with art collections, and re-framing acquired pieces to update a home.  I did a lovely Italian farmhouse in Ashland a few years back and the art collection was amazing! The client had never been able to have some of her favorite pieces on display, so we curated the collection, re-framed, and designed the room with this in mind.
Krissy you and the staff are continually traveling and doing research which helps to bring in new ideas and items. Please talk about your process.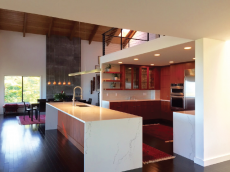 Mark and I do love to travel, and this directly reflects on what is happening at the shop. Recently, ML, Chris-T, Kelly and I went to SF and visited a design showhouse as well as the design center. We spent our days soaking up the latest in interiors and visiting beautiful stores and eating at new restaurants.  It was pretty amazing that ages 25, 41, 54, and 79 were all together and we had a blast! There's a lot to be said for having a common interest because we sure had fun!

Mark and I have traveled to Portugal, Sweden and Nicaragua in the last 3 years and those experiences also shape what is happening with what we love and want to find for the store.

After going to Sweden, we re-painted the walls, added a modern, pale hickory fireplace at the store, and have enjoyed this very cozy, yet modern aesthetic as something new. Our daughter works as a surf instructor in Nicaragua so we are also influenced by the latest interests of our children.

Recently, she launched her own jewelry line and website, inspired by her love of the sea, the land, and her travels.  Our son has a love of woodworking. He built us a beautiful table for our patio in which he in-laid a glass mosaic of the state of Oregon.

I am sure we will be collaborating more with both our children since they have grown up in the business.
Krissy and Mark you are joined by an extraordinary staff. Please introduce them to us.
We have a great staff and let me have the pleasure of introducing;

ML Stockwell moved to Jacksonville to retire and for some strange reason, she just can't keep still! As she turns 80, she has worked at the store as my sidekick for 6 years. ML had an incredible career in Laguna Beach for 50 years, doing high-end homes, restaurants and hotels. One of the things I admire the most about ML is her constant drive to learn something new and always look forward. She is always sending me emails on some latest design trend or some fabulous restaurant in LA. I know that her curiosity and zest for life and knowledge is what keeps her so young at heart.  It's just got to be her secret fountain of youth, I know it! ML has a vast knowledge of design and her style is always on point for any project. Her rooms are inviting and beautiful, yet they never look as if a designer was there. I think the best way to describe a space that ML has designed completely, is that it pulls you in, and you never want to leave…

Chris-T Hodgen has moved back to the valley from Bend and is a very talented artist and designer. Chris-T helps in order management as well as designing all our advertising, marketing materials, and social media posts. As a designer, she has most recently helped more than one client turn their bedroom from boring to beautiful with her very fresh, organic, and edited design process. Chris-T listens so well to her clients' needs and has a great ability to come up with the unexpected and delightful. She uses wallpaper in strategic and dramatic ways to give a room a great pop of design. Her latest project is renovating an upstairs space in an old barn into a personal, artist retreat for a client who wants a place to getaway, paint, read and plan her garden below.

Kelly Ingledew is our newest designer on the team. With her degree in Interior Design and her Auto-cad rendering skills, Kelly brings another layer of design services to our team. She also loves to keep us on task and on schedule with store goals.  Her view is very modern and she is not afraid to be bold in her design and use of texture. Her first project at TFH was with a client in Ashland who spoke no English at all and she designed and furnished the whole home through the use of a translator! Talk about great listening skills! It was a tough challenge for her first project and she delivered with aplomb!

Richard Petty is our Office Manager, and just his name is cool! When he's not in the office he is an international judge for world-renowned Arabian horse competitions. So on his off days, he is traveling to Dubai, Paris, Argentina…as of this writing I think he is in Vermont! If you love horses, stop in and say hello to Richard.

Zac Snow has finally headed off on a year-long trip to rock climb and explore the US. He has been the steady fellow to keep deliveries going for 9 years.

Andre Gilmore and James Sherbourne are the muscles behind the operation. Receiving, inspecting, and delivering to our clients' homes is a tough job.  James just returned to us from traveling 2 ½ years in Europe, and we are thrilled he is back to help out. Andre has the best smile and his easy-going nature and reliability is priceless.  I know baristas get tips for good lattes, but the people in this world who deliver furniture (and especially on 100 degree days or in the snow) deserve a standing ovation and my deepest respect.
Pricing is always an important consideration for any project. Please say more.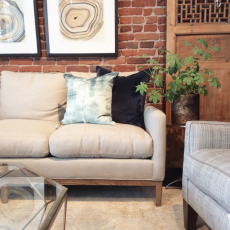 Of course everyone considers their budget for any project.  It is so important to consider this when it comes to designing a home.  Mark has a joke that if you buy quality, you only cry once, but it's true! If you invest in beautiful, well-made furniture and the help of an experienced designer, you will end up saving money because you will do it right the first time and it will have lasting value. We have to know a budget before we can get started because our selection of products available can vary from mid to high end.  All of our upholstery is custom made in America and depending on the fabrics, fill, and construction of the piece, the price can vary based on those details. Our clients are interested in their homes looking pulled together, artistic and beautiful, and they don't want it to look like a catalog.  I think people here in Southern Oregon want things that are eco-conscious, well built, with natural fabrics. They don't want sofas that are off-gassing and made with petroleum based foam. We have believed in this since we started, so we carry the most green and eco-conscious lines of furniture available, and they are exclusive to our store only in Southern Oregon. All our wood products are FSC certified as well. Our manufacturers, such as Lee, American Leather and Vanguard are decades old, family businesses and we have known them all for years.  So back to pricing…we can work with any budget, as long as we know parameters and everyone understands the expectation. We don't believe in surprises or price increases after a project starts. It's having things known and straightforward that is why we are here after 20 years and a recession!
How do you work to instill confidence in your customers?
I think our longevity and reputation and has been a key to our clients giving us trust and having confidence. We always take care of any issues and seek the most comfortable, hassle-free experience for all of our customers.  We strive to create interiors that are bespoke and well-edited. Our projects have a clear thread between all of them that shows thoughtfulness as well as creativity. I am not a fan of things looking too random, too eclectic…there is quiet beauty in something that is well designed.   We are very accessible as a company. We are all at the shop daily working on projects and helping customers who come in to see what is new. I love that you can browse the store and get to know our design staff when you arrive. We are all there to offer service and not in an office behind closed doors.  We approach each project individually based on the clients' needs and budget. There is no particular formula, only that we want to know what makes each project unique, and how we can achieve that goal. We believe in the old-fashioned terms of honesty and integrity with everything we do. I think that is what is most important to me when it comes to instilling confidence.
Finally can you please give us a detailed overview of all the services you have to offer.
• interior design

• color consult

• space planning

• auto cad renderings

• custom furniture design

• consultation services

• pre-build design analysis

• lighting design

• kitchen and bath design

• remodeling

Thank you Shields for this interview! It's the most informative piece about our business we have ever done! I appreciate that your business focus on this beautiful Southern Oregon Community and I invite everyone to come and see our store.

We are located at 309 East Main, in Downtown Medford. Our store hours are Tues – Friday 10-5, Sat 11-4, closed Sun/ Mon. Terrafirmahome.com and also on Facebook, Houzz, and for the most current projects on-line; Instagram!

Cheers!

Thanks so much for speaking with us today!