Conveniently located at 552 "A" Street in the Historic Railroad District, The Tile & Stone Design Center is your one-stop shop for all your tile and stone needs. Owned and operated by Trevor Hayes, The Tile & Stone Design Center has served the Rogue Valley for more than 25 years. We headed downtown recently to speak with Trevor and get the update on what's new for 2016.
Trevor, thank you so much for speaking with us today. You have now been working in the tile and stone business for more than 25 years, and here in Ashland with the showroom going on two years. Tell us about some of the name brands and items you have brought into the store for 2016.
Besides the numerous lines we already have, we have added Porcelanosa, Voguebay, Elysium mosaics, Emser and Happy Floors. A lot of new exciting ideas.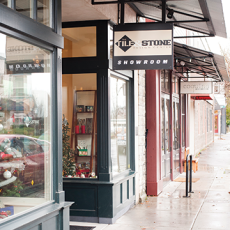 Working with designers, architects, and contractors has been your specialty in Ashland, however, you are also available to work directly with homeowners directly.
Absolutely. WE ARE OPEN TO THE PUBLIC! We are happy to work either with your contractor or directly with the customer. We have samples you can take home and can usually get any other samples or materials within a day or two. A lot of homeowners want to come down just to shop and look through the collection on hand. It usually takes a few trips to see everything and make final decisions.
Word of mouth has always been huge for you.
Yes, our business has really thrived on being 100% referral. Now going into year two here in Ashland, I've been making new friends and connections which has helped the business grow and reach more and more people. Our work also speaks for itself, and usually after a client has a project done, they are more than happy to share it with all their friends and we love that.
For the past 13 years your Medford shop served customers from all over the Rogue Valley. How are things going now that you've opened in Ashland?
Very positive! Everyday we get people in to take a look around and say, "Welcome to the neighborhood" and "It's great to have you in town, we needed this!" I've had a chance to see some familiar faces and we're meeting new people everyday.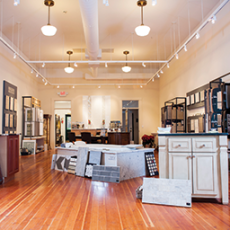 Trevor the shop looks great!  Please give us a tour.
We're really set up for every size project. A main focus is to be up on the trends and offer some styles that maybe aren't offered elsewhere locally. We have Italian imported tile by Richards & Sterling, handmade tile from Pratt & Larson, American-made tile by American Olean & Florida Tile. We can also supply large commercial projects by using Daltile, Marazzi & Emser Tiles.
You now have quartz countertops. Tell us more.
We fabricate and install four different brands of quartz and a lot of different natural stone. Caesarstone, Hanstone, Quantra & Pental Quartz are the new and easy-to-maintain quartz material we use.

We hope to be adding PaperStone soon.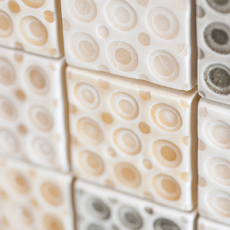 You guys also have your own fabrication shop for doing larger more custom projects.
Yes, we have our own fabrication shop and our own installers. All of our work is done locally. We can work on granite slabs, soapstone slabs and one of the more popular countertop materials lately, quartz. Countertops, vanities and even walk-in shower walls, we've done a little bit of everything.
The Tile & Stone Design Center is already well known to many contractors, designers and local builders. Do you also work directly with homeowners?
Absolutely. Most of our homeowner clients come in multiple times throughout the length of their project either by themselves or with a builder or designer. It's really nice to get to know them on a more personal basis during this time.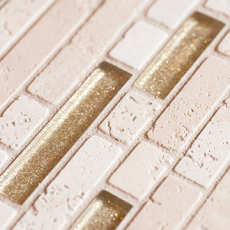 What advantage do you bring for homeowners looking to do work in their own homes?
We're very set up for a Do it Yourself-er. We carry the install materials, we offer rental saws if needed, and being in this industry for such a long period of time, we can offer the knowledge and knowhow on how to get the job done right. If I don't know the answer, I don't try to fake my way through a job. I wouldn't do that to anyone. I enjoy taking the time to talk to the right person to get the right answers to ensure a proper install. Nobody knows everything.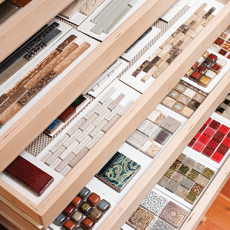 Trevor, you have worked on spectacular projects. Please tell us about a few of the people you have worked with.
We have been fortunate to work with some of the top-end builders and General Contractors in the valley over the years. Steve Asher, Mike Pagnini, Matt Bryant of Riverdell Homes, and Keith Swink sure have kept us busy with some impressive remodel jobs. And designers like Tekla Delaney, Maggie Javna, Carolyn Allman, Diane Schenk and Julie O'Dwyer have helped us.
I am sure you have seen some spectacular bathrooms and kitchens.
This valley has some of the best indoor and outdoor kitchen views in the world. We have done kitchens overlooking the mountains and valleys and also river views. We've even helped on a few oceanview kitchens over in Brookings and Bandon. Sometimes I just take a minute and look around to appreciate what these people get to enjoy everyday.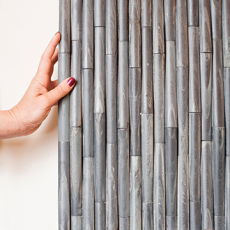 What are your customers and colleagues saying about Tile & Stone Design Center?
"The Tile & Stone Design Center has great and varied materials. I've found the owner easy to work with, integritous and ethical. He stands by his products and installers – never a difficulty we couldn't find a solution to. Five stars!"
– cynthialaughery


"As a wholesale distributor, I can only write a review of the feedback I receive from Trevor's customers. His customers have always been appreciative of his fabrication and installation work, but they are also grateful for other intangibles, easy to contact and deal with, will tell you if something can and/or should be done. Good work and good service are The Tile & Stone Design Centers trademark."
-czelder


"I frequently work with Tile and Stone on my design projects. I send clients to visit the showroom, because the selection and carefully arranged tile vignettes are so helpful, as well as beautiful. Trevor has a vast knowledge of the business, and his recommendations are always spot on! Great place for tile in Southern Oregon!"
-style matters


"I have worked with The Tile and Stone Design Center for several years and appreciate the great resource. As a business owner, I know how much it takes to create and maintain an up-to-date showroom. Having a local showroom with such variety and unique products is invaluable. I also depend on the knowledge and follow through."
-Carolyn Allman, ASID, NCIDQ


"The Tile and Stone Design Center has been a gift to the design world of Southern Oregon. Trevor has an amazing selection and knowledge of all his products and even more impressive is his own sense of design. The showroom is very visual and easy to take your clients to."
-Delaney Desings
What are your hours?
We're open from 9am – 5pm on weekdays and weekends are by appointment. We are a small, family-owned business and are willing to work around your schedule. If we are in town, we are willing to meet you anytime you need to. Just ask!
Learn More:
The Tile & Stone Design Center, Inc.
552 "A" Street, Ashland
541-708-6464  
Check out their website here