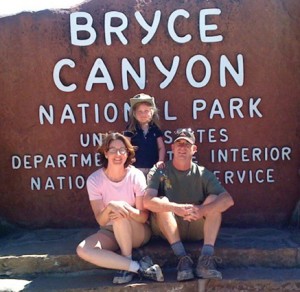 Like most of us, Troy Hemmerling wears many hats—the headpiece of artist and set designer who has created works for a number of regional theaters (including the Oregon Shakespeare Festival); the crown of dad to Tess; the chapeau of partner to Ginny; and the many lids of friend/brother/cousin/son to hundreds of us within the diverse cross-sections of communities that create Ashland and the world beyond.
As a long-time Ultimate (Frisbee) player, Troy, now 47, has captained many regional teams—for each team, he literally custom-designed the caps we all wore. For the last 3 years, he has donned the pirate captain's tricorne and led the defending Cramp Up champions, Piratas de Amor (Love Pirates). For years, he has sported the ten-gallon of Tournament Director for Ashland's annual Cramp Up Ultimate Tournament, which draws about 300 athletes and their families to Ashland the weekend of May 1st and 2nd. Last weekend, in Cramp Up's 17th year, we all tipped our tam o' shanters in honor of Troy and his family, as all proceeds from our tournament went to help defray his medical expenses.
In November of 2009, Troy was diagnosed with a rare form of appendix cancer called mucinous
adenocarcinoma. Only 300-1,000 cases of this disease are seen in the US each year, thus regular travel to specialists who deal with this type of cancer is required. I asked Troy to share a glimpse into his life as he moves forward on his journey through cancer, and he courageously obliged.
How did you find Ashland?
In 1993 I applied for and got a job at OSF, as a design assistant in the scenic design studio. Years earlier, though, while attending college in Montana (where I grew up) and at various other times along the way I had people who'd been here tell me that if I ever made it to Ashland I'd never leave. I guess they saw something in me and in Ashland that suited us both. I left the Festival to design full-time in 2000 and Ginny and I decided we really liked living here, we'd made good friends and put down some roots so we'd try and make a go of it. It ain't been easy, I couldn't be more off the beaten path to try and build and sustain a scenic design career, but we really can't imagine ourselves elsewhere. Especially with the birth of our daughter, Tess, in 2004. There's so much to love about this place when it comes to raising a child.
What led you to Ultimate, and what do you love about it?
I blame a couple co-workers at OSF who played, Peter McBennett and Jim Clark. All their fault. In the spring of 1994 they encouraged me to come out and try it, so I did. I could barely walk for three days afterward, I was that sore, but the hook had been set. After meeting more of the cool folks who made up the local disc scene and being a part of our very first Cramp Up tournament a couple months later, and seeing really good athletes play in a competitive setting, I was on the line for good. I wanted nothing more than to master the sport and play at the highest level. If only I'd discovered the sport before I'd hit 30….
There's much to love about Ultimate. It lends itself well to coed play, which I like a lot. Ultimate's a great physical workout. The people who play it are in general a very cool, caring and fun bunch no matter where you go. I got to play with Team Brazil at Worlds in '98, talk about a fun bunch! The people in the disc community here number among many of my closest friends. What I love most about ultimate, though, is that playing it "at the highest level" is so much more than being an athletic stud. The players themselves are responsible for maintaining the fairness and integrity of the game. There are no refs so fouls, penalties and rules disputes are settled on the field by the players involved. It's a real test of one's character, particularly in tournaments where the competitive blood is running hot, to play all out while at the same time treating your opponents and the game with the honor and respect they deserve. It's the only sport I've been involved in where opponents compliment one another on good plays often made at the expense of the one doing the complimenting. And after the game that pair of players may well be sharing laughs over a cold beverage. I feel like that's all much more than good sportsmanship. Now, don't get me wrong, it doesn't always go smoothly, but that's the ideal. And those principles have informed my life outside the sport and influence how I interact with the world on a daily basis.
What was your initial reaction upon receiving your diagnosis, and how have your perspectives changed over time?
Well, this is a family paper so I best not share my initial reaction. Actually one of the first thoughts I had was that I wanted to see my daughter grow up. I immediately started trying to learn all I could about my cancer and what the treatment options might be. Shout out to a patient advocacy organization called PMP Pals that has a wealth of information about docs, treatments, dealing with your insurance company, and other info about these rare appendiceal and pseudomyxoma peritonei cancers. They also hooked me up with a couple of mentors, people who had had my cancer and got through it. I knew more than anything that I wanted a shot, an opportunity, to get well. I wasn't going to settle for just putting my house in order and seeing what I could check off the bucket list before I checked out. That's the ornery in me, I guess.
You are not currently a surgical candidate, can you explain?
The surgery that I hope to one day have is very extensive, often 12+ hours long, with a long recovery period. I saw it referred to somewhere as "the mother of all surgeries". For that reason surgeons are hesitant to take it on, to tax the resources of the patient and the hospital, if it's likely the cancer will just reoccur six months or so down the road. The surgery is not generally viewed as a palliative option. They want to feel that, if they decide to go in, they have an excellent chance of getting it all. Currently, in the opinion of the surgeon we're consulting, who is very experienced in dealing with the rare form of cancer I have, the tumors are of a size and have spread in such a way that he does not have that confidence. It's our hope and the hope of our oncologists that I will continue to improve physically, the chemotherapy will continue to have an effect, and that the cancer will remain stable or reduce so that I'll be reconsidered for surgery at some point down the road.
I loved it when you told me several months ago that you were looking forward to seeing who you would be on the other end of this cancer thing. Could you elaborate?
Well, often I see this whole experience as a real crucible for me, a real daily test of my physical, mental and emotional strength. But on other days I see it as a sort of chrysalis. I'm in this interesting process of incubation and evolution where, when I emerge, I will be…something…more evolved, stronger, positive (I'm a hardcore pragmatist, some say pessimist), more attuned to people, the environment. Or maybe not. I certainly feel like I'm experiencing some changes but I'm still in the thick of it, not a butterfly just yet.
How have your communities responded to your diagnosis?
Like you would not believe! We have been completely awestruck, emotionally overwhelmed (in a good way), grateful and humbled by the outpouring of love and support that has been extended to us by family and friends. Our families have been there for us, of course, but they don't live in the area and must do what they can from afar. Some of my family live in the Houston area, a big reason we chose MD Anderson Cancer Center there (it's one of the handful of hospitals in the country with extensive experience in appendiceal cancers). As I said earlier, one of the reasons we chose to stay here was that we felt we'd made good friends and had established ourselves in the community. I've learned the real truth of that in such a huge way. Those circles of friends — the disc community, fellow parents, current and former coworkers — all reached out to us in huge ways immediately upon hearing about our situation and have continued to stand by us. They have helped us beyond all measure with our being able to sustain some sense of daily life and regular routine as we all keep adjusting to the ever-shifting new normal.
How has your experience with cancer changed the way you approach work, friendships, family, marriage, and parenting?
I like to think I'm developing a better sense of priorities in those departments and what is truly important at any given time. That I'm developing a more balanced approach to life where each of those areas gets to thrive. Ultimately they're interconnected, each affects the other, and the challenge of striking that balance is ongoing.
What are your future plans, post-cancer?
For us as a family to get out and experience the world more, travel. Personally, to get involved in something bigger than myself, probably in the cancer realm. And I think Ginny's given me an open ticket to just about any Ultimate tournament I want to attend. I definitely have the goal of playing again, even if it's just our friendly pickup game, but my secret desire is to make it to both Masters (33+) and Grandmasters (40+) Nationals. And to throw a big whopping party for everybody who has helped us get through.
Any spiritual epiphanies as a result of this journey?
Well, I'm still a traveler but I'm learning that, in the big picture, it's your connections to other people — to friends and family — that will sustain you.
To donate to Troy's family, please make checks payable to the Troy Hemmerling Fund and mail to US Bank, Attn: Craig Pisors, 30 N. 2nd Street, Ashland, OR 97520.