Articles
ULTIMATE FRISBEE IN ASHLAND AND MEDFORD: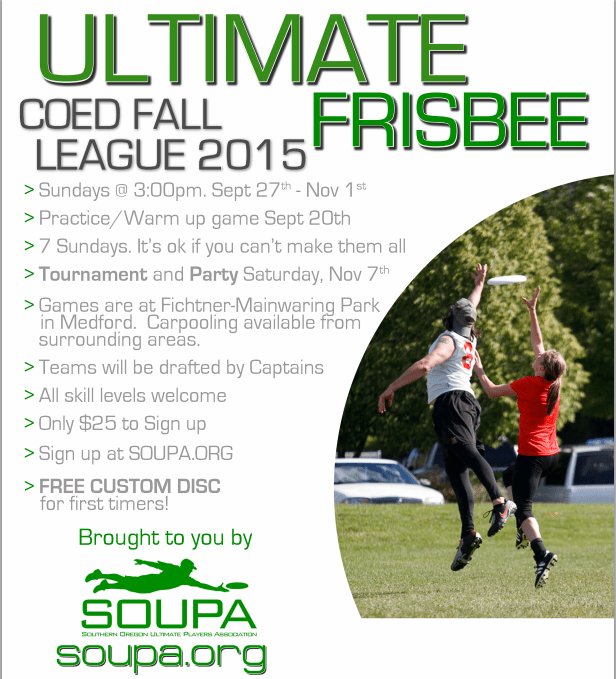 Ultimate frisbee is a fun, competitive sport and we want you to play with us! SOUPA — Southern Oregon Ultimate Players Association — is a long-standing and open community looking for new blood.
Players range from 16 to 50+ and include both men and women; solid skills are represented but there's also an openness to new players.
Bring water and a light and a dark shirt. Most players wear cleats, but this is not mandatory.
Some parents bring their children to hang out on the sidelines while they play.
-We play pick-up Ultimate on Wednesday nights in Ashland (pick-up) at North Mountain Park, arrive 6 pm, pull 6:30. Beautiful field.
-We are promoting our Fall League, which is super fun,Sunday afternoons at 3 pm at Fichtner-Mainwaring Park in Medford, and has a tournament and party at the end (Sat, Nov 7). All new league players get a free custom disc, and the league only costs $25 for 7 games!
-This past Spring we threw our annual Cramp-Up tournament for the 21st time, which drew 200 people from the region. We'll have another tournament in Spring 2016.
For more about Ultimate in the Rogue Valley, join our community on Slack. There you can see when pickup games are happening and chat with local Ultimate players:http://soupa-slackin.herokuapp.com/
To sign up for Fall League: http://soupa.org/#league
For more about SOUPA, visit http://www.soupa.org
Feel free to send questions toplay.ultimate.now@gmail.com
Hope to see you out there!