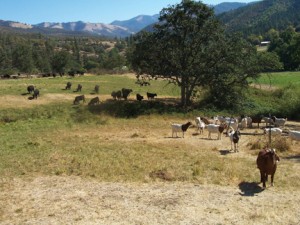 Yale Creek Ranch is an 83.5 acre farm located in Jacksonville, OR. The farm produces certified organic meats and heirloom vegetable seeds and has been in production since 1999.  As of  last year, the ranch had 35 black angus cattle, 40 goats, 12 sheep, 100 broiler chickens, 4 sows, 1 boar, 6 young pigs and 29 piglets.
Yale Creek Ranch also contracts to grow 100 lbs. of squash and cucumber seeds, 20 lbs of Kale seed, 20 lbs. of tomato seeds and 150 lbs. of corn seeds.  In addition the ranch also propagate native plants for landscaping and riparian zone restoration.
The ranch has been Tilth and SalmonSafe certified organic, both rigorous organizations with expectations that far exceed current federal standards since 1999.
LocalsGuide conducted an interview with Richard Schaeff owner of the Yale Creek Ranch to learn more about what the ranch does and how it serves our community.

Richard, can you tell us what a Meat CSA is and how it works?
CSAs provide a way for people to directly connect with the local farms and farmers, support ecologically sound farming practices, and put nourishing food on the table.  Similar to the more common vegetable CSA, members will receive a box (or cooler) containing a selection of meats, including premium and more common cuts, and recipe suggestions.  Our members will receive a box of meat once a month, for a six month period, and then have the opportunity to renew their subscription.  This enables customers who enjoy our products but prefer not to purchase as much as a half pig or steer to receive a steady supply of sustainably raised meat.  It also provides you with a variety of meats for the family table rather than large quantities of one type or another.
Have you seen the movie FOOD Inc?
Yes.
What is the difference between the meat you are offering and what you can buy in grocery store?
Grass-fed or pastured meat is leaner than conventionally produced meat, and is charged with heart healthy omega-3 fatty acids. Recent research has also shown it to be higher in vitamins A and E, and cancer fighting CLA (conjugated linoleic acid). We manage our animals using low-stress methods, and use a local butcher who comes to the ranch and dispatches our animals quickly and painlessly. In this way, our animals have a great life on lush pastures in a humane environment.
What types of meat and quantity are being offered in your CSA?
Our new Community Supported Agriculture (CSA) program will feature grass-fed and grass finished beef and lamb, and pastured pork, chicken, and goat. A full share in the Yale Creek Ranch CSA is a 10# box monthly for six months; half shares (a 5# box monthly for six months) are also available.  A full share will contain about 1/3 beef, 1/3 pork, 1/6 chicken, and 1/6 lamb/chevon (young roasting goat).  All meat is delivered frozen, packaged and labeled.  Chickens, pastured and processed on-farm, are sold whole.  Members convinced they would not like goat or lamb, or those preferring no chicken, can replace those portions of the share with our premium quality, grass-fed beef.  A beef only option is also available.  Our beef wieners and salami are also available, and may be added for $7.50 per month.
Who are the farmers and where is it raised?
Tim Franklin manages the operations of the ranch, which was purchased in 1988 by Linda and Richard Schaeff.
How did you get involved in animal husbandry?
Our initial focus was simply to be good land stewards, and to work on reversing the damage produced from an era of ranching that put the needs of the environment last. After years of riparian zone restoration (Little Applegate River and Yale Creek converge on our ranch) and invasive species control, Tim brought a larger, more integrated approach to the ranch, which included the restorative benefits of managed grazing to pastureland. With his guidance and passion, we started with cattle and slowly added different kinds of grazers to support the restoration of the land, while minimizing negative impacts.

How often is the food delivered?
We will have delivery sites in the Applegate, Ashland, Medford, and Grants Pass where our meat will be available for pick up once a month.
What suggestions do you have for people wanting to learn more about their food and where it comes from?
Whereas it is a wonderful step forward to have a federal standard for organic foods, large producers will continue to seek ways to meet only minimum standards in order to maximize their profits. If you are so inclined, spend some time on line to see what "free range", "cage free" and "organic" can actually mean (not what you'd expect). Thus, locally produced is an equally, if not more important, criteria for healthy food. Look at labels to see where and how your food is produced.
What is salmon safe?
The Salmon-Safe Applegate logo represents local farmers' dedication to restoring the Applegate watershed and safekeeping its fish and wildlife populations.  The program promotes ecologically sound farming practices, family farms and the connection between local farmers and communities.
How do you do you know if you are buying healthy meat?
Know where your meat is coming from and how it was raised. Grass finished is the key ingredient to healthy meat and a healthy environment. Frequently, meat animals are finished (this refers to feed used in the last weeks/months of life) with feed designed to quickly increase weight and tenderness (marbling). There are significant costs to the animals and environment in this approach of which conscious consumers should be aware.
To Learn More About The Yale Creek Ranch Meat CSA Please Call Richard Schaeff 482- 8240