Agave has thrived for twelve years in the Ashland restaurant scene located at 5 Granite Street. Agave offers bountiful seating including a private outdoor patio. Agave's mission statement is "where art meets food." This commitment to great food is demonstrated by all of the food being prepared on the premises daily and fresh, from chips and tortillas to an incredible coconut ice cream. Agave is open at 11:00am Tuesday through Sunday and is closed on Monday. In today's interview we speak with owners Kathryn Golden Maloof and Jacob Brown.
Kathryn and Jacob thanks for speaking with us today and congratulations on twelve years of business here in Ashland..
Thanks, it has been a long, rewarding journey and the experience of a lifetime.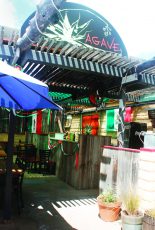 Kathryn please take us back and tell us how it all started 
My partner John Hinkle traveled frequently to Mexico, grew up in the central valley of California , and was always known for his great Mexican food. John was the original chef at the Black Sheep for the first several years and while there, Southern Oregon Chef of the Year. Andrew Chester, John's friend and former Black sheep owner always wanted John to open a Mexican restaurant with him. After many intervening years the time was right. John created the recipes and Agave opened in 2005. Andrew left after a year to peruse other avenues.

In the earlier years I did all of the baking and assisted with the cooking. John ran the business and together we did the shopping, maintenance and all things associated with owning a restaurant. Over time my duties evolved and after John's passing two years ago they expanded exponentially. John and I enjoyed many good years working together at Agave. Jacob became an owner five years ago and has made the transition from long time great employee to become a trusted and wonderful partner..

I have always been passionate about food, cooking and art. The photographs currently displayed on the walls are mine.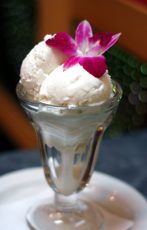 Jacob, you are a native Ashlander but you were also raised in Costa Rica. Please tell us a little bit about your story and how you came to be in partnership with Kathryn at Agave.
I was born in Ashland, but I spent part of my life in Costa Rica. As a result I became bilingual. It was quite the experience, and I really feel it helped shape the person I am today. I attended high school and college in Ashland, and like many folks, I stumbled into Agave and fell in love with the food. I came to know the owners John and Kathryn, and eventually started working there. As I took on all the possible jobs one could do at Agave I moved up to manager, and several years later when John got sick, he and Kathryn asked me to become a partner. As many know we lost john a couple years ago and that was really devastating for us, but through it all we have galvanized a new partnership and we have been working really hard to make our new location as wonderful as possible. We look forward to the future and to serving our loving community.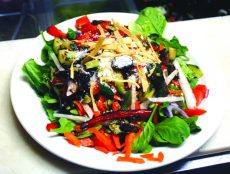 One aspect that you both take deep pride in is the fact that all the menu offerings are made from fresh ingredients from scratch everyday.
Yes, everything at Agave is prepared in our kitchen from the best ingredients possible. The design and goal of our menu is quality and freshness and we faithfully adhere to our commitment. Nothing arrives in our kitchen pre-made. Our chips are one example of our labor of love. We begin early each morning mixing the masa; next making hundreds of thin tortillas; cooking them on the comal/griddle; cooling them; cutting them in our agave shape; frying them; cooling them again; and finally they are ready to serve. We prepare everything with conscientious attention.  We do not cut corners on anything we serve at Agave.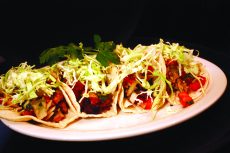 Jacob, please review your menu with us.
Our menu offers a myriad of options, from classics like carne asada tacos that we make with marinated skirt steak and a pork tamale with deeply flavored red sauce, to our unique winter squash and portabella tamale and a duck confit taco. All of our tacos come on a six inch tortilla made to order. We have delicious salads and soups, ten kinds of tacos, five kinds of tamales, appetizers, fresh fish and more. We have great desserts to end the meal and to begin, our famous guacamole and chips. Our food is filling and tasty, but not heavy.
Kathryn, do you have any favorites you would like to recommend?
My favorite is whatever my mood dictates. I truly do not have a favorite. When I make my frequent trips to Mexico I am always delighted to return to Ashland and Agave to eat my favorite food. I never tire of our menu. I know when people go out to eat many tend to enjoy an item and subsequently order the same next time.  I suggest, if one has been to Agave and recognizes him or herself in this description, try something new. Everything is good! Explore!  Just the other day I was told,  "I always order ———, this time I tried something new and it was as good as my original favorite!" That's a meal that satisfied both of us.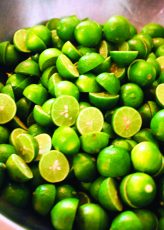 Your margaritas are outstanding!
Yes, thank you, John's special recipe. Always on the rocks, no sweet and sour mix, 100% agave tequila, good proportions and good ingredients. We hand squeeze quarts of key lime juice (the preferred lime of Baja and Mexico) everyday, and as our employees will tell you, we put a lot of love into our Margaritas. They are made the same as when we first served them – except they no longer come in a plastic cup. The very best!
Your menu offers all sorts of options for different dietary preferences.
Agave has many vegetarian, gluten free and vegan choices. Because we make everything to order we are usually able to accommodate people with allergy or dietary needs.
Last year Agave was featured in Conde Nast online guide for best vegetarian food in Ashland.
Yes, it was a surprise and an honor. They called and asked us to send a photo because we were chosen as one of the best restaurants in the country for vegetarian food. They selected 15 cities in the country, Ashland being one, and Agave. It was exceptionally rewarding to be chosen, since we are not primarily a vegetarian restaurant. As we have said, we have many vegetarian options, and they are equally as good as our great protein based choices.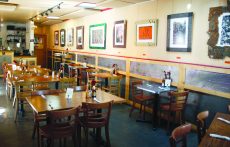 One of the great things about Agave is the ambiance. There is plenty of space, outdoor seating and great artwork.
Moving across the street to our newer location at 5 Granite has provided us with more seating. Making this space work for us has been fulfilling. Our patio has proven to be a customer favorite and we also have a parking lot! Agave is friendly, casual and welcoming.. It is perfect for enjoying with friends, family or solo. Kathryn's artwork is fantastic; she really is a creative force.
Does Agave offer catering?
Currently we don't. We have provided very large to go orders packaged "buffet style" where everything is a la carte.  The customers pick up the food and set it up on their own, using their own utensils. We don't offer full catering, but this system of "to go catering" makes it really easy to serve big parties.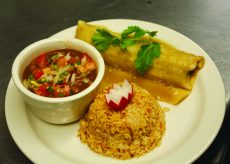 Jacob, what do you love most about working at Agave?
I love the people I work with, a few of our employees have been with us for over 10 years and we have really become a big family. I tend to serve more than I cook because I also really love serving the customers and the social aspect of it, for example, chatting with regulars, or meeting new faces.
Thanks again for doing this interview with us.
Thank you Shields.. It has been our pleasure serving the community for this long and we are really appreciative of the support we have received, thank you for allowing us to provide you with the deliciousness that is Agave!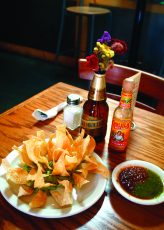 Reviews
"Super flavors. Beautifully plated. Simple goodness, perfectly sublime. Made us super happy, loved the flan best one I have ever had and I have eaten them in Mexico and Central and South America. Nice take on rice and beans." -Brian

"Delicious in every way. Big newer location with plenty of seating. Strong margaritas. Fantastic tacos!" -Hugh

"Locally owned, great food and awesome margaritas!" -Skyeyes

"The perfect location to get a bite to eat and enjoy a tasty margarita before a night at the theater." -Lynne

"Their carne Asada tacos are my all time favorite, so delicious!" -Aimee

"Always what the doctor ordered, great food presented well at an affordable price. My go-to in Ashland for years! Chips+guac, you should do it…" -Andrew J

"Casual gourmet Mexican food. Duck and lobster tacos! Small and cozy restaurant." -Jeffery

"Amazing food, who knew a gourmet hand made taco would cost only $4??? Chips and salsa out of this world, everything we tried just unbelievable and the margaritas are a must have. Staff warm, friendly and attentive, my favorite Mexican restaurant ever!!!! And I've been to top restaurants in Mexico! Been here several times, always great!!!! Would give it 10 stars if I could." -Lucia
Learn More:
Agave
5 Granite St. Ashland, OR.
(541) 488-1770
www.agavetaco.net
http://ashland.oregon.localsguide.com/wp-content/uploads/2017/05/cmyk-front-view_1603.jpg
1500
2100
Shields Bialasik
http://ashland.oregon.localsguide.com/wp-content/uploads/2018/05/logo-1-300x76.png
Shields Bialasik
2017-05-24 10:26:19
2017-05-24 10:26:19
Agave - Mexican Restaurant - Fresh, Simple, & Delicious