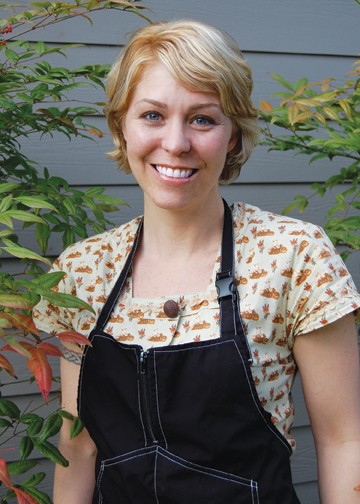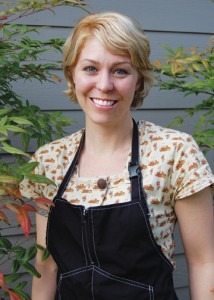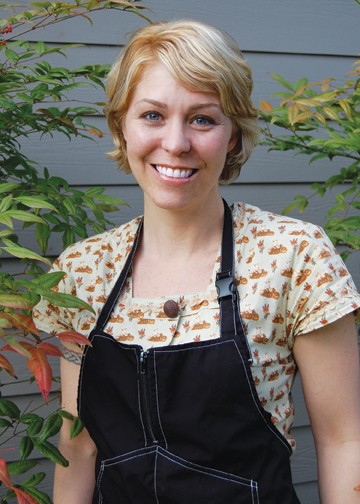 Jessica Dunn Schubert's our very own well sought-after aesthetician, and owner of abasha skin care is celebrating fourteen years in the skin care business. Seven years in her home state of Colorado and seven years in Ashland.  Owning and operating a skin care therapy shop seems like first nature to Jessica with her 50's waitress uniform and welcoming smile.  She is ready to beautify Ashlands people starting at 9:00am, 5 days a week. We spoke with Jessica about the art of waxing and more.
Jessica, can you share a little bit about how you became the Ashland Wax Queen?
Jessica: Because I am  SAFE * GOOD * FAST! he he he! Seriously! I have done sooo muchhh waxing the last 14 years! And I can speed wax like the wind! I was so fortunate to have been mentored by the best of the best of the aesthetics industry. I continue to grow in my work through ongoing education, learning about the latest skin research, product knowledge,  new eyebrow waxing trends, and the latest styles of wearing our body hair.The " Brazilian wax" craze has hit the Rouge Valley, people can add personal variations. This summer abasha  will carry sassy "down there dye!" in differant colors for those who want a fun change with a new shape. Waxing styles change like fashion, it's fun to keep fresh and progressive. The traditional  Full leg, Half leg, Underarm, and bikini waxing is still, and will be forever popular. Men also enjoy a chest hair shaping or back wax. Men also enjoy getting rid of that uni-brow, and having a little masculine shaping with their eyebrows. I feel so comfortable with my work and have fun with everyone I have the priviledge to work with. My client's keep me on my toes! so I can keep my crown of Wax!
What exactly does waxing entail, can you walk us through a process?
Jessica: Waxing entails: "Consult-Prep-Wax-Confirm-Sooth"  that's my formula. New Aestheticians out there, don't ever forget this! Waxing removes the unwanted hair from the root source, unlike shaving where the hair follicle is cut off leaving the hair to grow stronger. I apply the various wax with a sterile applicator, then remove with a strip of non woven paper. For sensitive areas I use a chamomile infused hard wax that adheres to the hair not  the skin. This French wax is self removing and is  low temperature, I love this wax for all sensitive skin. This is very important with facial waxing. Safety, and cleanliness is as important as the technique. At abasha we have many types of waxes at different temperatures, and consistency. These waxes are formulated and regulated for the many types of skin and hair growth of the body. My handmade botanical soothing oils calm the skin afterward and their essential properties relax the mind. My clients leave sticky free and smiling.
What are some of the benefits of waxing?
Jessica: Benefits from waxing include smooth hairless skin with out razor burn, or itchy grow back for weeks!Waxing weakens the hair growth and some people find their hair growing back thinner and softer with ongoing wax appointments every 2-5 weeks. This is true for some people with all parts of their body. Many people say that there is less hassle, and more freedom with waxing than with shaving or cream depilitories. Many people say that waxing makes them even feel better after a break up with a partner, or more attractive before a special date. Even Tori Amos sings about hair removal and heart break, I might have to think about creating a "Break Up Wax Special of the Month" around that! There is nothing like clean shaped eyebrows to make your eyes sparkle and give confidence! whether you choose a natural clean- up shape, or a trendy stylish shape, the result is the same. Happy.
How do you work with your clients to help them relax and feel comfortable with the experience?
Jessica: I think just being myself  makes my clients feel comfortable. I genuinely care about the people I work on and who come to my shop, I just don't take my work to a personal level. I stand behind my work completely and rely on education and spirit to guide me and the service to perfection. Good music, tea, a yummy sweet or two in a comfy atmosphere helps! Plus I have two kids to support I better make you feel like re booking!
What would you say to someone who was wanting to come in for the first time?
Jessica: I feel protective of the first time waxer. I hear awful stories of wax experiences gone wrong. I want to raise the standard right off the bat! And raise up a secure waxing client. I want them!
For a very first time waxer let us always know,  we have some questions for you. If you want an eyebrow, lip or chin wax, no need for an appt, just come on in we have a walk in WAX BAR! Call for an appt. or come in and see if there is an opening  for body waxing. Exfoliate the area that you would like to wax with a exfoliating scrub or dry brush, depending on the part of the body. The face does not need home preparation for me to wax. I would say to come in a little early to give a little extra time for our intake form and first time consultaion. My super wonderful caring staff will be happy to talk to you and answer any questions you might have, or book a little extra time if you need with your appt. Just remember that FAST is FABULOUS! Save the long services for the relaxing FACIALS.
Is it a bit odd to know really personal details about people and then seem them around town?
Jessica: It is not uncomfortable at all, I leave work at the shop.  Again, I stand behind the service. I am proud to be good at what I do, and thrilled to live in such a wonderful town to raise my boys!  I am grateful when I see my clients around town.
Any last comments or thoughts for our readers?
Jessica: I would like to say to everyone who keeps coming to me THANK YOU! You made this possible! And to all those future clients I have yet to give a facial or waxing to I look forward to meeting you!  Here's to a wonderful new smooth future!
Love, Jessica
—-
Jessica is moving her successful business in May to the Ashland Shopping center where our loved Deja Vu was for so many years. She will be taking walk-in business with her innovative Waxing Bar, an idea that is sweeping the skin care industry. She has built and remodeled two lovely treatment rooms for body waxing, and skincare therapy. She features essensa Provence organics, and Mdcc skin care from Paris. Come by and see her or call for an appt. Jessica would also like to welcome Ashlee, Pilar and Kerry to the team at abasha.
Abasha
skincare & waxing
1644 #3 Ashland Street
Located in the Ashland Street Shopping Plaza
541-488-3959
Monday thru Saturday
http://ashland.oregon.localsguide.com/wp-content/uploads/2010/05/jessica_schubert.jpg
504
360
Shields Bialasik
http://ashland.oregon.localsguide.com/wp-content/uploads/2018/05/logo-1-300x76.png
Shields Bialasik
2010-05-01 21:21:15
2010-05-11 22:38:38
Ashland Wax Queen