Celebrating their one-year anniversary this past October, Blue Toba is definitely here to stay! The first and only true blue authentic Indonesian food for hundreds of miles, Chef Birong Hutabarat brings the depth of unique flavor and culture to the valley, hand crafted with leaves, pods and spices only found in Indonesia.  
Located on the South end of town where Happy Falafel used to be, Blue Toba's brand new renovated kitchen and space may be tiny, but the heart and flavors are HUGE. Chef Birong is from the island of Sumatra, Indonesia, home of the largest, most active volcanic lake, Lake Toba. To honor his tribe, Chef Birong named Blue Toba after the lake.
Birong spent a few years in culinary school in his homeland while learning the ancient recipes and traditions passed down for generations. What he brings to us right here at home in Ashland is a truly one of a kind experience, with layers of flavor revealing themselves in each and every bite.  One bite and you'll be convinced, Blue Toba is an experience not to be missed.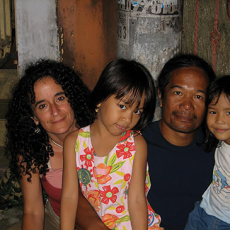 Why Blue Toba's food is so unique:
The food is unique because of the unusual spices and the way it is prepared. There are no commercial substitutes – even the cinnamon used is unique and specific to that region; we use leaves, pods, sticks and spices that are so labor intensive to put together, others can't quite make it happen. There is one particular dish that slow cooks for over 4 hours and needs to be tended to every fifteen minutes. You can't just leave it there and walk away.  The patience that goes into this food is palpable. Each ingredient must come alive. The process of Indonesian cooking requires an almost 'zen-like' mindset. It cannot be hurried.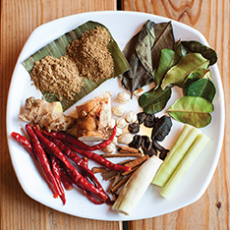 Preparing Indonesian food is alchemical.
Chef Birong knows how to perfectly balance the complex combination of flavors. Nothing less will do for him – quality and staying true to his culture is what matters. He, and his food are a representation of the most diverse, amazing country in the world. Many customers who have spent time in Indonesia, say that within one bite, they are instantly transported. People who have never been to Indonesia say it's the most delicious, unique food they've ever experienced. 
The spices and ingredients are one of a kind.  Indonesia is known as the Spice Islands.
A Dutch company colonized the Indonesian islands in 1600 because of the flavorful spices available there that couldn't be found anywhere else in the world. Indonesia was known as the 'Spice Islands.' Many of the spices Chef Birong uses are ones he brings back from his travels there or has his family send directly from his homeland. Many of them don't even have English names to be translated into because they are not known here. That is what makes Chef Birong's food so outstanding. Some of these spices are considered medicinal in Indonesia, often used for boosting immunity and overall well-being.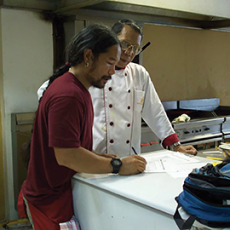 Blue Toba cuts NO corners!
Chef Birong will not sacrifice quality and staying true to the food by finding a substitute to get by with. He travels there (or has sent) to bring back what can only be found there. That is what makes it so special and one of a kind. Blue Toba also uses hormone-free chicken, Painted Hills grass-fed beef, organic veggies, rice and sprouted tofu. Even the oil Blue Toba cooks with is organic. It is no small feat. The attention and diligence of balance, tradition and combination of ingredients makes it nearly impossible to teach at this point. That is why there is the only one chef in the kitchen. That is why Blue Toba is open only five days a week. The Chef knows the flavors intuitively and innately. That alone makes it difficult to teach someone how to do what he does. There is no instant curry paste to spoon out of. Each sauce begins with a plate of leaves, sticks, pods and hand-grated spices.  
What customers say about the Blue Toba experience?
"Thank you for something different and delicious. The flavors were amazing! Cannot wait to try everything on the menu."


"Omg! everyone in Ashland needs to go here. It's an amazing place!! And makes you feel amazing. Yummm."
"My sister lived in Indonesia for 14 months and says this menu is authentic!"


"Loved the Opor curry dish, Rendang was a little spicy but delish, the Lime leaf rice superb."



"We ate here two nights in a row and would have come for a third but they were closed:(("



"Signage is subtle and mapping app misdirected us a few times. Well worth the effort to find it. The owner is a delight."


"Ate dinner here while visiting my in-laws. Holy moly, it was great. I had the rendang. The beef was perfectly tender and covered in amazing spices. The rice was also fantastic. Would kill for a place like this in Seattle."
"Blue Toba is my favorite restaurant in Ashland, and that's saying something! I lived in the Netherlands for two years, and got hooked on the outstanding Indonesian food there. Then I traveled to Bali and was even more overwhelmed by the heavenly culinary concoctions. I've loved all the food I've tried in Asia — from China to Thailand to Singapore to the Philippines — but there's nothing quite like the Indonesian experience. Blue Toba offers the real thing, believe me. Every single dish I've tried there is authentic, made from the freshest ingredients, and off the charts delicious.

The service is friendly and fast, and the ambiance in the tiny restaurant is clean and comfy. They must have gutted the falafel place that used to be there, because the kitchen looks spotless and the dining area definitely is, because I scrutinized it. We met the owner and the chef — both of whom are kind and courteous, generous and humble.  

And on top of all that, it's the healthiest food I've been able to find in Ashland. Again, in a town that boasts outstanding healthy restaurants like Pangea, that's saying something. Blue Toba serves organic rice, veggies, and tofu; and cooks with organic oil. Their chicken is steroid-free and hormone-free; beef is grass-fed and free range, from Painted Hills. All of their spices, leaves, and pods come from fresh markets in Indonesia. This is the most healthy, top quality, labor intensive food you will find in Ashland, or anywhere in the US.

As for the prices, I have to laugh at someone who complains because an exquisite, world-class authentic dish costs $13 — especially when it's made with organic ingredients and grass-fed beef. But there's just no pleasing some people. I've already taken several guests to Blue Toba, and we all agree: Blue Toba is tops!"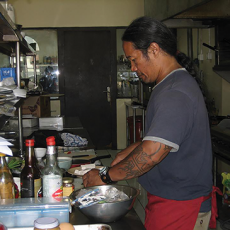 Blue Toba is small but mighty.
Blue Toba has limited seating, but it's sweet, cozy and inviting. There is outside seating on warm days or you can sit inside and bask in the incredible smells of Chef Birong's cooking. Take-out is also a great option.
Learn More:
Blue Toba
1690 Ashland St. next to Printfast
(541) 708-6214
Open Tues-Sat 12-8pm
Visit them on Facebook