Interviews
Dr. John Hyatt – Retina and Vitreous Center of Southern Oregon
Dr. William S. Rodden and Dr. Christine R. Gonzales have the great honor of announcing the addition of Dr. John D. Hyatt to their team of retinal specialists at the Retina & Vitreous Center of Southern Oregon.
Dr. Hyatt joins them from Charleston, SC, where he practiced at Carolina Eyecare Physicians for four years. Prior to that time, he completed his vitreoretinal surgery fellowship at the Charles Retina Institute and his ophthalmology residency at the Hamilton Eye Institute, both in Memphis, TN.   Dr. Hyatt also served as Medical Officer in the United States Navy, providing medical care for deployed Marines, and was twice awarded the Navy and Marine Corps Commendation Medal.
A native of Louisiana, Dr. Hyatt received his medical degree from Louisiana State University. He has been published in The Glaucoma Book: A Practical, Evidence-Based Approach to Patient Care and in the Special Forces Medical Handbook, as well as being invited to give lectures on retinal conditions at medical conferences.
Dr. Rodden and Dr. Gonzales are excited by the vast experience and expertise Dr. Hyatt brings to the Retina & Vitreous Center and feel his compassionate patient advocacy will serve as a great complement to their care values.
In today's interview we speak Dr. Hyatt to learn more about his background and relocation to the Rogue Valley.
Dr. Hyatt, thanks for speaking with us today and welcome to the Rogue Valley!
Thanks for inviting me.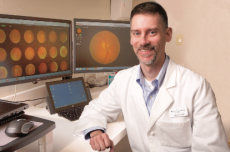 What first sparked your interested in medicine and how did your journey begin?
I ultimately decided on medicine late in my undergraduate years.  I had been looking for a way to meaningfully apply my interests in the physical sciences and communication that prompted me to double-major in Chemistry and English.  After exploring chemistry-related research opportunities, I gradually sought opportunities to learn more about the field of medicine, which seemed the ideal way for me to impact people's lives.  I had a great deal of respect for the military service of several of my close relatives, so I utilized a program offered by the Navy to fund my medical education.  In turn, I served five years on active duty, four of those attached to various Marine Corps units as their unit physician.  Deployments took me to Okinawa and twice to Iraq while practicing as a general medical officer, sometimes in very austere environments.  As I neared the completion of my active duty commitment, I chose to specialize in ophthalmology.  Witnessing the impact eye disease in some family members, as well as combat-related eye injuries, really helped solidify that choice.
How did you first get connected with the Retina Vitreous Center Southern Oregon, and what were some of the values you saw align with your own?
I wanted to join a smaller practice primarily dedicated to retina care.  I looked nationwide, and was thrilled to see that Will Rodden and Christine Gonzales at the Retina and Vitreous Center of Southern Oregon were looking to add another member to their team.  They both are very well trained and have an excellent reputation.  I appreciate that they are innovative in the care they provide and strive for the best possible outcomes to challenging problems.
Please talk about the collaborative environment that you have found at the Southern Oregon Retina Vitreous Center?
Communication among physicians is key to continually refine our practice.  Everyone approaches medical practice slightly differently.  Different mentors and training all inform our habits.  Though doctors have access to a tremendous amount of medical information, many situations still require as much art as science.  Both Will and Christine are enthusiastic about sharing their experiences and enjoy discussing new developments and different techniques.  This desire to continue improving is part of why the practice is so invested in conducting clinical trials at our Macular Research Institute.  We strive to combine the academic exploration of a university practice with the personalized care of a private practice.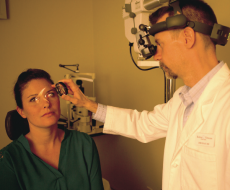 This sounds like a great environment to be working and that as a patient you are truly getting the support of truly great practitioners. 
I'm really proud of my affiliation with the Retina and Vitreous Center.  I would have been thrilled to have either Will or Christine as a mentor early in my career, so getting to work with both of them is very rewarding.  And it's crucial to mention our staff, who are fabulous.  We couldn't provide great care without their dedication and attention to detail.
Please give us an overview of the practice.
Though we stay watchful for a wide range of ocular conditions, we primarily are asked to manage problems affecting the back of the eye, specifically the retina and vitreous.  The retina is the nerve tissue that lines the inside of the eye and functions like the film in a camera.  The vitreous is the clear gel that fills the eye.
Are patients coming on referral or can they come directly to you?
Most patients are referred to me when their primary ophthalmologist or optometrist recognize a new problem in the back of the eye.  Many find our practice when relocating to the Rogue Valley or out of interest in taking part in a clinical trial.
What are some of the most common ailments you are treating?
The most common problems I address are macular degeneration, diabetic eye disease, and acute problems like retinal tears and detachments.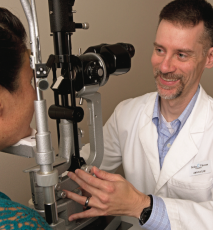 Dr. Hyatt please reflect a little of how your military training and experiences influence how you practice today.  
I think planning is probably the strongest tendency that military life instilled in me.  Being ready to provide medical care in remote or hostile areas meant a great deal of prior and ongoing planning.  I can't help but come up with a plan A, B, and C for most situations.  In my current medical practice this translates to formulating a comprehensive treatment plan and communicating that to my patients.  I want patients to understand what's going on, and I want to anticipate potential problems so I can prevent them. In the operating room, this means never approaching a surgery as if it's "routine."  I respect that eye surgery never feels routine to a patient, and bearing that in mind encourages me to avoid complacency and always to look for better ways to accomplish a surgical goal.
Dr. Hyatt, you have a strong appreciation and emphasis on patient education.
I strongly believe that outcomes are better when patients understand the diagnosis and plan. I also think knowledge reduces the anxiety that people may have about a given symptom or diagnosis.  I pride myself on patients knowing more when they leave my office than when they arrived.
You have the continual opportunity to witness and participate in transforming the lives of your patients. Can you reflect on your experience of these transformations?
Retinal patients are often faced with the potential for severe vision loss.  Being able to intervene and save or restore vision directly impacts someone's quality of life.  It always means a great deal when I'm able help a patient maintain the vision needed to read, drive, or stay active in hobbies.
What is some of the best advice or feedback you like to offer your patients?
First and foremost, don't smoke cigarettes.  If you do, it's never too late to quit.  For many diseases, including macular degeneration, smoking is the most significant risk factor that we have control over.  This is especially important to me on a personal level, because I lost my mother to lung cancer.  Second, don't disregard new disruptions to your vision, such as new flashes of light or floating debris in your vision; these can herald a serious problem.  And finally, wear safety glasses with the ANSI Z87.1 designation if doing tasks at home or in the workplace that could damage the eye. The American Academy of Ophthalmology has an excellent website about appropriate eyewear for use during work and sports: http://www.aao.org/eye-health/tips-prevention/injuries-protective-eyewear.
How do you see your profession changing over the next 25 years?
The vast potential for innovation makes it difficult to predict.  I think the most significant advances will be tailoring treatments based on one's genetic makeup, minimizing or halting the progression of macular degeneration, and improved treatment of chronic, systemic conditions like diabetes that can affect the eye.
How has the transition been for you and your family in moving to Southern Oregon. What are some things you enjoy doing here in the community?
My wife and I love this area.  The wealth of outdoor activities is a large part of the appeal.  I personally enjoy running, and the trails around Ashland are fantastic.  Our baby girl always gets excited about weekly trips to the farmers market.
Do you have any last thoughts or comments you would like to share with our readers?
If someone feels we might be able to help them, I invite them to call or visit our website for more information.
Learn More:
Retina and Vitreous Center of Southern Oregon
Office Locations:
246 Catalina Drive, Ashland, OR 97520
1019 Northeast 7th Street, Grants Pass, OR 97526
www.retinaandvitreous.com
(541) 488-3192