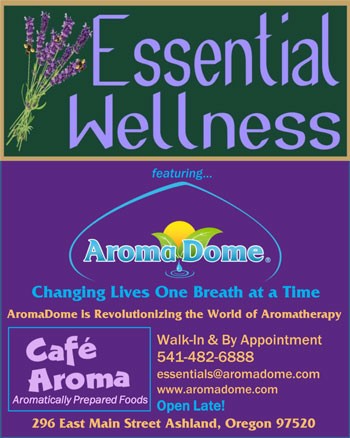 Passers-by look at AromaDome® with a little chuckle, trying to figure out what this tiny periwinkle pop-up tent is doing in the window display. Inventor and Essential Wellness owner Julie Chertow prefers to call it an enclosure, which is designed for containing the delicate molecules of Young Living Essential Oils while they are diffused from a specialized cold air diffuser. The set up is so simple. Pop open AromaDome, lay it on any flat surface like on a massage table, a bed or floor, crawl in, turn on your diffuser, and breathe. At Essential Wellness, Julie has created 10 AromaDome Wellness Stations with comfortable foam cushions that can be folded into the wall – Murphy bed-style.
Essential Wellness has over one hundred Young Living Essential Oils in stock for customers to choose from for their AromaDome Wellness Experience.  Come in, have a consultation, pick the oils that suit your focus, and enjoy your time, breathing these precious oils in the temple Julie has designed in the style of ancient Rome and Egypt. What Julie and the several thousand users of AromaDome are finding is that we have under-estimated the power of containing these oils. Julie and Young Living founder Gary Young for years placed towels over their heads trying to trap the oils in. Out of sheer frustration of the towel method, Julie came up with this pretty nifty idea. Now it is gracing many thousand homes and healing centers worldwide.
A typical AromaDome Wellness experience usually lasts anywhere from 45 minutes -1 hour including your personalized consultation, and 3 rounds of 3-4 different oil changes which specifically addresses what you are focused on uplifting and shifting. The results are nothing less than astounding. If you're someone that battles the yearly colds and flus, you can kiss that goodbye! Come in for your Holy Shift! On your way in or out of Essential Wellness, located at 296 East Main St. in Ashland (right next door to Bloomsbury Books), you can have a nutmeg vanilla smoothie, a variety of Aroma tapas dishes, or a hot hibiscus tea with cinnamon oil at Cafe Aroma. All food and drinks are gluten free, vegetarian, organic and contain Young Living Essential Oils, raising the vibration in each and every bite. Essential Wellness also has a beautiful loft space for classes and events – currently we offer 3 yoga classes and monthly classes on making Essential Oils part of your everyday life. Watch out for our upcoming film series and dance parties! An unforgettable experience awaits all! We welcome you with open arms at the beautiful Essential Wellness!  
Essential Wellness
296 E Main St.
Ashland OR 97520
(541) 552-1244