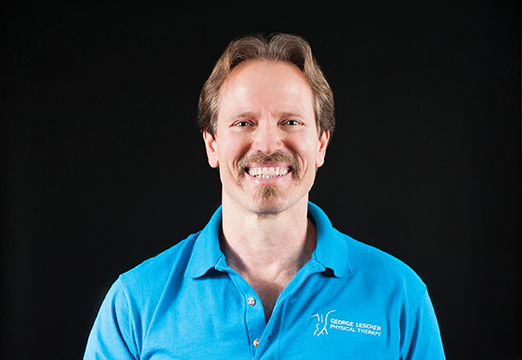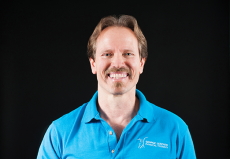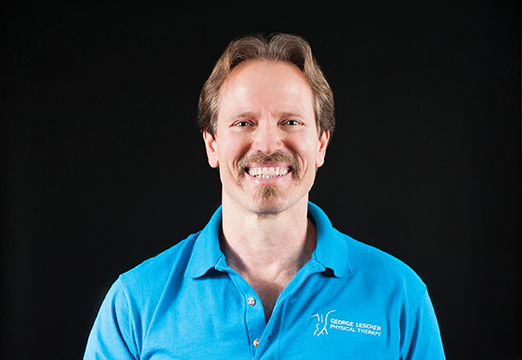 Now celebrating his 31st year serving the Rogue Valley, George Lescher is pleased to announce the opening of his new physical therapy clinic. George Lescher Physical Therapy is located at 739 N. Main Street, catty corner from the Breadboard in Ashland. Over the past thirty one years George has created a reputation as a gifted healer. George and his wife Joanne have raised three children in Ashland.
George, thanks so much for speaking with us today and congratulations on the opening of your new practice here in Ashland.
Thanks, LocalsGuide. I am excited about this interview. My intention is to let the community know that I have started my own practice and that I'm still available to anyone who may be in need of physical therapy.
How will your new practice be structured?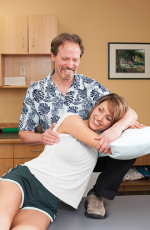 I will be working as a sole practitioner at George Lescher Physical Therapy. My wife Joanne is currently assisting me by registering and scheduling patients, but other than that, I am truly practicing one-on-one care because I'm doing pretty much everything else.
Describe some of the highlights in your professional background.
I have co-founded two very successful physical therapy practices and interacted on many levels with a great many wonderful health practitioners. At this point in my life I want to take more control over my interactions with clients and how I approach patient care.
How will this relate to your availability? Are you currently taking on new patients?
It should enhance my availability. One of the challenges of having practiced in the valley for as long as I have is that my schedule got very busy. When I left my last practice I was sometimes scheduled 6 to 8 weeks out. While it was validating that patients appreciated my service enough to wait that long, I felt terrible not being able to immediately see people who were struggling with painful conditions. I am structuring my new practice so I can spend more time with each client and I'm adding a fifth day to my work week to be more available to those who wish to see me. I am most definitely accepting new patients.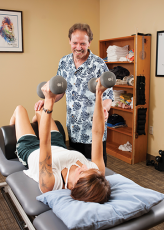 George, in your years of experience what do you think makes a good practice?
A good PT practice would be one that achieves positive, lasting outcomes for their clients. I attribute my patient's favorable outcomes to a combination of factors including my knowledge base, my understanding of the body, years of hand-on experience, deep intuition and complete commitment to each person that entrusts me with their care. A great practice however, might be defined by the quality of the journey on the road towards achieving those outcomes. That quality requires a practitioner who really cares about, respects, and connects with the patient he/she is treating.
Please talk about some of your own path and methodology to success with your patients.
My approach is really quite simple. With most musculoskeletal problems there are bones or joints that are not aligned properly, which then cause the muscles that attach to them to be either lengthened or shortened.

When this occurs for a long period of time, the muscles don't like it. Muscles like to be at their normal or resting length when they're not in use. So, the muscles and the joints complain. That's what musculoskeletal pain is. The tricky part is to get the joints back where they belong and get the muscles that attach to the bones back to their normal resting length. When this occurs, the pain usually resolves. I have accumulated a large tool box over the years which allows me many methods to address this problem. Those I typically rely on the most to realign the skeletal system are Muscle Energy and Counterstrain techniques, both of which were developed by osteopaths. In order to get the muscles back to their normal resting length and to get rid of excessive tightness, I employ deep tissue techniques which are similar in ways to Rolfing. I use fascial manipulation to address the fascial restrictions and densification. In order to decrease the likelihood the pain or problems will return, I educate and instruct patients in exercises.
So what's unique about your style?
The synergy of being able to combine osteopathic manipulative and physical therapy techniques, deep tissue work, exercise and education to alleviate pain is much more effective than using any single technique. Leave out any one component and the results will likely be temporary. But what I do that I believe is truly different from most practitioners is the amount of time I spend in hands-on work. A majority of the time I spend with patients is spent on slow, deep, soft tissue work for the muscles and fascia. One of the main credos of osteopathy is that "Bone is the slave of muscle." They theorize that the cause of musculoskeletal dysfunction is actually due to the muscles that attach to the bones. I know very few practitioners that have the skill and take the time necessary to release excess tension and get the knots out of the muscles. It is hard work and it takes patience. It cannot be done in a 10 minute treatment. I've intentionally structured my practice to be able to give my patients that kind of attention. And I've developed a proficiency in each of these areas which has helped patients who haven't had favorable results with other approaches.
George, you are always on the hunt for effective treatment methods. Please say more.
I have spent 31 years seeking out the most effective techniques and then attempting to master them. I was instructed in Counterstrain by Lawrence Jones, who was the osteopath that developed the technique. He admitted that for the first 20 years he did not understand why his method worked, yet it is nothing short of miraculous. Many patients actually say it's "magic" after the first or two that I use it with them. There has been a trend underway for at least a decade extolling "evidence-based treatment," where a given approach is only credible if it has undergone rigorous scientific studies. Well, I have thousands of hours of scientific and medical education, yet I rely in large part on my intuition and what I feel in my hands. In my mind, that makes what I do more of an art. Humans are very complex and there are many facets which affect pain and dysfunction that science is only beginning to and may never fully understand.  We've also seen how the outcomes of the scientific studies can change and occasionally even reverse themselves over the years.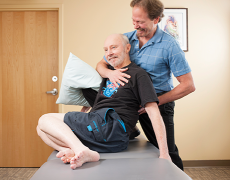 How long might someone expect a full course of treatments to take?
Ninety percent of the time I am able to get the skeletal system back where it belongs in three treatments. It is then a matter of getting the muscles that attach to the bones back to their normal resting length. That's where the deep tissue work comes in. There are many factors that can influence how quickly the muscles release and whether or not they will remain at their normal resting length once we get them there. Some of those factors include posture, body mechanics, sleep patterns and positions, stress levels and the ability to deal with that stress.  The patient's ability to relax and how they breathe are important. So are hydration, nutrition, level of fitness, activity level and a willingness to push to proper limits. I help educate my clients on any of these factors that may be adversely affecting their recovery. As with the exercises I prescribe, compliance with addressing these perpetuating factors has a huge bearing on how long they will likely need to remain in PT.
Communication and understanding the needs of your patients must be important to your work. Where have you learned the skills necessary to communicate effectively with your patients?
I really learned the value of communication while working with juvenile offenders in a Tucson-based program called VisionQuest. We used the medicine wheel as a means to facilitate communication with the kids. That's also where I met my wife Joanne. Joanne and I used that format until we started taking workshops with Marshall Rosenberg about 25 years ago. Joanne went on to establish a whole counseling and teaching practice in which she helps people become more effective communicators. We have found Dr. Rosenberg's Non-Violent Communication model very effective in our relationship, in raising our children and in learning to really understand our clients.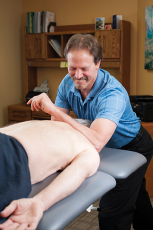 Do you have any special memories you would like to share with our readers today.
I do. I saw a patient about 10 years ago. She came to me to see if I could rid her of her low back pain. In taking her history, she informed me that she had pain, burning and diminished sensation in her feet and lower legs which had been diagnosed as peripheral neuropathy. She said that as she researched peripheral neuropathy the prognosis looked pretty bleak. This concern about her health lead her to research and find the most renowned expert in the country dealing with peripheral neuropathy. He was a physician at the Mayo Clinic in Minnesota. The patient scheduled an appointment, flew to Minnesota and underwent 4 days of diagnostic studies. After all that testing, the physician confirmed the diagnosis of peripheral neuropathy and informed her that she would need to be using a walker within ten years. On that initial treatment I asked her if she would be willing to entertain the idea that she did not have peripheral neuropathy. I treated her lumbar spine and pelvis that first treatment, and when she returned for her next treatment she stated her lower leg and foot symptoms were greatly reduced. Follow-up treatments continued to increase her overall ability to function by building her strength and improving the sensation in her legs and feet. I still see her on occasion. Not only is she not using a walker, but she reports that she continues to have minimal pain and numbness in her feet and lower legs and that she is enjoying a very active life.
George, is there any conditions you are especially skilled at treating?
In my early years of practice, nearby orthopedists had their own physical therapists in-house and referred all their shoulder, hip, knee and extremity patients to them. They didn't treat spinal problems so that is what was referred to me. I treated neck and low back pain day in and day out for many years. It still took me 5 years before I felt I could be truly effective at helping people with low back pain. When I moved to our Ashland office in 2000, I started seeing patients with a much greater variety of diagnoses. By that time I had become proficient at treating the pelvis and sacroiliac joints and was aware that a great deal of neck, upper back, shoulder, hip and knee pain was attributable to the pelvis being out of alignment. So, I really love treating the pelvis, SI joints and lower back because it is often essential to resolving problems in other parts of the body as well.
Tell us more about your family?
I am the proud papa of three grown children! My oldest daughter moved back to the valley three years ago after city surfing for the prior ten years. My youngest daughter moved back from Montana last August and was married this past January. I am delighted to have both of my daughters living nearby!  My son currently lives in Seattle, works about 8 months of the year in Alaska but does manage to travel quite a bit on his abundant time off. It was delightful to have him join the rest of our family for two weeks over the holidays.
George, please tell us about your involvement with the ManKind Project and work with the Ashland Food Co-op.
The ManKind Project has been very impactful for me. I participated in The New Warrior Training Adventure in 1997. I had done the Wings trainings and started work with Marshall Rosenberg in the early 1990's, but when I started the work with the Mankind Project I really began to look at my shadows and some of my deep-seated limiting beliefs. I also found a community of men who challenge and support me to lean into my growth edge. I've continued to staff NWTA and Boys to Men trainings as well as done couple's workshops, Heart Circle trainings, a year long Men of Spirit program and a personal vision quest. All of these have given me huge personal insights and allowed me to further my understanding of human nature.  My work with the Ashland Food Co-op's Community Outreach Board was my way to give back to the community.  As it turns out, I feel the tables have turned because I have received so much by being part of the board.
Do you have any last thoughts or comments you would like to share with our readers?
Yes, I feel blessed by all the good fortune in my life. I have a wonderful, loving family and live in an incredible community which continually stretches me and offers me unlimited growth opportunities. And I've spent 31 years in a profession which adds meaning and purpose to my life. The only other thing I could ask for… well, I won't get into politics.
Learn More:
George Lescher Physical Therapy
739 N. Main St.  Ashland
www.georgelescher.com
541.708.1189
http://ashland.oregon.localsguide.com/wp-content/uploads/2017/01/GeorgeLescherPT_007.png
360
522
Shields Bialasik
http://ashland.oregon.localsguide.com/wp-content/uploads/2018/05/logo-1-300x76.png
Shields Bialasik
2017-01-26 15:25:21
2017-01-26 15:26:03
George Lescher Physical Therapy - Celebrating 31 Years in Practice!