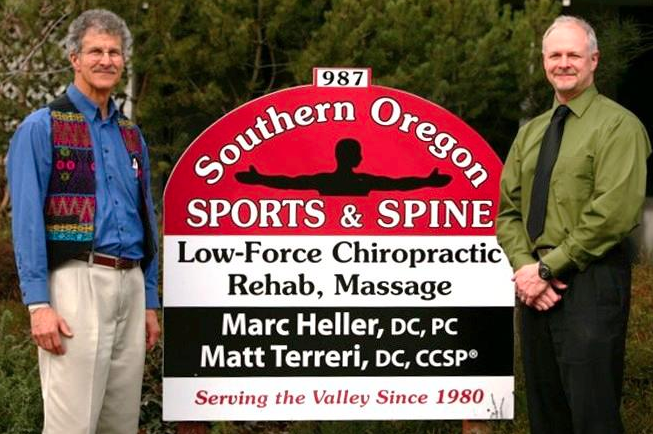 I am happy to announce that Southern Oregon Sports & Spine is the first office (chiropractic or medical) in Oregon to offer the most recent advanced soft tissue healing modality called the Storz® EPAT® device.
EPAT stands for Extracorporeal Pulse Activation Technology, which is an evidence-based emerging treatment for patients suffering from acute or chronic musculoskeletal injuries.
Not all devices are created equal, but the FDA approved Storz® EPAT® machine has been clinically proven to be as effective or more effective in treating pain than other treatment methods such as surgery or pharmaceuticals!
So what is this thing? It's a machine that was originally derived from the device that breaks up kidney stones (lithotripsy). Scientists started to notice that other parts of the body exposed to this machine during treatment would start to heal. EPAT® emits a high-energy pulsed sound wave that travels deep through your injured muscles, tendons, ligaments and bones. When damaged cells encounter a pulse wave, a biological cascade recruits your body's own natural healing agents such as red blood cells, growth factors, and stem cells that re-start first stage healing, and shut down pain fibers.
Unlike prolotherapy or stem cell therapy, there are no injections. There is no downtime, and treatment is done in short visits at the office.
Typical treatments are 1 time/week for 4-5 weeks, and although treatment ends at about week 4 or 5, your body's tissues continue to regenerate for about 12 more weeks. EPAT® is done in conjunction with your ongoing therapy.
This is now a standard of care in Europe, but it is just now catching on in the U.S. In fact, it was so new that our board had not even approved it for use. I am proud to say that after months of filling out petitions and answering questions, I was able to get this approved for all chiropractors in our state!
Now that it is approved, we are actively treating patients with it!
Here is a short list of conditions that the Storz® EPAT® can treat:
Plantar Fasciitis/osis, back and neck pain, foot/heel and ankle pain, Achilles tendinopathies, knee pain, scar tissue, tendon, hamstring, wrist and shoulder pain, (including calcific tendinitis) and stress fractures.
Google EPAT or ESWT therapy for more information or just call me at the office (541) 482-0625, and I would be happy to answer any questions you might have. I love talking about this amazing healing technology!
Matt Terreri, DC, CCSP is a sports chiropractor at Southern Oregon Sports & Spine as well as the official chiropractor for the SOU Raiders and a volunteer medical provider for the U.S. Olympics.