Interviews
Hilltop Music Shop- Instruments With Soul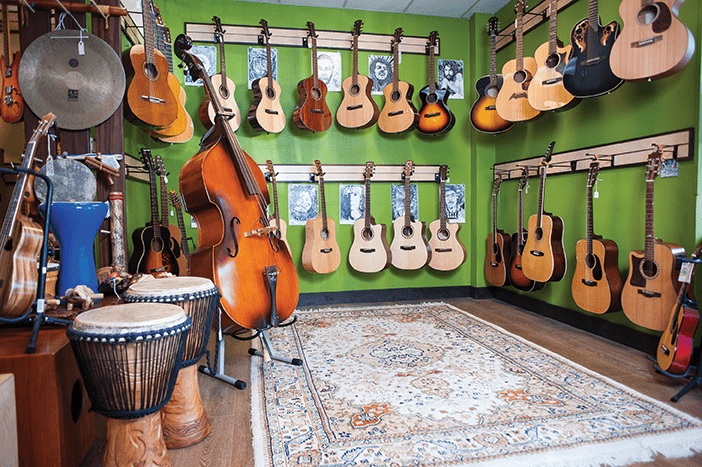 Introducing the Hilltop Music Shop, your community music store and a musician's dream come true. Hilltop comes equipped with friendly and knowledgeable staff, a wide array of quality, unique, and rare instruments, and abundant supplies – all at great prices. You will also find music lessons, instrument repair, jam sessions and just an overall friendly and fun place to go and pick out that instrument you have been dreaming of. You can sit down and try it out for as long as you like because store owners Lily McCabe and Wayne Cameron want you to be more than thrilled with every purchase you make. I headed over to the store to speak with Wayne and Lily about the conversion of and re-opening of Fretwell Music into the Hilltop Music Shop!
Hi Wayne and Lily. Congratulations on opening Hilltop Music Shop, previously Fretwell Music. Lily, tell us a little about how you found yourselves opening a music store here in Ashland.

Lily: Thanks! We came to Ashland originally looking for a new place to call home, and weren't really thinking of the possibility of owning a music store. For the past several years, we had been living in a wonderful and very musical small town in the mountains of Southern California called Idyllwild. However, as I was completing a two-year master's program in San Francisco and going back and forth between there and SoCal a lot, we started to feel that a change and expansion of horizons was appropriate for us. We thought of resettling in the Bay Area, but things just weren't clicking there. So, we trusted our instincts and took a three week road trip in Oregon.

The first place we stopped was Ashland because a good friend lived there. We loved it immediately, as I think most people do. After almost a week, we left to continue our journey around Oregon, but nothing felt as much like "home" as Ashland. So, we decided to come back through on our way back to Cali. We spent several more days, and though we still loved it, we were still wondering: "what are we going to do here?" Then just when we were starting to feel a little disheartened about the whole thing, some serendipity took over. I had decided to take a nap in Lithia Park that day, and Wayne wandered over to Cripple Creek Music. Someone there told him about the Bellwood Violin shop. We decided to check it out, and had a great conversation with Steve Bacon, owner of Bellwood. He briefly mentioned Fretwell Music, and that Jef Fretwell was looking to make a transition out of the retail portion of the business so he could teach guitar full time. We didn't know that the Fretwells were looking to sell… we thought that maybe Wayne could help manage the retail portion, or work on commission, or something like that. We made an appointment to meet with Jeff and Dee Fretwell the morning of the day we were leaving Oregon. We hit it off immediately. Within ten minutes of sitting down at Little Shop of Bagels, Dee asked us "So, you want to buy the shop?" We were a bit surprised, but curious, so we walked to the shop to take a look. By the end of the day, we had struck a deal to buy the business.

When we saw what the Fretwells had started to build – a community-centered music store – we were inspired to take it even further. Over the last several years, Jef and Dee have established themselves in the music community here in Ashland with the Modern Roots Foundation, the West Coast Country Music Festival, and with Jef's passion for teaching guitar. This connection was huge in jump-starting the business.
Wayne, tell us about your vision and inspirations for a community music store?

Wayne: I have been buying, selling, trading and repairing instruments for many years. It was a hobby that went along with performing music. Over the last few years it has become my main income producer, taking the place of my carpentry and woodworking. In Idyllwild, I had a small workshop and saw customers by appointment. What was needed to open a retail shop was the right town and location. In the few months since opening, wonderful people like Mark Stidham of Fretfix and Dave Isaac – formerly with Guitar Center Hollywood – have joined our team. With their added energy we are taking off at a good clip. Customer satisfaction is the top priority. What we want Hilltop to be is the place where you can feel good about coming in and getting to know us and be confident that you will be given a great deal!
Let's talk about what captures you about music and musical instruments, and how that connects to owning a music store.

Lily: Wow… I can't imagine my life without music. It is an amazing mode of expression, and it's incredibly healing and cathartic. It connects us to something much bigger than us. It can express any emotion without words. Wayne or myself play music almost every day, and if we are not playing music we are listening to music.… even if it's tuning in to a local radio station, or just plucking around on that silly little banjo uke for a few minutes before bed. If we go too long without playing music, we can get depressed about it. For me, a musical instrument is the ultimate self contained unit that enables you to express anything and everything you could want. A violin, for example, is an incredible feat of hundreds of years of refinement, intuition, and discernment. With an instrument, you can bring joy to yourself and others. Instruments are really sacred things to me, and I love being around them. Owning a music store just heightens that sense of magic because sharing the benefits of music and the beauty of musical instruments with many other people all the time is so satisfying.


Wayne: Ha! What she said. On the point of owning the store, I am the proverbial kid in the candy store.

Not only are you the owners of Hilltop but you are both lifelong musicians yourselves. Please tell us about your own love affair with music.

Lily: I grew up in upstate NY in a pretty musical family. I was exposed to a large variety of music. My parents and I listened to everything: bluegrass, folk, Celtic, jazz, Latin, soul, and all kinds of ethnic music. The only thing we didn't listen to was pop music! We were big fans of Alison Krauss, and when my mother asked me when I was seven years old if I wanted to learn to play fiddle like her, I said "sure." So I took classical lessons for about ten years, which gave me a great foundation. I started teaching violin when I was sixteen or so, and have been teaching ever since. For the last six years I have been doing lots of performing with Wayne in our duo, or with other musicians where we've lived. I love to keep learning and getting better all the time.

Wayne: I started playing guitar in 7th grade. By the time I was 14 I was playing bass in a new wave band with some schoolmates. Our local music store, Fallbrook Music, was a huge part of my start in music. It was a small shop where you could go hang out and try all kinds of instruments. The owners were laid back, helpful, and encouraging. My fascination with stringed instruments started there and I've never looked back. Lily will tell you, I get pretty excited, even obsessed, with instruments. I can't tell you how many thousands of miles I've driven over the years searching out what I call "orphans"… lost instruments in need of a home. Finding those little gems is rewarding and fun. Kind of like those guys on American Pickers. You know, "the thrill of the hunt." Now that we have Hilltop, I get to share them with people and encourage their passion for music.  It's a dream job!


How does the store differ from when it was Fretwell? Give us a snapshot of what you have in store for us.

Wayne: From the start, we committed to building a community-oriented music store in keeping with Jef's vision, which meant creating an environment that is fun, friendly, down-to-earth, homey, and comfortable, with really cool inventory selected for quality. In keeping with that idea, Lily and I have made some improvements to the space and dramatically expanded the inventory to include more new instruments than Jef carried, with a continued commitment to having a large selection of quality used gear, too. Consignment inventory is one of our strengths. We've also invested in new high quality guitars from small shop builders like Andrew White, Backporch, Preston Thompson and Kelton Swade, to name a few. We carry hand-built, solid-wood ukuleles. I don't think there is any other store in the valley who does that. We carry a good selection of banjos, mandolins and violins. We have a large selection of used electric basses, guitars, effects pedals and amplifiers, too. Oh, we also carry Mad Professor effects pedals at internet prices! I know we are the only small shop in Oregon who can say that! Our used acoustic guitar selection is wonderful. Want a 110 year old Brazilian Rosewood parlor guitar? Yep, we have one! Drums and hand percussion, too. You name it, we have it or can get it.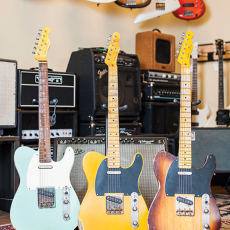 Lily, what are you particularly impressed with in your current inventory?

Lily: It's funny because prior to opening the shop, I wasn't all that fond of ukuleles. But just before we moved to Ashland, I picked up an old banjo uke that was "calling my name" so to speak at a music store in the Bay Area, and fell in love with it. Then we started ordering ukes for the shop, and I got in the habit of tuning them. Now I'm very fond of them, and particularly of the Bruce Wei ukuleles that are just so aesthetically beautiful and sound as good as they look. I have also become very fond of our selection of very old tenor banjos. Some of them are from the late 1800's. They make me want to learn how to play clawhammer banjo. I have a soft spot for our vintage guitars too… we have an old Washburn parlor guitar (which I will very be sad to see go one day), and an old Gibson L-C. Rare guitars to find, and very special.
Wayne, you mentioned earlier that customer satisfaction was a top priority.  Would you like to say something about that as well?


Wayne: Sure. I've been playing, repairing, collecting and trading musical instruments for a long time. Because of that, I know what I'm looking for and what I'm looking at when I go into a music store. Many people we meet don't have that experience. Most of what they know is gathered from company marketing material and what others have told them they "should buy." But a musical instrument should be a very personal decision. What we try to do is give a player lots of options based on what they tell us they are looking for in an instrument. We carry used instruments from what I call the "Big 4," Martin, Taylor, Gibson and Fender. That said, we carry many other brands of new and used instruments that oftentimes exceed the quality, playability and "bang for the buck" of those big brands. What I'm getting at here is that I feel a player should choose an instrument that makes them feel good and feel like playing, not the one that has the "right" name on the label. This, in turn, is what I believe makes for a satisfied customer.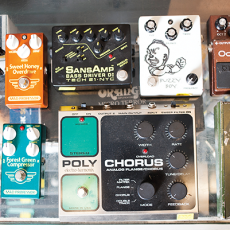 Lily, please talk about pricing.

Lily: Pricing is an interesting factor in today's market, and seems to often be the "be all, end all" of whether to buy or not to buy. We are more interested in talking about "value." When one orders online for example, one can often get a good "price" for something. But when it comes to musical instruments – and especially for those people who are not experienced in buying instruments – buying online can be tricky. Someone may not know what they're really getting until it's shipped to them, and it's often a disappointment. As Wayne mentioned earlier, selecting an instrument is, or should be, a very personal choice. People should be able to touch, play, compare, look over the instrument carefully, and have any questions answered by knowledgeable staff before making their choice. You just can't do that online. That being said, our prices are very often comparable if not lower than what you can find online for the same items. So the value you're getting when walking into our shop is hard to beat. And, we really try our best to have something for everybody. We have very reasonably priced beginner instruments to rare and high-end instruments for the seasoned, discerning player. Every instrument is hand-selected, thoroughly examined for proper setup and quality, and has to pass our "inspiring to play" test.
You guys pride yourselves in being able to help all levels of musicians.


Wayne: Absolutely. Each of us at Hilltop Music were "beginners" at one time. We have each advanced in our playing abilities and knowledge of instruments since then, but we keep touch with that inner "beginner," if you will, by continuing to learn more each day and then passing on our new insights to those we meet.  We also learn an awful lot from the people who visit the shop.

Lily: My experience of teaching for many years and also performing professionally has given me perspective on where a variety of people are coming from. I love helping people get started on their musical journeys. I also love to see Wayne geek out on the finer points of guitars when more experienced players come in. He's a walking encyclopedia! And if he doesn't know about something, he will definitely educate himself as quickly as possible and do his research. He's definitely determined that way.
Networking with other musicians and local instrument repair experts has been key for you.

Wayne: As Lily mentioned earlier, If it hadn't been for meeting folks at Cripple Creek and Bellwood Violin, we wouldn't have gotten the opportunity to be where we are now. Since opening the shop, we have referred people to Cripple Creek if they needed something immediately that we didn't have in stock. We have also referred some customers to Bellwood for violin work, as well as getting repairs done there on some of Lily's personal instruments.

Speaking of repair, we will be collaborating with Steve Spalding on the completion of the restoration of that Gibson L-C Lily mentioned. He is one of the finest luthiers in the area, and we value his experience. He's stopped by the shop a few times already, as have Stephen Bacon from Bellwood and many of the local "A-List" players in the area. We value the time spent getting to know each of them.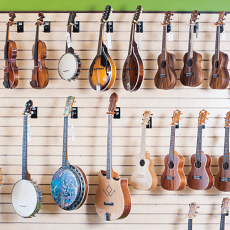 Wayne, walk us through the instrument repair you offer.

Wayne: We offer repair and set-up services on most stringed instruments. This ranges from cleaning, restringing, intonating and adjusting instruments for best performance to extensive structural repairs, refretting, and replacement of broken electronic components and pickups. We offer installation services for K&K Sound pickups and mics as well as Fishman and L.R. Baggs. We can also diagnose and repair some amplifiers. Each case is evaluated prior to making the commitment to start the repair process. If we feel a repair is beyond the capabilities of our shop staff, we will tell you and refer you to the person best suited for the job. That said, there hasn't been much that has come through the door so far that we couldn't take care of. Still, when it comes to high-end repairs on the violin family of instruments, I refer people to Bellwood. Stephen and Alex are really gifted over there. At this time, I'll readily take on repairs and set-up work on lower grade bowed instruments, say, under $2000.00 in value. When it comes to fretted instruments, bring it on!
You also offer music lessons. Tell us a little about that.

Wayne: Yes! Jef Fretwell, the previous owner of the shop, is still in house at Hilltop doing what he loves best, which is teaching. He is an excellent teacher of guitar and bass. In addition to that, we are constantly increasing our network of local teachers so that we can refer students. We would really like to encourage teachers in the area to stop by the shop and introduce themselves so we can continue forming these beneficial relationships to connect students to teachers who will meet their individual needs.
You guys are now hosting the bluegrass and folk jam on Monday nights.

Lily: This is a fun group of players of all levels that was meeting here on Sunday afternoons when the shop was Fretwell. It averages around 10 people or so, but  there is room to grow a bit. Come on out! We go from 6:15 to about 9 each Monday night.


What can we as a community do to help you guys grow?

Wayne: First, just come on in and say "hi." Lily and I want to meet you! Please tell your friends and help spread the word that we are open Monday through Saturday from 11 to 6 with our full retail and repair operation as well as lessons. December hours may be extended to be open 7 days per week. We'd also greatly value your reviews on Google and Yelp to help with our online status.


Do you offer discounts and referral incentives?

Wayne: We sure do! Students who present their student I.D. cards receive 5% off instrument purchases and 10% off accessories. We also have what we call a "working musician discount" for those players in the area who are out there performing in the local venues. Let's face it, most are actually paying to play, if you think about it. So, we want to help these "gigging pros" get what they need at the best prices we can offer. They deserve it because they work hard at their craft to bring smiles to our faces and get our feet moving. We are also starting up a "String Club" which is kind of like a coffee card at Dutch Bros. Each string set purchase earns credit toward free strings. Lastly, through our email list and Facebook page, we offer "Flash Specials" which are limited time and limited respondent offers. Please, get on our email list, "like" our Facebook page, and be ready to act!
Last but not least, tell us but your Grand Re-Opening and store-wide sale!
Lily: We will have our "Grand Re-Opening" on Saturday, December 5th, from 10am to 7pm with store-wide discounts, refreshments and live music performances and product demos throughout the day. Be sure to mark your calendars for this event! We look forward to seeing you!
Learn More:
Hilltop Music Shop
1652 Ashland St.
Ashland, OR 97520
Check out their website here
hilltopstrings@gmail.com
541-482-7745
(c) 2015