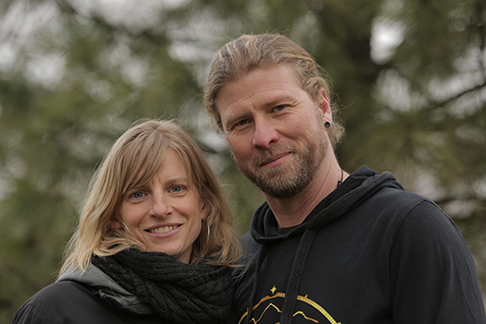 Interviews
Inner Guide Expeditions – Get Ready For Your Summer Adventure
Targeted towards youth ages 14 to 18, Inner Guide Expeditions offers an awesome selection of upcoming summer adventure trips that will have you wishing that you yourself could enroll. These once in a lifetime trips are not your run-of-the-mill, but are highly complex wilderness adventures, designed to inspire, awaken, and rekindle one's deeper sense of themselves and connection with the world.
What happens on these trips has been described as "magical and transformational." Youth are led into an experience free of external pressures. No Facebook, Snapchat, Instagram, or cell phone, nothing to buy, nothing to do, just Mother Nature, a group who feels like family, and their feet on the path to guide them. Designed and led as small groups of 10 or less participants, these lucky teenagers form a sense of belonging to the group quickly, allowing for trust and vulnerability to share and be seen.
Don't be fooled though, guides and owners Tom and Kelly Shelstad are not your ordinary summer trip leaders. To the contrary, they are highly accomplished world-class adventurers, sailors, mountaineers, facilitators, and mentors who work together as a well-oiled machine. Together they share more than 35 years of experience working with youth and 15 years working together. They are seasoned veterans with the capacity to plan, guide, and negotiate great distances, all the while providing safe and educational experiences with just the right amount of challenge to create the edge youth are seeking. This past month I spoke with Tom and Kelly about some of their upcoming trips, and I have to say that I wish they had been around when I was a kid. Enjoy the interview, and remember, space is limited so make sure to get your kids signed up early!
Kelly and Tom, thanks so much for speaking with me today. It looks like you guys have an awesome summer planned.
We are really excited for this summer's expeditions! We have three incredible trips for high school-aged youth, all multi-sport adventures, in some of the most gorgeous places on the planet.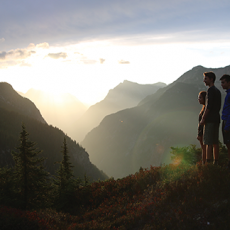 Our first trip takes us to the San Juan Islands and Olympic National Park in Washington. It's 14 days long and begins on June 17th and goes to June 30th. From Ashland, we drive north to Washington and get on a ferry that will take us to San Juan Island, where we'll camp right by the beach. Then, we meet our sea kayaking guides and sea kayak in the waters of orca whales, seals, and stunning jellyfish for three days. Back on San Juan, we pack up and take the ferry back across the waters, drive to our trailhead, and backpack along the South Coast Trail in the Olympic National Park. This trail is world famous! We'll hike on the beach, climb ladders to traverse across headlands, descend by ropes, weave through temperate rainforest, and camp on the sand by waves and surf. This trip is definitely designed for youth ready to explore and discover more of themselves with the backdrop of salty waves!
Our second trip we're calling "The Leader Within." It happens on Vancouver Island in British Columbia and lasts for 24 days from July 7th – 30th. Big changes happen the more we step outside our comfort zone to immerse for extended periods of time in a beautiful location, with inspired people, bodies moving, experiencing new activities, and all agreeing for depth of connection, sharing, and reflection. This trip asks the question, "Where does authentic, integrity-based, compassionate leadership reside?" We'll explore this continually through conversation, activities, and solo experiences, with the goal being pure exploration and discovery. This expedition begins much like the first by driving north and taking a ferry across to Vancouver Island. We'll get acclimated to the immensely wild gorgeous landscape and canoe for five days through the inlands of the island, paddling through waterways and eight lakes. Next, we'll board a floatplane and take a 30-minute flight to Nootka Island where we'll backpack for 10 days along remote shoreline only accessed by boat or plane. Hiking along the untouched beach, we'll sleep next to waves surrounded by forest and streams. At the end of this portion of the journey, we'll be picked up by a boat and head to one of the top 10 surfing destinations in the world located in Tofino. Here, we'll meet our instructors and learn the basics of surfing and catching waves! We'll surf for three days, then board another boat that will take us 26 miles to a remote island to camp beside hot springs for two nights. We'll circle in warm waters, reflecting on our time together and the growth that has occurred in each of us. We'll end with a trip to Victoria on the southeast tip of the island and then head home. This is one of those trips that there's no way not to come back home lit up, inspired, and ready for connection.
Our third trip is tried and true, and is another 14-day expedition. We head north again into Washington, this time to the glaciers, big trees, rushing rivers, and jagged peaks of the pristine North Cascades National Park. We leave August 4th and return the 17th. For nine days we'll backpack over ridgelines, surrounded by wilderness like no other. Each step allows for a simpler way of life to emerge… no electronics, just us, the mountain air, attention to the moment, and a true sense of belonging. The trail will lead us to Ross Lake where a fleet of canoes will meet us on the shoreline. We trade hiking boots for paddles and finish the trip padding 15 miles over water, in canoes, exploring emerald pools, tiny waterfalls, and good places to hop in for a swim!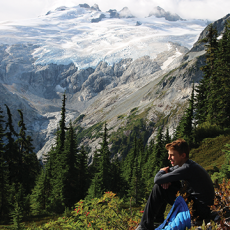 Sounds amazing. You guys really go above and beyond to plan these trips. Tom, will you tell us about it?
It starts with inspiration and grows into reality. Kelly or I will get a hit about a place or feel drawn to travel to a particular location. Then, we start diving in and seeing if it's possible. Each wild land has a permit process and group size requirement. Some places are so heavily traveled that moratoriums are put on the permits, not allowing any new guiding services into the area. When there is an obvious dead end in the process of a trip unfolding, it is always a sign that there is another destination or activity that wants to happen. That is how the magic of our Vancouver Island trip developed for this summer.
Once we know it's possible, we begin thorough research about the trail, weather, other people's trip reports, talking to rangers… we get a feel for the experience that might be had. New things pop to the surface, like activities we could do in a particular place that would add dimension and adventure: canoeing, sea kayaking, soaking in hot springs, or riding in a plane or boat in order to get to an amazing area. Each step has its requirements and logistics from insurance, to scheduling, to waivers, to fees, to working with other guiding services.
It's a process that is fun, challenging, and creative. It's a bit like working a massive puzzle that often switches the picture we are putting together. Trips take on a life of their own and, in some ways, develop themselves. We listen closely and attune to the direction that inspiration is flowing.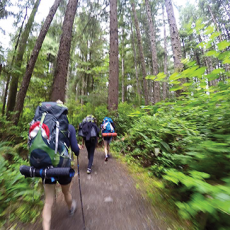 Inner Guide Expeditions is truly a unique company you have created. Kelly, will you please tell us more about its mission and purpose?
Our mission is to bring people back "home" to themselves, particularly those within the threshold and brilliant time of adolescence. All over in our culture we are given the message that we are not enough. Our lives become oriented around filling that need for belonging and feeling okay with ourselves. We're taught to look outside for the things to fill that void: a fancy car, those new clothes, attention from a friend, love from a partner, good grades, a first place ribbon, acceptance for our behavior. Little do we realize we are searching for our own attention, love, and belonging. These come from within. By being "home," we mean centered, navigating life from the sovereign place of presence and relationship with oneself. This is where all things stem from. This is where life comes to meet us. We don't need to search out there for our source of well-being. We become it.
We partner with wilderness and what's emerging in the moment. As one ventures into pristine places untouched by roads, power lines, and electronics, old patterns fall away. The trees take the tension. The sky absorbs the longing. The ground holds. Without common distraction, one emerges more vulnerable, in touch with themselves and able to track what is occurring on a subtle level within. Awareness dawns.
Adolescence is a time of great and important change. It's the bridge from childhood to adulthood. We feel it is the most pivotal time of influence upon someone's adult life. If at this stage, one can become acquainted with where true contentment, power, love, and belonging is sourced, we believe we will be living in a more harmonious, connected, and awake world.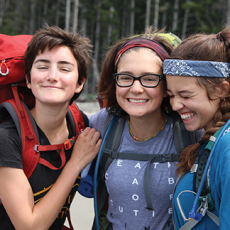 I think many parents reading this interview might be saying to themselves, "Hey, I want to go on a trip like this."
Yes, we hear this a lot. We tend to a deeper call I think we all have: to be away from the stresses of the day in and out, away from the phone, surrounded by beauty, within a new found community of people who are authentic, opening, lit up from within, and who, magically it seems, we feel like we've known forever, and where we discover places of ourselves we never realized or haven't prioritized. We all want to feel the edges where we grow into the best possible versions of ourselves, in a safe container, where challenge is held and support is given each step of the way. It seems an integral part to our emerging selves to be supported in this way outside of the family structure, within a community we help to shape and trust.
We do offer experiences for women: a circle, day and weekend retreats, and a week-long expedition. We also offer custom family expeditions, worldwide. We work closely with the family to develop both the trip and experience that will best serve in the development of their family structure. We've led trips that have included areas of Mt Rainier in Washington, the Canyonlands of Utah, the Sea of Cortez in Baja Mexico, and the Tour Du Mt Blanc out of Chamonix, France. Similar to our trips for youth, this gives the entire family an opportunity to step out of normal habits and patterns of interaction in order to develop and uncover a close familial web full of honesty, trust, and play.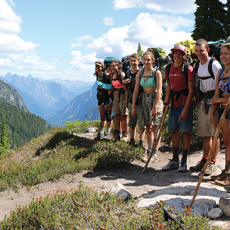 Your group sizes are intentionally kept very small in size. You have even had a wait list for trips in the past.
With smaller groups, we've found there is more opportunity for deeper connection and sharing. Participants "drop in" with each other quicker, meaning they move past the surface level conversations and into a place that is more authentic, true, and vulnerable. Practically, around the fire, there's more time for each person to share and get reflection from the group.
Last year, we offered two high school trips and both had waitlists. We saw the demand and this season are offering three trips in order to serve more who are interested in having this experience. By word-of-mouth, youth have traveled long distances to adventure with us… Minnesota, Chicago, Seattle, Portland, Eugene and even (this last year) Singapore.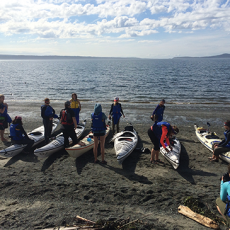 You guys are now going into your 5th year of leading your trips locally and have had some great reviews. Please share some with us.
"I would not be overstating things to say my daughters have had truly transformative experiences on their IGE adventures with Tom and Kelly. As a parent, what you want most for your kid navigating the tumultuous waters of these teenage years are things you don't always get in school; things like: the development of character – respect, integrity, perseverance, teamwork; and connection: with others, the earth, and importantly, with themselves. Tom and Kelly somehow manage through their own example, and through this "work" (it's not really work, it's so fun) to gracefully guide young people to develop strength and capacity in the world, as well as to find an "inner guide" through listening deeply to themselves and others, through acceptance, and also, often, reaching for something more. I could not have dreamt up better partners for supporting my girls through these formative years." Jennifer J., parent
"In an age where many of us feel rushed from one moment to the next, Kelly and Tom have the ability of slowing the world down so as to provide an "experience" for the participant of Inner Guide Expeditions to be in THE MOMENT. I have seen them do this on trips, in circle and with their programs. The participant may be new to any one of these formats or a veteran (a young adult with multiple trip experiences with Inner guide). The common ground for all those who participate is that there is an experience waiting to happen without anyone knowing just what that experience may be. It is the combination of the group and the needs of each individual that make the defining moment a reality. Kelly and Tom are humble, graceful masters in providing an inner guidance to each and everyone of their clients." Jennifer H.M., parent
"Inner Guide Expeditions provides a unique opportunity for teens to experience personal growth.  Exploring beautiful places with Kelly and Tom provides many opportunities to talk, question, laugh, grow, expand and connect.  My daughter grew in confidence after her time pushing her physical boundaries and experiencing the gentle push provided by them to look within.  I felt secure leaving my daughter in the capable, organized, and skilled hands of Tom and Kelly.  Doing a session of Inner Guide is a wonderful chance for any teen to do something they will never forget and to push themselves to grow." Deneice Z., parent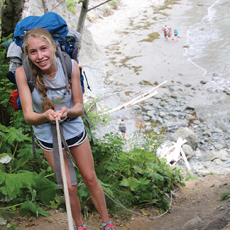 Let's talk about the transformation and magic that occurs on your trips. What actually happens and changes out there?
Good question… There's a relaxing and unfolding. Guards come down sometimes slowly, other times quickly. Each person has his or her unique way and timing with that. We don't push, or even hold agenda, just an invitation to risk being seen with space and compassion for whatever shows up. We are curious and ask questions. As they feel accepted, participants tap into authentic places of who they are. They experience more of themselves. The adventure and movement is a key part as well. As new experiences are being had, new areas within light up and come alive. We have fun! And, as the body moves, openings, emotions, thoughts, and beliefs are able to circulate more freely dislodging from stuck places. What isn't serving has an easier time moving through when the body is in motion. This creates embodiment. As one is embodied, they're more present, sparked and alive, and there's an openness that is eager to connect and engage with the world, their community, and more deeply with themselves.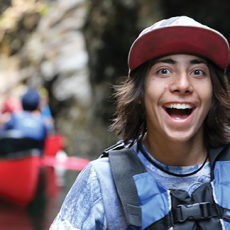 Tell us about a gem on one of your trips that you reflect on often.
The moment that comes to mind is a sacred one and to be held in that way. I share this with permission from the participant. There's a boy we've worked with who was in a very numbed out space. He had escaped into the computer, stayed in his room all day, and was socially isolated from physical interaction. He felt stuck. Fast forward to one of our expeditions that he's a participant of. We're towards the end of our trip, under a huge blanket of stars – horizon to horizon, with black-silhouetted mountains far off in the distance. The area we're in is completely flat, and we're all sitting in a natural hot spring, steam rising, checking in with each other about how we are, who we are, what's real now. Each person is digging in there, expressing things from the heart. It was one of those moments when alchemy visits and healing is present. We could all feel it. It was the boy's turn. He started speaking and completely broke open. He shared everything he'd been feeling, what it felt like in his life, how he wanted to be living. He was crying, we were crying. He took a deep breath. I asked him how he felt. He said, "Like I just came back to myself again," and he started crying with joy. We each gave him a hug as he completely surrendered into us and we into him. I have tears in my eyes as I think about it now.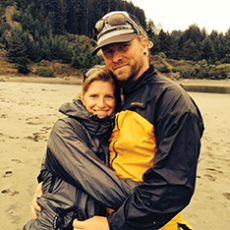 Together you guys are quite dynamic. What goes into working so well together and then how does this translate into the types of experiences that arise from the trips you lead?
We know each other REALLY well and naturally gravitate towards complementary aspects of planning, logistics, guiding, and tracking what's emerging. We both are tracking where someone is physically, emotionally, or mentally without thinking we KNOW. We operate from a place of curiosity, asking questions to help someone discover what has been there all along… their own inner guidance. By both being oriented towards the same mission and purpose in our work, our hearts align with the lenses we're looking at the world through. So as we are in circle, we each are tracking and asking questions that help someone navigate and explore what's coming up for them. As far as logistics, Tom is an incredible trip planner (with a little input from me along the way)! His adventurous nature creates these crazy amazing experiences like riding in a floatplane or going across on boat to an island with hot springs. He holds this mindset of anything is possible. It's truly exciting. We play well together and have a lot of fun, while also being really attuned to what is happening beneath the surface and trusting what's emerging has wisdom and intelligence.
All electronics are left at home.
Yes. This is essential as electronics can be and are used as a distraction from what is happening in us and around us.
Many participants report extraordinary changes in their world from your trips. Will you share a few of their perspectives?
"I think that there are very few times in one's life where one truly feels alive. That heart beating, palms shaking, exhilarating, beautiful rush of feeling unstoppable, as if your body can't contain all of the amazingness that it holds. My Inner Guide Cascades trip gave me that feeling. Perhaps it's something about being in the Northern Cascades, which is truly the most beautiful place I've ever been in my life, and feeling incredibly small against the backdrop of jaw dropping mountains and crystal streams. Or maybe it was the care, love, and guidance of the Inner Guide leaders, who held my hand when I was scared, yet let go of it when I needed that time to grow on my own as a person. It could have also been the immense thrill of backpacking for my first time ever, when I felt the most powerful and bold I have ever felt in my life. But most likely it was a combination of those things that made me feel alive in ways nothing else ever had. And the best part of it is, that feeling hasn't gone away. And I thank Inner Guide immensely for it." S.R., Sophomore
"Inner Guide has changed my life. The experiences I have had and connections I have created in the short amount of time that I have been involved with Kelly and Tom, will undoubtedly last me a lifetime. Tom and Kelly are not only amazing facilitators, but are two of my closest friends and mentors. Both invest themselves fully into creating personal relationships with each of the kids that partake in their program, which helps to strengthen the group dynamic and each individual's experience with Inner Guide. Just the sheer fact that Tom and Kelly have been able to establish and maintain such an extraordinary program is a reflection of their leadership abilities, certainty in their craft, and unwavering loyalty to preserving a safe and fun space for anyone involved. I am so grateful to have been able to be a part of Tom and Kelly's adventures." K.J.B., Junior
"Since 6th grade, IGE has played an important role in my life and personal development. It provides the atmosphere and places I need to grow. The first trip I went on gave me the confidence and the self-esteem that I was looking for and had been lacking. After that, I couldn't get enough. I always come back from Inner Guide experiences full of pure happiness and filled with new knowledge about myself. Through the trips I have made incredible friends and deep connections that have continued over the years, and it has inspired me in so many ways, including what I want to do with my life. I don't know who I'd be today without Inner Guide." A.M., Freshman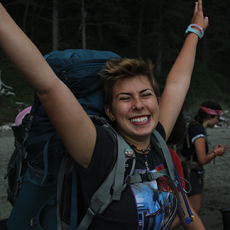 We want our child to go on this trip with you. What is the next step?
You can visit our website to read more about the trips, see a sample itinerary, see the costs, and register. Please write us an email or give us a call as well. We can answer questions about what trip may be the best fit for your child and discuss payment options. We do offer payment plans, and based on household income, limited partial scholarships. Emails: kelly@innerguideexpeditions.com or tom@innerguideexpeditions.com. Phone: 541-261-4959.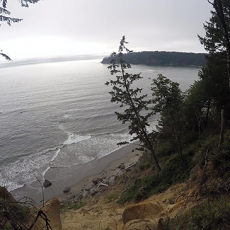 Kelly and Tom, thanks so much for doing this interview with us today. Are there any last thoughts or comments you would like to share with our readers?
Thank you so much for supporting this work and helping launch this approach to guiding in the wilderness! Ashland has been our home for 15 years, and the community we have developed here is such a gift in our lives. These trips are truly once-in-a-lifetime experiences as they cater to fun, adventure, wilderness, and safe challenge and edge exploration, as well as attention to the emotional and subtle internal realms that are seeking home, acceptance, and love within us. I recommend registering early as there are only 10 spots per trip and our advertising this year will be going across the country and into a few other countries as well. On another note, we also offer one-on-one mentoring/coaching for families, parents, and adolescents. If you're interested you can email or call us as well. Hope to see you this summer!
Learn More:
Inner Guide Expeditions
541-261-4959
Check out their website here