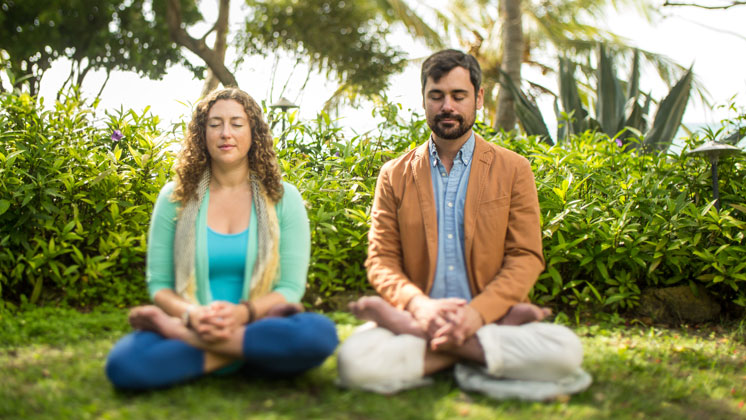 Ashland OR, March 6, 2017: Mindfulness experts Devon and Craig Hase will be teaching mindfulness techniques and practices during a three-day workshop, March 31st – April 2nd, from 6 – 8 p.m. on Friday, 9 a.m. – 5 p.m. on Saturday, and 9 a.m. – 1 p.m. on Sunday, at the Hidden Springs Wellness Center in Ashland.
Mindfulness is awareness that arises through paying attention in the present moment to one's thoughts, feelings, bodily sensations, and surrounding environment, nonjudgmentally. It has been shown in clinical studies to ease stress, increase memory and focus, strengthen the immune system, and even improve relationships. Mindfulness is being adopted in hospitals and schools, and police forces around the U.S. are receiving mindfulness training. It has been featured on 60 Minutes and on popular magazine covers including TIME, Scientific American, and Harvard Business Review.
This workshop will focus on applying mindfulness practices to reduce stress and burnout, and to strengthen the muscles of empathy and compassion in a sustainable way. Twelve CEUs are available at no additional cost for licensed social workers, family therapists, and mental health counselors through the Oregon Board of Clinical Social Work, Marriage and Family Therapy and Mental Health Counseling.
Devon and Craig Hase have been practicing mindfulness intensively for over two decades, and have completed more than two years of extended, silent meditation retreats under the guidance of some of the foremost mindfulness teachers of our time, including Joseph Goldstein, Tara Brach, and Mingyur Rinpoche. They teach mindfulness at the UW-Madison Hospital and Clinics, the Center for Healthy Minds, and to physicians, psychotherapists, and other helping professionals in the United States and Europe. Devon Hase (née Ward-Thommes) is an Ashland native who graduated from Ashland High School and also taught English at AHS from 2011-2013.