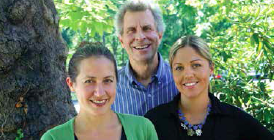 An attorney here in Ashland, Oregon, Robert (a.k.a Bob) Good has practiced law for over twenty years. His firm's focus is on resolving the legal issues that arise in people's personal and professional lives, with an emphasis on serving the Rogue Valley community. Family law matters that the firm commonly handles includes divorce, custody, parenting time, guardianship, prenuptial agreements, and child support and spousal support. With its client-focused approach, Robert Good's firm also supports individuals with the planning and execution of the increasingly creative wills and trusts that his clients seek.  The owners of our valley's small businesses also seek council from Bob, either for assistance with the establishment of corporations and LLCs , or simply as needed as they themselves manage the myriad of legal issues that arise within business ownership.  Bob is joined in his practice by associate Sarah Vaile, who contributes her own expertise and personality style to the firm, allowing for an increase in service to both new and existing clients. Together, Bob and Sarah support their clients to make informed and empowered decisions that achieve favorable results. We spoke with Bob to learn about the firm here in Ashland, Oregon.
Robert, thanks for speaking with us today. You have been a regular contributor here in the LocalsGuide so many of our readers may already be familiar with your monthly business columns. For those who are not, will you please tell us a little bit about your firm and your philosophy for practicing law here in Ashland, Oregon.

My philosophy is probably most evident when I meet with new clients and explore who they are, their motivations, and what they want.  I am ultimately focused on providing solutions that address my clients' individual objectives and personal values.  Even though the law revolves around certain rigidity of rules, people are unique in their perceptions and how they experience things. I listen closely, ask questions, discern my clients' needs and wants; sometimes I challenge their assumptions. Creating dialogue to better know my clients is relevant for all situations:  clients making end of life decisions, families in crisis, neighbor disputes, and everyone else who navigates the legal system.  This dialogue often becomes the bedrock that impacts the solutions we eventually pursue.

The legal process can be a humbling experience, especially for those who are accustomed to power and unilateral decision-making. If we do go to court, I know my client's objectives as clearly as if they were my own; my client knows the arguments I will make and the pros and cons of each. I appreciate the trust placed in me, am a tenacious litigator, and don't shy away from the challenges the courtroom brings.   Many times lawyers are evaluated for success by whether they "win" or "lose" the case.  While the winner in court appears to have won the day, in reality, the financial and emotional strain of litigation can be enormous.   Twenty years of experience has taught me that there is no single right or wrong way to resolve a dispute.  The best approach is one that works for the client for whom I advocate.  Sometimes disputes can be resolved with active communication or mediation, which is often less stressful than court, but not a realistic option for all people in every scenario.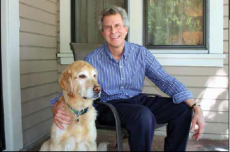 What keeps you inspired after 23 years?
One of the most gratifying parts of dispute resolution—and the part that drives the philosophy of my business—is the facilitation of an outcome that really does resolve an issue, results in some peace, and serves as a catalyst for necessary growth for the parties involved. The better I have come to know my clients and help them sort through their needs and goals, the more satisfaction I find in the pivotal moments when people begin the shift out of  the patterns that don't serve them,  and towards a mindset that opens new doors.  I am impressed by the unique range of values and priorities that make life meaningful for different people. There is much variety in the  convictions people hold, what they fight for, and what they let go. A resolution process that works is unique to the people involved and their situation. A resolution process that also creates a shift in consciousness that extends beyond the current conflict and derails old patterns of behavior is inspiring to observe.
Now going on 23 years of practice here in Ashland you have really turned into one of the communities go-to attorneys.

Choosing a profession that involves access to the private lives within a small town has both its gifts and its drawbacks.   I run into business-related contacts all over town –current and former clients, opposing counsel, witnesses, judges. I also run into people who have privately consulted with me to discuss things like leaving their marriage or drafting an estate plan, and they might do so without the knowledge of their partner.  There is a necessary anonymity to the connections I make professionally that I maintain to out of deference to my client, unless he or she chooses to recognize me first.  And since I spend most of my personal time in my old, tattered sweatpants and t-shirts, I might be unrecognized anyway! In close-knit communities such as Ashland it's likely I will run into people who have confided in me, and I uphold that boundary the grocery store, just as I do in my office.  At the same time, many of my clients know me from other contexts, such as Rotary meetings, basketball games, or school district events and they would be offended if I didn't greet them in public.   It's just a part of the small-town dynamic.  I gain broader perspectives into the lives of my social connections through my role as their attorney, and am pleased that my general character resonates in a way that draws people to retain me professionally. It is a high compliment to support both people I've just met and long-standing friends with their legal needs.
On a day to day basis you are navigating and dealing with challenging situations. What advice do you offer to individuals who might have to address or work in any of these situations for the first time?
People's legal issues rarely pop up unexpectedly. High-conflict issues that require legal guidance have usually festered within an individual's life or within the family for a long period of time. We are not a culture that communicates our vulnerabilities readily, and challenging situations bring out the emotions that most people want to avoid..  But ultimately an event arises — an aging parent needs care, a divorce, a financial crisis, a child needs medical intervention—-and the circumstances are too big to ignore. People get thrust into these situations and they have to move forward, even though it is distressing and out of their comfort zone. The person's willingness to recognize how their responses to the legal issue impacts their own experience determines much of their own sense of challenge. When conflict rises and lawyers are needed, almost everyone feels some level of threat to their general safety. Our neurochemistry engages and floods the body with a stress response, which overhauls the whole evaluative process and makes it harder to see perspectives outside our own. As people react and respond to their circumstances, they benefit greatly by network of support that is free from judgment and that offers a sense of assurance within a temporary chaos.  Networks of support may include a therapist, an accountant, or a financial advisor.  Attending to health is also important, such as making time for exercise, eating nourishing foods, or engaging in a type of somatic body work.  My clients know I am well-connected in the community and they trust the referrals and suggestions I make. Making theses connections allows the legal process to flow more efficiently, unimpeded by the large emotional reactions that otherwise slow down the process.

I am lucky to have co-workers who are intelligent and also receptive to the needs of clients who are dealing with challenging situations. Rihanna, my Legal Assistant, is efficient, straightforward, and compassionate, while she also sets excellent boundaries. Since she is often the clients' first contact, she manages the questions and requests that follow the first consult, which can be overwhelming. Rhianna's ability to listen and understand what clients need, while balancing the requests of others paramount to the flow of our office. Sarah, my Associate Attorney, is a remarkable complement to my practice. She is regularly complimented for her caring and listening style, the direct answers she provides, and the ability to discern which is actually needed. As a mother of two young children, Sarah brings the perspectives of both parent and lawyer to her practice which is a huge asset to our service.  Our task is always to provide the best assistance for individuals in their particular crisis. Sometimes that means referring them to another lawyer, which we do not hesitate to do if we believe a different personality style would be suitable to an individual seeking a lawyer. The choice of representation is personal and subjective. But for the most part, our team of people and resources suits a wide spectrum of agendas and personalities.
Robert, in our very first interview you spoke in detail about your experience of dealing with conflict resolution. Please tell us more about your own personal philosophy and approach with working in conflict.
At times, the opposition is not reasonable and litigation is necessary. My experience helps people move through the litigation process with proper preparation and careful planning. I assist my clients in understanding what will happen in court and how best to resolve their dispute out of court if possible. Some people fear the courtroom without really knowing what goes on there. Others are determined to beat up the other side because they are angry. My job is to plan and prepare my client for their day in court. Being familiar with the lawyer on the other side and the judge in the case can be a significant asset in the courtroom. Preparing witnesses and the proper preparation of legal documents are also essential elements of courtroom success.
Robert in your line of work clear communication and clear agreements are imperative. How is this achieved and maintained when multiple parties are involved. Often times you may be working with multiple family members who have different interests and different points of view.
True communication begins with listening. If I have not accurately heard my client, my ability to assist and communicate a means of resolution is nearly impossible. The same goes for dealing with the attorney or the party on the other side of the dispute.  Both in mediation and litigation a lawyer must clearly understand the other side's point of view and what they hope to achieve in resolution. Rarely is there only one way to proceed.  Through good listening I am able to provide multiple approaches to a particular client's needs.  Only after proper listening am I able to effectively communicate a proposed course of action and assist my client toward resolution.
Robert, you have established a great reputation for helping your clients maintain a clear direction and for staying focused. How do you go about achieving this?
Paying attention to the details is paramount. When a client calls or sends an email, I try to respond quickly.  Family disputes are often highly charged.  By responding quickly to the client's need, I help them continue to see the big picture and how all the pieces fit together toward the final resolution that they seek.
Working through disputes can be tricky for people.  What percentage of your clients come with the experience needed to navigate these situations?
I mostly work with people in family disputes.  They may be in a divorce, custody dispute or may be children trying to navigate through the challenges associated with caring for an elderly parent.  These family-related problems are often emotionally charged and clients who may be very capable of resolving disputes in the workplace or in other groups they are associated with find themselves at a loss within their own family dynamic.  Many families are stuck in financial and communication quagmires which they are unable to overcome without my assistance or the assistance of the court.  Thus, the majority of my clients are at their wit's end; at a total loss as to how to proceed because their efforts have failed to resolve the problem.  It is important for them to know that they are not alone and that there is a way through the problem.
Making concessions can often be viewed as a form of weakness. What can you say about this?
Successful people are the best at the art of concession and compromise.  Without it, we spend enormous energy fighting unnecessary battles.  Most people seek resolution of their disputes with family or neighbors.  They do not want the dispute to go on and on, leaving scars.  I help people see how the right compromise can lead to a more peaceful future. The thought that there can be only one right perspective, that solutions are all-or-nothing, or that surrendering something that is "deserved" is a weakness only brings unnecessary suffering.  It's important to stay focused on the overarching goal of creating an outcome that will lead to a larger satisfaction than details that are not as enduring.
Over the past two years you have shared a series of columns with us that truly take us behind the scenes of interesting and complicated cases you work with on a daily basis. Will you please tell us about a few columns that you have written that stand out to you a particularly insightful and interesting?
Well, my personal favorite is the one my dog wrote, "A Legal Tail",  written by Rocket, my 10-year old golden retriever. He is with me all day, greets all my clients, and shamelessly rests his big head on their laps as they consult with me. He is a part of our office and this story gives some insight to the legal practice from his perspective. Rocket is a key part of our practice, and calms everyone's nerves with his gentle presence. Another couple of columns I like is "Tina's Story" and "Never Wrestle a Pig." I like these two because they shed light on the very different ways that I handle divorce cases. Tina's Story tells the tale of divorce at its worst, where the kids are in danger, the spouses are at absolute odds and immediate courtroom action must take place. Never Wrestle a Pig, on the other hand, sheds light on the mediation process, and how for many couples, this is an excellent alternative to what can be the gut-wrenching process of litigation.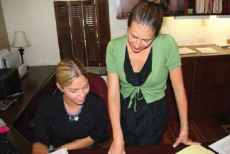 Robert you are also joined in your practice by Sarah Vaile. Please talk about the level of care and commitment you are jointly able to provide to your clients. 
I am fortunate to work with a team of capable people whom I truly enjoy. We sit together every day and talk about our cases and how to best assist the people we serve. Sarah is a relatively new lawyer, but has already tried cases in court and continues to grow in practice and personal style.  I offer her guidance along the way, and she is always receptive to my feedback. She brings bright and more contemporary view to clients' issues than my usual approach, which has been a benefit to my own practice. Sarah's life is rich with activity as she and her husband Joseph raise their two young children in Ashland and involve themselves with the Klamath Siskiyou Wildlife Center, where Joseph is the director. They are both extremely committed to preserving the natural beauty of  the Rogue Valley and investing time in pursuits that improve our community's well-being.
Your firm offers an array of services in estate planning and probate. Can you please break this down for us?
This is an ever-growing part of our practice and a part that I truly love.

We do all of the following:
Draft Wills & Trusts.

Draft Durable Powers of Attorney.

Assist people in completing their advance directive and making end-of-life choices

Assisting families with small businesses to create an estate plan and a business plan allowing children to step into the shoes of parents, avoiding tax and creating a plan for the family's future.

Trust administration.

Probate administration (upon death if the person had a will a probate must be opened in court and administered according to court rules).

Assist families as parents lose competence to manage their own affairs.
You are then also working with adoptions and guardianships. Please say more
We've been handling more and more cases involving the protection of those in our community who need it most– children and the elderly. We handle adoptions of all kinds, from step-parent adoptions to adoptions of children coming from broken homes. We also do guardianships for children, where a third party – often a grandparent –needs to obtain legal guardianship of a child so they can properly care for them, and handle their medical and educational needs. Sadly, the parents' drug use is often the reason for this need. These can be sad cases, but also satisfying because the end result is facilitating a happy, stable home-life for the child.

We also handle elder law issues, the crux of which is protecting older adults. Sometimes this means protecting them from someone who is abusing and neglecting them. Other times this means setting up a legal arrangement for another person to handle their finances, health care and otherwise manage their life when they no longer can. Oftentimes are are helping to establish a guardianship and/or conservatorship so that a trusted individual can care for an older adult suffering from dimentia and unable to manage their health care and finances. We have also had situations where we have filed elder abuse complaints and taken steps to stop someone from stealing money from elderly clients. These too are incredibly sad cases, but it is wonderful to be able to help our community's most vulnerable members in this way.
With all the changes in the law regarding medical and recreational marijuana what interesting and new situations have you run across?
This area of the law is changing so much and we have had a significant increase of clients who are involved in this business in one way or another. As a new area of the law, it is difficult to navigate, particularly where state law and federal law are in such great conflict. Our job as lawyers is to educate the clients about the law, and how to best conduct their businesses within that realm. When the law is murky and in constant flux, as the law on recreational marijuana is, this is extremely tricky. In my practice I have mainly run into this in divorce cases, where one or both parties' income is derived mostly from a cannibis business. Valuing a business with no tax records, that was mostly cash-based and lacks the normal other types of business records can make the division of assets in a dissolution case very difficult.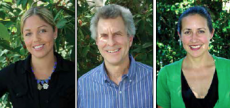 Finally what continues to inspire the work that you do and are there any last thoughts or comments you would like to share with our readers?
I have always viewed the practice of law as service to others. I am motivated by the strain I see in my clients' faces as they struggle to navigate difficult times. Exploring solutions and finding a way through the crisis or problem continues to motivate me. And I love this town. I consider it a unique opportunity to be a lawyer in this small community.
Learn More:
Robert Good, Attorney at Law
541-482-3763
www.goodashlandlaw.com
legalassist@mind.net