The long days of summer are right around the corner and that means no school! Free time to lounge around the house, swim at the lake and of course attend 1452 Foundry's Rock Band Camp located in Bonanza Oregon!
Where's that you ask?  Bonanza is located 85 miles east of Ashland tucked in around the Fremont National Forest. It is a little community surrounded by natural beauty and is home to 1452 Foundry's 1700 sq. ft. recording studio. A timber frame and straw bale structure, the studio is completely off the grid and powered by solar panels. Featuring a large live room with 16′ high ceilings, two isolation rooms, and a comfortable high tech control room, this studio is world class.
This summer, The Foundry's Rock Band Camp will offer young musicians the opportunity to learn everything from composition and songwriting, recording, mixing, to how to move like a rock star. This is just the tip of the iceberg for what Todd and his team has planned at this year's second annual Rock Band Camp! 
Let's learn more.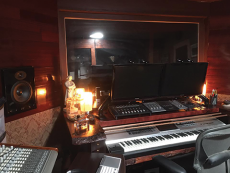 Todd, thanks so much for speaking with us today. Rock Band Camp sounds amazing! Please tell us about your inspiration for opening your studio to host the second annual camp.
Last year was such a success! We had so much good feedback from the kids and parents as a learning community. It was a fun opportunity to learn more about music and support my students to become more inspired to take their music practice to the next level. For me, it was an opportunity to get to know my students even better.

As a music production studio, I really wanted to offer a unique opportunity for young musicians to get more involved and gain a greater knowledge on the recording process.
When exactly is the camp?
Rock Band Camp takes place for one full week from Sunday, July 30 – Saturday, August 6th.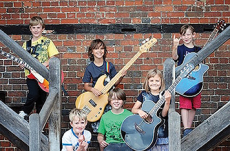 What is the age group?
We are inviting campers age 9-17. Campers will be sorted into bands by skill set and age. The age range creates an inspiring learning environment where campers learn new skills in cooperation with their band. They also learn problem solving through participation in group decisions when it comes to the creation of their music.
Tell us more about Bonanza and your recording studio. The space sounds amazing.
Camp will be hosted at my recording studio in Bonanza, Oregon. This is the same facility where I have recorded some of my major clients. The Foundry is an off the grid retreat space for musicians to come and create their projects.

Not only does The Foundry house the recording studio, but the grounds feature many amenities available to recharge and refocus. We have hiking and mountain biking trails, a yoga and meditation space, and lots of sky chairs and hammocks to just relax.

By offering participants the opportunity to camp at the studio, they have access to creative tools and knowledge that they normally wouldn't. Let's face it; anybody can record a song at home these days with a computer and an inexpensive mic. I want to teach these young musicians how they can make their home recordings sound great!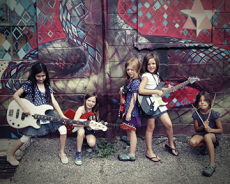 You guys are also offering one-way transportation to camp. Tell us about this. Does this mean kids will like it so much they won't want to come home?
I would imagine they wouldn't! We're offering transportation to camp on Sunday, July 30th. Parents are encouraged to attend our final performance on Saturday, August 6th when camp will let out.
How will the camp be structured and who are the instructors?
Percussion, composition and lyrical content, we will then host different work shops. Kids break up into bands and work on different workshops through out the day. The overall day is that they are working towards their end song that they get to record in the studio.

Rock Band Camp will focus on 3 different areas of music: songwriting, recording, and performance. Within those areas, we will host different focus workshops like rhythm, composition and creating lyrical content. Campers will then break up into their bands and work on different tasks throughout the day. Each day is structured to help them work towards their end project/song that they get to record in the studio.

Our staff team is comprised of 5 councilors that all have a specialty focus in music. We've put together an amazing team of local teachers and musicians this year! Plus we have special guest performers coming in throughout the week. Feel free to get to know them on our website at www.1452foundry.com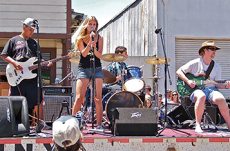 How many campers do you have spots for?
We have opened up the doors for 24 students.
What are some of the daily activities that are going to be offered?
Our planned curriculum includes: songwriting, lyric crafting, daily jam bands, music production, music engineering, creative mixing time, ukulele classes, rock music history, instrument building, and rock music theory.

In addition to this, we have some great downtime activities like daily nature adventures, karaoke, zip lining, swimming, movie nights, and board games.

There will also be free time for campers to sit in a hammock, relax or write on their own.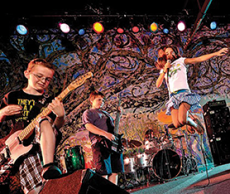 This sounds like a blast!
We've had a great time putting together our curriculum this year! We tried to put some really fun and exciting activities together for this year's campers. We're excited to see their smiling faces this summer!
When is registration?
Book now! Space is limited and we are now offering our early bird pricing.
I'm concerned my child is not musically oriented enough to enjoy this experience. How do I know if it is a good fit?
There's something here for every type of student. It is definitely worthwhile that kids play an instrument, but they don't need to have much experience. Our goal is to inspire them to create. Many of the campers are private students of mine. Parents can always set up a private lesson with me where I'm able to sit with you and your child to see if Rock Band Camp would be a good fit.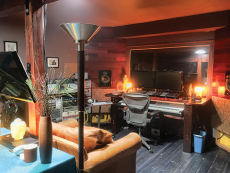 Todd, please tell us about your own musical career both professionally and now teaching lessons.
I began playing piano at a young age. A fascination with the instrument soon blossomed into a full-blown love of music. I was motivated to learn more about music, not just how to produce it instrumentally, but also the history of music; the methods that could be used to achieve musical goals, both technically and instrumentally; the various genres and techniques dating back through Renaissance and Baroque eras to modern music, musical theory and more.

As an educator, my background gives me a unique appreciation and view on music that is perfectly suited to the needs of the modern student.

My work has been featured and performed on a national scale as well as various regions across the country. I've composed music for both television and film. I've had the honor to share the stage with great musicians like Sheryl Crow and The Diamonds.

As an audio engineer, I've worked with many greats both in the studio and as a front of house engineer. Some of the groups I've worked with include The Stray Cats, Quarterflash and Scotty McCreery.
Todd you've always been passionate about helping kids explore their creative sides. Please talk about this process of discovery through music.
I've always tried to bring out the creative side of students in private lessons. Rock Band Camp has allowed me to up the anti! Coming to an intensive camp like this allows us to immerse the campers in a fully musical experience. Campers leave with a larger knowledge base and a new set of tools to allow them to be more creative at home. They also leave with the inspiration and confidence to know they can do it!
How do you see this rolling out into students' personal lives?
Campers leave with the ability to create music. They have more self-confidence when they create at home. Students also learn to cultivate valuable life skills like working well in a group setting as well as building new friendships. I've seen such amazing improvements in my personal students since last year's camp!
Tell us more about the lessons you are currently offering?
I offer weekly 30-60 minute lessons in a variety of instruments, including: piano, guitar, drums, ukulele, voice, bass and general music theory. Private lessons offer a great opportunity to really focus on musicianship. I focus my lessons on what my students really want to learn. I help them set achievable goals and use modern tools to set them up for success. By keeping lessons fun and exciting, I'm able to help students learn to play faster and with greater ease.

Now through the end of May, we're offering one free private lesson to give you an opportunity to see if private lessons might benefit you or your child. Feel free to contact us at 541.331.0709 to schedule yours today!
Todd, would you mind sharing some recent testimonials with us from some of your students.
"Todd is an exceptional musician and teacher. He has the personality and skills to keep kids focused and excited about learning. Our 8 year-old daughter is one of Todd's students. We are very pleased with our daughter's progress and I love hearing the high level of fun she and Todd have during guitar lessons. Todd's professional style is very approachable and I would recommend him for kids or adults."

– Tracy K.

Ashland, Oregon

"It has been almost 2 years of lessons with Todd, and I am still excited about what I am going to learn each week.  I have reached a level in playing that I never thought would be obtainable and I am grateful that I still have more to learn. If you are considering starting up a new instrument or adding to your current abilities, I would definitely recommend letting Todd expand your current skill set."

– Guy S.

Klamath Falls, Oregon
Can you tell us about fees?
Rock Band Camp's enrollment tuition is $450. We're currently offering an early bird special until May 31st that is $100 off tuition! We also offer one-way transportation to camp for a $50 fee.
Do you offer any scholarships towards camp?
We don't have any specific money available but we are hosting a work party weekend. This is a great way for campers to lower tuition while learning great team building skills! Please contact us for more information about our work party weekend.

If there happens to be a patron of the community interested in sponsoring a camper, please contact me privately at tbritton@1452foundry.com
Are they any last thoughts or comments you would like to share with our readers?
We look forward to bringing this year's Rock Band Camp to our community! We're more than happy to answer any questions or talk with parents about options for their child's musical development.
Learn More:
1452 Foundry
11019 Sandpiper Dr.
Bonanza OR 97623
www.1452foundry.com
tbritton@1452foundry.com
541.331.0709