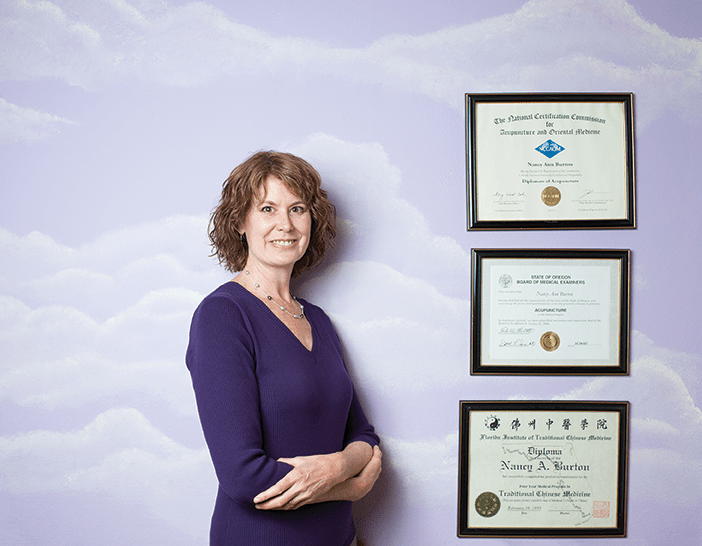 As the weather gets colder, cold hands, feet and noses can become an issue. Cold is understandable, but painfully cold means a lack of circulation. In extreme cases extremities have a burning sensation and can turn dark or purple. The types of food you're eating, how you're assimilating those foods, and you're body's ability to regulate temperature can all be an issue. A chronic runny nose due to cold weather is often caused by these same underlying factors. Luckily there are Chinese herbal formulas, Acupuncture and nutritional supplements that address these problems; even in the extreme case of Raynaud's syndrome. Some of the following health tips will help as well.
When weather changes it's important to help your body stay warm not only with layering and warm shoes and socks, but with food. Our bodies use food to help maintain our body temperature. So eating cold or raw food when its cold outside is like trying to heat your house with the doors and windows open. It not only stresses your body, it leaves you vulnerable to uninvited guests such as viruses. It's appropriate to eat a small salad with a large bowl of hot soup, if you wait until the salad is at room temperature before eating it. Then chew the salad well enough to warm it up in your mouth before swallowing. When eating out, eat your salad at the end of the meal instead of the beginning so it can warm up. Even sautéing your salad to warm it up, as done in many gourmet restaurants, is beneficial this time of year. Slightly steamed or sautéed vegetables are easier to assimilate.
Ginger warms the entire body and helps resolve phlegm. Cinnamon warms the extremities. A nice hot cup of ginger tea can knock out the early stages of the cold or flu that starts with body chills. Don't forget to take your Gan Mao Ling as well, as mentioned in my previous articles, if you suspect the onset of a virus. If chilled, avoid mint, which is cooling.
Hydration:
In the US people drink ice water all year round. But when the weather is cool it's more important than ever to drink room temperature or warm water so you don't chill and stress your body. As the weather gets colder many people fail to drink enough water because cold or ice water is unappealing. It doesn't occur to them to warm it up.
Chicken Soup:
Chicken soup, made with bones or chicken feet, really is medicinal. It's a great way to help treat and prevent colds and flu. Most chefs agree that chicken feet make the most delicious broth. It's also the healthiest method. The feet are mostly bones, ligaments, tendons and collagen. So making broth with chicken feet benefits your bones, joints, skin, and immune system.
To make chicken broth with chicken feet:
Rinse the chicken feet, as you would any piece of raw chicken. Cover with water. About 1 quart of water per pound of feet.
Add your favorite seasonings, such as:
sea salt and rosemary, OR sea salt, garlic, onions and curry, OR
sea salt with lemon grass, OR brown rice vinegar, Tamari (a wheat-free soy sauce), and Mirin (rice wine).
Bring to a boil, turn down heat, cover pot with a lid, and simmer. The boiling will cook off the alcohol.
Cook for about an hour or two.      
Add additional seasoning to taste. Remove chicken feet.
Broth can be frozen in straight glass jars. If jars have smaller necks they can break in the freezer due to expansion. Also, leave an inch at the top of each jar to avoid breaking. Cool broth completely before freezing.
The Ashland Food Co-op used to occasionally carry chicken feet. If enough people request them I'm sure they would do so again.
My favorite, healthiest way, to flavor chicken broth is with South River brand, Sweet Brown Rice or Chick Pea Miso. These are just two of the many flavors South River miso carries. Miso is the most detoxifying food I know of. It's so good at detoxifying it even works on radiation. So it's a great food for anyone who travels on airplanes, uses cell phones, or microwaves, or needs to detoxify from anything, and boost their immune system.
South River Miso comes in glass, so it hasn't absorbed the hormone disrupting chemicals from the plastic containers most miso comes in. Dried miso doesn't contain the active culture needed for detoxification.
You have to order South River miso online, but if they got enough requests maybe the Ashland Food Co-op would start carrying it. The company only ships during the cooler months, so I stock up when I get it. Be sure to keep it refrigerated.
It comes as a paste and has a salty flavor. To use, slowly add water or broth and mix until liquified. Boiling or cooking miso will destroy the active culture with it's detoxifying properties. So after cooking add miso to taste. Miso can be used as a sauce over food, added to flavor soups or just mixed in broth to make miso soup. Miso is a delicious and healthy addition to any cook's kitchen.
The Right Tools:
I recently traveled to visit several old friends. They were interested in my way of eating and I was interested in getting what I needed to have the most energy and be in the best mood to enjoy my friends and my travels. So I offered to cook breakfast. Three different friends that I stayed with didn't have a sharp knife in their house. Chopping up vegetables, that's usually quick and easy, was a nightmare. I felt like I was using a butter knife. It occurred to me, as I labored away, that an essential part of eating healthy is having the correct equipment to make it doable.
So top on my list are sharp knives. Actually, ever since my husband turned me onto it, I use a cleaver. Just place the tip of the knife or cleaver on your cutting board and move the handle up and down like a lever while pushing through the vegetables. A large knife or cleaver and a few sharp paring knives are needed.
I love my bamboo cutting boards. I got a couple in a package for a great price at Shop N Kart. They're light but sturdy.
My husband also turned me onto cast iron pans. They are the original non-stick. They never scratch, even when scraping with a metal spatula to turn food or while cleaning. Cast iron also makes it easier to cook without burning your food.
Another real time saver is my convection toaster oven. It's the size of a microwave, which I don't use because they change the molecular structure of food. I use my convection toaster oven instead of my full sized oven, unless I'm making a huge quantity of something. It preheats in seconds and cooks food much faster than a regular oven. It's great for cooking protein, sweet potatoes, yams, baking, roasting red meat or vegetables, or warming things up quickly.
Two new additions to my kitchen are a vegetable spiral cutter, from Paddington Station. Just push zucchini or other vegetable through while turning and you get vegetable spirals. Also got an Instant Pot pressure cooker from Amazon.com. I can now cook beef bone broth in 2 hours instead of two days. Poultry bone cooks in one hour instead of 24 hours. This time of year it's especially beneficial to drink some bone broth every day to build the immune system. I enjoy a hot cup in the morning with some South River miso mixed in for a double immune boost.
No time to chop up vegetables? Shop N Kart has some organic vegetables chopped up or spiraled and ready to go. You can always get organic frozen vegetables as well. I usually keep frozen organic peas on hand to throw in quickly if I need more variety. I also get the mixed braising greens or baby spinach to throw in for quick dark green leafy vegetables, the best way for us to assimilate calcium.
The changing seasons are when our bodies are the most vulnerable. It's a great time to get some Acupuncture to boost your immune system and strengthen your organs. And it's an essential time to support your body with healthy and warming food.
Health & Happiness,
Nancy Burton, L.Ac. (Licensed Acupuncturist)
For Appointments Call: 541-646-0134