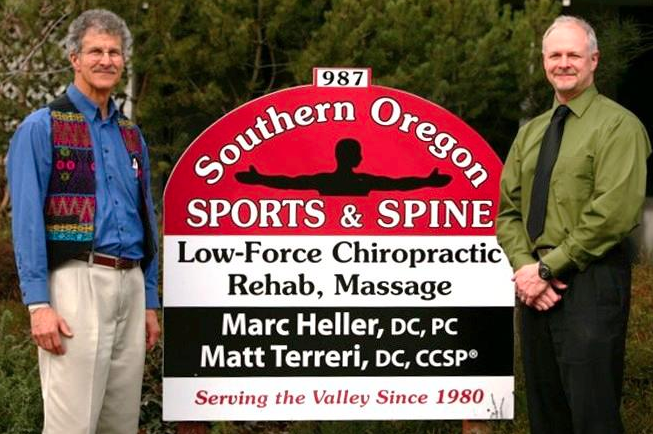 Dr. Marc Heller, Dr. Matt Terreri and Dr. Ann Michael are happy to welcome Dr. Valeria Breiten to Southern Oregon Sports & Spine. Dr. Breiten is a naturopath with 20 years of experience. Her focus at the office will be treating difficult musculoskeletal conditions with the SCENAR device. She recently moved back to the valley from Arizona where she did four years of medical school then 16 years of private practice. Previous to that she was known as Val Wyckoff, and worked at SOU from 1980 to 1997. We welcome her to the office and welcome her home! And now introducing Dr. Breiten…
Thanks for the introduction! As the team said, I am a certified trainer with a device called SCENAR and have used it successfully since 2008. You may have experienced it in the SOSAS clinic, but I will be adding more comprehensive treatments not just for the spine and joints, but also for digestion, menstrual cramping and tension.
SCENAR is a biofeedback therapy of innovative European design. The Russians invented it for the space program for the astronauts to heal themselves. It is commonly used to treat pain in the back, shoulders, abdomen, knees and elbows. In Russia, they treat a wide range of problems from kidneys, strokes, epilepsy skin, to respiratory conditions, using it similar to acupuncture.
The treatment also has a calming effect on most people. SCENAR is a handheld device that is applied to the skin, usually in the region that is painful. It heals but does no harm.
A favorite SCENAR story of mine is from a mission trip to Mexico. A local man came to a free clinic with both knees damaged from a fall off a horse two year prior. He could not squat, which was important for his work in the fields. I used SCENAR to treat the worst of the two knees, and he tested it by trying to squat: not much change. Then I treated the other knee, and after treatment, he could squat. I then treated the first knee again. He could now squat with both legs! He and his friends were so excited they were clapping each other on the back.
I saw him at the same clinic two years later where he recently fell off a bicycle and hurt one knee again. I treated him that day and he responded well. I hope his healing continues and he is staying off horses and bicycles!
I will be also being incorporating nutrition, botanical medicine and homeopathy along with the SCENAR treatments. Please visit me at Southern Oregon Sports and Spine. My website is www.DrValeria.net. I look forward to seeing you!