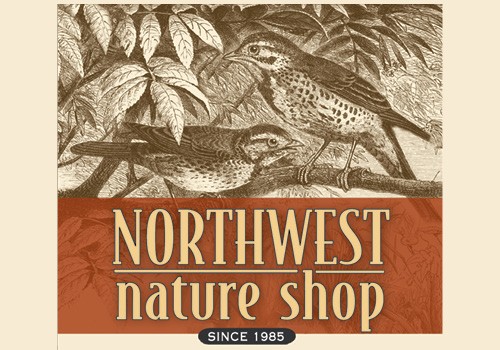 Throughout the year, The Northwest Nature Shop offers classes, field trips and presentations given by experienced birders, writers and naturalists.  We invite those just beginning to discover the natural world as well as the life-long avid nature enthusiasts to come into the Northwest Nature Shop and see what events we have coming up.
Spring Guided Mushroom Hike Sunday May 3rd, 10 am $20/person kids under 10 free
To learn more about our local wild mushrooms, join the Northwest Nature Shop and local mushroom expert, John Teem on a guided walk in search of mushrooms, especially morels. Space is limited so sign up early!
Make Mother's Day cards using nature printing Sunday May 3rd, 2 pm $5
Hand-printing from nature is a simple technique for creating beautiful detailed nature images.  Using found, natural materials such as feathers, fruit, leaves, and grasses we will make fabulous unique cards for the mothers and mother figures in our lives.  For ages 5+.   
New Hikes in Eastern Oregon: Slideshow by William Sullivan Thursday May 7th, 7 pm at Headwaters/Geos Building 84 4th St
Northwest Nature Shop hosts Oregon's hiking guru with a slide show tour of a dozen new trails he discovered while researching the new third edition of his book, "100 Hikes/Travel Guide: Eastern Oregon." Discover a colorful badlands on the Owyhee River, a new wilderness with cactus flowers on the John Day, and a viewpoint hike to a ranch at the east end of the Columbia Gorge.
Spring Wild Mushroom Show Saturday May 9th, 12-3 pm free
Experience the fun of wild mushrooms! Come and learn what you've always wanted to know about our local fungi.  Many locally collected mushrooms will be identified and on display at the shop. Local experts will be available to answer questions and identify mushrooms brought in.  Bring your own mushrooms and learn how to identify the poisonous ones.
Mother's Day Wildflower Walk May 10th, 9:30am, Lithia Park $10
Celebrate the special woman in your life with a gift of nature. Bring your mother, or other, out for a walk with a naturalist through the hills above Lithia Park to see the spring ephemeral wildflowers that are blooming.
Family Foraging: Edible Wild Plant Excursion in Lithia Park Saturday May 16th, 12pm $15/adult, kids 12 and under free
Hey kids, you can eat that plant! Join the Northwest Nature Shop and Emily Otte to identify common edible and medicinal plants in the setting of Lithia Park.. Sign up in advance.
Sun Print Workshop Sunday May 31st, 2 pm $5
Join us to learn about the principles of photography and then make a sun print to take home!  Take home your very own sun print art! For ages 5+
To sign up for an event, call the Northwest Nature Shop 541-482-3241 or stop by. Northwest Nature Shop is located at 154 Oak St. Ashland.