Interviews
Vivian Schiedler, MD – Oasis Eye Specializes in Plastic Surgery Around the Eyes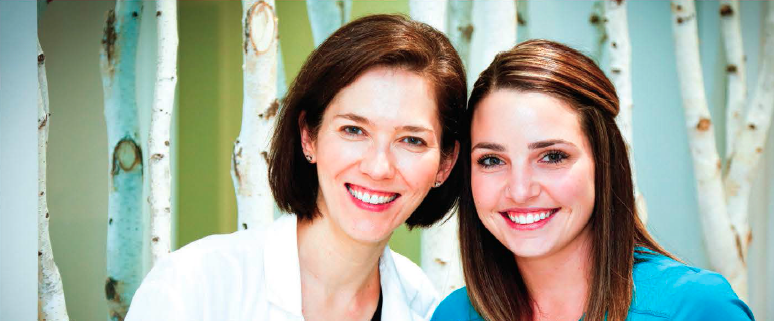 When we interact with and talk to other people, we really focus on their eyes. Because the eyes convey a lot of unspoken communication, it is important that they represent how we feel. And while you might feel great, as you age, your droopy brows, baggy eyes and droopy eyelids may mistakenly convey a different message of fatigue, anger, sadness, disinterest, or sleepiness. 
Oasis Eye is a medical and surgical practice specializing in eyelids, eyebrows, midface, forehead, tear drain, lashes, and eye socket. From reconstructive surgery to elective procedures, Oasis Eye was created by Dr. Vivian Schiedler, an ophthalmologist and oculofacial plastic surgeon, with 11 years of experience. A graduate of Stanford, UCSF, and the internationally recognized Bascom Palmer Eye Institute, Dr. Schiedler treats children and adults around the eyes, whether the problem is functional or cosmetic. By carefully listening to her patients, and by merging experience and artistry, Dr. Schiedler provides highly customized treatments. Dr. Schiedler focuses on tailored treatments that enrich her patient's lives by improving their vision, comfort, and appearance. In addition, people can outwardly better reflect to others what they actually feel inside.
In today's interview we spoke with Dr. Schiedler to learn more about her practice here in Ashland, Oregon.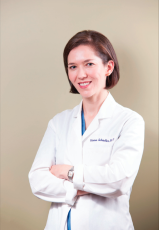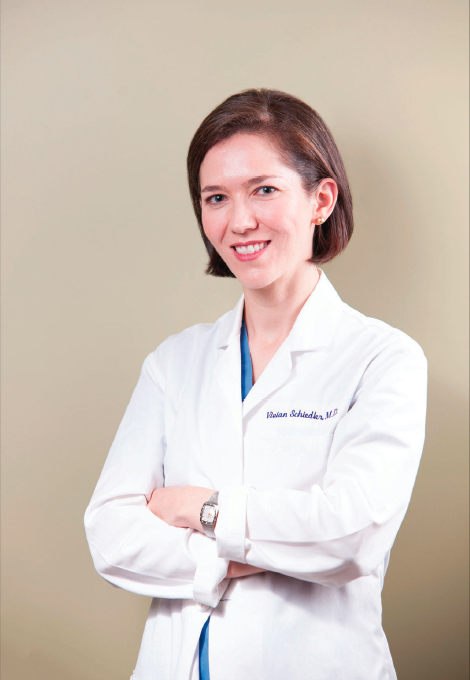 Dr. Schiedler, thanks so much for doing this interview with us today and congratulations on opening your new practice here in Ashland, Oregon.
Thank you. I am so blessed to be a part of this vibrant and special community. After living in many regions across the United States, Mexico, and abroad, I feel so fortunate to return to my beautiful Oregon, where I grew up. Ashland and the Rogue Valley are a natural fit for me, my husband, and my son. We love the Pacific Northwest, the outdoors, this climate, and our neighbors. We have made so many wonderful friends in a very short time span here. This area is very conducive to supporting family relationships and friendships. I am glad to bypass the stress and anonymity of large cities. I feel grounded and invigorated by our parks and forests. What can I say…. as an Oregonian, the webbing between my toes may have disappeared after leaving the rainy Willamette Valley, but I still have trees in my blood!
To begin with, please tell us a little bit about how you chose your particular field.
When I was growing up, I had a glass miniature collection and was really fascinated by tiny and intricate things. In medical school, I enjoyed watching individual red blood cells marching through a tiny blood vessel in the eye. To me, there was no organ that could compare to the beauty and delicate nature of the eye. And to top it all off, the gift of sight is so precious and in some ways mysterious. So ophthalmology and the eye were an obvious choice for me. I love my subspecialty because of the tremendous variety of procedures I do, and the artistry required to end up with a natural result.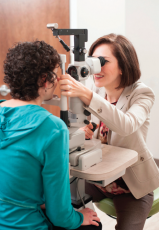 Please tell us more about your training as an ophthalmologist and oculofacial plastic surgeon. 
Of course. It's a highly specialized field and there aren't very many oculofacial plastic surgeons. Naturally, many people have never heard of oculoplastic surgery, so I'm happy to explain. "Oculo" means eye-related. And plastic surgery refers to the reshaping of tissues. So "oculoplastic" refers to the restoration of the bone and soft tissues around the eyes, or any structure that affects the eyes, such as the eyelids, forehead, brows, eye socket, temples, cheeks, sinuses, or tear drain. To become an oculofacial plastic surgeon, one must first become an ophthalmologist, or eye surgeon, in order to understand vision and everything that can cause a visual problem, and how best to treat it. After medical school and internship, one must complete 3 years of ophthalmology residency doing cataract surgery, retinal lasers, and other intricate procedures under a microscope. Then follows a 2 year fellowship focusing only on plastic surgery of the eye area. There are only about 20 ASOPRS fellowships available every year across the US, so it is a very competitive field. The American Society of Oculofacial Plastic and Reconstructive Surgery was established in 1969 to set the standards of training for this field. There are only 12 ASOPRS members in Oregon and most are in the Portland area. I finished my ASOPRS fellowship at University of Washington in Seattle in 2007, and I have been doing exclusively oculoplastic surgery since 2005.
Dr. Schiedler, will you please give us an overview of the services you provide and the types of clients whom these services are most suited for?
Medically indicated surgeries include lifting droopy upper lids when they are blocking the pupils, repairing any part of an eyelid or sometimes an entire eyelid that is either diseased by skin cancer or injured by trauma, removing a blind painful eye so that an artificial eye prosthesis can look lifelike, repairing fractures around the eyes to eliminate double vision or a sunken appearance, removing bone and fat behind the eyes in cases where thyroid problems have caused bulging eyes, and removing tumors behind the eyes. Another very common problem is a watery eye. There are many causes, but some possible surgeries would be tightening the lids or opening a blocked tear drain. Most of the children I treat are born with an eyelid muscle that does not open well, so I work on tightening it so they can see better, develop vision properly, and avoid some teasing at school. Surgeries that are not covered by insurance are considered elective since they do not necessarily enhance vision, but they improve appearance. Examples are blepharoplasty or lid lifts to reshape the skin and fat around the eyes, or forehead lifts or brow lifts. This can smooth out the bags and hollows above or below the eyes and open up the eyes, making the eyes feel less heavy or tired, and restoring a more rested, and youthful, energetic appearance. I offer non-surgical options such as fillers to restore some of the volume loss that occurs with aging. I treat spasm disorders with neuromodulators like Botox and Xeomin that relax muscles. I also use these injectables as a way to lift a brow, or smooth out an angry tired appearance and restore facial symmetry.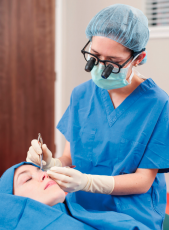 The work you do is highly technical and meticulous. Please tell us about some of the challenges and considerations you undertake in your profession.
Yes, that's true. Eyelids are very underappreciated and intricate structures. Most of us take them for granted. A lot of people have never even considered that they have a lower eyelid! Both upper and lower lids are critically important. They protect, moisturize, and clean our eyes with their windshield wiper effect. Their normal function is to provide a clear surface for good vision by spreading our tears evenly. The cornea will rapidly develop damage or even an infected ulcer if the lids are not blinking well. Eyelids aren't just made of skin and lashes. They contain several important muscles and glands. Because the eyelids are so small, it is important to have them repaired correctly the first time, since the tissues may be used up and can be difficult to replace. The toughest challenge is when someone comes to me with a cosmetic surgery done poorly. The lids don't match, or the eyes can't close, or the eye is painful, dry, and watery, or the scarring is very noticeable and looks artificial or unnatural. In these situations, the tissues have already been removed. It is often very difficult to get a natural result after that. I might be able to make it better, but not always as good as it could have been. I cannot stress how important it is to find a surgeon with experience and proper training on eyelids. I pay special attention to the shape of the brow-eyelid-cheek continuum, the relationship of the lids to a deep set or prominent eye, where the lid crease should be placed, how much of a skin fold should remain for proper blinking, the quality of the tissues and eye surface, as well as pre-existing asymmetries and any vision issues. For example, when planning a lower lid cosmetic surgery to smooth out puffy bags, not recognizing that someone has heavy cheeks that will drop as they age is a set up for sad looking eyes and dry uncomfortable eyes in the future. This is just one issue of many that can be avoided.
It sounds like eyelid work can be very tricky.
It does take a lot of training and experience. I did 1400 cases in just my first 2 years of fellowship. I have done over 5000 oculoplastic procedures and have thus had the opportunity to learn a lot along the way from my patients, other colleagues, and at national meetings. I am not a fast surgeon, nor do I aspire to be one. My philosophy is get it right the first time. I know that's what I would want if it were my eyes, so I spend the time finessing where it counts in surgery.
Can any plastic surgeon do eyelid surgery?

Plastic surgeons train through general surgery and not ophthalmology, so they do very basic eyelid procedures. They don't have the tools to measure vision, examine the eye, or deal with visual complications. They are generally used to working with larger instruments than an ophthalmologist. The type of eyelid surgeries they do are typically limited to removing skin and fat. And they generally avoid working on reattaching eyelid muscles because this can be very tricky and requires a lot of practice to get consistent results.
What types of issues have you addressed to transform your patients' lives?
For my elective clients, one of the most rewarding transformations I see is bringing their eyes back to life. Many times, their eyes have become hooded, sad, tired, puffy, and generally lackluster, but this is not how they feel inside! They are tired of hearing comments from friends or family asking them if they are sleeping well, or what's wrong, or how come they are angry. It is so wonderful to get a great big hug of joy after restoring someone's eyes to the way they used to be: alive, bright, energized, and happy.

As far as functional issues, some of my happiest patients are watery eye sufferers. They are so incredibly happy to get rid of the annoying drip down their face that makes others wonder why they are crying. Another group of patients who feel transformed are those with droopy upper lids blocking their pupils. They have to tip their chin up to see and have often given up on reading. It is so satisfying to help them enjoy books again. Thyroid patients are also some of the most distressed when their vision has darkened and their eyes have become scary, disfigured, and bug-eyed. To restore their sight and look normal again is such a welcome relief.
Dr. Schiedler, you mention you are very committed to your preoperative guidelines, why is this?

Yes, as an eye surgeon, my patients' vision and eye comfort is critically important to me. You might think an eyelid is just skin, but surgery on eyelids can dramatically affect vision. I personally take the time to prepare my patients for their surgery. I explain exactly what I will do and why. I review all preoperative procedures to make sure they understand the important role they play in avoiding vision complications. I also personally check in with all my clients after surgery to make sure they are doing well, are as comfortable as can be, and are reassured that what they are experiencing is within the normal range.
Dr. Schiedler I'm sure a question you receive often from your clients is how you keep your surgery looking natural.

Well no one has ever asked me for an artificial look! A common telltale sign of a less than optimal eyelid surgery is a rounded shape to the outer corner of the eye. I make sure to keep the outer corner sharp, angled, and not pulled down, nor stretched too tight. Clients are naturally concerned with not looking like someone else, or not looking stretched, or overdone, or plastic. I often have clients bring a portrait of their earlier self in their 20s or 30s to see what their features used to look like. It is very helpful to discuss what is realistically possible to achieve, and what is not. Youthful faces and children have plump fat pads. So my tendency is to avoid removing too much tissue in order to avoid a gaunt or aged appearance. I also have lots of little tricks to minimize scar tissue and keep the incisions as hidden and as camouflaged as possible. As far as Botox, it is important to understand the dynamic nature of how facial muscles pull against each other. My philosophy is to soften, not paralyze, so knowing that individual muscle strength varies a lot is paramount to a natural pleasing result.
Do you offer anything else besides surgery, fillers and Botox?
Since I am asked so often what I recommend for an eye cream, I decided to offer a very effective and elegant skin care line. Improving one's skin goes a long way toward looking healthier and more youthful. I carry a very effective physician grade line of skin care products called ZO which was created by a dermatologist in Beverly Hills who treats many celebrities. The results are outstanding in terms of reducing pigment, freckles, sun damage, fine lines, and brightening and evening out skin tone. High concentrations of retinol and other ingredients make your skin cells turn over faster so it becomes brighter and healthier.
Prior to setting up in Ashland, you worked in a very busy practice in San Diego and then Medford. Oasis Eye has been intentionally created by you as a type of "anti-mill"?
It was a very purposeful and thought out decision to leave the safety of larger group practice. Although I enjoyed working with my colleagues, and the staff were very motivated, it really came down to having more time for my patients and creating a simpler version of care. I became dissatisfied with external forces that have been pushing us physicians around for a number of years. In many hospitals and larger groups, physicians have become data entry people worried about documenting nonsense that is distracting to the quality of care we want to provide. I am restoring the patient-doctor relationship in my practice. The trust, confidence, and connection between us is the essence of doctoring. My philosophy is very patient-centric. With the wonderful help of Vitus Construction, Lake North Designs, and my architects Mark Reitinger and Jenny Kueck, we created a physical space where the colors and furnishings are calm and soothing. I added a lot of my favorite natural elements such as stone, birch trees, walnut, and succulents to create an ambience that is relaxing, fun, and enjoyable. Essentially, I wanted to create a refuge or oasis for myself and my patients where we can feel at ease together. I have been incredibly happy providing higher quality care in this setting than I ever could before. Everything I do in my practice is now entirely relevant to what I do. This allows me to stay on time and simplify every step of the exam and surgical experience for my patients. Most importantly, it gives me the ability to focus on what's truly important for each individual, and this translates to better, more customized care.
Dr. Schiedler please talk about the relationships you seek to form with your clients.
My goal has always been to do my best for every person seeking my care. I strive for excellent results, but will be very honest in what can be achieved as it serves no one to set up false expectations. I spend time developing trust and connection. It is so important to make sure I understand really clearly what is most important to my client. My goal is to have everyone walk out of the office beaming from the experience. It really makes my day when a patient tells me on their first visit, "that was the best and most comfortable treatment I have ever had in 16 years of going to see other physicians". It's all about listening and caring.
Often times many of your clients are coming on referral from another eye doctor, however can patients contact you directly?
Yes, anyone can call our office directly to inquire about an appointment or to see if I treat the condition they have. Depending on their health insurance plan contract, it may require a referral from their primary care physician. But we can help facilitate that. For elective surgery clients, I will first review their desired goals to make sure we are both on the same page of what is achievable, and have them return later for preoperative surgical planning in more detail. For small lesion removal, it may be possible to do the procedure on the first visit, but more extensive procedures require some planning.
Why might a customer come see you versus a plastic surgeon?

Since I only focus on a very specialized area of the face, those clients who have done some homework will know that I bring experience and a unique set of skills to the goals they want to achieve around their eyes.
Is there anything else you might like to share with our readers?

Well I am deeply grateful for the privilege to be in medicine and in a surgical field I love and enjoy. I owe this to my parents who encouraged and supported me to follow my passion. I am also thankful to my husband Charlie who has worked behind the scenes to get the phones, computers, and facilities up and running. I also couldn't be luckier to have ShyAnne as the face of my practice and first contact for my patients. She is an incredible receptionist, technician, and surgery assistant, and we have a lot of fun together. And I just love my patients. Giving them the time they need and deserve allows me to connect on a deeper level, and so many of them have been appreciative and wonderful. Thank you for the trust you have placed in me. And thank you for taking the time to read this interview.
Learn More:
Oasis Eye
251 Maple St
Ashland, OR 97520
www.oasiseye.com
541-708-6393
Comments