Interviews
Zagorska Oasis Express Spa & Apothecary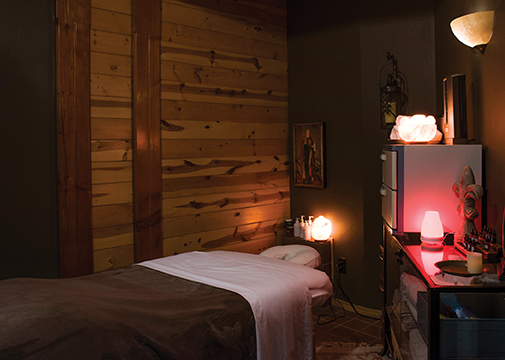 Introducing Zagorska Oasis. A world class eco-luxe spa in the heart of Ashland. Offering customized treatments designed to connect you with nature and leave the stress of the world behind!
Offering only the best in restorative skin care with exclusively formulated in-house products. Michele Zagorski and her staff have gone out of their way to create an unforgettable experience as both an express spa, Apothecary and don't forget the Himalayan Salt Cave. 
In today's interview I spoke with Michele Zagorski, owner and creator of the Zagorska Oasis.
Hi Michele, congratulations on your new spa. It sounds amazing!
Thank you! It really has been an adventure, since I have never worked in the spa industry before opening the Zagorska Oasis Eco-luxe 

Spa & Apothecary.  I believe that was an asset, because it gave me a level of freedom when developing my ideas.  This spa is truly a creative endeavor, and a different experience for our clients.  I couldn't have done it without Shelley Lotz, who is my spa consultant, and the beautiful ladies on staff who give the spa its positive vibe.  They are all phenomenal and I adore these women! I know it sounds corny, but we worked shoulder to shoulder getting the spa up and running, from cleaning up after the remodel to assembling the equipment, so we called it Spa Bootcamp, and bonded through the experience.  We're having a lot of fun at work now, and it's so exciting to see the spa grow and get in its groove.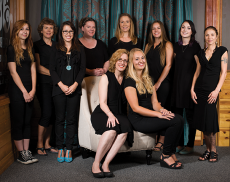 I would love for you to give us a little background to yourself and how you have gone about learning and doing all you have done.
Well, I began my career working in corporate headquarters for a Fortune 500 company with an engineering degree, but realized pretty quickly I wanted a different lifestyle…something slower, surrounded by down-to-earth people and the beauty of nature.  My husband and I moved here 18 years ago when I was pregnant to raise our family in a healthier environment, and that's when I began experimenting with making our own skin and body care products.  I inherited very dry skin from both of my parents, so I've taken the care of my skin pretty seriously since I was about 12 years old, and I began educating myself about more natural and organic options when I was pregnant with our first child.  My husband and I both love learning how to do things on our own, so making my own skin care was a natural progression for me. I homeschooled our kids on our little farm in the Colestin Valley, and time spent in my workshop became important in another way; as an introvert, it was where I recharged and spent some 'me' time being creative.  As the kids got older, and I began staring down empty nest syndrome, I decided to listen to friends and family who had encouraged me to turn my passion into a business.  I had a little shop selling my skin and body care for two years before opening the spa. 
I am truly impressed with the quality of services you are offering at Zagorska Oasis. 
Yes, it really is about the whole experience!  With my skin care business, I was trying to help busy women create a little oasis for themselves…a few minutes a day of self-love, using products that were pure and filled with all the good juju I could infuse them with.  Now with the Oasis Spa & Apothecary, there is a physical space you can go to for that experience.  Sometimes you just need to get out of your own home to really relax and be able to focus on yourself.  This is especially true for women, who are wonderful at nurturing others, but often don't give the same care to themselves.  It's hard to do when you see the laundry that needs to be done or the kitchen that needs cleaning.  

I had several goals when creating the Oasis.  It's about much more than skin care.  I see our culture 'plugging in' but disconnecting from nature and themselves, and I wanted to provide a retreat from that, a kind of sanctuary in the middle of downtown Ashland.   It's a place to reconnect on all levels, where you can rejuvenate your body, nourish your spirit, and connect to nature and even your own humanity. It seems very appropriate that our clients have to descend into the Oasis…you are entering a different realm, and you can feel it.  You are literally and figuratively going deeper.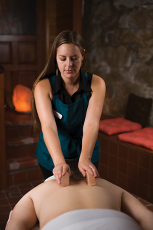 Michele, please introduce us to your staff.
I feel like a mother who wants to brag about her children!  I am so lucky to have the best team of women I could have ever dreamed of.  They are from all over the country, but just like my husband and I, felt called here to Ashland.  Not only for a healthier lifestyle for themselves, but to help others…they don't see their work as a job, but as a vocation.  When we were interviewing, we didn't automatically choose the applicants with the most experience.  We hand selected people for their character, because skills can be taught, but we were looking for more. Our staff is attentive, intuitive, and professional.  They go the extra mile for a higher caliber, customized experience, and they love what they do.
Please give us an overview of your spa menu. 
We have two menus, actually; an Express menu, where all services are $50 or less and 30 minutes or less to fit a busy schedule, and a Luxe menu for more lush pampering.  Our goal is to make wellness easily accessible so it can become a regular part of your life.  We just created a 90 minute Recharge Express Package that includes a 30 minute customized massage, 30 minute customized facial, foot scrub and soak, and 15 minutes to relax in the Salt Sanctuary.  It has a $140 value, but we are offering it for $120 plus 20% off products.  It's a great choice for people that don't feel like they have half a day to spend at a spa, or for those new to the spa experience. 

Whether Express or Luxe, all services have one thing in common, and that is customization.  For example, instead of offering 4 or 5 facial options, we customize every facial to your needs.  Your skin is analyzed and your lifestyle is taken into consideration, the esthetician discusses your wants and needs, and she creates a customized protocol for you every time.  She even custom blends actives and botanicals into the products she uses on your skin during your treatment.  It's the same for massage or any service at the spa.  Every person has unique needs, and they change from season to season, even week to week. It requires a perceptive and highly engaged therapist.

We incorporate Himalayan salt into every service, as well, offering warmed Himalayan salt spheres to hold during your treatment, detox blocks for your feet, or massage with salt stones, and many products used in the treatments are formulated with Himalayan salt.

In addition to customized massage and facials, there are toxin-free manicures and pedicures, glycolic peels, chair massage, reflexology, waxing, lash and brow tinting, and we'll be carrying my hand-made line of mineral makeup with application lessons soon!

Of course, there's also the Apothecary Blending Bar and the Himalayan Salt Cave Sanctuary.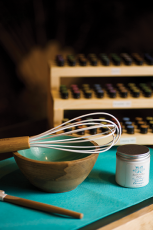 Please tell us about the environment that you have created and the importance of Himalayan salt and the salt cave. ?
Words that come to mind are tranquil, softly lit, serene, earthy…when you walk through the door you are transported to a subterranean retreat.  We have three treatment rooms: the Syrenka, Artemis, and Magdalene, each one unique, but all warmly comforting. In addition, there is the nail area, and the Salt Cave Sanctuary, which must be experienced personally.  

The Sanctuary is a salt cave microclimate recreated with 3,000 pounds of Himalayan salt walls, salt lamps, and a negative ion generator. Halotherapy has been used in Poland since the twelfth century for healing and wellness, but it wasn't until recent times that we understood the benefits of negative ions, which are emitted by the salt.  

Nature creates negative ions by breaking apart molecules through things like running water and lightning strikes. The highest concentrations of negative ions are found in mountain forests, at waterfalls and beaches, and after a lightning storm. A forest has 400 times the concentration of negative ions as a city during rush hour. When we breathe in negative ions it makes us feel energized, relieves stress, and according to a study at Columbia University, alleviates depression as well as Prozac. Negative ions also purify the air, kill airborne illnesses, and studies have shown them effective at reducing asthma and allergy symptoms.

The list just goes on; plastic surgery and burn patients recover more quickly when exposed to negative ions, Toyota found they improved fatigue and cognition of drivers, and a French study showed they help us get better sleep.

Most indoor environments have an overabundance of positive ions (which have the opposite effect of negative ions), which are created by things like air conditioning and computer screens.

Besides negative ions, Himalayan salt contains 84 trace minerals necessary for health, has antiseptic, antiviral, and antibacterial properties, and can help reduce skin inflammation and improve conditions like psoriasis, rashes, eczema, and acne.

The Sanctuary is truly a healing, restorative powerhouse.  People can feel the difference just walking in, and often comment on it. A 30 minute session is $30, or you can get a series of 6 for $150 (6th is free).  I highly recommend adding the sound therapy or guided meditation with headphones for a completely rejuvenating experience.
Tell us more about the blending bar
We have an Apothecary Blending Bar counter next to the reception area, where you can choose from 7 base skin and body care products, and then blend in actives, botanicals, essential oils, and luxury oils of your choice.  Our Blendista and the client work together to formulate the perfect product for you, or you can use our Blending Bar chart to guide you.  Prices range from $35-$50 per product, with discounts if you buy more than one.

Yes, you get to create and name your own custom skin care, but it's also just a lot of fun and only takes a few minutes. Remember those little chemistry kits you got as a kid?  I guess it's the homeschooling mom in me, but I love seeing people have fun experimenting and creating. We keep a record of what you made and the affirmation or wording you chose to name your product, so it's easy to reorder if you run out and can't make it back to the spa.  We basically send you a kit so you can make the product at home.  Blending bar parties for 2-6 people are available with VIP perks, and we're offering a special of 20% off any Blending Bar party booked during September. 
You also offer salt stone massages.
On our Luxe menu you'll find a 60 minute Salt Stone Massage for $110, but we offer 75 and 90 minute options, as well. Salt stone massage is similar to a hot stone massage, but with stones carved from Himalayan salt.  One stroke with a hot salt stone is as effective as 10 passes with a massage therapists hands, and you get the added benefit of 84 minerals and trace elements from the pure Himalayan salt.  The massage therapists and clients both love that the salt stones hold heat much better and for longer than traditional hot stone massage.  For the ultimate wellness experience, you can book to have a Luxe Salt Stone Massage privately in the Salt Cave Sanctuary, getting two treatments in one. Prices start at $145.  
How do we go about making a reservation to come to the spa?
Walk-ins are always welcome, but you can also call us at 541.810.8877 or book online at www.ZagorskaOasis.com.   We look forward to seeing you!
Talk about the little apothecary and mini bars that your therapists have.
Our estheticians and massage therapists have the capacity to add actives, oils, and botanicals from a little apothecary in each room.  They are empowered to use their education and knowledge to formulate for your individual needs.  They are happy to explain the benefits and actions of the ingredients, such as acai extract, hyaluronic acid, green tea extract, liposomal vitamin C, frankincense, ylang ylang, myrrh, carrot seed oil, pomegranate oil, and argan oil, to name a few.  They love the ability to customize.
Michelle how has the customer feedback been so far??
The comment we get most often is "This spa is exactly what Ashland needed!" or something along those lines.  People are also amazed at the beautiful remodel of the space, especially the Salt Cave Sanctuary.  But honestly, the best feedback doesn't need words, because you can see it on their faces when they float out of a treatment room.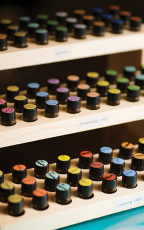 Michelle all of your products have been hand made by you. Not only are you a spa but you also offer your products for sale.?
Yes, and anyone can drop in any time to test our skin care line…you don't need an appointment at the spa.  I personally make all the products used in the treatments, from facials to pedicures, and offer most of them for sale in our retail area.   Some of our most popular products are the Réparer Ferulic Acid Serum, the Omni Oil, and we just introduced our Firm & Tight Toning Body Polish with Caffeine, and our Superfruit Anti-Aging Mask made with fresh organic blueberries and cranberries. If a client falls in love with a product used during their treatment, we make it available for them to continue the Oasis experience at home.  Unless you are exceptionally lucky, beautiful skin doesn't just happen, it must be nourished and maintained daily.  

My skin care is really my art and passion.  It's my way of bringing good to the world. The words 'skin care' or 'body care' really doesn't encompass all that it is.  It's about more than the non-toxic ingredients I use, although that's critical, and I choose natural, organic, wildcrafted, and eco-cert certified ingredients.  I think my customers feel the difference between my products and those mass produced. One of the best parts of my job is reconnecting with my customers on a regular basis…they have become my friends.  
Finally you are planning a wellness series for this coming winter. Tell us more about what we have to look forward to at Zagorska Oasis.
We want to help people live healthier lives, and to make wellness an easy choice for them.  That begins with education, and sometimes skills.  We will be hosting lectures and workshops on everything from a genetic mutation that affects many people and their ability to detox (MTHFR), to how to make your own green household cleaners and skin care products.  

We also want to invite everyone to our two night Grand Opening celebration on September 9th and 10th from 5-7pm.  We'll have free massages and salt cave sessions, white sangria, hand made salted chocolates, tours of the spa, Blending Bar demos at 5pm and 6pm, and prizes, including a Grand Prize of a free Blending Bar party for 4!

Lastly, I just want our community to know that Mondays and Tuesdays are Local's Day at the Zagorska Oasis, and you can receive a 20% discount on services on those days! We are looking forward to meeting you!
Learn More:
Zagorska Oasis Eco-Luxe Spa & Apothecary
Address 111 E Main Ashland, OR
Web www.ZagorskaOasis.com
Phone 541.810.8877
Comments